Ariosto: Orlando Furioso
A complete English translation
With the complete cycle of illustrations by Gustave Doré (France, 1832-1883).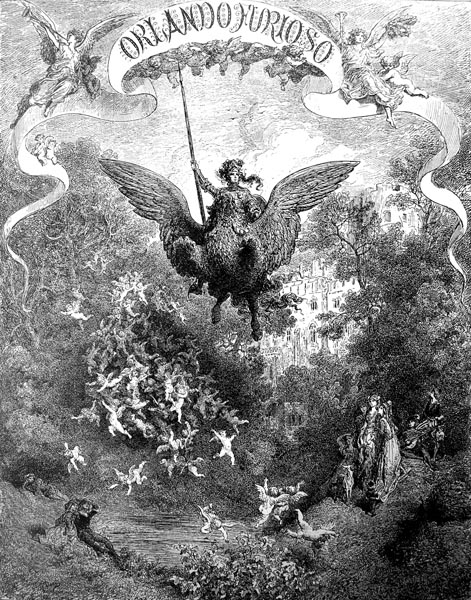 ---
Contents
Ariosto's Orlando Furioso will be serialised with a new canto being added approximately each month.
Available parts of the work are listed below:
Canto I (In Pursuit of Angelica)
Canto II (The Sorcerer's Castle)
Canto III (The House of Este)
Canto IV (Bradamante and Ruggiero)
Canto V (The Tale of Ginevra)
Canto VI (The Enchanted Isle)
Canto VII (Alcina the Sorceress)
Canto VIII (Angelica's Plight)
Canto IX (The Tale of Olimpia)
Canto X (Rescued and Rescuer)
Canto XI (Orlando and the Sea-Monster)
Canto XII (The Enchanted Mansion)
Canto XIII (The Tale of Isabella)
Canto XIV (Mandricardo, Doralice, and Rodomonte)
Canto XV (Astolfo's Travels)
Canto XVI (Rinaldo at the Siege of Paris)
Canto XVII (Norandino and the Ogre)
Canto XVIII (Martano's Downfall)
Canto XIX (Angelica and Medoro)
Canto XX (The City of Women)
Canto XXI (Hermonides' Tale)
Canto XXII (Pinabel's Downfall)
Canto XXIII (Orlando's Frenzy)
Canto XXIV (Zerbino's Fate)
Canto XXV (Ricciardetto's Tale)
Canto XXVI (In Pursuit of Vengeance)
Canto XXVII (Conflict and Discord)
Canto XXVIII (The Innkeeper's Tale)
Canto XXIX (Orlando's Wanderings)
Canto XXX (Mandricardo's Fate)
Canto XXXI (Fiordelisa and Brandimarte)
Canto XXXII (Bradamante's Jealousy)
Canto XXXIII (Merlin's Prophetic Art)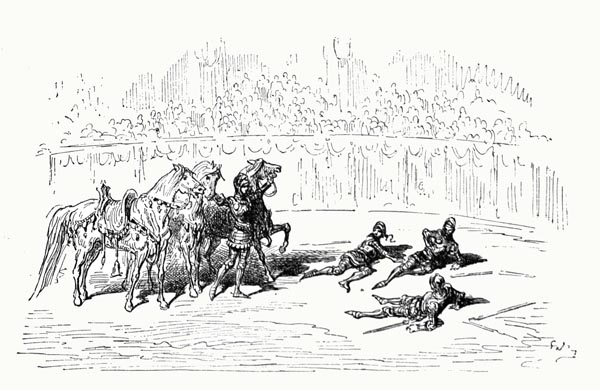 ---
Translated by A. S. Kline © Copyright 2021, All Rights Reserved.
Illustrations photographed and digitally restored from the Fratelli Treves edition (Milan, 1899) by A. D. Kline.
This work may be freely reproduced, stored and transmitted, electronically or otherwise, for any non-commercial purpose.
Conditions and Exceptions apply.