Ariosto: Orlando Furioso
Canto XXI: Hermonides' Tale
Translated by A. S. Kline © Copyright 2021, All Rights Reserved.
Illustrations photographed and digitally restored from the Fratelli Treves edition (Milan, 1899) by A. D. Kline.
This work may be freely reproduced, stored and transmitted, electronically or otherwise, for any non-commercial purpose.
Conditions and Exceptions apply.
---
Contents
---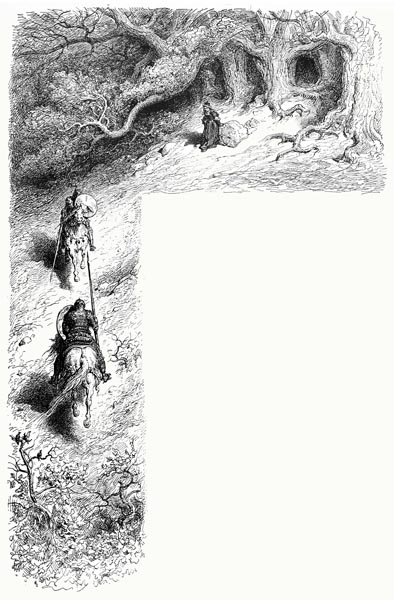 Canto XXI: 1-3: Ariosto regarding good faith
I believe no rope e'er bound so tightly,
No nail e'er pinned a plank to the spot,
As good faith binds the soul, true and surely,
In its tenacious, indissoluble knot.
Nor was Holy Faith herself shown in any
Other way, in days past, but to allot,
To her, a pure white veil that covered all,
That one speck would but mar beyond recall.
For good faith, should ever be unstained,
Whether that of one, or of a thousand;
As well in caves, or midst the trees, maintained,
As well in town, as in some foreign land;
As though, before some court, it was obtained,
Witnessed, and set down in one's own fair hand.
Without oath, or any other such expression,
One's promise is an adequate concession.
In each enterprise, the good Zerbino,
Served ever faithfully, as serve one ought,
And gave a true account, as on they'd go,
Whene'er the stubborn crone some byway sought,
Though it pained him, as if Disease did show
The way, or Death himself, to their dark court.
But yet more heavily on him there weighed,
Than his own wish, the promise he had made.
Canto XXI: 4-7: Zerbino and the crone encounter Hermonides of Holland
I said of him, who felt that duty press
Upon his heart so, of escorting her,
That not a word did our sad knight express,
And so, they rode silently together,
And yet the quiet was broken, nonetheless,
As the sun descended, by another,
For an adventurous knight-errant showed,
And met them in the middle of the road.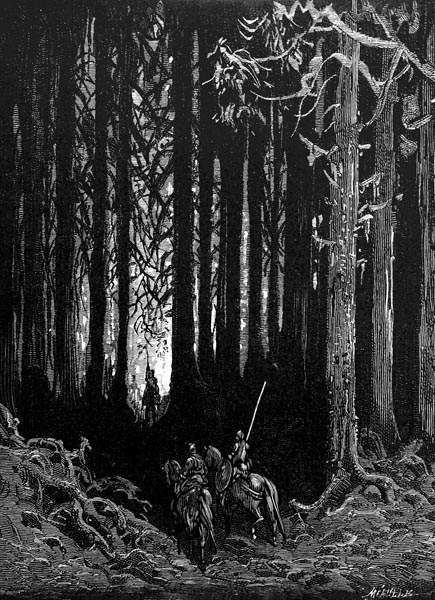 The crone, who knew the approaching knight,
(He was called Hermonides of Holland,
And bore on his black shield, as was his right,
A single gleaming transverse crimson band)
With altered face, most humbly, in despite
Of her former proud stance, you understand,
Reminded her guide of the promise made:
To defend her the cost that must be paid.
The knight who came against them was a foe
To her and all her kin, for he had slain
Her father, who had done no wrong, also
The only brother that to her did remain;
And nor would he rest, she told Zerbino,
Ere the ruin of them all he should attain.
'While I am here to defend you, lady,'
Said he, 'I'd have you fear no enemy.'
When the warrior came closer, and saw
A visage that was hateful to his sight,
He gave a menacing and savage roar.
'Either ready yourself,' he cried, 'to fight
Against me, or defend the crone no more.
She deserves to die!' (So claimed the knight.)
'To contend for her, brings but death to you.
Such is the fate of those that wrong pursue.'
Canto XXI: 8-10: Zerbino unseats him
Zerbino made this courteous reply:
That twas a sign of baseness and ill-will,
Nor was it chivalrous, to seek to vie
With any, if the aim was but to kill
A lady; but if twas his wish to die,
None there would flee the fight, yet he should still
Reflect, as a knight, that no knight should
Seek to dip his hand in a woman's blood.
Such words he spoke, and more, but all in vain,
And it was needful, in the end, to fight.
When they'd covered enough of the plain,
They turned, and charged together, in their flight
Speedier than rockets that the skies attain,
And burst above, at the feast, to our delight.
With like velocity the warriors sped,
Each one seeking to strike the other dead.
Hermonides of Holland aimed full low.
Seeking to strike the left flank of the other,
But his weaker lance shattered at the blow,
Allowing his opponent to recover,
While a fierce stroke was dealt by Zerbino,
That broke the knight's shield, and pierced the shoulder,
The sharp lance penetrating, through and through
As to the ground Hermonides it threw.
Canto XXI: 11-16: Hermonides begins the tale of his brother
Zerbino, who believed he'd slain the man,
Moved by concern, down from his steed did leap,
And, from the deathlike visage, he began
To raise the visor, while, as if from sleep,
The other, dazed, attempting to scan
Zerbino's face, did but dumb silence keep.
Then said: 'That I have lost cannot grieve me,
Downed by the flower of knight errantry,
Yet it pains me that twas done to defend
A traitorous woman, whom, I know not why,
You champion, and your efforts thus expend
On behalf of one whom all men should deny;
For, when the true reason you comprehend
That leads me to demand that she should die,
You'll be dismayed to think that e'er you fought
To save her, but great harm to me, thus, brought.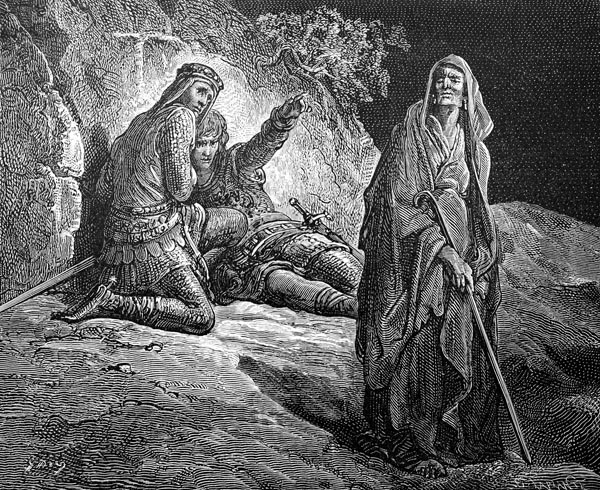 If sufficient breath remains in my breast,
(Though I fear the contrary) I'll explain
How all that she has done can but attest
To a depth of wickedness that few attain.
I had a brother once, young, full of zest,
That sailed, from our dear Holland, o'er the main.
To serve Heraclius he did aspire,
The Emperor of the Eastern Empire.
There, brother-in-arms and friend was he
To a knight of the Imperial court,
A baron, who, in Serbia's border country,
In a pleasant place, commanded a fort.
Argeo, he of whom I speak, this lady
Had to wife, a vile and wicked consort,
Whom he loved, yet who passed every bound
Fitting to a man of worth, so well-renowned.
For she was flightier than is a leaf
That in autumn is deprived of its moisture,
One a chill wind sends to the ground beneath,
And blows before it like a hunted creature.
From her husband, she'd loved awhile, in brief,
She'd concealed the worse side of her nature,
For, such was her every thought and desire,
She now sought my brother's love to acquire.
Yet the Acroceraunian mountains
Stand not so firm against the raging sea,
Nor, against Boreas, the pine that strains,
But still renews its vigour endlessly,
And on the Alpine ledge its place retains,
Its roots having pierced the rock so deeply,
As did my brother stand, against her pleas,
That nest of ills, and vile iniquities.
Canto XXI: 17-21: Who resists the woman's advances
Now, as befalls a daring cavalier,
That the conflict he seeks will swiftly find,
My brother was wounded, while quite near
His friend's castle, which he oft was inclined
To visit while his friend, the noble peer,
Was at court, or had been elsewhere assigned;
He thus retired there, to wait, patiently,
Until of his slight wound he should be free.
And while he lay there wounded, indeed,
Argeo was about some needful mission,
While, quite soon, the lady, as seemed her need,
Approached him with a base proposition.
Yet, being loyal, pure in thought and deed,
He scorned her bold attempt with derision,
And chose, since her attentions never ceased,
Midst many evils to endure the least.
Of the many evil courses, he chose this:
To relinquish all contact with his friend,
And journey far enough, that her ill wish
Would be thwarted, and her approaches end.
It would be hard to bear, but less amiss
Than that an honest man to such should bend,
Or that he should disclose all to her lord,
Who his heart's deepest love did her accord.
Though his wound yet required some attention,
He donned his armour, and then left the fort,
And journeyed far, with the firm intention
Of ne'er returning to it, e'en in thought.
But to what end? Fortune, in contention,
Gainst his fair plan fresh obstruction brought.
Behold, the husband had returned, meanwhile,
And found his wife weeping (in her guile),
Her face all flushed, her hair in disarray.
He asked his partner what had troubled her,
Although, before a single word she'd say,
More than once that plea he had to proffer,
While she was mulling o'er the perfect way,
She'd devised, to punish one who'd spurned her.
It suited well her changeable nature,
That desire, to disdain, should so alter.
Canto XXI: 22-24: While she falsely denounces him
At last, she spoke: "Why seek to hide the error,
The fault committed while you were away?
For though I hid it from the world forever,
To conscience twould be always on display.
My soul that feels its sin, and must suffer,
Will feel such penitence within, alway,
As exceeds all other mortal suffering
Inflicted upon any for so erring;
If error it was, since incurred through force.
But be that as it may, hear now the deed,
Then let my unstained spirit take its course,
Delivered from the flesh, if so decreed;
So let my light be dimmed at its source,
My gaze forever quenched, that would indeed
If I lived, be lowered neath a weight of blame;
Since, before all I saw, I'd blush for shame.
Tis your friend has robbed me of my honour,
For he, by force, has ravished my body,
And fearing I would tell you of my horror,
He departed, the monster, silently!"
She roused her husband's hatred and anger
Against his dearest friend, with her story.
Argeo armed himself, without delay,
And, breathing death and vengeance, sped away.
Canto XXI: 25-28: Argeo imprisons the brother, Philander
Since he knew well the country all around,
In a brief while, he came upon the knight,
For my brother, still weakened and unsound,
Rode slowly, not suspecting he must fight,
And in a dark place that Argeo had found
Fit for revenge, he overcame him quite
Nor would he hear my brother's excuse
But would have him suffer cruel abuse.
The former was sound, and full of anger,
My brother weak, and as yet still his friend,
And so unfit to counter this new danger,
Against which he was forced to defend.
Philander (such the name of my brother),
Who had earned no such fate, was, in the end,
Being far too frail to withstand a blow,
In a brief moment, captured by his foe.
"God forbid I should be so led astray
By my rightful wrath, and your wrongdoing,"
Argeo cried, "as to seek to up and slay
One I loved, and who loved me, that did bring
Nonetheless, ill upon me, on a day;
Yet I'd have the world know, of this thing,
That, as I was the kinder in my love,
So, in hatred the crueller I shall prove;
I'll punish you in another manner
Than staining my hands with your blood."
And, with this, he ordered a follower
To make a sled of branches, sound and good,
And draw the half-dead knight to his tower,
Where he prisoned him, be it understood,
As a form of unending punishment,
Though my brother, indeed, was innocent.
Canto XXI: 29-33: The woman, Gabrina, still attempts to seduce him
Not that he lacked aught but liberty.
All else, indeed, he could command at will.
As if he were at large, as formerly,
He gave orders, and men obeyed him still.
But this evil woman was never weary
Of pursuing her desire, to his ill,
For, possessing the keys, every day
She would enter the rooms where he lay.
Endlessly, she assailed my poor brother,
With even greater boldness than before.
"What was loyalty worth to you ever,"
She would cry: "branded a traitor for sure?
Oh, how sweet are the plaudits you gather!
How glorious the prize your deeds secure!
Oh, what merit you have gained, in the end,
Scorned by all as a false, disloyal friend!
Yet how easily you might have yielded
To my love, without staining your honour.
With that obstinate rigour you revealed,
Enjoy now the bitter fruit you gather,
For your sentence will never be repealed
If you remain as unmoved as ever.
Yet if you comply with what I demand,
Then both freedom, and honour are at hand."
Yet: "No, no, hope not," Philander replied,
"That my mind will alter, and I concede,
Even though, against all right, pent inside
This tower, I suffer harshness, indeed,
And my honour all men seek to deride.
He, that sees all, knows of no such deed,
And may free me of His eternal grace;
My innocence revealed before His face.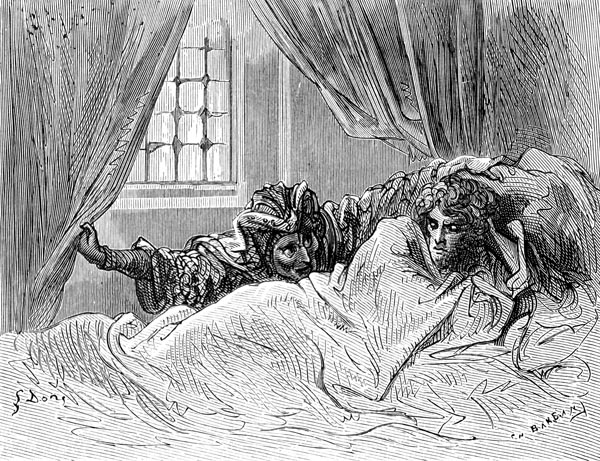 If Argeo thinks it not sufficient
To imprison me, let him slay me straight,
Perchance in heaven, proving innocent,
I shall win my reward, despite my fate.
Perchance, when I am dead, he will relent,
He, who thinks himself so wronged of late,
And see that he has wronged me, instead,
And mourn a loyal friend, when I am dead."
Canto XXI: 34-38: Argeo pursues a local feud
The shameless woman often pressed her case,
With Philander, yet did so fruitlessly;
Nursing a blind desire, in every place
Un-resting in pursuit of treachery.
She thought on every past deed of the race,
And considered every scheme, carefully;
A thousand thoughts she rehearsed, one by one,
Before deciding on what might be done.
It was a good six months before she sought
To visit Philander's gaol, as before,
So that he'd hoped she no longer thought
To seduce him, or trouble him the more.
Behold, Fortune, that ever ill doth court,
Found occasion for wickedness galore,
And gave memorable effect, full dire,
To her blind and irrational desire.
Her husband had a feud of long-standing,
With a baron named Morando the Fair,
Who oft came to the castle, hunting,
Whenever this Argeo was not there,
While ne'er within ten miles lingering
If Argeo was present in his lair.
The latter schemed against him, to his woe,
Telling all: to Jerusalem he must go.
He departed thence, watched by one and all,
So, they might spread the news of his going.
None heard a whisper of his scheme at all,
But his wife whom he trusted; at evening,
He would return, as the night began to fall,
And would set forth again in the morning,
In disguise, and with fresh arms on display,
Then, unseen by any other, go his way.
He'd go wandering about, here and there,
Around his castle seeking to discover
If Morando, knowing naught of the affair,
And believing he was gone, might endeavour
To visit; to woods and fields he'd repair  
But whene'er he saw the sun sink lower,
He'd seek the castle, and by a secret gate
Was drawn within, by his disloyal mate.
Canto XXI: 39-44: The woman inveigles Philander in her plot
Except for this iniquitous woman,
All thought he was many miles away,
And when opportunity to her did come,
She visited my brother, on a day,
Full of malice, but gave many a tear room,
That eyes and breast did, fulsomely, display.
"Oh, where shall I find aid," cried this lady,
"So, my honour may not be lost, completely,
And my husband's honour with my own?
For I'd tremble at naught if he were here.
Yet you know this Morando; I'm alone,
And neither man nor gods does he fear.
With threats and pleas, more than once, he's shown
He'll attempt anything, if he comes near.
The servants he's corrupted, to his side,
Nor are there any to help, far and wide.
Now that he knows my husband is away,
And may not return for some great while,
He's had the boldness to appear this day,
Without the least excuse; such is his style,
Who if my lord were here would not, I say,
Have ever dared to come within a mile
Of the castle, or e'en a hundred more,
Nor e'en there would he think himself secure.
And what by messenger before he sought,
He has requested of me, face to face,
So strongly that, upon me, must be brought
The burden of dishonour and disgrace;
And had I not spoken sweetly, and taught
The man that I might yield, with ready grace,
He would happily have taken that by force
Which he hopes to win by a gentler course.
I have promised, not meaning to comply,
(For tis no contract that is forged in fear)
My intention being simply to deny
What he would then have done by force, tis clear.
So stands the case; the remedy is nigh,
It lies with you to save me, twould appear,
And Argeo's honour, which you alone
Hold as dear as, or dearer than, your own.
Should you refuse me this, I shall say,
You have shown not the loyalty you cried,
But that, out of cruelty, you told me nay,
And that my every tearful plea you denied,
Nor showed respect for him, who is away.
That excuse you once proffered, though I sighed,
For our affair had been our secret game,
Yet now I stand exposed to scorn and shame."
Canto XXI: 45-49: And through her guile he slays Argeo in error
"Such a prologue is not needed," said he,
"For I am bound by friendship to Argeo,
Tell me your wishes, and I swear to be,
As I have always sought, friend not foe;
And though I have been wronged grievously,
I would not have Argeo wronged also.
For him I will contend to my last breath,
Though all the world and fate intend my death."
She replied: "Tis my wish you slay this man,
That seeks to bring upon us dishonour.
Fear no ill will come to you, if you can,
I will show you how; you shall not suffer.
When he comes to me (perceive my plan),
At the third hour, when tis darkest ever,
I'll give a signal, here within the tower,
Noiselessly, as is within my power.
Be patient, lie low, within my chamber,
For the baron; there, I will show no light,
And let me first rid him of his armour,
And, half-naked, present you with the knight."
So, the wife plunged her poor husband deeper
In the mire, if wife she is named aright!
Rather should she not be termed a Fury,
Sprung from Hell and its depths of cruelty?
When the darkest hour of night arrived,
She drew my brother forth, sword in hand,
And, to the unlit chamber, she contrived
To bring the baron, just as she had planned.
At her sign, all was done (ill plans devised
By such folk seldom fail, you understand)
Thus, Argeo fell to Philander's blade,
That thought it was Morando he'd waylaid.
One stroke sufficed, ere he could defend,
Himself, no helm protecting him, and so
His wretched life now found a bitter end,
And without the victim striking a blow.
Philander had, thus, slain his dearest friend,
Yet ne'er would have believed it. Rare, I know,
Is this case, in which, while seeking to please,
He wrought worse than the worst of enemies.
Canto XXI: 50-56: Gabrina then forces him to do her will
Once, unbeknownst to all, Argeo lay
Dead on the ground my brother gave the blade
To Gabrina (tis her name) who to betray
All those who fall into her hands was made.
Silent till then, she told him to display
A light, to view the victim he'd unmade.
And so, he did, and to the corpse was led,
And saw it was Argeo that lay dead.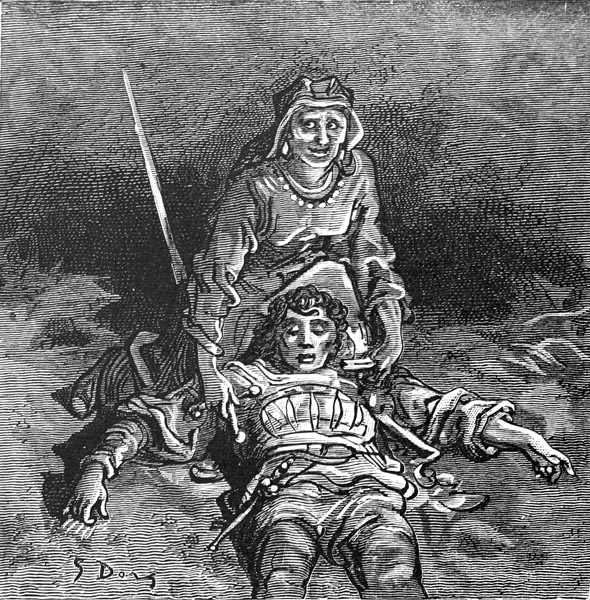 She threatened him, then, saying that if he
Did not consent to gratify her wish
She'd claim twas all due to his perfidy
And none could contradict her in this.
He would be taken and slain, swiftly,
As a murderer and traitor, and, to finish,
She told him not to scorn his own good name,
If he held life cheap, but think on the shame.
When he realised his error, Philander,
Full of grief and fear, was half-persuaded
To despatch this woman, in his anger,
And if, unsure, he'd not been dissuaded
By Reason, who in his ear did whisper,
That he must face a hostile house, unaided,
Though lacking, now, a weapon in his hand,
He'd yet have struck her down, where she did stand.
Like a ship, on the high seas, that is caught
By opposing winds, and driven to and fro,
Blown by one o'er the waves, the sails taut,
Then laid aback, as the other doth blow,
Now assailed from starboard, then from port,
Till the stronger, at last, its might doth show,
So, Philander, twixt the ocean and the devil,
Was persuaded to choose the lesser evil.
Reason showed the extent of his peril;
Worse than death, the stain of infamy.
Twas not Argeo he had sought to kill,
Yet little time was there to struggle free;
In his trouble, though all against his will,
He must drain the bitter cup, silently.
Thus, finally, in seeking a solution,
Fear conquered his former resolution.
Anticipating shameful punishment,
He swore a thousand times to comply,
And so, fulfil Gabrina's vile intent,
If, yet secure from harm, they could but fly.
And so, the wicked jade in triumph went,
And plucked the fruit by force, and by and by
Philander returned to us, leaving behind
His shame, in Greece, and yet not out of mind.
For, in his heart, lay the image of his friend
Whom he had slain, though all unknowingly,
Having gained, from his torment, in the end,
A Medea, a cruel, a vengeful Procne.
If his oaths, and the faith he must defend
Had not acted as a curb, he would, surely,
Have ensured that she swiftly met her fate;
Yet she lived, though mightily he did hate.
Canto XXI: 57-62: And subsequently seeks to poison him
Thereafter, he was never seen to smile,
All his talk was of life's dull miseries;
Often sighs issued forth; all seemed vile,
He became but a second Orestes
(Who slew the bold Aegisthus, for his guile,
And his mother Clytemnestra; for these
Two murders, the Furies plagued his head.)
Philander sickened, and took to his bed.
Now the pernicious woman, when she saw
With what little favour he viewed her,
Felt hatred where desire had burned before;
Her amorous longing turned to anger.
She felt the same revulsion now, or more,
Once felt for Argeo, for this lover.
She decided to remove him, as accursed,
And slay the second husband, like the first.
She found a physician, full of guile,
Sufficient for the work she had in hand,
Who knew more of poisons, strong and vile,
Than aught the art of healing did demand.
She pledged more than he sought, if in a while
He would do as she asked and had planned,
And some fatal liquor, covertly, devise,
That would serve to remove him from their eyes.
In the presence of myself and more beside
This doctor brought the means for the crime,  
And said he would a medicine provide,
That would grant robust health, in rapid time.
Gabrina now a wicked scheme applied,
Ere the doctor the drinking cup could prime,
To rid herself of her foul accomplice,
And retain the payment she did promise.
She seized his hand, as he touched the cup.
"Resent it not, if in my present fear,
I am cautious as to what my love might sup,
For I hold him most precious and most dear,"
She cried: "As I would have him drink it up,
For his benefit, I would show him, here,
It will not harm him, so would have you try
The medicine, before you bring it nigh."
What state would you think the man was in?
Placed, so swiftly, in a thankless quandary,
And with all poised to observe their sin,
He lacked a space for thinking, and so he,
Lest any there should doubt what lay within,
Tasted but a drop (adding it, quickly,
To the cup the patient emptied sans alarm),
Trusting so slight a taste would do small harm.
Canto XXI: 63-66: But all is revealed, though he dies
Like a trained hawk, that has a partridge gripped
In its talons, and stoops its head to eat,
Yet is robbed by the hound, which it trusted
As its comrade, and must forego the meat,
So, the physician intent on gain, instead,
Of the prize he hoped for, met with defeat.
A prime example of audacity;
May all such be denied their victory.
This done, he thought to be on his way,
So as to partake of the antidote,
Seeking to counteract, without delay,
The poison that yet lingered in his throat.
But to this the vile Gabrina said nay,
Rather his time he should as yet devote
To her spouse, till the draught had done its work,
And its value proved, nor his task should shirk.
Nor earnest prayer nor aught he could offer
Could secure her leave for him to depart,
The desperate man, who now saw death hover
Before his eyes, confessed; and, for his part,
Revealed every detail he could proffer,
Nor could she refute it by any art
Of deceit she possessed; and then the state
He had sought for another proved his fate.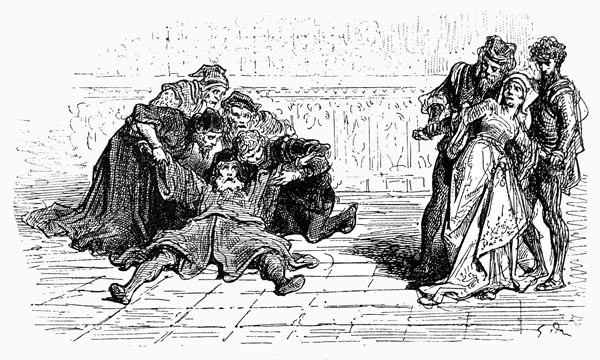 His soul fled, as my brother's had before,
Though all the essentials we had learned
Of the crime, ere it had done so; and more,
We seized the evil monster who had earned
Harsh punishment (for she, in tooth and claw,
Is worse than any beast man ever spurned
For its violence) and imprisoned her then,
That she might die in the fire, as and when.'
Canto XXI: 67-72: Hermonides ends his tale; Zerbino and the crone depart
So Hermonides ended, though, indeed,
He'd have spoken further if he could,
But suffered such a pang that fate decreed
He turned pale, and fell back, while two who stood
To serve him, upon seeing his dire need,
Made a bier of green branches from the wood,
Laying their master down upon that bed,
Ere bearing him away, nigh on half-dead.
Zerbino excused himself for his action,
Which must increase the ill that had been done,
But, as was customary, his companion
He was yet obliged to protect, as one
Of the knightly order, in his opinion,
Or be dishonoured; for the promise won
From him, on receiving her, was clear,
He must defend her from all that came near,
Yet if he might, in some helpful way,
Assist him, then he would wish to do so.
Hermonides replied he could but pray
The knight was be free of her, ere great woe
Came upon him, for her scheming that day
He might regret, so malicious was his foe.
Gabrina, meanwhile, kept a downcast eye,
For twas plain truth, nor could she make reply.
Zerbino now departed with the crone,
Having promised down that road to lead her,
But he cursed her in his heart, I must own:
For her, he'd harmed a good man, earlier.
And having heard all the evil she had sown,
From one who knew her, and thus did suffer,
If, before, he'd been less than pleased, the knight
So loathed her now, he wished her from his sight.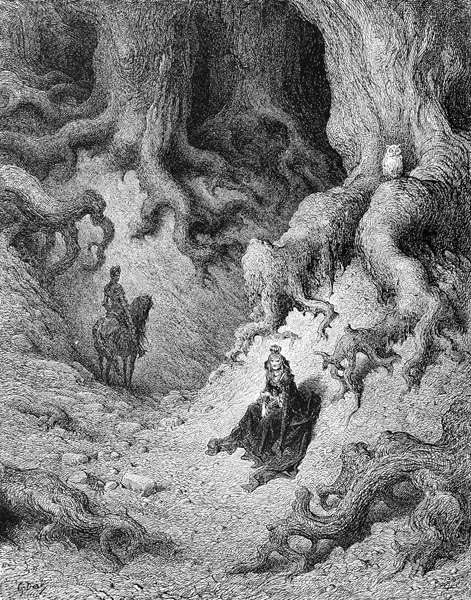 Comprehending his hatred, completely,
She'd not be outdone by him in malice,
For in that ill game, she played so slyly,
She aimed to land him two for one, no less.
Her heart was full of venom, endlessly,
While her face too was a poisoned chalice.
So it was in sweet concord, as I say,
That through the ancient wood they took their way!
But, behold, as the sun dipped at evening,
The sound rose of many a blow and cry,
That signified some harsh fight progressing,
While, by its loudness, it came from nearby.
Zerbino, to know what was occurring,
Towards the source of it did swiftly fly,
Nor was Gabrina slower to follow;
What passed, I'll tell, in another canto.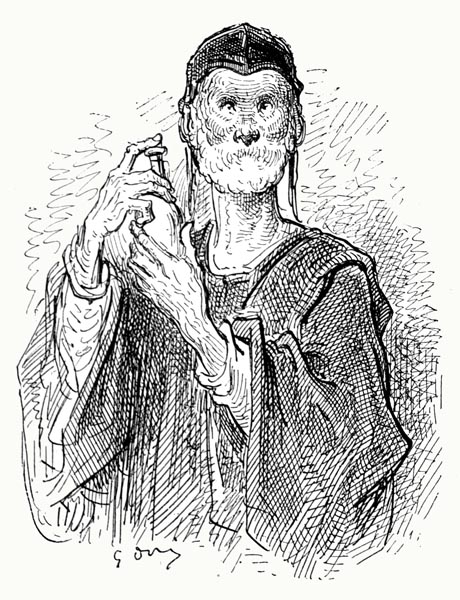 The End of Canto XXI of 'Orlando Furioso'
---