Ariosto: Orlando Furioso
Canto I: In Pursuit of Angelica
Translated by A. S. Kline © Copyright 2021, All Rights Reserved.
Illustrations photographed and digitally restored from the Fratelli Treves edition (Milan, 1899) by A. D. Kline.
This work may be freely reproduced, stored and transmitted, electronically or otherwise, for any non-commercial purpose.
Conditions and Exceptions apply.
---
Contents
---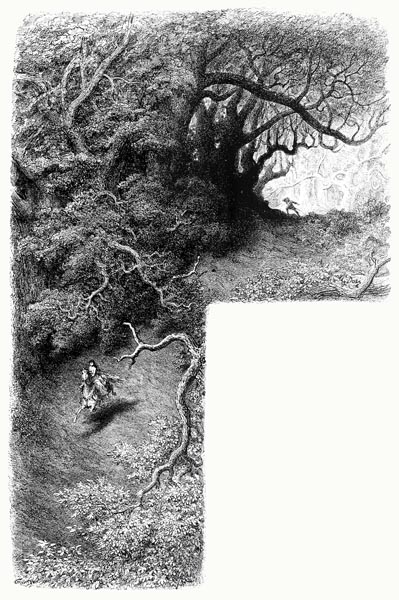 Canto I: 1-4: Ariosto's introduction, addressed to Ippolito d'Este
Of noble knights and ladies, arms, and love,
Of chivalry, and noble deeds I sing,
When the Moors from Africa did remove
Across the sea, and harm to France did bring,
Which, in his furious wrath, he did approve,
Agramante, who was their youthful king;
Vengeance for Troiano's death, he swore,
On Charlemagne, the Roman Emperor.
I'll speak, in the same vein, of Orlando,
Of things untold as yet in prose or rhyme,
He that to maddened fury fell, although
His wisdom formerly was thought sublime,
If she that has brought me well-nigh as low,
Such that the skill I show from time to time
Is enfeebled, grants me enough for this:
To but complete the work I did promise.
Deign, generous scion of Hercules,
Rare ornament and splendour of our day,
Ippolito, to favour what may please,
All that I, your humble servant, may
Do to repay my debt to you; take these
My words, the work of my slight pen, I pray;
Nor infer that I have naught but this small
Gift that I may give; for I give you all.
You will find, among the noblest heroes
Whom I intend to praise most fittingly,
Mention of Ruggiero who, midst those
Famed ancestors of yours, claims primacy.
To his great valour, and all that arose
From his fine deeds, if you but hear me,
I shall direct your noble thoughts, apace,
So that my verses there might find a place.
Canto I: 5-8: Orlando arrives at Charlemagne's camp
Orlando, who had loved many a day
The fair Angelica, and solely
For her to distant lands had made his way,
Media, India, and Tartary,
And glory won, returned now from the fray,
To the Pyrenees, where in company
With noble knights of France and Germany,
Charlemagne was camped, in open country,
All set to make them rue the day, these kings,
This Agramante, this Marsilio,
For their folly, the latter one who brings
Many a knight with sword, and spear also,
From Africa; the first whose army sings
Spain's destruction of fair France, her foe.
Thus came Orlando there, with true intent,
Yet of his presence he would soon repent.
For he was still far from his lady's side.  
How often human judgement goes amiss!
She whom he had championed, in his pride,
From east to west, in warfare such as this,
Was now to him, amidst his friends, denied,
Without a contest offered; lost, his bliss.
For the wise emperor, seeking to ensure
No errant flame was lit, did her immure,
Since contention had been spawned, instantly.
Orlando, and Rinaldo his cousin,
Were both enamoured of this same beauty,
Their spirits, filled with passion, lit within.
Thus, Charlemagne, who feared their enmity
Might limit them, should battle now begin,
Removed the maid, their cause for rivalry,
And placed her in Duke Numas' custody.
Canto I: 9-13: Angelica flees from Rinaldo
She was promised to whoe'er it might be,
That in the conflict, on that fatal day,
The greatest number of the enemy,
Might, with his own hand, meet, attack, and slay.
Yet the course of the fight proved contrary
To such hopes, the army melting away,
The Duke and others taken prisoner,
While his tent was abandoned in the stir.
Therein the lovely maiden had remained,
Fated to be the finest knight's fair prize,
And hid herself within, as fate ordained;
Yet, deeming things would go contrariwise,
Since the Christian faith scant fortune gained,
Foreseeing their defeat must soon arise,  
Into a wood she fled, but found, outright,
There, in the narrow way, a horseless knight.
Armed to the teeth, with helmet on his head,
His blade in hand, his strong shield at his side,
More swiftly through the forest he now fled
Than ever wretch to win the 'cloth' did glide.
Yet timid shepherdess no faster sped
From some venomous snake that she espied,
Than did Angelica, who tugged the rein
And, at the sight, her flight did fast maintain.
This knight was Rinaldo, Amone's son,
Lord of Montalbano, who his fine steed
Bayard had lost, that from his grip had run,
All through some strange mischance in being freed.
Once sight of the fair maiden he had won,
Though at some distance yet, he knew indeed
That angelic form, and that lovely face,
That now in passion's net did him enlace.
The lady straight turned her palfrey round,
And hastened, at full speed, through the wood,
No less among dense thickets than bare ground,
Taking whatever path her mount thought good,
For, pale and trembling, glancing not around,
She let the creature run where'er it could.
This way and that, among the trees it raced,
And reached a river, there amidst the waste.
Canto I: 14-20: Rinaldo and Ferrau do battle
Here by the water, Ferrau could be found;
Bathed in dust and sweat, that heathen knight
Had from the battle hastened, safe and sound,
Desiring drink and rest, exhausted quite;
And there had stayed, despites his wishes, bound;
For in his greed for water, bending low,
His helmet he had dropped into the flow.
The maiden swift emerging from the trees,
Troubled at this new sight, cried out in fear,
And at the sound, the Saracen, from his knees
Rose up, and gazed at her as she drew near;
Despite its pallid aspect, he, with ease,
Knew that sweet face once nigh it did appear;
And though he'd had no recent news of her,
He recognised the fair Angelica.
Since he was chivalrous, and moreover,
A heart no less ardent beat in his chest
Than in his cousin's, he, bold as ever,
Lent now the aid she sought, and gave his best.
Drawing his sword, he threatened the other,
And then upon the brave Rinaldo pressed.
Now, each by sight was to the other known,
And each a perfect skill in arms had shown.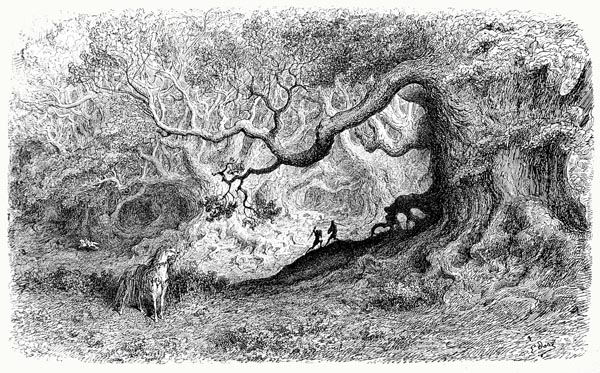 At once, the two engaged in fierce fight,
On foot as they both were, with naked blade,
Although their armour-plating was but light
Against such blows as anvils nigh unmade.
Now, as each man strains with all his might,
Her steed must show its swiftness, for the maid,
Spurs it with both her heels as best she may,
Through the woods and fields and far away.
When long the warriors had sought, in vain,
By some means to conquer one another,
For, with sword in hand, the fact was plain
That neither was more skilful than the other,
The Lord of Montalbano first did deign
A word to his Spanish foe to utter,
Like one who in his heart has such a fire
All it consumes, yet still burns the higher.
'You think', he said, 'to harm myself alone,
And yet yourself must injure equally,
For though the sun's bright rays perchance have sown
These seeds of your fierce ardour, yet I see
No gain to you if this be all you own:   
That even if you kill or capture me,
The lovely woman is not yours this day,
That flees from us while we, in vain, delay.
Better this surely: to yourself be kind,
And seek now to pursue her in her flight,
Detain her there, not linger here behind,
Before she is too far from you this night!
It would be still in our power, you'd find,
To take our swords, again, and end this fight,
Or else you do but face a deal of pain,
With harm and injury your only gain.'
Canto I: 21-23: In pursuit of Angelica, the two knights part company
By this the pagan knight was not displeased,
And so, their single combat was deferred.
Such was the truce, now that the fight had ceased,
Of wrath and hatred came there not a word,
So that when Ferrau left he was best pleased
To pray Rinaldo, ere he onward spurred,
To share his mount; together they did ride,
And sought Angelica, both far and wide.
How generous those knights of ancient days!
Rivals they were, of different faiths those two,
And they could feel their bodies still ablaze
From cruel blows that pained them now anew;
Yet through dark woods they rode, and obscure ways,
And not the least suspicion did ensue;
Encouraged by four spurs their steed now came
To where the path forked, each track much the same.
Thus, they knew not which road she had taken,
Whether to right or left the maid had gone,
And taking either they might prove mistaken,
For both those trails displayed hoof-prints thereon;
Chancing fate, each did the dust awaken,
That way Rinaldo strode, Ferrau rode on;
Yet, plunging ever deeper midst the wood,
He found himself again where once he'd stood.
Canto I: 24-31: Ferrau sees an apparition of the dead Argalia
His helmet he had lost there in the river,
Sunk deep beneath the flow, and so concealed,
And since he'd lost the maid, perchance forever,
He thought at least the helm might be revealed;
And so descended, where the bank was lower,
But naught did those shadowy waters yield;
So deep the sand that he'd have much to do,
Ere he might find, and wear, the helm anew.
With a branch, severed from a mighty tree,
That he had trimmed and carved into a pole,
He sounded out the bed, most cautiously,
Prodding at every angle, bank and shoal,
And while he struck and thrust so, angrily,
Stung by delay, no nearer to his goal,
Breast-high amidst the flood, he saw a knight,
Most proud of aspect, and a fearsome sight.
But for his head, he was armed completely,
And held a helm aloft in his right hand,
The very same Ferrau sought eagerly,
Amidst the depths in which it once did land;
The vision now addressed him, wrathfully:
'Ah, false in speech, a perjurer you stand,
Whom it aggrieves to leave a helm behind
That you owed me and in the depths I find.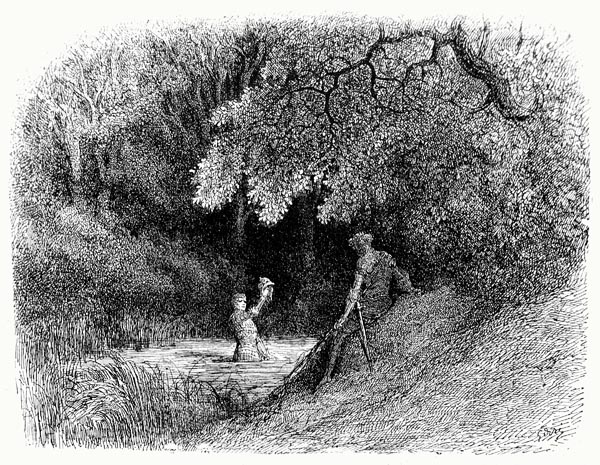 Do you remember not the knight you slew?
Brother to Angelica? Twas I –
You swore then to throw this helmet too,
Into the flood, with my steel coat to lie.
If then the deed that you refused to do,
Fortune effects, nor doth my wish deny,
Grieve not or, if you must, then grieve to be
A knight found wanting in true chivalry.
But if it's a fine helmet you desire,
Seek another you may wear with honour;
Such as Orlando's that all men admire,
Or Rinaldo's or one even better,
Almonte's or Mambrino's go acquire,
By some exercise of your true valour,
While this, you have already left with me,
You'd best bestow in perpetuity.'
When, suddenly, this vision had appeared
The hairs had risen on the pagan's head,
His face had paled, as upwards it had reared;
About to speak, his voice was stilled instead.
Yet, hearing from one he no longer feared  
Whom he had slain (Argalia, long dead)
Beside this very stream, with ire and scorn
He filled, who thus indeed was proved foresworn.
Lacking the time to summon an excuse,
Knowing the truth of what the knight had said,
Speechless he stood there, guilty as accused,
The while his heart was stung by shame and dread;
And then he swore all helms would be refused,
Swore it, on his mother Lanfusa's head,
Except that which Orlando from Almonte
Had gained, slaying him in Aspramonte,
And let this new pledge now serve him better
Than had that idle oath he'd sworn before.
Then, filled with grief, he went from the river,
Grief that many a day his heart would gnaw;
And set on finding Orlando, ever,
All places he might be sought to explore.
Meanwhile Rinaldo met a different fate,
He who'd taken that other path of late.
Canto I: 32-36: Meanwhile Angelica still flees from Rinaldo
Rinaldo had but gone a little way,
When he beheld his warhorse roaming free:
'Halt, halt, my Bayard, and no further stray!'
He cried: 'Your lack has done me injury.'
Yet still the creature, failing to obey,
Deaf to its master, vanished speedily,
Rinaldo, angered, following did fly;
And on Angelica, there, cast an eye.
Through shadowy and fearsome woods, she fled,
Where only savages and hermits dwelt.
The motion of the green leaves overhead,
Oak, elm, and beech, every sigh she felt.
The sudden rustling filled her heart with dread;
Along the windings of strange tracks, full-pelt
She rode, each shadow seeming, in her mind,
Midst hills and dales, Rinaldo's, close behind,
Just as some fawn, of roe or fallow deer,
That midst the branches of its native glade,
Has seen its hunted mother run in fear,
Her throat wolf-torn, her flanks all ripped and flayed,
Flees now, through the trees, lest the beast appear,
Suspecting each last movement in the shade,
Thinking itself, at each bush to be passed,
Caught in the grip of those fell jaws at last.
All day and night, till the following noon,
She wandered ignorant of where she went,
And reached a grove, bright neath both sun and moon,
Where the light breezes their sweet music blent,
And two pure murmuring streams sang their tune,
Rendering the grass tender and innocent,
And bringing softly to the listening ear
Their flow among the pebbles, sweet and clear.
And there, at last, she felt herself secure,
A thousand miles distant from Rinaldo.
Pained by the weary track, and heat no more.
Thinking to halt her mount, she made to slow,
Amidst the flowers dismounting, by the shore;
Then let her palfrey browse there to and fro,
Loosening the bridle, so that it might pass
Beside the water edged with fresh new grass.
Canto I: 37-40: Angelica rests and sees a melancholy knight
There, not far off, a lovely glade she saw,
Of flowering hawthorn, and the pink dog-rose,
Whose glowing forms the water's mirror bore;
Its shade commanding oak-trees did enclose,
The space within sufficient to ensure
A fresh yet hidden bower for her repose.
Those leafy branches all so woven tight
The sun could enter not, no more the sight.
And there the tender grasses formed a bed
Inviting the spent traveller to rest.
The lovely woman to it lightly sped,
And there lay down to sleep, a weary guest.
But not long was her slumber; in its stead
Waking, a trampling sound her ears oppressed,
And quietly rising, following the shore,
A knight, armed fully head to toe, she saw.
She knew not whether he was friend or foe,
Troubled, her mind was torn twixt hope and fear,
Awaiting the outcome, she trembled, though
No sigh of hers revealed that she was near.
The knight descended to the shore below,
Where standing, head on hand, he did appear,
Lost in some profound thought of his own,
Altered it would seem to unmoving stone.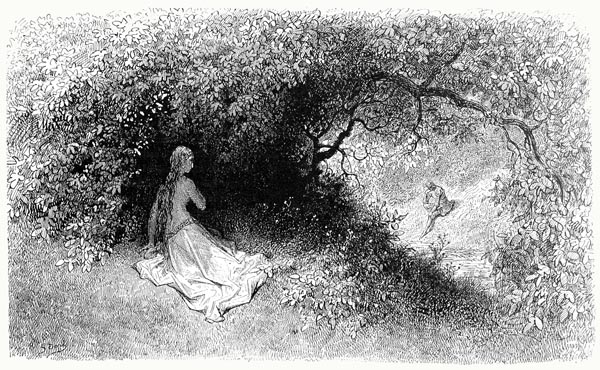 Thus, pensive, for an hour, his head bowed low,
Silent he stood, that melancholy knight,
And then began a mournful tale of woe;
Yet he complained so sweetly of his plight,
It was enough to melt hard granite so,
Or pity in a tiger's breast incite.
Sighing, he wept, and down the sad tears streamed,
While his breast a smouldering Aetna seemed.
Canto I: 41-44: The knight's lament
'My thoughts' he cried, 'that freeze and burn my heart,
And cause this pain that gnaws at me alway,
What shall I do, who, at the very start,
Appeared too late, while others won the day?
Scarce word or glance have I gained, for my part,
Yet some other must bear the spoils away.
If I may touch neither fruit nor flower,
Why should I think on her another hour?
The virgin girl is like a budding rose,
In a fair garden, on its native briar,
That safe, and solitary, may repose,
No shepherd with his flock ever nigh her;
The sweet air and the dewy dawn enclose
Her favours, earth and water hers entire.
With roses, wistful youths and maids in love,
Adorn themselves, garland their brows above.
Yet once removed, of its green stem bereft,  
Once torn from the branch that bore it of late,
Naught that heaven or earth endowed is left;
Loss of grace, beauty, favour is its fate.
A maid should thus avoid that flower's theft,
Dearer than life and light, in its pure state,
Nor see the worth lost it had owned before,
When others its sweet beauty prize no more,
Scorned by others and loved by one alone,
To whom that greatest of gifts was given.
Oh, Fortune cruel, ungracious to her own!
Other men triumph; I by pain am riven,
Am I to be devoid of grace, none shown?
Must I forego my life, deathwards driven?
Better to cease to breathe, live no longer,
Than to live, and yet no longer love her!'
Canto I: 45-47: He is Sacripante, King of Circassia
If any ask me who this knight might be,
He whose tears pour down into the water,
The King of Circassia, it is he,
Sacripante, who from love doth suffer.
I say the prime cause of his misery,
Was that of this maid he was a lover,
And he was one of those who loved her true,
And that he sought her still the maiden knew.
For love of her, to where the sun doth set,
A journey from the East, this king had made,
Who'd heard in India, to his regret,
Orlando sought her and had anchor weighed;
And then in France with further news had met,
That the emperor's wish she now obeyed,
Meant for the knight who gave the best display
Against the Moors, for the fleur-de-lis, that day.
There, in the field, he had stood witness to
The cruel rout that Charles had undergone,
And looked for signs of her he did pursue,
The fair Angelica, both here and yon;
And this was why he wept, all pale of hue,
And felt such pain, and was so woebegone,
Grieving, and in such sad words lamenting,
That the sun, for pity, seemed nigh halting.
Canto I: 48-51: Angelica chooses to reveal her presence
While Sacripante grieved and lamented,
And made a tepid fountain of his eyes,
And uttered many words, as if demented,
Which I need not recite, in plaints and cries,
His good Fortune willed, and so consented
To bear to fair Angelica his sighs;
And so, he reached a place, amidst his tears,
That else had taken him a thousand years.
With close attention then, that lady fair
Heard the words and weeping, now, of one
Whose passion slept not, as she listened there
To yet one more confession, till twas done;
But with the hardness marble columns share,
And their great coldness, pity she did shun,
Like to a maid that all she hears disdains,
And naught but what is worthy entertains.
Yet all alone in those deep woods she thought
That she might need his presence as a guide;
For one who's drowning aid, of any sort,
Should seek before they founder in the tide;
And if his help in need should go unsought,
So true a friend she might then be denied,
For long experience had proved the king
More faithful than the rest in his wooing.
Yet she had no intention thus to ease
The pain that's visited on those that love,
Or heal past injuries, and thereby please
With such attentions as affection prove;
But fictions and deceptions, without cease,
She sought now to employ, nor doubt remove;
To let him hope on, and so serve her need,
And then return once more to her harsh creed.
Canto I: 52-59: Sacripante determines to gain his wish
Emerging from the shadows, suddenly,
Her lovely form, amidst the glade, was seen,
As from some cave or forest, equally,
Cythera's or Diana's might have been
Revealed to the eye, and then said she:
'Peace be with you, nor yourself demean,
In God's eyes, by slandering my name,
With little reason, and so false a claim.'
Not with such joy or such wonder ever
Did parent gaze upon their child once more,
Whom they had mourned as dead, lost forever,
Returned amidst the thinned-out ranks of war,
As gazed this king, in delight and rapture,
Upon the noble presence he now saw,
The angelic semblance, the graceful air,
That, in an instant, was apparent there.
Filled with sweet and amorous affection,
He ran towards his lady, his goddess,
And she embraced the knight then, an action
That might in her Cathay denote excess;
For her thoughts had turned in that direction,
Towards her native land; the fair princess
Found hope within now suddenly reborn
That once again that place she might adorn.
A full account she gave, Angelica,
Of all since he was sent to Gradasso,
King of Sericane and Nabatea,
To request his aid, and how Orlando
Had full oft defended her, thereafter,
From death, dishonour, and every foe,
So that hers was yet the virgin flower,
Borne thus intact from her natal hour.
Perchance all that she told the knight was true,
Though to a man of sense incredible,
Yet to Sacripante, if not to you,
Lost in his thoughts, it seemed believable;
For what we see Love re-creates anew,
And makes all that we dream of visible.
The mind it seems will readily concede
Our wishes to be facts, when we so need.
'If then the lord, Orlando, has refused,
Foolishly, his happiness to ensure,
His be the loss', so Sacripante mused,
'If Fortune fails to offer it once more.
The chance I have shall not be so abused,
I shall not do as he has done before,
And lose the good that has been granted me,
With naught to blame but my stupidity.
Rather, I'll gather the fresh morning rose,
That must be lost to me should I delay.
No sweeter thing to woman, I suppose,
Is granted them than this, whate'er they say;
Whate'er may be the scorn the woman shows,
Howe'er she may shed tears, or feel dismay,
I shall not brook rejection or disdain;
Ever my firm intention shall maintain.'
This said, preparing for the sweet assault,
He heard a sound, that echoed midst the trees,
From out the wood nearby, that made him halt,
Though so against his will as to displease.
He donned his helm (in those days, by default,
An armed knight bore it, even when at ease)
Approached his warhorse then, and seized the rein,
Mounted, and grasped his gleaming lance again.
Canto I: 60-65: He is obliged to duel with an unknown knight
Behold, from out the wood emerged a knight,
By his appearance, seeming strong and proud,
His vestments were as white as snow, and white
The plume upon his helm, that gently bowed.
King Sacripante, who felt scant delight
At finding the fair course he had avowed
So thwarted he might not his wish attain,
Dealt him a look of anger and disdain.
Approaching fast, he challenged him to fight,
Seeking to unsaddle him, in his pride,
Though the other seemed of equal might,
Whose haughty threats the king at once decried,
And spurred his steed towards the man, outright,
His lance already cradled at his side.
Thus, Sacripante like a tempest roared,
As they met head-to-head, in brief accord.
Lions or bulls charging into battle,
Ne'er clashed together with greater power
Than these two, seeking to prove their mettle,
And hoping their enemy to devour,
Such that the solid ground shook a little,
The grassy vales, the hills, seemed to cower;
And it was well the armour that they wore
Protection for their chests did thus ensure.
Neither steed swerved from the chosen course,
But met like rams in conflict, head-to-head,
The pagan king was tumbled from his horse,
That, though much prized in life, now fell stone dead,
The other's mount too could but feel the force,
Fell, yet spurred revived, to warfare bred,
While Sacripante's lay, such was its fate,
Burdening its downed lord with its great weight.
The unknown champion, as yet upright,
Seeing the other, unhorsed, on the ground,
Considering the skirmish won outright,
Cared not to fight again but, safe and sound,
Vanished through the forest, in full flight,
Galloping through the trees that pressed around,
And ere the king recovered from the fray,
Had spurred a mile or more upon his way.
As a ploughman, deafened and stupefied,
The lightning and the thunder moving on,
Rises from where he lies, there by his side
His stricken ox, to find great branches gone
From shattered trees, as the far sounds subside,
And, dazed as yet, gazes hither and yon,
So Sacripante rose, our pagan knight,
The maid a witness to his horrid plight.
Canto I: 66-70: He learns that he was unhorsed by the warrior-maid Bradamante
He groaned and sighed, but not from any pain
Caused by broken limbs, or wounds received,
But from shame alone, from the greatest stain
Upon his fame and honour, he believed,
That any true warrior might so sustain,
And worse, his lady had the weight relieved,
Moving his dead mount; thus, mute he'd been
Had she not given voice thus to the scene: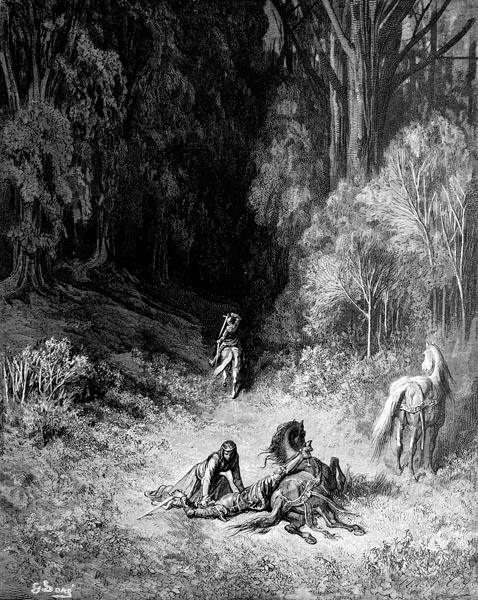 'Ah, good my lord' said she, 'be not dismayed,
It was no fault of yours you were brought low,
For it was by your steed you were betrayed,
That would have rather rested than fought so;
Nor great honour has that knight displayed,
Nor gained in glory; for the losing foe,
If I know aught, I call the first to yield,
And like a beaten warrior quit the field.'
While she sought to cheer the Saracen king,
Behold, towards them, on a nag, did ride
A messenger, each seemed a weary thing,
The lad with horn and pouch hung at his side.
He asked the king if, in his journeying,
A warrior midst the woods he had espied,
Who bore a shield, and a plume, all white,
For he came seeking that warrior knight.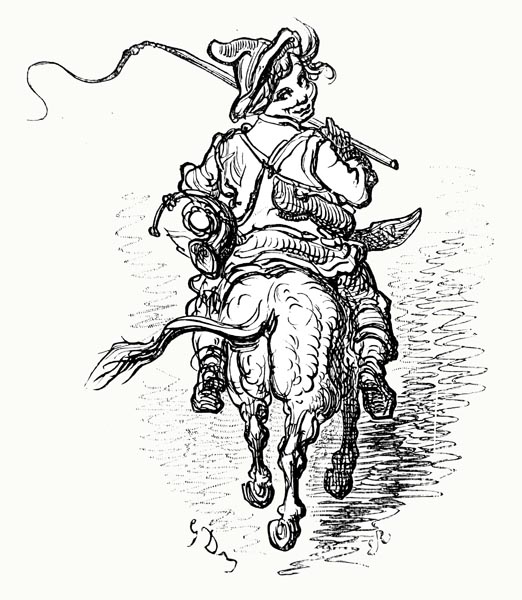 Sacripante replied: 'Tis, as you see,
He has unhorsed me, vanishing but now,
Come, tell me who this warrior may be,
That I may know the one that made me bow,
The other answered: 'I shall readily
Reveal the name to you, for I avow
A tender maid achieved your overthrow,
Well-tried in battle, she who laid you low.
Bold is the maid, full bold, yet fairer still
Her glorious name I'll not keep from you;
Twas Bradamante brought about your spill,
Robbing you of the honour that you knew!'
This said, he let his nag walk on at will,
Leaving the king but little joy, tis true,
For there was naught that he could do or say,
But, blushing, wish the rider on his way.
Canto I: 71-76: Angelica and the Saracen king encounter Bayard, Rinaldo's mount
After the king had thought long, though in vain,
Upon his sorry case, accepting he
Had by a maid been overthrown, nigh slain,
And feeling it more in thinking deeply,
To mount Angelica's horse he did deign,
And then, without a word, he quietly
Lifted her up behind him, on a steed
Used to a sweeter load, and scene indeed.
Not two miles had they gone ere they did hear
The forest, that lay all around them, sound
With such a noise of trampling, loud and clear,
That tall trees trembled, and the air, the ground;
And then a great war-horse did swift appear,
With gilded trappings richly girded round,
That leapt the streams, ploughed through every bush,
Striking whate'er delayed its onward rush.
'If the tangled branches, the misty air,
Do not deceive my eyes,' cried the maiden,
'Tis Bayard's noisy passage sounding there,
Forging a path where no way lies open.
Yes, for I'd know twas Bayard anywhere;
He has recognised we're over-laden!
A steed that's bearing two goes ill indeed,
Yet here is one who understands our need.'
Dismounting, the Circassian king went near,
And thought to set his hand upon the rein,
But now the horse another tack did steer,
Swift as a lightning bolt, it wheeled again,
And well that its kick failed to land; I fear
That if it had then great had been the pain!
Its legs revealed such power in battle,
With ease it could split a helm of metal.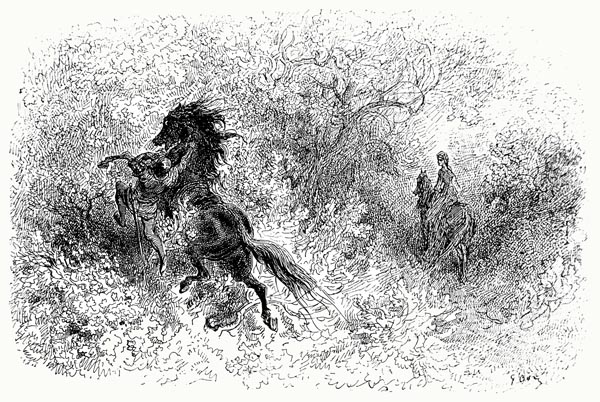 Yet to the maid it went, most meekly, after,
Humble, and well-nigh human in its gaze,
Much as a faithful dog greets the master
It has been parted from for sundry days.
For Bayard her face did still remember,
Who in Abracca brought him food always,
At the time when she still loved Rinaldo,
That proved graceless there and cruel also.
She seized the bridle now, with her left hand,
With the other, patting its neck and chest,
While the horse, that seemed to understand,
Gentle as any lamb, her cheek caressed;
Yet soon the king upon its back did land,
Seizing the moment that indeed proved best,
Clasping the reins full tight, while the palfrey
Found its saddle claimed now by the lady.
Canto I: 77-81: Rinaldo appears, Sacripante awaits his arrival
Then, gazing about, randomly, she sees
A man, on foot, appear, armour clashing;
Anger she feels, and spite, and deep unease.
Rinaldo, Amone's son's approaching
(He loves her more than life) midst the trees,
Whom like heron from hawk she is fleeing.
There was a time he loathed her more than death,
While she loved him; fate alters in a breath.
This, two differing fountains had achieved,
Opposite effects caused by their water,
Both in Ardenna their strange magic weaved;
One fills the heart with deep desire ever,
The other leaves that same heart undeceived,
And turns to ice the ardour of a lover.
Rinaldo tasting one – now loves her so;
She the other – hates him, and flees in woe.
Their waters contain a secret poison
That changes hate to love, or love to hate,
Such that the maiden, setting eyes upon
Rinaldo, felt o'er shadowed by her fate,  
And with trembling voice, in sad affliction,
She begged the king, thus, not to hesitate,
Nor to attend on the approaching knight,
But both, at once departing, take to flight.
'Have I so little credit then with you,'
The king replied, 'that you consider me
Of little aid in your defence, one who
Could not defend us both effectively?
Recall but Albracca's battles, anew.
Forgot is that night, when, for your safety,
Against King Agricane in the field,
Naked and alone, I proved your shield?'
Feeling uncertain, she made no reply,
For bold Rinaldo called aloud his threat,
As, nearing them, Bayard he did espy,
And the angelic face that now had set
His heart aflame, and ever made him sigh;
And so, he and the Saracen were met,
But of what transpired twixt that proud duo,
That I shall reserve for the second Canto.
The End of Canto I of 'Orlando Furioso'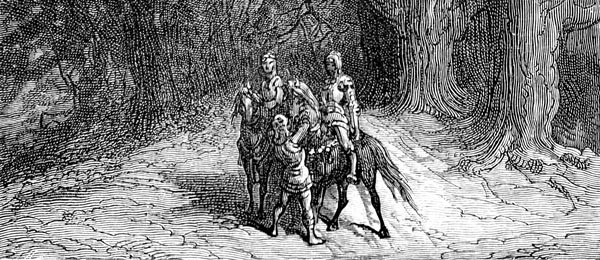 ---