Jean de Meung
The Romance of the Rose (Le Roman de la Rose)
The Continuation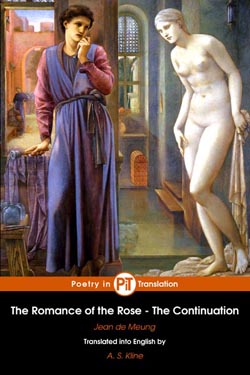 With illuminations from an edition dated c.1490–c.1500 originating from Bruges, the Netherlands, prepared for Engelbert II, count of Nassau and Vianden (d. 1504). Courtesy of the British Library.
---
Part I: Chapters XXXIII-XXXV - Reason's Discourse
Part II: Chapters XXXVI-XLII - Reason's Discourse Continued
Part III: Chapters XLIII-L - Friend's Counsel
Part IV: Chapters LI-LV - The Jealous Husband
Part V: Chapters LVI-LX - Wealth's Obstructiveness
Part VI: Chapters LXI-LXIX - False-Seeming And Abstinence
Part VII: Chapters LXX-LXXIV - The Crone's Lament and Advice
Part VIII: Chapters LXXV-XC - The Lover At The Tower of Jealousy
Part IX: Chapters XCI-XCVII - Nature and Her Priest Genius
Part X: Chapters XCVIII-XCIX - Nature's Confession
Part XI: Chapters C-CIV - Genius' Sermon
Part XII: Chapter CV-CIX - The Lover Wins The Rose
Also See:
The Romance of the Rose (Le Roman de la Rose), by Guillaume de Lorris
The original, 13th-century Roman de la Rose preceded Jean de Meung's later continuation by some forty years. Jean claimed that it had been conceived by Guillaume de Lorris who, it is presumed, came from the village of Lorris, near Orléans, France. Clearly he was educated and literate, and therefore likely to have been of the minor aristocracy. He produced in his Romance, a dream allegory of courtly love, in a poetic, reflective and elegant style. His world-view is also shrewd, with his reflections on love partly derived from Ovid's Ars Amatoria: The Art of Love. Guillaume's work is an epitome of the allegorical style and a fine development of the courtly tradition of 'fin amour'.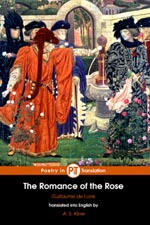 ---
Winning the Rose, a Commentary by A. S. Kline
Composed in the 13th century, The Romance of the Rose created by Guillaume de Lorris and continued, and completed, by Jean de Meung, is the finest poetic achievement of the French High Medieval period. This Commentary explains the structure of the work, and the intentions behind it, and considers the detailed content, chapter by chapter, identifying references, and elucidating the speeches and actions of the personifications brought to life by the allegory.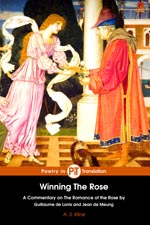 Translated by A. S. Kline © Copyright 2019 All Rights Reserved
This work may be freely reproduced, stored and transmitted, electronically or otherwise, for any non-commercial purpose. Conditions and Exceptions apply.