Boiardo: Orlando Innamorato
Book I: Canto III: The Founts of Love and Loathing
Translated by A. S. Kline © Copyright 2022, All Rights Reserved.
This work may be freely reproduced, stored and transmitted, electronically or otherwise, for any non-commercial purpose.
Conditions and Exceptions apply.
---
Contents
---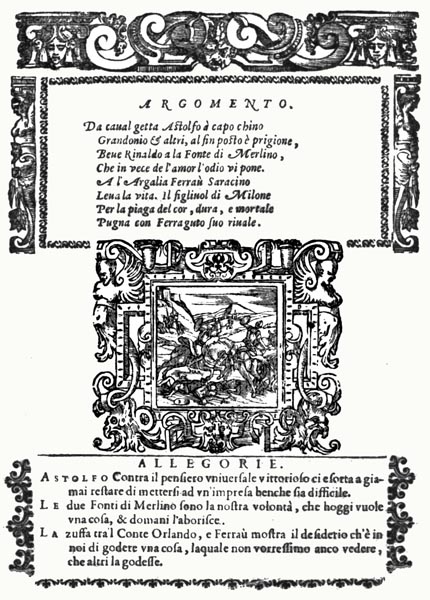 Book I: Canto III: 1-6: Grandonio is conquered by Astolfo  
My lords, when I ended the last canto,
Astolfo was putting the Moor to scorn,
Crying: 'Brigand, you'll not be boasting so
When tis to Hell's deep pit you're being borne.
Vaunt not the conquering of your foe,
I'll send you to the galleys; night and morn
You can row there, where your giant stature
May win you honour at your leisure!'
Grandonio, who was a king full used
To making mock, and not to being mocked,
Swelled with rage, at his being so abused.
Even as the sea's fury is unlocked,
By a passing gust, wind and water confused,
Troubling the bold helmsman, so, deeply shocked,
Grandonio, storming, fretting, thus, was led
To grind his teeth aloud, and shake his head.
He quivered, hissing like an angry snake,
Then he rode some distance from Astolfo,
And wheeled maliciously, his ire to slake,
Aiming his enormous lance at his foe,
While fully believing (make no mistake)  
That he would skewer his opponent so,
And hurl him from the saddle, ne'er to stand,
Or send him to lie, dying, on the sand.
Astolfo turned to meet the headlong Moor,
As he charged towards him, furiously,
Yet, though pale of face, his heartbeat unsure,
He sought death before disgrace; as, swiftly,
They met together, with a mighty roar
From Grandonio; they felt the shock briefly,
Then the Saracen was downed, before them all;
You can guess the shouts attending his fall.
Immeasurable was the sound of that cry,
As if Earth burned, and all the heavens fell.
The people in the stands, set there on high,
Leapt to their feet, the noble folk as well.
They pressed forward to seek the reason why
The warrior was down, and what befell.
The Saracens were mute, the emperor
Disbelieving, saw the foe bathed in gore.
In falling from his mount, Grandonio
Had landed on his left, his wounded side
Where the blow he'd had from Oliviero
Had pierced the flesh, and now opened wide.
The African lay stunned, before his foe,
His face pallid, all his ancestry belied,
While the blood spurted forth, in such amount
It seemed like water from a flowing fount.
Book I: Canto III: 7-9: Who then defeats Giasarte and Pilïasi
Some said Astolfo's bold thrust was the cause,
And so granted his valour all the praise.
While others chose to think it what it was;
(The result of some enchantment) in a daze,
Grandonio was borne off, midst the pause,
Who slew Astolfo later, legend says,
In revenge, though the Moor was slain as well,
In that fight, or so quite other verses tell.
Astolfo remained there as the victor,
Though he could scarce believe his own success.
There were, midst the pagans, but two further
Knights, now left, that true valour did possess;
Giasarte, whose hair was dark in colour,
And Pilïasi; two sons of kings no less.
Giasarte's father, a puissant lord,
Had conquered all Arabia with his sword;
While Pilïasi's father ruled Russia,
Having gained almost all of Tartary;
His western border was the Don River,
A great king, beyond the north-wind, was he.
To render my tale somewhat shorter,
Astolfo was challenged by these, solely.
He jousted with them briefly and, in short,
Downed one, then the other, as if in sport.
Book I: Canto III: 10-19: Astolfo fights the Maganzese
Meanwhile a messenger sought out Gano,
To tell him of Grandonio's fall,
Though he would not credit that Astolfo
Had aught to do with the defeat at all,
But rather thought, and was sure it was so,
That some strange accident, as can befall
Any man, some unheard-of circumstance,
Had caused the thing, a matter of mere chance.
Hence, he considered he himself could gain
The triumphal honours of the tourney,
And with a high position to maintain
Took eleven Counts with him, a small army,
The flower of Maganza's House, in his train,
And with a show of pomp, like to royalty,
Went to Charlemagne and, eloquently,
Offered his excuse for proving tardy.
Whether Charlemagne believed his tale,
Or not, I cannot say, but with a greeting
He welcomed him; while Gano did not fail
To send word to Astolfo that the jousting,
(Since not a pagan now sought to prevail)
Would be twixt the Christians remaining;
For Astolfo was still bound to satisfy
All who his skill and valour would deny.
Astolfo, who was voluble by nature,
Replied: 'Tell Gano, I care not at all
Whether he or some Saracen shall feature,
Though I deem him less than them withal,
An enemy to God and every creature,
Thief, traitor, heretic, to lies in thrall;
Let him come. For I esteem him no more
Than a rotten sack, full of horse-manure.'
Count Gano gave no answer to this slur,
But charged at Astolfo in his fury,
Muttering to himself: You wretched cur!
Wait there till I punish you, and swiftly.'
He was certain (as his allies would concur)
He'd hurl the duke from his saddle, shortly;
Twould be nothing new, for he'd done more
To such madmen, many a time before.
Yet the outcome was not as he had planned.
Count Gano's shoulders struck the solid ground,
And Macario too, of that wretched band,
Following on behind, a like fate found.
'Shall God allow this vile affront to stand,'
Cried Pinabel, 'and see this brainless hound
Shame all the mighty House of Maganza?'
And, with that, his sharp lance he did lower.
Yet, as he raged, he parted from his steed.
Ask me not if the duke rejoiced aloud.
He shouted to the skies: 'Vile clan, take heed;
I'll down you one by one; come all you crowd
Of fools.' Smiriglio now charged at speed,
But fell before Astolfo, swiftly cowed,
And was dragged aside (by his hands and feet)
Oh, how Count Gano groaned at his defeat!
As he was borne aside, Falcone cried:
'Is Fortune so inimical to us,
Has Heaven to this wretch the skill supplied
To render all our House ridiculous?'
He lashed himself to his saddle; so, tied,
He could not fall; the action malicious,
And then rode to encounter Astolfo,
Assured of his retaining his seat so.
But Astolfo struck in such a manner
Upon his visor, with such fearsome force,
That the knight rocked hither and thither,
Still seated, as if lifeless, on his horse.
The crowd expected him to fall, however,
Until twas seen that he had made recourse
To his fraudulent device; up went the shout:
'The traitor's tied to his steed; drag him out!'
Some others of his House led him away,
Falcone in great pain, and filled with shame,
To say naught of Gano's chagrin that day.
Astolfo cried: 'Come now, who seeks for fame?
I'll yet scratch his itch, wriggle as he may.
Let him be roped on tight, tis all the same;
A madman's far more trouble when he's free,
Than when he's safely tied, it seems to me.'
Book I: Canto III: 20-24: A mass brawl ensues
Now, Anselmo of Ripa, that false Count,
Conjured up the thought in his mind
Of a vengeful trick to even the account:
He would come upon Astolfo from behind
And, in charging thus, spill him from his mount.
Lord Raineri, would fight first, as a blind,
Count of Altafoglia; he would follow,
And was certain to down this Astolfo.
The duke, then, encountered Lord Raineri,
Who, legs outspread, departed from his steed;
As Astolfo composed himself, briefly
(He'd but little time to do so, indeed)
Anselmo charged him, unexpectedly,
Enacting that false and treacherous deed,
Though the villain made it seem an accident
And not a trick, performed with ill intent.
The plan succeeded, and Astolfo fell
Flat on his back, upon the sand below.
Think you it did his courage thus dispel?
He found his feet, recovered from the blow,
Disdainful, angered, drew his sword as well,
And swift as lightning ran towards the foe,
Count Gano and his crew; reached Grifone,
And swung the blade at his head, wildly.
Though the latter's strong helm survived the blow.
Now a grand melee arose in the square,
As Gano, Ugo, and Macario
Leapt at Astolfo, their steel blades laid bare,
But Namus, and Turpin, and Ricciardo,
Counter-attacked, to aid in the affair,
While others hastened in, from every side,
And even Charlemagne his sword applied,
Landing a mighty blow, here, then there,
And breaking the heads of more than thirty.
'What traitor, thus, what rebel, doth so dare
To mar my feast?' the king cried out, loudly,
As he wheeled his courser, and none did spare,
For he swung his great sword, mercilessly.
All made room for the mighty emperor,
Fleeing swiftly, or showing him honour.
Book I: Canto III: 25-30: Astolfo is arrested and imprisoned
'What means this?' he demanded, of Gano,
'What is't you do?' Astolfo met his glare,
While Grifone, still smarting from the blow,
Fell on his knees, before the monarch, there,
And cried in an anguished voice, gainst his foe:
'Justice, my lord, justice; great wrong repair!
Oh, noble sire, most worthy and most wise,
Was I not attacked before your very eyes?
Seek to know, my lord, from all these men
What occurred, and transpired, I beg of you.
If you find I began this brawling, then
I'll take the blame, and suffer for it too.
Let me be drawn and quartered, as and when,
If twas not the Englishman; for I speak true.
And if you prove the contrary, and twas he
Place the guilt where it belongs; not on me.'
Astolfo was so angered by the matter,
He forgot that King Charlemagne was there,
And cried: 'Tis all false, you lying traitor,
Born of a wicked clan, in that foul lair.
I'll have the heart from your chest, hereafter,
(Nay, ere I depart) its foul depths laid bare.'
Grifone calmly answered: 'Fear you not,
I'll deal with you when we've left this spot,
But in this square tis reason rules the day;
I shall not bring dishonour on my king.
'Treacherous dog!' Astolfo then did bray;
'You thief, you rogue, you thrice-accursed thing!'
Charlemagne did a troubled face display.
'By the one true God, Astolfo,' sighing,
The king chided him, 'Use greater courtesy
Or, to your cost, you'll answer now to me.'
Astolfo heeded his king not a whit,
Adding fresh insult to past injury,
Like one offended, with the truth of it
Understood by none, by himself only.
Behold, Count Anselmo, who, in a fit
Of bravado, or by mischance simply,
Came close to them; Astolfo, undismayed,
Leapt upon the deceiver, with drawn blade.
And, truly, he'd have struck Anselmo dead,
If Charlemagne had failed to intervene.
All blamed Astolfo then, and sought his head,
While the king had him hustled from the scene.
To the keep, under close guard, he was led,
And there chained, in a cell low and mean,
Where he paid the price of his own excess,
Held there longer than he'd willingly confess.
Book I: Canto III: 31-36: Rinaldo drinks from the Fount of Loathing
Let us leave him there, who's yet happier
Than those three distant lovers, wounded so
By the fair, but long-fled Angelica.
They paused not day or night, but on did go.
Though their paths differed from one another
They each arrived, travelling fast or slow,
In the wooded Ardennes; twas Rinaldo
Came there first, through spurring on Baiardo.
The baron began to search among the trees,
And came upon a grove, all shadowy;
Within it was a fount, that, without cease,
Flowed there amidst the wood, most pleasingly.
Charmed by that happy place, at his ease,
He entered it, unhesitatingly,
And found a gleaming fountain, at its heart,
A fount not wrought by any human art.
The fountain had been carved of alabaster;
It was pure white, and so adorned with gold
It made the bright green grass e'en brighter,
That was lit, all about, with flowers untold.
Merlin had wrought it, so the valiant lover
Tristan might drink there, and events unfold
That would see him quit Iseult his true love;
Though the cause of his ruin she did prove,
For the luckless Tristan, not e'en by chance,
E'er came upon that gleaming fount, it seems,
Though many a time he rode, with his lance,
Seeking adventure, near its glittering streams.
Its nature was such, that if, perchance,
A lover drank there, the maid of his dreams,
Whom he loved truly, he would love no more,
But loathe the one whom he'd adored before.
The sun was high, the day was burning hot,
When, drenched in sweat, the weary Rinaldo
Attained the flowery bank, in that sweet spot,
And, tempted by the stream, slid from Baiardo.
Once down, his former love he soon forgot,
For quenching his thirst, and his passion, so,
He drank of that cool and pleasing water,
Which, in a trice, robbed him of his ardour.
For (to himself) he thought what foolishness
It was to yet pursue so vain a thing.
He no longer prized that beauty to excess
That he'd once thought more than everything,
Beyond the merely mortal; I digress,
It was all that enchanted stream's doing.
His longing was transmuted, moreover,
Into pure loathing for Angelica.  
Book I: Canto III: 37-39: Then wanders on, and falls asleep by the Fount of Love
Rinaldo issued forth, fearlessly,
From that grove, occupied in noble thought;
And, musing so, the knight came, suddenly,
Upon a second sparkling fount, unsought,
Pure and crystalline, while all the lovely
Flowers of spring, that blossoming Nature wrought,
Glowed there, and all that green turf brocaded;
The fount a pine, a beech, an olive shaded.
This was the Fount of Love, and a wonder
Produced by Nature, not by Merlin's art,
While its enchanted waters held the power
To stir the mind with passion, and the heart.
Many a knight of old drank, there, in error,
Of that accursed stream, but, for his part,
Rinaldo drank not of it; for the first,
The Fount of Loathing, had assuaged his thirst.
Pleased with that fair place, the valiant knight,
Decided he might rest awhile, and so
He rid Baiardo of his bridle, that he might
Graze all about, while, close to the sweet flow,
He sank down on the bank, his burden light,
To slumber in the shade and, thus, below
The spreading branches, he slept, unaware
Of the adventure that would find him there.
Book I: Canto III: 40-42: Angelica drinks of the Fount, Rinaldo flees
After Angelica had left the scene,
Of that fight twixt Ferrau and her brother,
She came upon that bank of verdant green,
And dismounted to drink of the water.
Lo, something new, that ne'er had been:
Since Love had long sought her pride to lower,
On seeing, midst the flowers, our valiant knight,
At once, her heart, by Love, was set alight.
She tethered her white palfrey to the pine,
Having sipped, and approached him where he lay;
All else seemed base, she thought the knight so fine,
And knew no means to drive that thought away.
White lilies grew there, roses did entwine
Amongst the thorns, in elegant array,
And these she gathered in her hands apace,
Then scattered their soft petals o'er his face.
Rinaldo woke, and then rose up in haste,
On seeing the maid's visage overhead.
She greeted him with reverence, ill-placed,
For his expression changed, and off he sped,
Leapt to his saddle, and the wind outpaced,
Now scorning every sweet word that she said,
As through the dense wood he galloped swiftly.
She mounted, and followed on her palfrey.
Book I: Canto III: 43-50: Her lament
And as she followed on, behind, she cried:
'Oh, valiant cavalier, fly not from me!
For I love you more than myself; denied
Your presence I must die; oh, pity me.
Tis not Ginamo of Bayonne doth ride
To attack you, I am no enemy,
No traitorous Gano, nor Macario.
Oh, I loathe all others, I love you so!
Since, more than my life itself, I love you,
How can you bear to show me such disdain?
Glance back, at least, and see what tis you do;
Is my face so frightful? Am I so plain?
That so dangerous a flight you pursue,
Through dark and perilous woods, maintain
So fierce a pace? Oh, pity the lowly;
I'll be content to follow you, more slowly.
If I were the cause of some harm to you,
Some mishap to yourself, or to your steed,
If I could bear to live on after you,
Twould be a harsh and bitter life indeed.
Oh, turn a moment, and show mercy to
Her that you flee from, sir knight; take heed!
I am not such that you should run from me,
Rather should I be followed, if I flee!'
These, and far sweeter, words the maiden cried,
But all that she said she uttered in vain.
Baiardo sped on, dense trees on every side,
And vanished in the distance, o'er the plain.
Who could describe her pleas, sent far and wide,
Or how she grieved, and beat her hands, in pain?
Wildly she spoke, yet did but passion fuel,
Calling the sun, the stars, the heavens cruel,
Yet naming Rinaldo as the cruellest.
Her bitter anguish she sought to express:
'Who would have thought that one that is so blessed
With handsome looks, could prove so merciless?
I'm not such a fool in love, or so distressed,
As not to see that all my charms mean less
Than naught to this precious knight Rinaldo.
And yet he should not scorn to be loved so.
Should he not offer me a glimpse, at least,
Of his fair face, so that by gazing there,
I might upon those handsome features feast,
Or quench love's fire, and so no longer care?
Reason would wish to find desire had ceased,
And yet reason has no place in this affair.
I call him cruel, of harsh unbending will,
Yet, be that as it may, I love him still.'
And, as she lamented, her tear-filled eyes
She turned back to the beech tree, nearby.
'Fair leaves and blossom,' said she, midst her sighs
'You touched his handsome face, and, oh, how I
Envy the fate that granted you that prize!
A happier lot Fortune brought, thereby,
To you than me! I would have swooned to death
Had I lain there, and felt his gentle breath.'
Retreating, the lovely maid dismounted
From her white palfrey, and ended her plaint;
Yet, where Rinaldo had laid down his head,
She kissed the soft turf, free of all restraint,
Thinking that might quench the fire; instead,
Love's flame burnt more fiercely, yet a faint
Suggestion that the place eased her sorrow
Led her to rest, and slumber in that hollow.
Book I: Canto III: 51-58: Ferrau finds Argalia and attacks him
My lords, no doubt you will be wondering
Where King Gradasso has been all this while.
You should know that he was, though travelling,
Not three days away, give or take a mile.
His fleet had reached Spain; twas plain sailing;
But more of that pagan later; meanwhile  
I must return to our lovers, and say now
What has become of them; and first Ferrau.
Through the forest, the warrior had gone,
His heart and mind inflamed beyond measure,
Love, and ire, burning him, as he rode on.
He cared not a straw for life or treasure,
Lacking Angelica to gaze upon,
Or at least a sight of that Argalia,
So that he might, at least, ease his dolour
By wreaking dire vengeance on her brother.
Journeying onwards, with this thought in mind,
And so, looking all around him as he rode
A knight, sleeping in the shade, he did find,
And knew, by the emblem his shield showed,
Twas Argalia; to a tree behind
His steed was tethered; gently Ferrau slowed,
Freed the creature, then whipped it where it stood,
And sent it, fleeing madly, through the wood.
Sliding quietly, and swiftly, to the ground,
He sat down neath a laurel bush, nearby,
To which his brave charger he tightly bound,
And waited for the knight to blink an eye.
To rouse him, who seemed not to hear a sound,
Seemed base, though he was thwarted thereby
Of prompt vengeance; that fiery spirit fumed,
Yet restrained himself, though by rage consumed.
In a little while, the warrior awoke,
And realised that his courser was gone.
(Imagine how he felt, at that foul stroke
Of ill-fortune, that, on foot, must journey on!)
But Ferrau rose now, from his place, and spoke:
'Think naught of it, sir knight, for here is one;
And since either you or I must die, perforce,
Whichever one survives shall have the horse!
I let your own steed loose, and so you've lost
The opportunity to disappear again.
Come, show your valour now, and pay the cost.
Display your front not your back; I'll be plain,
Your flight was an insult; I'll not be crossed;
You'll regret that you fled from me in vain.
Be brave then, and defend yourself, I say,
If you'd not lose your life, this very day.'
'I make no excuse,' Argalia cried,
'For my retreat was honourable; I swear,
On this hand, this arm, and all beside;
E'en on this heart within, that all was fair,
Twas not through exhaustion I denied
You satisfaction, or pain, or fear, there,
I only delivered you short measure,
That I might fulfil my sister's pleasure.
And you may take that as it pleases you,
But I'll satisfy your wish anywhere.
Whether peace or war, you'd now pursue,
You'll recall how you, previously, did fare.'
So spoke the youth, and right boldly too,
But Ferrau waited not, and flailed the air
With his naked sword, exclaiming loudly:
'Defend yourself!' and advancing swiftly.
Book I: Canto III: 59-67: He slays Argalia, then fulfils the warrior's dying wish
Each warrior now ran to meet the other,
Displaying his great strength and mastery.
The blows of their swords were heard, moreover,
A mile off, echoing from tree to tree.
Argalia leapt into battle, as ever.
His sword he held high, most chivalrously,
Saying, to himself: 'He's proof against a blow,
But perchance a knock may yet bring him low.'
He swung at Ferrau, threatening to strike
And, surely, he would have stunned the knight,
But the latter leapt at him, and both alike
Seized the other, clasping his foe's arms tight.
Argalia strained; Ferrau gave a hike
To his enemy's frame and, swifter outright,
Grappling, then dislodging the other,
Downed him; though he was the stronger,
For exercising his enormous might,
Argalia grasped Ferrau, dragged him over,
And was about to strike, and end the fight
With a fierce gauntlet-blow, when the latter
Drew a knife, and though the blade seemed but slight,
Pierced Argalia below his armour,
Stabbing the warrior deep in the groin,
Where the upper cuisse and the mail-skirt join.
Lord, what a shame that was! If he'd lived on,
None would have out-fought Argalia,
A stronger man or braver there was none;
Complete, though alas a non-believer.
He realised now his fighting days were done,
And, in an anguished voice, lacking power,
He turned his gaze on Ferrau, with a cry:
'Ah, grant me one final wish, ere I die.
This I ask that you do, of chivalry:
Oh, sir knight, seek not my plea to deny!
Bear me, armoured, to a river swiftly,
And then cast me in the flood, there to lie.
For if someone were to come upon me
And find this armour,' he gave a deep sigh,
'I'm certain twould be said the knight was base,
That, thus armed, was yet slain in this place.'
Ferrau so wept, overwhelmed with pity,
That he seemed but ice melting in the sun.
'God knows,' he said, speaking the words softly,
'How grieved I am that you are thus undone.
A sad thing has come about suddenly,
Such as fate, or the heavens, bring on one,
For I fought this battle for glory, only,
Seeking not your death, but my victory.
As regards your last plea, rest now content,
I promise, on my Faith, your final wish,
I'll fulfil, according to your intent;
For you may ask, nay command me, in this,
To do more; yet inasmuch as I consent,
Since in Christendom I skirt the abyss
And am like to die if aught of this is known,
Then come grant me a favour of your own.
Let me employ your helmet for four days,
And then I'll set it by, this I do swear.'
Argalia, dying, fixed on him his gaze,
And seemed to give consent, his mind elsewhere.
Ferrau waited, midst that woodland maze,
Till Argalia no more this life did share,
And when he saw his term was at an end,
He took him in his arms, like a dear friend.
Weeping endlessly, that ardent warrior,
Removed the helmet, gently, from his head,
Then (cutting away the crest however)
Laced that borrowed helm on his own instead.
Then, mounting on his steed, to the river
He bore him, on a path that swiftly led
To its bank, above a deep pool below,
And gave Argalia to the passing flow.
Book I: Canto III: 68-70: Orlando seeks for and finds Angelica
Ferrau stood there for a moment, gazing,
Then walked, musing, along the river.
But let me speak of Orlando, searching
Through that wilderness for Angelica.
In torment and despair at not finding
The one he pursued, still he sought her
Cursing his ill fate, till his heart did leap,
On reaching the place where she lay asleep.
How lovely she looked, lost in slumber,
You'd not conceive, nor can I tell thereof;
It seemed that the grass and flowers, about her,
And all the river bank, there, spoke of love.
All things beautiful today, all that were
So then, when more beauteous all did prove,
Would pale (like the stars beside Diana,
Or her white orb next the Sun) beside her.
Orlando was lost in admiration,
As if life were suspended; a dreamer,
Eyes fixed, in rapture, on that fair vision,
Seeking not to wake her from her slumber.
Softly asking, of himself, a question:
'Am I in paradise, or somewhere other?
For, though I see her, she cannot be real;
And I asleep, that yet still see and feel.'
Book I: Canto III: 71-76: But is surprised by Ferrau
So, the Count, observing her with delight,
Reasoned idly with himself, as he stood there.
Oh, how little suited to love, that knight,
How much more to some fine martial affair!
He who lets the moment escape him quite
Comes away with but little, as his share;
As was the case in this fine encounter,
Where, by delay, he lost a great treasure;
For Ferrau came walking along the shore,
And reached the open field, treading softly,
And there a knight, who stood alone, he saw,
But knew not from his arms who he might be,
Not recognising the Count; furthermore,
He perceived the maid, and knew it was she
Whom he sought, and, in an instant, his face,
With his innermost thoughts, altered apace,
For Ferrau believed that, without a doubt,  
The knight stood there to guard the maid closely.
So, he approached, with an arrogant shout,
Confronting the knight, boldly and proudly:
'The maid is mine, and never yours, you lout;
If I were you, I'd leave; renounce the lady,
Or else your life, or fight with me for both,
For to toy a while with you I'm nothing loth.'
Count Orlando was angered to the core;
He feared he'd lost his opportunity;
And cried: 'Ah, go your way, sir, as before,
Twould be unwise to pick a fight with me;
For though, I swear on my faith, I no more
Wish to fight than to do you injury,
Your presence here offends me so deeply
It may lead you to die, prematurely.'
'Either you or I must depart from here,
That, at least, is what I think I heard,
But be assured I shall not disappear,
Tis you that shall not linger; you've my word,
For I shall so confound you, in your fear,
If fire alone a means to flee conferred,
You'd leap into the flames to escape me!'
So Ferrau spoke, and advanced ardently.
The Count, who was angered beyond measure,
A surge of blood reddening his face, cried:
'Orlando am I; be it the world's pleasure
To come against me, all shall be denied.
While you I shall deal with at my leisure;
A new-born babe more trouble might provide
Than you, you spawn of a wicked mother!'
And, with that, he drew forth Durindana.
Book I: Canto III: 77-81: They fight, while the lady vanishes once more
And so, there began the greatest fight
That was ever waged twixt two warriors,
Their two weapons glittering in the light,
Carving plate and mail away, perforce,
In hastening to end that affair outright,
Lest the maid woke with it yet in course,
And their labour all expended in vain,
Should she instantly take to flight, again.
And, indeed, the girl with the lovely face
Was roused by the noise of their struggle,
Quite terrified to see that grassy place
Strewn with bright pieces of shorn-off metal,
So much so that she mounted and, apace,
Urged her palfrey from the scene of battle,
Departing, through the forest, in full flight.
Orlando called out to the other knight:
'Sir, will you show me the great courtesy
Of resuming this, our quarrel, later?
Let me mount, and so pursue the lady,
And I'll remain your debtor forever.
Twould seem but an act of great folly,
To fight for one who's here no longer,
For she that we are fighting o'er has fled;
For God's sake, let me follow her, instead.'
'No, no,' replied Ferrau, vigorously,
Shaking his head at the Count 'I think not.
If you wish to conclude, prematurely,
Then your claim to the maid must be forgot.
For there's room for but one of us only
In this place, and to seek her, tis my lot.
No, I shall conquer you, sir, and have done,
For you must slay me if you'd be that one.'
'By God, you have small advantage here!'
Cried Orlando, and they commenced again,
Fighting fiercely, for neither man felt fear,
As the very next canto will make plain.
Thwarting the other's victory, twould appear
Orlando, maddened, well-nigh burst a vein,
While to speak of Ferrau I'll not linger,
For he, all his life, was filled with anger.
The End of Book I: Canto III of 'Orlando Innamorato'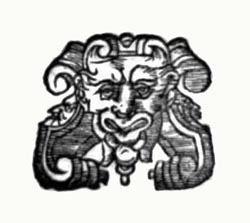 ---