Boiardo - Orlando Innamorato: Download
Reference:
Kline, A.S., (Poetry Translation) "Boiardo - Orlando Innamorato"
Author Email:
Description of text
Matteo Maria Boiardo's unfinished romance 'Orlando Innamorato (or 'Orlando in Love'), which was published posthumously in 1495, borrows its setting from the 11th Century 'Chanson de Roland', written in Old French, which tells of the death of Roland at the Battle of Roncevaux (Roncesvalles). Orlando is here an Italian version of Roland the Christian knight who, in the French epic poem, fights for Charlemagne in a battle between the Christian paladins and the invading Saracens.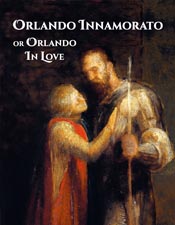 Kline, A.S.
---