Boiardo: Orlando Innamorato
Book I: Canto IV: War in Spain
Translated by A. S. Kline © Copyright 2022, All Rights Reserved.
This work may be freely reproduced, stored and transmitted, electronically or otherwise, for any non-commercial purpose.
Conditions and Exceptions apply.
---
Contents
---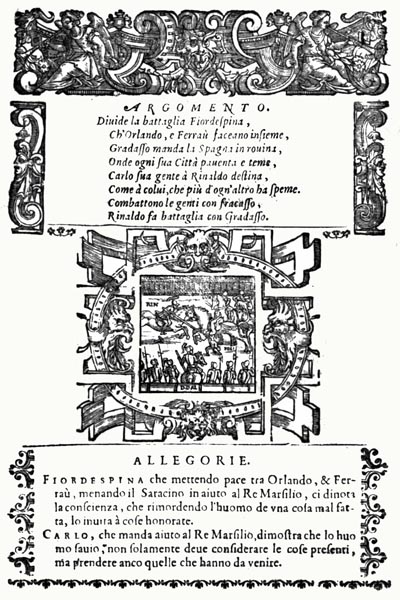 Book I: Canto IV: 1-4: A lady on horseback appears, seeking Ferrau
I told you, my lords, in my last canto,
Of that fierce duel, and perchance, on Earth,
The Sun, in its circling, ne'er a duo
Shone upon, of such compelling worth.
No like three-day battle had Orlando
Ever fought with another, since the birth
Of his prowess, labouring to beat Ferrau,
(But for that with Don Chiaro) ere now.
In engaging with the other, once more,
With dreadful looks, and threatening gaze,
Each yet found himself amazed, I feel sure,
That the other's skill so deserved his praise.
Thinking himself unrivalled, each now saw,
Impressed by the other's martial ways,
That his foe was as valorous a knight
As himself, and his equal in a fight.  
For they had recommenced their savage game,
Striking at each other, mercilessly,
Sparks flew from their swords, fire and flame,
Their shields were shattered, their armour swiftly
Split apart, till their state proved much the same,
Their arms and legs exposed, gradually;
And though they were uncut, both those two
Struck now here, and now there, were black and blue.   
And, thus, the bout continued, all in vain,
For neither man had a hope of winning,
When suddenly came riding, o'er the plain,
A woman in black samite, who, beating
Her sweet face with her hands, as if in pain,
Cried: 'Ah me! Deserted!' midst her weeping,
'What man, what god, will bring me succour now,
Searching amidst this forest for Ferrau?'
Book I: Canto IV: 5-10: Fiordispina brings news of the invasion
On perceiving the two, she rode outright
Between them on her palfrey, while the two
Reined in their chargers, and so ceased the fight.
Greeting them with respect, she turned to view
Orlando, and said: 'Most courteous knight,
Although I am, indeed, unknown to you,
As you to me, I beg you, of mercy,
That which I ask now, do not deny me!
I pray you end the fight, let peace prevail,
And release Ferrau of obligation,
For I find myself, now, in great travail,
And there is none but he can aid me; none.
If Fortune's favour I may someday hail,
Then perchance the time (Allah's will be done!)
Shall come, when that fair deed I may reward.
I shall not fail to do so; be assured.'
He replied: 'I am content so to do,
(For he was ever full of courtesy)
And, if ever I may be of help to you,
Then I offer my services, freely;
And to my word I am forever true.
If this Ferrau should chance to be, sadly,
Absent when needed, then, be not afraid,
I'd do what any knight should, in your aid.'
She bowed towards Orlando, gracefully,
Then, turning to address Ferrau, she said:
'Tis Fiordispina; do you not know me?
To battle, with this champion, you're wed,
While ruin's descending on your country:
Your father Falsirone is now led
In chains; Valencia burns and Aragon;
Barcelona is besieged, yet you duel on.
For a mighty monarch, King Gradasso,
Who rules Sericana, has crossed the sea,
To fight Charlemagne; we Muslims also,
Christians and Saracens, equally,
He brings to ruin, and to peace cries no;
He wants no truce, all folk his enemy.
Gibraltar, he has taken, and Seville,
And he would bend all Spain, now, to his will.
King Marsilio now looks to you alone,
And summons you by name, in his distress.
I saw him beat his face, and weep, and groan,
And tear at his hair, in his wretchedness.
Return: free your father, defend the throne,
And thwart this King Gradasso's wilfulness.
For you'll ne'er win a greater victory,
Nor one that will gain you greater glory.'
Book I: Canto IV: 11-13: Orlando and Ferrau take their separate ways
Much troubled, by all that she had to say,
Ferrau turned to address Count Orlando,
Saying: 'I swear, by Allah, that this day
You've fought better than any knight I know.
This fight cannot but suffer some delay,
For duty summons me, and I must go,
But when we resume, if I should conquer,
I'll deem myself the world's finest warrior.'
Each knight now took a separate course.
Orlando set his sights on the Orient,
Since his thoughts and desires drove him, perforce,
To seek Angelica; yet his intent
Was thwarted somewhat, for she'd had recourse
To necromancy when she swiftly went
From there, being borne aloft magically,
While her flight, and its path, none could see.
Ferrau pursued his way with much ardour,
Crashing through the forest, on his way,
For each long hour seemed to last forever,
Ere he could fight Gradasso, though, that day,
He rode as fast as the wind, or faster;
Yet I must leave him there, and now relay
My news of the emperor Charlemagne,
Who'd heard the ill rumours out of Spain.
Book I: Canto IV: 14-22: Charlemagne appoints Rinaldo to aid Marsilio
He had summoned his council together;
Rinaldo, and all his peers, met his gaze.
He addressed them: 'Men say, if a neighbour
Finds that his house is suddenly ablaze,
We should look to our own. I say further
That though Marsilio has Moorish ways,
Tis no matter, his country borders France,
And thus, we should aid him, with sword and lance.
It seems right to us, and tis our intent,
That we send help in every way we can,
To fight against this monstrous regiment
Of King Gradasso's; for I hear his plan
Is to threaten France itself, not content
With his invasion of Spain; his army's van
Has not approached our border idly;
He presents himself as our enemy.
We have therefore decided, for our safety,
To send forth fifty thousand knights; that force
Rinaldo shall lead, to whose bravery
And skill we have so often had recourse,
And whose worth is such, it seems to me,
That to do so must prove the better course.
Our captain then, in this shall be Rinaldo,
That most renowned lord of Montalbano.
And he shall rule Bordeaux, and Roussillon,
And Languedoc, and Gascony also,
As long as the war lasts, and hereupon
I command their lords to aid him gainst the foe.'
As he said this, Rinaldo knelt upon
The ground, while the king his grace did bestow
Upon him, and then cried: 'Sire, from this hour,
I'll do all, for you, that lies within my power.'
His eyes were filled with tears of happiness,
And not one word more could the knight utter.
The emperor granted him a fond caress,
And said: 'My son, I'd have you remember,
I place my realm in your hands, nothing less,
For the whole kingdom is in grave danger.
Orlando is away, and none knows where;
I now place the state itself in your care.'
He said this quietly, in the warrior's ear,
As all his peers rejoiced with Rinaldo,
All those that in the field would now appear:
His followers Ivone, Angelino,
And all who would now march beside the peer.
He knew what things to say, due thanks to show;
And soon his force was marching towards Spain,
While word was sent that would their entry gain.
That band of knights, experienced in war,
Followed Rinaldo and, departing France,
Climbed the high Pyrenean slopes, before
They glimpsed Aragon, in their advance,
Crossed the Col du Perthus, viewed the shore
And reached fair Girona, free of mischance.
Marsilio, halting there, had earlier
Despatched Grandonio to Barcelona,
To hold it against enemy attack,
Though deeming the defence would be in vain.
He could see no other end but its sack,  
Next the surrender of the whole of Spain,
And, full of melancholy, all hope did lack.
He sat alone, nor e'er would speech maintain,
Till, all at once, the troops from France drew near,
While Ferrau the brave chose to re-appear.
The king still had with him Serpentino,
Spain's Caliph, Emir, and King Morgante,
Spinella, and Isolier, also,
And Matalista known for bravery,
(Fiordispina's brother he) although
Both Balugante and Falsirone,
His brothers, had been captured while, again,
His other lords had been taken or slain.
Book I: Canto IV: 23-24: Gradasso's progress through Spain
That giant of an emperor, Gradasso,
Having sailed, in force, from Sericana,
Had subdued the Indian shores also,
And conquered Sri Lanka (Taprobana),
Then Persia, and Arabia, to their woe,
Having claimed all of north-east Africa,
And lands afar; he'd circled o'er the main,
Ere ever he had reached that land of Spain.
He'd combined many armies together,
Led by many kings, whom I'll not name here,
More men than had been united ever.
First, he captured Gibraltar, twould appear,
Then laid siege to, and conquered Granada,
While laying waste the country, far and near;
Toledo and Seville he pounced upon,
Took Valencia, then stormed Aragon.
Book I: Canto IV: 25-29: Marsilio and Rinaldo march to the relief of Barcelona
As I've said, he held captive all those lords
Obedient to Marsilio, but for
Those slain, or defending, with their swords,
That same king in Girona; and one more,
Grandonio, now besieged by his hordes,
Who would shortly be taken, he was sure,
Since Barcelona was, both night and day,
Attacked, and soon must fall to him as prey.
But let us return to Marsilio.
He offered his thanks to Charlemagne,
In royally welcoming Rinaldo.
Then he embraced Ferrau, the hope of Spain,
And said: 'My nephew, believe me, I know
That your courage and strength will regain
All our lost lands from this wretch Gradasso,
In destroying him you save the realm also.'
He gave orders that, the following day,
Their forces must head for Barcelona,
For Grandonio had messaged him, by way
Of endless signal fires, seeking further
Aid; the vanguard formed, without delay,
Its captains being two knights of valour,
Who left at dawn, to march against the foe,
Brave Spinella, and bold Serpentino.
That pair commanded twenty thousand men.
While Rinaldo's banner followed after,
Fifty thousand troops behind it; and then,
Morgante followed, and Matalista,
With thirty thousand more as brave again,
And the Emir and Isolier, with a further
Twenty thousand, then Ferrau with his force,
Of thirty thousand warriors, foot and horse.
Marsilio led the rear-guard, a host
Of fifty thousand in due procession.
Their orderly ranks, all along the coast,
Occupied the road in swift succession.
The sun was bright, the banners they did boast
Fluttered as they went, in martial fashion;
Soon they were revealed to King Gradasso,
The pennants of a fast-advancing foe.
Book I: Canto IV: 30-35: Gradasso orders an attack
He summoned to him four kings: Cardone,
Francardo, Urnasso, Stracciaberra,
And said: 'Reduce Barcelona for me,
This day, and erase the place forever.
Leave not a single soul alive! But he,
Grandonio, who wars for his master,
I would have him alive, and in my hand;
Against my savage hound I'd have him stand.'
These four kings came out of India,
And with them was many a dark-skinned race;
The host immeasurable in number.
Two thousand elephants their ranks did grace,
Armed with howdahs, and many a siege tower.
Gradasso ordered to the leading place,
Sri Lanka's king, a giant of a man,
That rode a tall giraffe, amidst his clan.
You've never seen so cruel a visage,
As that of this king; his name, Alfrera.
'Go forth,' said Gradasso, 'take the stage,
Go defeat their vanguard, as our leader.
Take all the men you have, their ranks outrage.'
And then he turned his face towards another,
The King of Arabia, at his side,
Faraldo, on whom Gradasso relied.
He gave this wicked brute a direct order:
To win the banner of King Charlemagne,  
And make the knight Rinaldo his prisoner.
'But see that his horse, Baiardo, you gain,
Or I'll hang you like a thief but higher;
For tis the reason we are here in Spain,
Tis what brought me here from Sericana,
That courser, and the sword, Durindana.'
Then he commanded the King of Persia,
To seize Morgante and Matalista;
He being a man of mighty valour.
Behold the giant king of Macrobia!
His skin was as black as coal in colour;
To take Isolier, and the Emir,
Was his task, he went afoot only,
The name of this giant was Orione.
Ethiopia's king was a giant in cunning,
Whose open mouth was a palm's width in size;
He arrived before Gradasso, this Balorza,
And was told to seize Ferrau as his prize.
Then the king sent men from Sericana,
To supplement those forces, and likewise
Sent forth their lords, ere he was content;
He then retired, unarmoured, to his tent.
Book I: Canto IV: 36-40: Alfrera of Sri Lanka defeats Serpentino and Spinella
Let me speak once more of Marsilio:
That king had reached the slopes above the sea,
And now could view the open plain below,
Filled full with armed men, bent on victory.
At first, the king could scarcely credit though,
That Earth could yield so vast a company,
As had been brought together at that place,
Too many to be counted, face to face.
The armies soon drew closer together,
Their standard bearers leading, o'er the plain.
There were Muslims on one side and the other,
For Moors flanked the troops of Charlemagne,
As Serpentino, and the bold Spinella
Of Altamonte, urged on the forces of Spain,
And both parties now raised their battle-cries
Which threatened to bring down the very skies.
The mountains and the shore echoed loudly
To the sound of the horns and drums' thunder
As Serpentino led the charge, riding swiftly
On his splendid, and most fearsome courser.
Yet nothing could seem as dreadful surely,
As the advance of that fierce king, Alfrera,
The giant urging his giraffe o'er the land,
(Twas twenty feet in height) his club in hand.
That weapon was made of solid iron,
And it measured three full palm-widths around.
Yet Serpentino, at full speed, raced on,
With lowered lance, fast eating up the ground,
And struck at the giant, yet broke his weapon,
While that fantastic creature wheeled around,
And ran at Serpentino with such force,
He fell, to lie, half-dead, beside his horse.
Alfrera simply left him lying there,
And rode, on his giraffe, against the foe.
He seized Spinella, as the hound the hare,
And dragging him aboard, clubbed those below,
Who defended the standard, none did spare,
Won the banner, with a single fierce blow,
And sent it on, still the fight pursuing,
With the captive Spinella, to his king.
Book I: Canto IV: 41-43: But is driven off by Rinaldo
Rinaldo now briefly left his command
To Alardo, his brother, and Ivone,
For he'd viewed the battlefield near to hand
And seen Alfrera charging in fury,
And the troops all scattering, nigh unmanned,
So, he delayed not, but sent word, swiftly,
To Alardo to charge with all his force,
While for bold Alfrera he set his course.
How might he slay a warrior that wore
A serpent's skin covering his breastplate?
Yet with such force against his foe he bore,
He toppled him, giraffe and all, then straight
Against the enemy ranks charged, once more,
Wheeling Baiardo, Fusberta's full weight
Of blade clearing a path, till his strong force
Of Christians arrived; whence no recourse
Was left to Gradasso's bands but to fly,
Two hundred thousand scattered instantly,
Their broken standards toppled from the sky.
Alfrera rose, a fearsome sight to see,
(To show him needs a better pen than I
Yet wield) but, finding the enemy
Had shattered his forces, he sped away;
To flee himself, or seek to save the day.
Book I: Canto IV: 44-49: Who kills Faraldo of Arabia, and Framarte of Persia
Rinaldo, deep amidst the enemy,
Swung his mighty sword to left and right,
Severing arms, and heads, furiously,
Sending men, bloodied, to the ground, outright.
Like a herd of goats, the foe fled swiftly,
Before the ardour of the Christian knight;
But now that warrior had more to do,
For Faraldo and his force came in view.
He was the crown king of Arabia,
Possessed of no end of strength and skill,
Yet now had little time to show either,
For the lance pierced his chest, so as to spill
His life blood, the tip protruding further.
Rinaldo spurred Baiardo on, at will,
Slaying the Arabs, scattering them abroad,
Struck by the steed, or toppled by his sword.
As ever, he found himself in company
With mighty followers, against the foe,
Alardo, Angelieri, Ivone,
Guicciardo, and Ricciardetto,
Were present; and, mounted again swiftly,
Once more, to the fray, sped Serpentino;
Yet Rinaldo was still first among the best,
His great deeds were ever praised by the rest.
Chased by Rinaldo for a league or more,
The Arabian force was in full flight,
Camel and dromedaries fled before
Baiardo; now Framarte met our knight,  
The Persian king's gold banner he now saw;
Rinaldo aimed his lance, which deep did bite,
Three good yards beyond the king's back, it showed,
Borne off by him, as on his courser strode.  
That great king then toppled, dead, to the ground,
As his men fled, wildly, o'er the open field.
Rinaldo swung Fusberta all around;
Ask me not how many men tried to yield.
Behold Orione, that savage hound,
None more abandoned the war revealed;
His skin deep-black, no clothes did he wear,
For his hide was hard as bone, everywhere;
This naked giant now joined in the fight,
The wretch wielding a tree in either hand,
Scattering the Christians in sudden flight;
Helms, shields proved no defence, you understand,
So much so that Rinaldo's force seemed slight,
And he constrained to summon back his band
Of faithful brothers, sounding brief retreat,
Before returning to ensure the foe's defeat.
Book I: Canto IV: 50-52: Alfrera returns to the attack, with Balorza of Ethiopia
But as he shared his counsel with the rest
And they granted him their views, equally,
The giant Alfrera their group addressed,
With lowered lance, leading a company;  
A great host too, advanced, at his behest,
Balorza's Ethiopians, a vast sea
Of men, marching forth in endless files,
Covering a vast tract of several miles.
Those ranks came on with such a fearsome cry
They shook the earth, the sea, the heavens too;
Ivone, Serpentino, these did eye,
Suggesting aid, ere they attack this crew.
Said Rinaldo: 'No honour's gained thereby,
Retreat if you wish, yet I, I promise you,
Alone, will shortly drive them o'er the field,
And destroy them all, though they seek to yield.'
Without another word, the cavalier,
Clenched his teeth, and swiftly galloped away.
That ardent knight shattered his lance, I fear,
But needed help from no other, on that day,
Who, with Fusberta's blade, a path did clear,
Shouting, threateningly, amidst the fray:
'Give ground, you vile, ungovernable crew,
I'll send you all to Hell; there you may stew.'
Book I: Canto IV: 53-58: Balorza captures Ricciardetto
King Marsilio, watching from a hill,
Saw the sudden movement on the field,
And so informed Ferrau that twas his will
That his men should advance, with sword and shield.
Rinaldo, thrusting hard, was plunging still
Amidst the Saracens, and thus concealed
From view; he was all bloodied from the fight,
None has e'er witnessed a ghastlier sight.
Now pitched battles broke out everywhere;
While none outdid Ferrau in endeavour,
As he headed the knights advancing there,
Brave and valiant men who fought for honour.
Matalista and Morgante, wrought their share
The Caliph, and Emir, full of valour,
Ricciardetto and Angelino,
Ivone, Alardo, Serpentino.
Balorza, his features as black as night,
Grasped Ricciardetto, and yet fought on,  
Unhampered by the weight of that young knight,
Clasping him to his side, all woebegone.
The others rushed to aid him, as was right,
But the giant clung to him, whereupon
Alardo, Ivone, and Angelino,
Charged him, though he but mocked the weakling foe.
Alfrera dragged Isolier, with force,
Despite his stout resistance, from his steed,
Though the bold Ferrau swiftly crossed his course,
Staying close in Isolier's hour of need;
Yet the knight could barely control his horse,
In dread of the giraffe, strange beast indeed,
Such that he failed to make his mount advance,
That but swerved aside, at the slightest chance.
Cruel Orione of Macrobia,
Slaughtered many a man with those two trees;
His chest and face were somewhat bloodier,
But, with bone-like skin, he fought with ease,
Unharmed by swords, or lances, or whatever.
Let me turn to Rinaldo, if you please:
He was much perturbed to see his foe
Balorza, bearing off Ricciardetto.
Rinaldo knew he must show his valour
Now, or never; he loved Ricciardetto,
And would have died to save him, moreover.
The warrior ground his teeth, angered so
That his eyeballs rolled, to see his brother
In such distress, constrained by the foe.
But I must leave his plight for a moment,
And the siege of Barcelona now present.
Book I: Canto IV: 59-62: Meanwhile Grandonio defends Barcelona
I've said Grandonio was commanded
To defend Barcelona, resolutely;
While Gradasso equally demanded
That his Indian troops reduce the city.
Bishop Turpin his tale much expanded,
In recounting this task's enormity.
Thus, before the place could be subdued,
(Its walls were strong) a struggle now ensued.
To the south, where the city met the sea,
Innumerable warships faced the shore,
While a host of elephants, equally
Lined the sands, bearing turrets, trained for war.
Dark-skinned warriors fired their arrows freely,
Cowing the people, who, fearful of more,
Fled from the streets, behind their walls of stone,
While Grandonio stood to face them, alone.
A great cry arose, from his enemies,
As they charged against the ramparts below,
While he yet defended the walls, with ease;
Twas hard to counter this Grandonio.
He hurled great beams, the trunks of mighty trees,
Pillars, chunks of towers, upon the foe,
Stones from the battlements, while every throw
Downed an elephant, or dealt some cruel blow.
Grandonio strode about the wall above,
And leapt from place to place as required,
Raining destruction, with his every move,
With every heavy object which he fired
On those below; an obstacle did prove,
To their assault, acting as he desired,
Pouring down pitch and sulphur from on high,
A seething mass of flame from out the sky.
Book I: Canto IV: 63-65: Rinaldo slays Balorza
Let me pause, and return to Rinaldo,
Whose mind was greatly troubled as he thought
How he might rescue Ricciardetto,
Yet despairing of finding what he sought;
For Balorza gazed down on those below,
Grasping the iron club with which he fought,
Clad head to toe in armour, defiant,
Mounted there on his warlike elephant.
Thus, a head-on assault seemed bound to fail,
Nor would Rinaldo's weapon reach so high
That he could strike, and pierce the other's mail;
Yet from Baiardo a strange course he did try,
Leaping up, from his steed's back, to assail
That savage mount, and so climb, thereby,
To catch the giant unaware, split his helm
And steel cap, and strike, to overwhelm,
With a second blow, that cleft his skull in two,
Dealt with the force of hammer on anvil,
Balorza fell, and with a like force too,
Such that the ground there quaked; then he lay still.
The Saracens about him now fled from view,
Robbed of courage by that great fall, and will.
They fled, as hares before the leopard flee,
Hunted by that brave knight, relentlessly.
Book I: Canto IV: 66-70: Alfrera captures Ferrau, then reports to Gradasso
Meanwhile, Ferrau, had spent four hours, or more,
Pursuing Alfrera (seeking a way
To free Isolier, whom that giant bore)
Eyes blazing, tracking him through that affray,
Till the giraffe, that strange mount, trained for war,
Reached the pavilion where Gradasso lay,
Carrying its rider to the entrance there,
With Ferrau behind, who an attack did dare.
Alfrera, on finding himself assailed,
And cornered, dropped Isolier, and then
Swung his club at Ferrau's helm; he prevailed,
Unseating the knight and, dismounting again,
He then knelt on him, his foe stunned and paled,
And bound the warrior tightly, and when
He'd done so, retrieved the other knight,
Isolier, whom he'd taken in the fight.
Alfrera, entering, addressed Gradasso:
'My lord, our men are scattered every way.
He seems too strong for us, this Rinaldo,
And honour must be paid to him this day,
Though I hate to praise your enemy so.
An hour or two ago, I hear men say,
He split Balorza's skull; think then, my lord
The value to the foe he doth afford.
Be pleased to ask any of your men, here,
Or take my word, regarding his great skill.
I myself saw Faraldo pierced, I fear,
Front to back by his lance; him he did kill,
And the King of Persia, whom you held dear,
Both were felled, subject to Rinaldo's will.
And, I admit, I too he overbore,
A thing that has ne'er happened heretofore.'
Gradasso said: 'How can Allah thus allow
Such power to be vested in Rinaldo?
If I were the crowned king of heaven, now,
(For I esteem as naught this world below)
I would not rest content an hour, I vow,
Till in person, I'd revealed, if this foe
Is one valiant enough to thwart me so,
And keep from me his courser, Baiardo.'
Book I: Canto IV: 71-74: Gradasso joins the battle in person
With this, the king called for his armour,
Which mighty Samson had worn formerly,
None on this earth was finer or stronger.
From head toe, he was steel-clad, entirely.
Meanwhile his people were wont to scatter,
In fear, Rinaldo hunting them freely.
Gradasso had to speed his preparation,
Ere Rinaldo reached his frail pavilion.
He stayed not, but mounted his Arab mare,
A steed of quite immeasurable size;
None was larger in the world; standing there
She was as great as Baiardo, leastwise.
Behold Rinaldo, the Saracens' despair,
Riding o'er the plain, the foe before his eyes,
Slaying many, and scattering all the rest,
Shattering head or shoulder, arm or chest.
Gradasso charged on his mare, at speed,
With confidence, and daring, in his glance,
Caring not a whit for any man, indeed,
And towards bold Rinaldo aimed his lance,
But he raised such a thunder that his steed
Terrified Baiardo with her loud advance;
Full nine feet, Baiardo leapt in the air;
No higher leap e'er witnessed anywhere.
Gradasso marvelled at the wondrous feat,
But showed no concern, advancing swiftly,
Scattering the troops, ere they could retreat,
Unseating Ivone and Morgante.
Alfrera followed, their fall to complete,
And make them his prisoners, entirely,
Binding tight, Guicciardo, Angelino,
And Spinella, all downed by Gradasso.
Book I: Canto IV: 75-79: And temporarily halts Rinaldo
But, by now, Rinaldo had turned about,
And seeing the Saracen's great power,
Called for his heavy lance, and gave a shout:
'O Baiardo, my brave courser, the hour
Demands you fail me not, see now the rout,
Pay attention now, and the ground devour,
Not, by God, because I fear that man there,
Though he owns to a strength beyond compare.'
With this he drew down his steel visor,
And charged full boldly against the king.
Who admired his proud advance, however,
Content to wait, pleased still with everything.
It seemed a slight task to greet the other,
And this Rinaldo from his saddle fling.
But the proof is in the outcome, as we say;
He met with more than he thought, on that day.
The clash was greater in enormity
Than any other that you might have heard.
Baiardo's hind-quarters sank completely
To the earth; the first time that had occurred.
He soon raised his lord again, though sadly
Rinaldo was half-stunned, and scarcely stirred.
The bold mare too had fallen in a heap,
But Gradasso raised her, and with a leap,
He charged at the other knights, once more,
Spurring her on, while ordering Alfrera,
To catch the steed Baiardo, and be sure
To do so carefully, with his master,
Rinaldo, but the giant failed to procure
Either, for Baiardo ran the faster,
O'er the plain, and bore away the knight,
Who revived, in a while, while still in sight.
Indeed, he thought he still was midst the fray,
And sought Gradasso, grasping at his sword.
Alfrera followed, though in vain I'd say,
(On his giraffe, pursuing that brave lord)
For Baiardo, o'er the plain, fled away,
And a greater turn of speed did afford,
Until Rinaldo could turn the steed about,
And seek for King Gradasso midst the rout.
Book I: Canto IV: 80-89: Gradasso and Rinaldo engage in a running battle
He found him just as he'd overcome
Alardo, who was Rinaldo's brother,
Gradasso saw him not; for he came from
Behind, as he sought to down another,
And so, he only heard the sudden hum
Of Rinaldo's blade, and sought to recover,
As the latter swung, two-handed, with such force,
He thought to strike the monarch from his horse.
And yet that mighty blow was nothing new
To one who wore the garland of valour,
Think not that he flinched, or that it drew
A drop of blood, or marked his strong armour.
He called to Rinaldo: 'I'll prove to you,
(Perchance you'll live, to tell of it later)
Which of us is the finer warrior;
And, should you win, I'll yield you due honour.'
So, the mighty Gradasso spoke, and then
He emphasised his message with a blow.
Rinaldo bowed beneath it, stunned again;
He'd never known so fierce a hit, although
His helmet saved him from the Saracen,
Which had belonged to King Mambrino,
And he clung to Baiardo as the steed
Bore him away from the scene, at speed.
Gradasso followed for a mile or so,
Wishing to capture him at any price,
But, quickly losing sight of Rinaldo,  
Halted and turned back; yet, in a trice,
Rinaldo, alert once more to his foe,
And thinking that a fresh blow would suffice
To wreak revenge on the king, two-handed,
His sword on the monarch's helm now landed.
He struck there with such overwhelming force
King Gradasso's teeth rattled with the blow;
That valiant ruler swayed a little on his horse,
Unamused: 'He's the very devil, though,'
He said, 'swerving not an inch from his course,
Whether the battle brings him joy or woe;
Yet Fortune will not favour him forever,
As, sooner or later, he'll discover.'
Such the speech the proud Gradasso uttered,
As he engaged once more, his eyes aflame.
Ask not, if our knight watched, as he muttered;
Oh, he kept his eye, my lords, on the game.
For the giant aimed a swing as he spluttered,
A two-handed blow; twas more of the same;
And though Rinaldo had parried the blow,
He would still have been slain by his fierce foe.
He'd no wish to linger, and Baiardo
With an almighty leap now saved the day.
The giant sought to redouble his first blow,
Yet Baiardo now leapt the other way.
'Must Allah yet deny my purpose so?'
The monarch asked, at this wild display;
And made a third attempt, but all in vain,
For Baiardo seemed a winged steed again.
Wearying of this idle task he chose
To demonstrate his mastery elsewhere.
And so plunged amidst the ranks of his foes,
Toppling riders and steeds; yet, even there,
Rode not a hundred paces, I suppose,
Ere our knight sought his company to share,
And though he did little yet of mention,
Forced the king to pay him close attention.
At last, they turned to their fierce duel once more,
Which demanded great care from Rinaldo.
But that giant, Orione, he now saw,
Still dragging behind him Ricciardetto.
The vile dog grasped him by the feet, as before,
While the youth cried for aid, in his great woe,
Such that Rinaldo, witnessing his plight,
Thought he'd die of compassion at the sight.
His eyes with such a flood of tears did flow,
That Rinaldo could scarcely see a thing.
He'd ne'er, in all his life, been troubled so,
Yet he felt his pride and anger swelling;
I'll describe to you, in the next canto,
The end of all this unresolved duelling,
Which, as I have said, had begun at dawn,
Lasted all day, and yet more blows did spawn.
The End of Book I: Canto IV of 'Orlando Innamorato'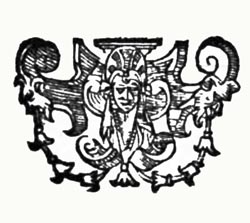 ---