Geoffrey Chaucer
The Canterbury Tales
A complete modernisation
with illustrations by Mary Eliza Haweis (English, 1848-1898) courtesy of the British Library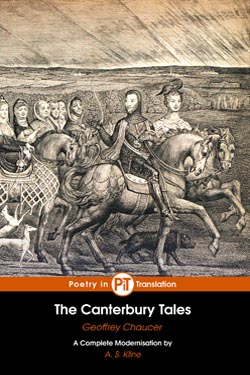 ---
Section I - The General Prologue
Section II - The Knight's Tale
Section III - The Miller's Prologue and Tale
Section IV - The Reeve's Prologue and Tale, and the Cook's Prologue and Tale
Section V - The Man of Law's Prologue, Tale and Epilogue
Section VI - The Wife of Bath's Prologue and Tale
Section VII - The Friar's Prologue and Tale, and the Summoner's Prologue and Tale
Section VIII - The Clerk's Prologue and Tale
Section IX - The Merchant's Prologue, Tale and Epilogue
Section X - The Squire's Prologue and Tale
Section XI - The Squire-Franklin Link, and the Franklin's Prologue and Tale
Section XII - The Physician's Tale, the Physician-Pardoner Link, and The Pardoner's Prologue and Tale
Section XIII - The Shipman's Tale, and The Prioress's Tale
Section XIV - The Prioress- Sir Topaz Link, Sir Topaz, the Topaz-Melibee Link, and The Tale of Melibee
Section XV - The Monk's Prologue and Tale
Section XVI - The Nun's Priest's Prologue, Tale and Epilogue
Section XVII - The Second Nun's Prologue and Tale
Section XVIII - The Canon's Yeoman's Prologue and Tale
Section XIX - The Manciple's Prologue and Tale, The Parson's Prologue and Tale, and Chaucer's Retractions
---
About This Work
The Canterbury Tales is a collection of stories, written in the Middle English vernacular, supposedly told among a group of pilgrims travelling from London to Canterbury. Chaucer uses the form, possibly based on knowledge of Boccaccio's Decameron gained on a visit to Italy in 1373, to provide a highly varied portrait of his society, both secular and religious. The journey of the pilgrims, unlike that of say Homer's Odysseus or of Dante in the Divine Comedy, is relatively unimportant compared to the tales themselves where Chaucer's true interest lies. Entertaining, and lively, these stories though primarily intended for a literate and courtly audience, exhibit Chaucer's wide love of character and humour, and his mix of narrators allows him to reveal both the scope and complexity of his times. His interest in religion and spirituality is muted, while his secular delight in the varied lives of men and women is to the fore. A founding master of English literature, Chaucer was highly valued by subsequent writers, and set the tone for the later tradition through his social inclusiveness, his pleasure in the everyday, and his introduction of European cultural elements to an English setting.
About the Author
Geoffrey Chaucer was born c1343 in London to a prosperous family of wine-merchants. Through his father's connections, he began his official duties as page to the Countess of Ulster, the wife of Lionel, second son to the king, Edward III. Chaucer subsequently served as courtier, diplomat and civil servant while also establishing his poetic reputation. He appears to have travelled widely in Europe during his varied court career. He married Philippa de Roet, lady-in-waiting to the queen, and sister to Katherine Swynford, John of Gaunt's third wife, and flourished under John of Gaunt's patronage. His most prolific period of writing was during his time as comptroller of customs for the port of London, between 1374 and 1386, both Troilus and Criseyde, his finely constructed poem based on classical and Renaissance sources, and the early Canterbury Tales, his celebration of the English social landscape, dating from that time. Chaucer is thought to have died in October 1400, not long after the overthrow of his royal patron Richard II and the accession of Henry IV, and he was buried in Westminster Abbey, that being his right as a tenant of the Abbey Close, in what has become known as Poet's Corner. His son Thomas had a significant career at the court of successive kings, and as Speaker of the House of Commons.
---
Modernised by A. S. Kline Copyright © 2007, All Rights Reserved.
This work MAY be FREELY reproduced, stored and transmitted, electronically or otherwise, for any non-commercial purpose. Conditions and Exceptions apply.
---
Last Modified May 2007