Geoffrey Chaucer
The Canterbury Tales
XII
Translated by A. S. Kline © Copyright 2007, All Rights Reserved.
This work may be freely reproduced, stored and transmitted, electronically or otherwise, for any non-commercial purpose. Conditions and Exceptions apply.
---
Contents
---
The Physician's Tale
Here follows the Physician's Tale
There was, or so says Titus Livius,
A knight, who was named Virginius,
Filled with all honour and nobility,
Rich in friends he was, and as wealthy.
This knight had a daughter by his wife;
He'd had no other child throughout his life.
Fair was this maid, of outstanding beauty
Beyond all others whom a man might see;
For Nature had with sovereign diligence
Created her of such great excellence
As if to say: 'Behold how, I, Nature,
Thus can form and tint a living creature
When I so choose! Who can this counterfeit?
Not Pygmalion, though he forge and beat,
And carve and paint, nor, I would maintain,
Apelles, Zeuxis who would work in vain
If they should carve, and paint, and forge, and beat,
Presuming to create a counterfeit.
For the Maker, and the Principal,
Appointed me his Vicar-General
To form and fashion earthly creatures
As I wish: all things are in my power
Under the moon that doth wane and wax,
And for my work no payment do I ask;
My Lord and I are both of one accord.
I made her to the honour of my Lord;
So I do with all my other creatures,
Whatever hue they have, or features.'
– Thus it seems to me Nature should say.
Fourteen years of age was then this maid,
In whom Nature took such great delight;
For just as she can paint the lily white,
And red the rose, just then such a picture
Had she painted in this noble creature,
Ere she was born, tinting her limbs free,
Wherever the colour should rightly be.
And Phoebus dyed her tresses all complete,
Like to the streams of his burnished heat.
And if she was excellent in beauty,
A thousand times more virtuous was she.
Within her there was lacking no condition
To draw praise from people of discretion.
As much in soul as body chaste was she,
So that she flowered in her virginity
With true humility and abstinence,
With true temperance and with patience,
Restrained in her behaviour and array.
Discreet she was in answering, always,
Though she was wise as Pallas, I dare say;
Her eloquence womanly, without display;
No affected language ever did she
Employ to seem wise, but in her degree
She spoke, and all her words, great and less,
Conducive were to virtue and gentleness.
Modest she was, in her maiden chasteness,
Constant in heart, and in action tireless
Not wishing to be thought idle, lazy.
Bacchus had of her mouth no mastery;
For wine and youth do Venus' works increase,
Like a fire on which men cast oil or grease.
And of her own virtue, unconstrained,
She had many times an illness feigned,
So that she might flee the company
When there was likelihood of foolery,
As at a feast, a revel, or a dance
Which are occasions oft for dalliance.
Such things indeed may make our daughters be
Ripe and bold too soon, as men may see,
Dangerously so, as has been known before;
For all too soon they practice more and more
Their boldness, when they seek to play the wife.
And you fair mistresses, in later life,
Who have lords' daughters in your governance –
Be not offended by my words, perchance –
Consider, you've been set to governing
Lords' daughters for one of two things:
Either because you kept your chastity,
Or else because you fell, from frailty,
And know it well enough, the ancient dance,
And have forsaken fully such mischance
For evermore; therefore, for Christ's sake,
Teach them virtue now, and make no mistake.
A poacher of venison who is long past
His guilty acts, and leaves off his old craft
Makes the best gamekeeper of any man.
So guard them well, for if you wish you can.
Be careful that to no vice you assent,
Lest you be dammed for your foul intent;
For one who shall, a traitor is, for certain.
And take good note of all that I shall say:
Of all treasons, the crowning pestilence
Is when an act betrays pure innocence.
You fathers, and you mothers too, also,
Whether you have one child or more, know
You're responsible for their surveillance
While they remain within your governance.
Beware then, lest, by your mode of living,
Or by your negligence in chastising,
They perish by your example; I dare say
If they do so, then shall you dearly pay.
Under a shepherd slack and negligent
The wolf will many a sheep and lamb have rent.
Let that one example suffice me here,
For I must turn again to my true matter.
This maid, the tale of whom I now express,
Governing herself, needed no mistresses.
In her mode of life, maidens might read,
As in a book, every good word or deed
That belongs to such a maiden virtuous,
So prudent she, so meritorious,
Such that her fame was known on every side,
That of her beauty and her goodness, wide
Throughout the land, praised by everyone
Who loved virtue, save the envious alone,
For Envy is grieved by other men's wealth,
And glad of their sorrow, and of their ill-health –
Augustine is the source of that description.
This maid upon a day went into town
Towards a temple, with her mother dear,
As is the manner of young maidens here.
Now, there was then a justice in that town
Governor of the region all around;
And it befell, that the judge his eyes cast
Upon this maid, his gaze there held fast,
As she passed the place in which he stood.
Anon his heart changed and his mood.
So caught was he by the beauty of this maid.
And to himself all secretly he said:
'This maid shall be mine, before any man!'
Anon the devil into his heart now ran,
And taught him swiftly that by some sleight
Of hand, he the maid to his purpose might
Win, for through force or bribery indeed
He saw no way in which he might succeed,
For she was rich in friends, and also she
Was so confirmed in her virtuous duty,
That he knew well he might never win
Her mind or body to indulge in sin.
So after deliberating, casting round,
He sent for a rogue living in the town,
Whom he knew was subtle and was bold.
The justice to this rogue his tale told,
In secrecy, and told him to be sure
Never to tell it to another creature,
For if he did, he would lose his head.
When the cursed reed had thus assented,
The judge was glad, and gave him good cheer,
And gifts as well, gifts both precious and dear.
When shaped was all their conspiracy
In every detail, how his lechery
Was to be satisfied full subtly –
As you shall hear soon, and openly –
Home went the rogue, his name was Claudius.
The false judge, whose name was Appius –
Such was his name, for this is no fable,
But is known to history, and notable;
The substance of it, true, without a doubt –
This false judge now went fast about
To hurry on his crime as best he may.
And it befell, soon after, on a day,
The false justice, for so says the story,
As was his right, playing judge and jury,
Was giving his judgement in another case.
The false rogue rushed in on him apace,
And said: 'Lord, if it might be your will,
Grant me my rights regarding this true bill,
A bill of complaint against Virginius.
And if he denies that things are thus,
I will prove them so, and find good witness
The truth is as my bill doth here express'
The judge replied: 'In the defendant's absence
I cannot bring this new case to sentence.
Summon him, then you I'll gladly hear;
You shall have justice, not injustice here.'
Virginius came, to learn the judge's will,
And right anon was read the cursed bill.
The content of it was as you shall hear:
'To you, my lord Sir Appius so dear,
Declares your humble servant Claudius
That a knight, named here, Virginius,
Against the law, against all equity,
Holds, and against my will, most expressly,
My servant, one who is my thrall by right,
One that was stolen from my house by night
When she was very young; this will I prove
By witnesses, my lord, if you approve.
She's not his child, whatever he may say.
Wherefore to you, my lord the judge, I say,
Yield me my thrall now, if it be your will!'
Lo, this was all the content of his bill.
Virginius stared in horror at the rogue;
But swiftly, before his tale could be told,
And he reveal the truth, as a knight,
Call witnesses to demonstrate his right,
And show the falseness of his adversary,
The cursed judge who would no longer tarry,
Nor hear a word more from Virginius,
Issued his judgement and declared it thus:
'This man shall have his servant, I rule so.
You shall no longer keep her, you must go
And bring her forth, and make her now our ward.
The man shall have his thrall, so I award.'
And when this worthy knight Virginius,
Heard the decree of this judge, Appius,
That he by force must his dear daughter give
Up to the judge, in lechery to live,
He went back home, and sat down in his hall,
And anon had them his daughter call;
And with a face dead as ashes cold
Her humble face did silently behold,
A father's pity striking through his heart,
Yet from his purpose he could not depart.
'Daughter,' quoth he, 'Virginia, by thy name,
There are two ways before you, death or shame,
One you must suffer – alas, that I was born!
For you have not deserved this evil morn,
Yet must you die by sword or by the knife.
O dear daughter, ender of my life,
Whom I have nurtured with such joyous glance
You were never out of my remembrance,
O daughter, you who are my final woe,
And of my life are my last joy also,
O gem of chastity, with quiet patience
Embrace your death: such is my sentence.
For love, not hate, I would have you dead;
My pitying hand must strike off your head.
Alas, that ever Appius saw your face!
That is why he falsely judged the case' –
He told her all the tale you've heard before.
No need for me to tell you of it more.
'O mercy, dear father!' quoth the maid,
And with that both her arms she laid
About his neck, as she was wont to do.
The tears burst from her eyes, anew,
'Good father,' she cried, 'is it death for me?
Is there no grace? Is there no remedy?'
'No, none, dear daughter mine,' quoth he.
'Then give me time, father mine,' quoth she.
'To lament my death a little space.
For Jephtha he gave his daughter grace,
To lament before he slew her, alas!
And God knows she committed no trespass,
But ran, the first her father chanced to see,
To welcome him with great solemnity.'
And with these words she swooned anon.
And after, when her faintness was all gone,
She arose, and to her father said:
'Blessed be God that I shall die a maid!
Grant me death, before I come to shame.
Do with your child as you will, in God's name!'
After those words she begged him full oft,
That with his sword he would smite soft;
And then again she fainted and lay still.
Her father with a sorrowful heart and will,
Struck off her head, gripped the hair, and went
To seek the judge, so as to present
Her head to him, being judge and jury,
And when the judge saw it, says the story,
He bade men to take and hang him fast.
But right anon a thousand people passed
Into the yard, to save the knight, for pity,
Since all was known of this false iniquity.
The people had suspicions that the thing,
From the way in which the rogue sought to bring
His charge, had the consent of Appius;
They knew too that he was lecherous.
And so to seek this Appius had they gone,
To throw him into prison right anon,
Where he slew himself; and Claudius,
Who was the servant to this Appius,
Was sentenced to hang upon a tree,
But Virginius, out of clemency,
Prayed that instead he might be exiled;
Or else for sure he would have died reviled.
The rest were hanged, the greater and the less,
Who were accessories to this wickedness.
Here may men see how sin receives its due!
Beware, no man knows what rank or who
God will smite, nor in what manner or wise;
The worm of conscience may yet arise
Against the wicked life, though secretly
So no man knows of it but God and he.
For be he illiterate or be he learned,
He knows not how soon the blow is earned.
Therefore I advise you this counsel take:
Forsake sin, before sin may you forsake.
Here ends the Physician's Tale
---
The Physician-Pardoner Link
The words of the Host to the Physician and the Pardoner
Our Host began to swear as he were mad;
'By nails and blood,' quoth he, 'your tale is sad!
This was a false rogue and a false assize!
As shameful a death as heart may devise
Come to these judges and their advocates!
And yet this faultless maid has met her fate!
Alas, too dearly did she buy her beauty!
Wherefore I always say that men may see
That the gifts of Fortune and of Nature
Have caused the death of many a creature.
From both the gifts that I spoke of now
Man often has more harm than good I vow.
'But truly now, my own master dear,
That was indeed a piteous tale to hear!
And to pass on, now, is scarce a curse.
I pray, God bless your noble person, first,
Your glass urinals, and sundry vessels,
Your hippocras too, and your cordials,
And every box of your apothecary's –
God bless them, and our Lady Saint Mary!
For, may I prosper, you're a proper man,
And like a prelate, by Saint Ronian!
Say I not well? I cannot use your terms
But I know you gave my heart such a turn,
That I have almost caught a cardiacle.
By God's bones, unless I dose a little,
Or drink a draught of moist and malted ale,
Or hear anon a somewhat merrier tale,
My heart is lost for pity of this maid!
You bel ami, you, Pardoner,' he said,
'Give us some mirth or jest now, right anon.'
'It shall be done,' quoth he, 'by Saint Ronian.
Yet first,' quoth he, 'here at this inn's ale-stake,
I will both drink and eat a piece of cake.'
But now from the gentlefolk there rose a plea:
'Nay let him tell us no obscenities!
Tell us some moral thing, let there appear
Some wisdom, and then we will gladly hear.'
'Granted, indeed,' quoth he, 'but I must think
Of some decorous thing while I go drink.'
---
The Pardoner's Prologue
Here follows the Prologue to the Pardoner's Tale
Radix malorum est Cupiditas:

For the love of money is the root of all evil.
'Lordings,' quoth he, 'in churches when I preach,
I take great pains to make a forceful speech,
And ring it out as soundly as a bell,
For I know all by rote, the tale I tell.
My theme is ever one, and always was:
"Radix malorum est cupiditas."
First I pronounce from whence it is I come,
And then my bulls I show them, all and some.
Our liege lord's seal is upon my patent
That I show first, as my bodily warrant,
So that none's so bold, priest nor clerk,
As to disturb me in Christ's holy work,
And after that, then I tell forth my tales.
Bulls of the popes and of cardinals,
Of patriarchs and bishops too, they view,
And in Latin I speak a word or two,
To season, as with saffron, declamation,
And stir them to reveal all their devotion.
Then I show forth my large crystal flagons,
Crammed full to the top with rags and bones;
Relics they are, adored by everyone.
Then I have in brass a shoulder-bone,
Belong to a holy Jew's dead sheep.
"Good men," say I, "note of my words now keep:
If that this bone be washed in any well,
If cow, or calf, or sheep, or ox should swell
That any worm has eat, or snake has stung,
Take water from that well and wash its tongue,
It will be whole anon; and furthermore,
Of pox and scabs and every other sore
Shall every sheep be whole that of this well
Drinks a draught. Take note of what I tell:
If the good man that the beasts do follow
Shall every week, before the cockerels crow,
Fasting too, drink of this well a draught,
As this holy Jew our elders taught,
His beasts and his stock will fruitful be.
And, sires, also it heals the jealousy;
For though a man descend to jealous rage,
Let him add this water to his pottage,
And nevermore shall he mistrust his wife,
Though the truth of all her sin be rife,
And even though she's had a priest or three.
Here is a mitten too, as you can see;
He that his hand will put inside this mitten,
His grain shall multiply, as it were written,
Where he has sown, whether it's wheat or oats,
If he makes offering of pence or groats.
Good men and women, one thing though I vow;
If anyone is in this church right now
Who has done dreadful things, that he
Dare not, for shame of it, confess to me,
Or any woman, be she young or old,
Who has made of her husband a cuckold,
Such folk shall have no power and no grace
To make offering to my relics in this place.
And whoever's free of all such blame,
May come and make an offering, in God's name,
And I absolve them, by the authority
This papal bull has granted unto me."
By this trick have I gained, year on year,
A hundred marks since I made Pardoner.
I stand like a cleric in my pulpit,
And after the unlettered people sit,
I preach thus as you have heard before,
And tell a hundred false stories more.
Then I take to stretching forth my neck,
And east and west nod with due effect,
Just like a dove sitting on a barn.
My hands and tongue then work so hard
That it is a joy to view the business.
Of avarice and all such wickedness
Is all my preaching, thus to set them free
To give their pence, and namely, unto me.
For my intent is only gain to win,
Not to correct them when they chance to sin.
For I care nothing, at their burying,
Whether their souls have gone blackberrying!
And certainly, many a declamation
Arises oftentime from ill intention:
Sometime to pleasure folk with flattery,
And gain advantage through hypocrisy,
Sometimes for vainglory, sometimes hate.
For when I dare not otherwise debate,
I'll sting him with my tongue and sharp
Preaching, so that he'll not flee far
From false slander, if it seems that he
Has offended my brethren now, or me.
For though I never speak his proper name,
Men shall know the person, all the same,
By signs and by other circumstances.
Thus I pay out folk who lead us dances;
Thus I spit out my venom with the hue
Of holiness, to seem holy still and true.
But briefly my intent I here confess:
I preach, but only out of covetousness.
Therefore my theme is now, and ever was:
"Radix malorum est cupiditas."
Thus do I preach against the very vice
I too indulge in, which is avarice.
Though I myself am guilty of that sin,
Yet I have power these other folk to win
From avarice, and bitterly to repent.
Yet that is not my principal intent;
I preach only out of covetousness.
Enough now of that subject, I suggest.
Then I give examples many a one
Out of old stories from the times long gone.
For unlettered people love the tales of old;
Such things they can repeat, their minds can hold.
What! Think you, that while I can preach,
And gain gold and silver as I teach,
I would live in poverty wilfully?
Nay, nay, I've never thought so, truly!
For I can preach and beg in sundry lands.
I need never labour with my hands,
Nor make baskets, just to make a living,
Since not un-fruitfully I can go begging;
None of the apostles shall I counterfeit.
I must have money, wool, cheese and wheat,
Though it were given by the poorest page
Or the poorest widow in some village,
Though her children starve from famine.
Nay, I must drink the liquor of the vine,
And have a jolly wench in every town!
But hearken, lordings, in conclusion now:
Your pleasure is that I should tell a tale.
Now I have drunk a draught of malted ale,
By God, I hope to tell you of a thing
That shall with reason be to your liking!
For though myself I am a sinful man,
Tell you a moral tale? Well, that I can:
One that I am wont to preach for gain.
Now hold your peace; and I'll begin again.'
---
The Pardoner's Tale
Here begins the Pardoner's Tale
In Flanders once there was a company
Of younger folk given all to folly,
Such as riot, gambling, brothels, taverns,
Where to the harps and lutes, and to citherns,
They danced, and played at dice both day and night,
And ate and drank more than wise men might,
Offering thereby the devil sacrifice
Within that devil's temple of cursed vice,
With superfluity abominable.
Their oaths were so great and damnable
That it was terrible to hear them swear;
Our blessed Lord's body thus they'd tear –
As though the Jews had not torn him enough –
And each of them at other sinners laughed.
And then anon came female tumblers,
Slender and elegant, young fruiterers,
Singers with harps, bawds, wafer-sellers,
Who are the devil's very own officers,
To kindle and blow the fire of lechery,
Which is annexed indeed to gluttony.
The Holy Writ I take now as my witness
There's lechery in wine and drunkenness.
See, how your drunken Lot unnaturally
Lay with his two daughters, unknowingly;
So drunk was he, he knew not what he wrought.
Herod, whoever of the tale knows aught,
When he was replete with wine at a feast,
At his own table ordered, like any beast,
The slaying of John the Baptist, guiltless.
Seneca too says a good thing, doubtless:
He says, there's no difference he can find
Between some fellow who has lost his mind
And one who is a drunkard through and through,
But says that madness, when it overcomes you
Lasts longer than does ever drunkenness.
O gluttony, so full of wickedness!
O thou reason for our first confusion!
O original cause of our damnation,
Till Christ bought us with his blood again!
See, how costly, briefly to explain,
The payment for that cursed villainy;
Corrupted was this world by gluttony.
Adam our father, and his wife also,
From Paradise, to labour and to woe,
Were driven for that vice, it's so indeed.
For while Adam fasted, as I read,
He was in Paradise, and when he
Ate the forbidden fruit from the tree,
Then he was cast out to woe and pain.
O gluttony, of whom we should complain!
O, if men knew how many maladies
Follow from excess and gluttony,
They would be more temperate and careful
In their diet, when they sit at table.
Alas, the narrow throat, the tender mouth
Mean men east and west, and north and south,
In earth, air, water, labour, as I think,
Simply to bring a glutton food and drink!
Of this matter, O Paul, you also treat:
'Meat for the belly, and the belly for the meat,
But God shall destroy both.' So Paul says.
Alas, a foul thing it is, by my faith,
To speak the word, and fouler is the deed,
When man so drinks of white and red indeed,
That of his throat he makes his privy
By reason of cursed superfluity.
The Apostle says, whom weeping softens:
'For many walk, of whom I've told you often,
And now tell you, even weeping, that they
Are enemies of the cross of Christ always:
Whose ending is destruction, and whose God
Is their belly!' O womb, O stinking pod,
Filled full with dung and with corruption,
At either end, foul is the eruption!
What labour and cost it is your meat to find!
These cooks, how they stamp and strain and grind,
To turn God's substance into accident,
To quench your avid lust, by their talent.
Out of the hard bone the marrow they
Knock, for nothing of it is thrown away
That softly, sweetly may the gullet suit.
Spices of every leaf, and bark, and root
Shall help to make the sauces of delight
That feed again a newer appetite.
And surely he who lives on such spices
Is dead, while he lives among these vices.
A lecherous thing is wine, and drunkenness
Is full of strife and of wretchedness.
O drunken man, disfigured is your face,
Sour is your breath, and foul is your embrace!
And through your nose issues a dull tone
As though you said: 'Sampson, Sampson'.
– And yet, God knows, Sampson drank no wine.
You fall to the ground like a fresh-stuck swine;
Your tongue is lost, and every decent care,
For drunkenness is the very sepulchre
Of a man's reason and discretion.
He, over whom drink has domination,
Can keep no counsel, as is truly said.
So keep you from the white and from the red,
The white from Lepé, Spain, then, set aside
That they sell in Fish Street and Cheapside!
That wine of Spain creeps most subtly, ay,
Into the other wines they cask nearby,
From which there rises such fumosity
That when a man has drunk of glasses three,
And thinks himself at home in Cheapside,
Yet he in Spain, in Lepé town, will abide –
Not at La Rochelle, nor in Bordeaux's sun –
And then he will drone out: 'Sampson, Sampson.'
But hearken, lordings, one word more I pray,
Know the sovereign acts, all, I dare say,
Of victory in the entire Old Testament,
Won through God who is omnipotent,
Were won in abstinence and prayer.
Look to your Bible, and find it there.
Look at Attila, the great conqueror,
Dead in his sleep, in shame and dishonour,
Bleeding from his nose in drunkenness;
A general should be sober, I'd suggest!
Moreover, consider now right well,
What was commanded of Lemuel –
Not Samuel, but Lemuel say I –
Read your Bible, see there if I lie,
On wining those with whom justice lies.
No more of this, let my words suffice.
And now that I have spoken of gluttony,
Now will I warn you about gambling's lottery.
Gambling's the very mother of lying,
And of deceit and cursed forswearing,
Blaspheming Christ, manslaughter, waste also
Of property and time, and further know,
It is shame and contrary to honour,
To be known as a common gambler,
And ever the higher his estate,
The more is he shunned and desolate.
If a prince choose to play the lottery,
In all his governance and policy,
He is held, by common opinion,
As the last of all in reputation.
Stilbon, who was a wise ambassador,
Was sent to Corinth, with all honour,
From Lacadaemon, to make alliance,
And on arrival, it occurred by chance
That all the greatest men of that land
He found gambling, with the die in hand.
So, as soon as might reasonably be,
He stole home again to his own country,
And said: 'There I'll not lose my name,
Nor will I take on me so great a shame
As to ally you with all these gamblers.
Send some other wise ambassadors;
For, in truth, indeed, I'd rather die
Than I should you to gamblers ally.
You who are so glorious in honours
Shall not ally yourselves with gamblers
By any will of mine, nor any treaty.'
That wise philosopher, so said he.
Look also to that King Demetrius:
The King of Parthia, as books tell us,
Sent him a pair of golden dice in scorn,
Since he'd shown as a gambler before;
For which reason his glory and renown
He valued naught, nor his reputation.
Lords can find other, better ways to play
Honest enough to pass the day away.
Now will I speak of oaths false and great
A word or two, as the old books treat.
Swearing is a thing abominable,
And perjury is even more objectionable.
God on high forbade swearing at all;
Witness Matthew, but you may recall
That to which Jeremiah gave breath:
'And thou shalt swear, as the Lord liveth,
In truth, in judgement, and in righteousness.'
But idle swearing is pure wickedness.
Behold and see, how in the first table
Of God's commandments honourable,
The third commandment was written plain:
'Thou shalt not take the Lord's name in vain.'
See how He rather forbade such swearing
Before homicide, and other cursed things!
I say that higher in the list it stands;
This they know who know His commands,
That God's third commandment is that.
And moreover, I will tell you flat
That vengeance shall fall on all his house
Whose oaths and swearing are outrageous.
'By God's precious heart, and by his nails,
And by the blood of Christ that is at Hailes,
Seven's my number, yours is five and three!
By God's arms, if you play false with me,
This sharp dagger through your heart shall go!'
Such is the fruit of those two cursed bones:
Perjury, anger, cheating, homicide.
Now, for the love of Jesus Christ who died
For us, leave off your oaths, great or small.
But sires, now of my tale will I tell all.
These three profligates of whom I tell,
Long before prime rang out from any bell,
Had sat down in a tavern for a drink.
And as they sat, they heard a bell clink
Before a coffin carried to the grave.
Then one of them called to his knave:
'Go quickly,' quoth he, 'and ask reply
As to whose corpse this is passing by;
And remember the name aright, as well.'
'Sire,' quoth the boy, 'no need that they tell;
I heard it before you came these two hours,
He was, in truth, an old friend of yours,
Who was suddenly slain the other night,
Drunk, as he lay upon his bench upright.
There came a sly thief whom men call Death,
Who in this country steals people's breath,
And with his spear his heart he smote so,
And on his way without a word did go.
He slew a thousand with the pestilence.
And, master, ere you reach his presence,
I think it very wise and necessary
To be wary of such an adversary.
Be ready to meet him at every door –
So my mother taught me; now, no more.'
'By Saint Mary!' said the innkeeper,
'The child is right, for he has slain this year,
Barely a mile from here, in a large village,
Men and women, children, serfs at tillage.
I think his habitation must be there.
It would be wise indeed to take care,
Lest he should do a man dishonour.'
'What, God's arms,' quoth the reveller,
'Is it so perilous then with him to meet?
I'll seek him on the highway, in the street,
I make this vow by God's noble bones!
Hearken, friends, we three are all as one:
Let each man hold his hand up to the others,
And each to each become as brothers.
And we shall slay this false traitor Death!
He shall be slain, who steals men's breath,
By God's dignity, ere it be night!'
Together the three their troth did plight,
To live and die each of them for the other,
As though he were his own born brother,
And up they leapt, all drunk and in a rage,
And forth they went towards the village
Of which the innkeeper had told before.
And many a grisly oath then they swore,
And Christ's blessed body tore and rent;
Death shall die: to catch him their intent!
When they had gone barely half a mile,
Just as they were about to leap a stile,
An old man, a poor man, there they met.
The old man humbly paid them his respects,
And spoke thus: 'Now lords, may God protect ye!'
The proudest then of these profligates three
Answered again: What, knave of sorry grace!
Why are you all cloaked save for your face?
Why have you lived so long, in your old age?'
The old man stared hard into his visage,
And spoke thus: 'Because I cannot find
Any man, though I have walked to Inde,
Neither in city, nor in distant village,
Who will exchange his youth for my age.
And therefore have I all my years still,
As long as it may further the Lord's will.
No death, alas, will take away my life!
So I wander on, wretched, and in strife,
And at the ground, which is my mother's gate,
I knock with my staff, both early and late,
Crying: "Dear mother, please let me in!
See, how I waste, flesh and blood and skin!
Alas, when shall my bones be at rest?
Mother, with you I would exchange the chest
That in my chamber has a long time been
Yea, for a hair-shirt to wrap round me!"
– But yet to me she will not show that grace,
And so all pale and wrinkled is my face.
But sires, you show a lack of courtesy
In speaking to an aged man, so harshly,
Unless he's trespassed in word or deed.
In holy writ, too, you yourself may read:
"Thou shalt rise up before the hoary head",
Therefore I give you my advice, 'tis said,
Unto an old man no harm should you do,
More than you would have men do unto you
In age, if here it chance you long abide.
And God be with you, where you go or ride!
I must go thither where I have to go.'
'Nay, old churl, by God, you shall not so!'
Cried the other profligate, anon.
'You leave us not so lightly, by Saint John!
You spoke just now of that traitor Death,
Who in this country steals away men's breath;
You have my word, as you are his spy,
Say where he is or you'll pay by and by,
By God, and by the Holy Sacrament!
For truly you are both joined in consent
To slay us younger folk, you false thief!'
'Now, sires,' quoth he, 'if it is your chief
Wish to find Death, take this crooked way,
For in that grove I left him, by my faith,
Under a tree, and there he will abide;
No bluster of yours will make him hide.
See you that oak? Just there you shall him find.
God save you, He that redeemed all mankind,
And amend you!' – So said the aged man.
And every one of the profligates then ran
Till they came to the tree, and there they found
Of florins fine, of gold new-coined and round,
Well nigh eight bushels, was what they thought.
No longer then after Death they sought,
But each of them was pleased so at the sight,
Since the florins gleamed so fair and bright,
That down they sat beside the precious hoard.
The wickedest of them spoke the first word:
'Brethren' quoth he, 'take note of what I say;
My wit is great, though I may jest and play.
This treasure now to us has Fortune given,
In mirth and jollity our life to live: then,
Lightly as it comes, so shall we spend.
By God's precious dignity, this day's end,
Who'd have thought it would bring so fair a grace?
Now might this gold be carried from this place,
Home to my house – or else to yours –
For now you see that all this gold is ours –
Then would we be in high felicity.
Yet certainly, by day that may not be.
Men would say we were thieves all along,
And for our own treasure have us hung.
This treasure must be carried off by night,
As carefully and cunningly as we might.
So I suggest that lots among us all
We draw, and see how the lots may fall;
And he of the short straw, with heart blithe
Shall run to the town, and swift and lithe,
And bring us bread and wine secretly.
And two of us will guard cunningly
This treasure well, and, if he not tarry,
When it is night we shall this treasure carry,
By our consent, wherever we think best.'
Then one of them held the straws in his fist,
And bade them draw, see how the lots might fall;
The shortest fell to the youngest of them all,
And forth towards the town he ran anon.
And as soon as ever he was gone,
One of them spoke thus to the other:
'You know that you are my sworn brother;
I'll tell you where you profit lies anon.
You know that our fellow is clean gone,
And here is gold, and that in great plenty,
Which is to be shared among us three.
Yet if it seemed that I could shape it so
That it were only shared between us, though,
Would I not show myself a friend to thee?'
'The other answered him: 'How can that be?
He knows the gold is here, while he's away;
What could we do? What could we hope to say?'
'Shall it be secret?' said the worst of the two,
'And in a few words I'll explain it you,
What we shall do to bring it all about.'
'I agree,' said the other, 'have no doubt,
You, by my oath, will I not betray.'
'Now,' quoth the first, 'we be two, I say,
And two of us then are stronger than one.
Look, when he is seated, then right anon
Rise as though with him you would play;
And I will stab him through the side, this way,
While you are struggling with him, as in game,
And with your dagger look you do the same.
And then this gold shall be shared, you see,
My dear friend, just between you and me.
Then we can both our wishes thus fulfil,
And play at dice according to our will.'
And so the two rogues agreed, and they
Planned to slay the third, as you heard say.
The youngest, while he ran towards the town,
Often in his thoughts rolled up and down
The beauty of those florins new and bright.
'O Lord,' quoth he, 'if only that I might
Have all this treasure for myself alone,
There is no man that lives beneath the throne
Of God who would live as merry as me!'
And at last the fiend, our deadly enemy,
Put in his thoughts, that he should poison buy,
With which to slay his fellows by and by,
Because the fiend found his way of living
Was such he'd power to set him sorrowing.
For this was wholly his complete intent:
To kill them both, and never to repent.
And off he went – no longer would he tarry –
Into the town to an apothecary,
And requested of him that he sell
Him poison, a host of rats to quell,
And also there was a polecat in his yard,
That, so he said, had pressed his chickens hard,
And he would take revenge, if he might,
On vermin that stole from him at night.
The apothecary answered: 'You'll take away
A compound that, as God my soul may save,
Is such that in all this world there's no creature
That has eaten or drunk of this mixture
Merely the quantity of a grain of wheat,
Who did not his life at once forfeit.
Yes, die he must, and in a shorter while
Than it would take you to walk a mile,
The poison is so strong and violent.'
The cursed wretch then swiftly went,
With this poison in a box, in his hand,
Into the neighbouring street to a man,
From whom he borrowed large bottles three,
And into two the poison then poured he;
The third he left empty for his drink,
For a full night's labour he did think
To spend transporting gold from that place.
And when this profligate, with sorry grace,
Had filled with wine his large bottles three,
To his fellows he returned and swiftly.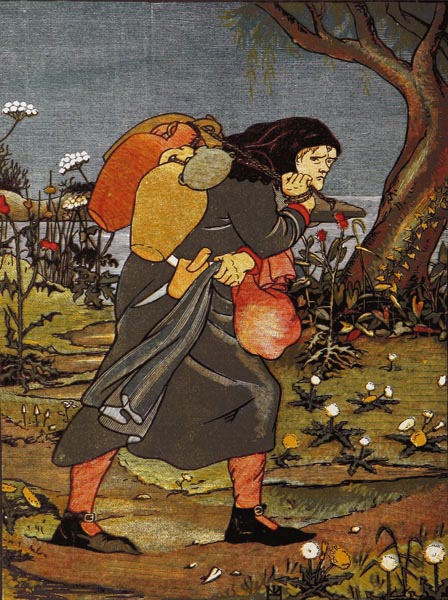 'The Rioter'
Why make a longer sermon of it more?
Exactly as they'd planned his death before,
Right so they slew him and that anon.
And when it was done, thus spoke the one:
'Now let us sit and drink, and be merry,
And afterwards we will his body bury.'
And with those words, he chanced, alas,
To seize a bottle where the poison was,
And drank, and poured his friend a drink too,
So that they died, both of them, the two.
Surely, I must suppose, Avicenna
In no chapter of his Canon, ever
Wrote of more wondrous signs of poisoning
Than these wretches showed, ere their ending.
Thus died both these homicides, we know,
And then the traitorous poisoner also.
O cursed sin above all cursedness!
O treacherous homicide, O wickedness!
O gluttony, gambling, and lechery!
You blasphemers of Christ, in villainy
Swearing out of habit and of pride!
Alas, mankind, how may this betide,
That to your Creator, He who first wrought
You, and with his precious heart's blood bought
You again, you're so false, unkind, alas?
Now good men, God forgive you your trespass,
And shield you from the sin of avarice!
My holy pardon will save you from vice,
So long as you offer up gold and sterling,
Or else silver brooches, spoons and rings.
Bow your head beneath this holy bull.
Come forward wives, make offerings of wool;
Your name I enter here in my roll anon.
Into the bliss of heaven will you be gone;
I absolve you by my sovereign power –
You that offer wool – made pure as the hour
When you were born – And lo, sires, thus I preach.
And Jesus Christ, our healer, our soul's leech,
May He grant you His pardon to receive,
For that is best, I will not you deceive.
Sires, one thing was forgotten in my tale:
I have relics, pardons in my bale,
As fair as does any man in England,
Which were given me by the Pope's hand.
If any of you would, out of devotion,
Make offering and have my absolution,
Come forth anon, and kneel you here adown,
And humbly receive my sovereign pardon;
Or else receive it as your way you wend,
All new and fresh at every mile's end –
As long as you offer, new and new,
Nobles or pence, that are both good and true.
It is an honour to everyone that's here,
To have found a competent pardoner,
To absolve you, through the country as you ride,
From any accidents that may betide.
Peradventure there may fall one of you
Down from his horse, and break his neck in two.
Look, what a safeguard it is to you all
That I am of your fellowship, on call,
Who can absolve you, the first and last,
When the soul shall from the body pass.
I think that our Host shall first begin,
Since he most enveloped is in sin.
Come forth, Sir Host, and offer up anon,
And you shall kiss the relics, every one,
Yes, for a groat! Unbuckle then your purse.'
'Nay, nay,' quoth he, 'I'd rather have Christ's curse!
Let be!' quoth he, 'You'll have not what you seeketh!
You'd have me kissing your old breeches,
And swearing they were a relic, sainted,
Though by your fundament they're painted.
By Saint Helena's cross, from Holy Land,
I would I had your bollocks in my hand
Instead of relics or some reliquary!
Have them cut off, them I'll help you carry
And they shall be enshrined in a hog's turd!'
The Pardoner answered him not a word;
So wrathful was he, no word could he say.
'Now,' quoth our Host, 'I will no longer play
With you, nor any other angry man.'
But right anon the worthy knight began,
When he saw how all the folk did laugh,
'No more of this, words enough you'll have!
Sir Pardoner, be glad and merry of cheer,
And you, Sir Host, who are to me so dear,
I pray you now come kiss the Pardoner.
And Pardoner, I pray you now, draw near,
And as we did before, let's laugh and play.'
Anon they kissed, and rode forth on their way.
Here is ended the Pardoner's Tale
---