Horace: The Satires
Book I: Satire V
Translated by A. S. Kline © Copyright 2005 All Rights Reserved
This work may be freely reproduced, stored and transmitted, electronically or otherwise, for any non-commercial purpose. Conditions and Exceptions apply.
Contents
---
BkISatV:1-33 Off to meet Maecenas, going to

Brindisi

Leaving great Rome for Aricia, a modest inn

Received me: the rhetorician Heliodorus

Was with me, most learned of Greeks: to Forum Appi,

Then, crammed with bargemen and stingy innkeepers. We

Took this lazily in two days, though keener travellers

Than us take only one: the Appian's easier taken slow!

Here because of the lousy water my stomach declares

War on me, and I wait impatiently while the others

Dine. Night's already beginning to shroud the earth

In shadow, and sprinkle the heavens with stars.

Then its slaves shouting at bargemen, bargees at slaves:

'Pull, over here!' 'You're loading three hundred?' 'Oy,

That's enough!' A whole hour slips by, as they harness

The mule, and collect the fares. The marsh frogs and damned

Mosquitoes keep away sleep, while the boatman, drowned

In sour wine, sings of the girl left behind and a traveller

Joins in. At last the traveller tires and falls asleep,

And the lazy boatman turns out his mule to feed,

Ties the rope to a stone, and snores away on his back.

When day dawns we discover our vessel's not yet

Under way, till a hot-headed traveller leaps out

thumping mule and man head and sides with a branch

Of willow. At ten we are barely landed at last

And wash our faces and hands in Feronia's stream..

Then after breakfast we crawl on three miles to Anxur.

Perched on its cliffs that gleam brightly far and wide.

Here Maecenas the best of men's going to meet us,

An envoy, with Cocceius, on very important business,

Both of them used to settling feuds between friends.

Here I smear some black ointment on my sore eyes.

Meanwhile Maecenas arrives, and with him Cocceius

And Fonteius Capito, a man so perfectly finished

That Antony owns to no greater friend than he.
BkISatV:34-70 Onward to supper at Cocceius' villa
We left Fundi with pleasure, and Aufidius
Luscus its 'praetor', mocking that clerk's mad reward,
Bordered robe, a broad-striped tunic, burning charcoal.
Tired out we halted at the Mamurra's town next,
Murena offered shelter, Capito the cooking.
The next day's sunrise brings great joy: since Plotius
Varius, and Virgil, meet us at Sinuessa: no more
Shining spirits did earth ever bear, and no one
Could be more dearly attached to them than I.
O what embraces there were there, and what delight!
In health, nothing compares for me with friendship's joy.
A small villa by the Campanian Bridge offered us
Shelter, and the officers, as required, salt and fuel.
Then to Capua, where the mules shed their loads early.
Maecenas is off for sport, Virgil and I for sleep:
Those ball-games are bad for sore eyes and stomachs.
Then Cocceius' well-stocked villa welcomes us,
That overlooks the inns of Caudium. Now, Muse,
Tell briefly of the fight 'twixt Sarmentus the jester,
And Messius Cicirrus, and who their fathers were
That joined the fray. Messius of famous Oscan stock:
Sarmentus' owner, she's still alive: from such ancestry
Did they join battle. Sarmentus first to strike: 'A horse,
I say, a wild one, is what you resemble.' We roar,
Messius tosses his head, cries: 'Yea'. Sarmentus
Says: 'Oh, if your forehead wasn't short of a horn
Imagine what you could do, when you threaten us
Mutilated so!' An ugly scar marred his hairy brow
On the left, you see. Mocking his 'Campanian' warts
And joking about his face, he begged him to dance
A dance of the Cyclopean shepherd, while saying
He'd not need a mask or the thick soles of Tragedy.
Cicirrus struck back fiercely: 'What about that chain
He owed to the Lares? Though a clerk, his lady's power
Was no less: and finally he asked why he'd run away
Since a bag of meal a day's enough for the slight and lean.
So we prolonged that supper with all our laughter.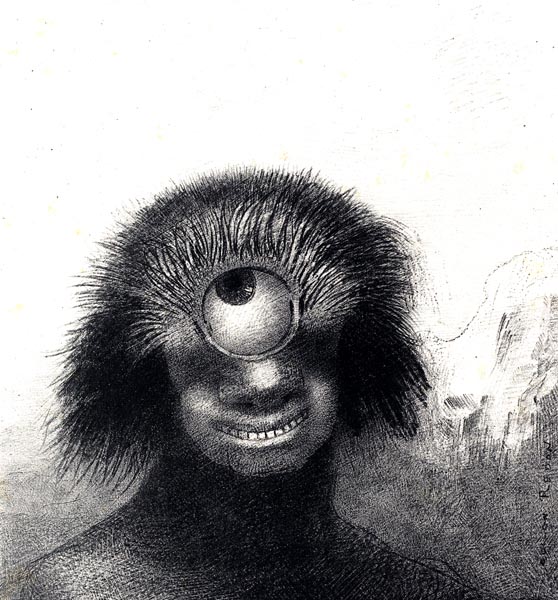 'Cyclops'
Odilon Redon (French, 1840 - 1916)
National Gallery of Art
BkISatV:71-104 And so by stages to journey's end
On, straight, to Beneventum: where our busy host
Nearly burned the inn turning lean thrushes over the fire:
As Vulcan's fumes dispersed through the ancient kitchen,
Darting flames licked right up to the roof overhead.
You saw scared servants and famished guests snatch food
And everyone tried to extinguish the roaring blaze.
From that point on Apulia begins to reveal
Her familiar hills to me, scorched by scirocco,
And we'd never have crossed if a villa near Trivicum
Hadn't received us, tearful with smoke from the stove
That was burning up green wood, foliage and all.
Here like an utter fool I lay wakeful till midnight
Awaiting a cheating girl: till sleep carried me off
Thinking of sex: then a dream full of sordid visions
Wet my nightshirt and belly, lying there on my back.
From here we're rushed on in a cart twenty-four miles,
To spend the night in a little town I can't fit in the verse,
Though here's a clue: they sell what's commonly free
There, water: but the bread's the best by far, so wise
Travellers carry a load on their shoulders for later,
'cos it's gritty at Canusium (and your jug's no more
Water in) a place brave Diomed founded long ago.
Here Varius peels off, to the grief of his weeping friends.
So to Rubi exhausted we come, after we've travelled
A long stretch of roadway damaged by heavy rain,
Next day the weather was better, the road was worse,
Right up to fishy Bari. Then Gnatia, on whose building
The water-nymphs frowned, brought us laughter and mirth,
As it tried to persuade us that incense melts without fire
On its temple steps. Let Apella the Jew credit that,
I don't: I've heard the gods live a carefree life,
And if nature works miracles then it isn't the gods
Gloomily sending them down from their home in the sky.
Brindisi 's the end of a long road and this story.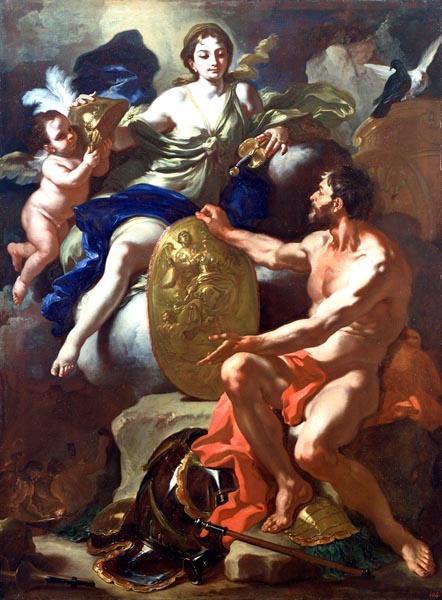 'Venus at the Forge of Vulcan'
Francesco Solimena (Italian, 1657 - 1747)
The Getty | Open Content Program
End of Book I Satire V
---