Boiardo: Orlando Innamorato
Book III: Canto IX: Fiordispina and Bradamante
Translated by A. S. Kline © Copyright 2022, All Rights Reserved.
This work may be freely reproduced, stored and transmitted, electronically or otherwise, for any non-commercial purpose.
Conditions and Exceptions apply.
---
Contents
---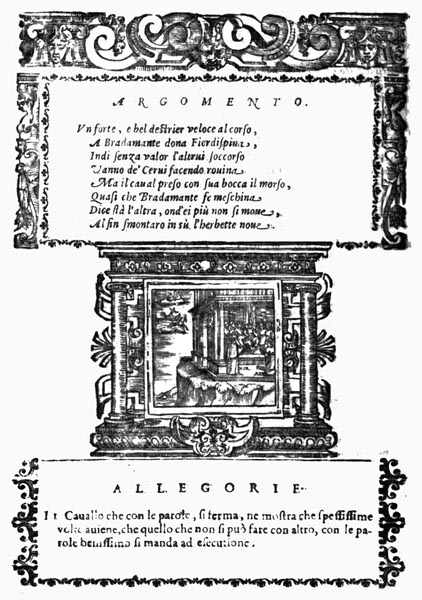 Book III: Canto IX: 1-3: Boiardo's invocation of Love
Since my cantos ever bring you delight,
For I see the signs revealed in every face,
I shall bring my choicest dulcimer to light,
And strike the finest chords, with skill and grace.
Come, Love, descend, and by my side alight,
And if my worth's too slight for such a place,
Since my head still lacks a wreath of myrtle,
These that listen are most worthy people.
As, ere the sunrise and the dawning glow,
The stars in splendour in the sky do shine,
So, this court gleams with honour, here below
That of knights and fair ladies, rare and fine.
So tis meet you descend, O Love, and go
Amidst these folk, angelic and divine;
And, once you are among us, I declare,
You'll stay, and ne'er will leave a place so fair.
For here you'll find another paradise.
Come therefore and inspire me, of your grace;
Bring me your sweet delight, and smiling eyes,
That I may satisfy all who embrace
The tale of Fiordispina, and her sighs,
As she watches Bradamante's sleeping face,
And thinks to die, consumed by her desire,
Like dew in the sunlight, wax in the fire.
Book III: Canto IX: 4-7: Bradamante wakes
Quite unable to turn her eyes away,
The more she gazed, the more she longed to gaze,
Like a moth drawn to the flame, once in its sway
Unable to tear itself from the blaze;
The huntsmen were not far, the hounds at bay,
Midst cries and horn-calls; her mind a maze.
Some creature had but now gone to ground,
When Bradamante awoke at the sound.
As she opened her bright eyes, instantly,
A light issued forth from them, a splendour,
That blinded Fiordispina, momently,
Then travelled to her heart, while her colour
Changed to that of the rose, and silently,
Gave witness, through her face, to her ardour,
A rose that opens in the morning light,
At the rising of the sun from darkest night.
Bradamante saw, from her dress and manner
That the other was a lady of the court,
And greeted her, courteously as ever.
Then she gazed all around her, and sought
Her mare that she'd taken care to tether
By the stream, on dismounting; she thought
To see her by the water, but could not,
For she'd slipped her bridle, and the spot
Was empty, now the steed had gone astray,
Wandering it seemed somewhere midst the trees.
This so troubled her that tears began to play
In her eyes, tears that spoke of her unease.
Now, Love, that wakes the intellect they say,
Revealed to Fiordispina, by degrees,
That she might have the very means in sight
To ensure she was alone with the knight.
Book III: Canto IX: 8-13: Fiordispina contrives a ruse
For she possessed an Andalusian steed,
Swift and strong, though temperamental ever.
She'd ne'er seen the creature's equal for speed,
Yet he'd ever run away with his rider,
Once he'd the bit between his teeth, indeed
His fury was unrestrained; however,
A single word would calm him, as she knew,
The knowledge, though, confined to but a few.
Thinking she'd thereby found a way to gain
Bradamante's heart, deeming the maid a youth,
She said: Sir knight, you are sad, I maintain;
Perchance your mount is lost; though, in sooth,
I know you not, nor e'er saw you, tis plain,
(Since your features declare the living truth,
That you are not treacherous by nature,
Goodness dwells, oft, in the fairest creature)
That I could not find a better person
On whom to bestow a dear possession.
I offer you this steed; tis a rare one,
For there's none swifter midst any nation.
What's worthless you may have of anyone,
What's precious not so easily is won;
My heart indeed I'd give (of noble birth
Is mine) did I not think it of small worth.'
With that she descended to the ground,
And, holding the bridle, with much grace,
Gave her mount to Bradamante, who found
That Love's colours were painted in her face,
While her gaze was tremulous and the sound
Of her speech, and she thought: 'Sad is our case;
She's deceived; one of us must come to grief;
Small joy if stone grinds stone, tis my belief.'
And, thinking so, she spoke to the lady:
'So fair a gift is far beyond my worth.
If I gave all, I still would prove unworthy,
Yet only merchants price all things on earth;
While you, who have a noble spirit, truly,
And, in that, reveal your breeding and birth,
May accept me as I am, nonetheless;
For body and soul are yours, I confess.'
'And I refuse them not!' cried Fiordispina,
'Nor delight more in aught that I possess.
No queen e'er granted a gift that's nobler,
Or that it's recipient so did bless.'
Bradamante answered not, however,
Bowed to her, and then the steed did address;
She could have vaulted a giraffe, her feet
Ne'er touched the stirrups e'er she gained her seat.
Book III: Canto IX: 14-16: Her huntsmen drive out the prey
The Saracen princess watched her mount;
Her eyes, fixed on her, ne'er tired of gazing,
Then told her huntsmen: 'Give a good account
Of yourselves; this hunt is of my raising,
And I command here, so let none discount
My orders, or, to those hell-fires blazing
Down below, he'd be better to have gone.
I would have each man keep his place, anon,
And lack a tongue, or he'll meet with disgrace.
Be silent, and then drive the creatures out.
By myself, I would follow in the chase.
All but you, sir knight, remain hereabout,
For you will stay with me, since tis my place
To honour the stranger, nor would I flout
That rule, indeed, for I like nothing more,
And would do all your pleasure to ensure.'
They quietly obeyed, some leashed the hounds,
Some slackened bows, then the forest rang
To horns and tumult, and the violent sounds
Of branches breaking; from the treeline sprang
A great stag whose antlers, grown beyond bounds,
Shadowed his back; many a tine and tang
They showed; a stag possessed of many years,
None larger, driven now before the spears.
Book III: Canto IX: 17-21: Fiordispina and Bradamante chase a stag
Out from the woods it leapt, at such a speed
Nor thorn nor briar could slow the creature.
With the hounds at its tail, it passed indeed
No more than a yard from Fiordispina.
'I fear lest this knight chooses not to heed
My call to follow,' she thought, 'the warrior,
May scent deceit, and thus turn from the chase.'
And so, she flicked her whip, and set the pace,
Crying to the knight, to take up the lead;
To him alone, for the rest stayed behind,
Leaving them to hunt the prey, as agreed.
Fiordispina rode a saddle-horse, assigned
To the chase, which was of an Irish breed,
Fast as a greyhound, to the layman's mind,
Like the best mounts of that land, though its speed
Matched not her gift's, fair Bradamante's, steed.
For the Andalusian, oft, in the chase,
Ran faster than its rider might desire.
A bow-shot length already was the space
Twixt the maidens, so great that courser's fire.
Bradamante showed regret upon her face,
That to such a pace it sought to aspire,
And she tugged on the reins, and then she hauled,
Though it slowed not, however loud she called.
A hill-slope rose in front; twas covered o'er,
With unfamiliar undergrowth and trees,
But nothing slowed the beast, that yet tore
Upwards, as if on level ground, with ease.
Despite the stag's head-start, six hounds or more
Had neared the creature, running without cease,
While behind them Fiordispina gazed ahead
And, as fast as she was able, onward sped.
Just as it started to descend the hill,
The stag was seized and bitten by a hound;
And, once the first had caught it, with a will,
The others dragged the creature to the ground.
Fiordispina now ensured the loved one still
Would attend her there, for her voice she found,
And called to the Andalusian steed,
Which slowed, at her command, and gave heed.
Book III: Canto IX: 22-26: The maidens dismount from their steeds
Ask me not if Bradamante was relieved
As her mount drew to a halt beneath her.
She leapt from the saddle, somewhat grieved,
So winded she felt she'd ne'er recover,
For that she might die she'd, in truth, believed,
While her heart leapt yet; up came the other,
Crying: 'Sir knight, I hope that you'll accept
My excuse, twas a moment of neglect,
(Yet omission is no sin, some do say)
In which I failed to tell you that your steed
That almost caused your death this very day,
Won't move an inch, he loses all his speed,
If you should utter but the one word: "Stay!"
Somehow the thing slipped my mind, indeed,
And, as I said, much to my deep regret,
I forgot the fact; and am suffering yet.'
Bradamante was content, and breathed anew,
And then began the maid's command to prove.
She rode, with loosened reins, a yard or two;
On hearing: 'Stay!', not an inch would he move.
Another trial she made, then no small few,
Till the steed's obedience she could approve,
Then descended to the grass, where a glade,
By a bridge o'er a river, cast its shade.
There they left their steeds, Brandimarte
Was still clad, I should say, in her armour,
Fiordispina wore a dress of azure, lightly
Starred with gold (the bow, that hung about her,
And her arrows, and hunting-horn, rightly,
Shone likewise). Each was fair as the other,
Adorning the Earth with grace and beauty,
Though she burned with longing, the one lady…
Yet while I sing, O my Redeemer,
I see all Italy ablaze with fire,
For the French, as valiant as ever,
To lay waste, who knows what domains, aspire.
Thus, I must leave that ill-fated lover,
Fair Fiordispina, ardent with desire.
Yet, if further breath You will allow me,
I'll gather up the threads of my story.
---
Translator's Note
At this point Boiardo ceased work on the text (Charles VIII of France invaded Italy in the September of 1494, and Boiardo died in mid-December). The threads were indeed gathered up, not by himself but by Ariosto, who developed and completed the tale as a tribute to the House of Este. The innovative historical setting with its prophecies of the future; the main characters and their attributes; and the whole style and manner of the poem, Ariosto adopted in his, better known, 'Orlando Furioso', though the credit for the whole wonderful, imaginative story should, in truth, be equally shared.
The End of Book III: Canto IX, and of Boiardo's 'Orlando Innamorato'
---