François-René de Chateaubriand
Itinéraire de Paris à Jérusalem et de Jérusalem à Paris
(Record of a Journey from Paris to Jerusalem and Back)
With a selection of engravings and lithographs from nineteenth-century travelogues by celebrated artists such as
Edward Dodwell Esq, F.S.A, Thomas Allom Esq, William Henry Bartlett, David Roberts R.A. and Louis Haghe.
Your soul has felt it all, your imagination has painted it all

and the reader feels with your soul and sees with your eyes.
---
Contents
Part I: Greece
Part II:The Archipelago, Anatolia and Constantinople
Part III: Rhodes, Jaffa, Bethlehem and the Dead Sea
Part IV:Jerusalem
Part V: Jerusalem - Continued
Part VI: Egypt
Part VII: Tunis and Return to France
---
About This Work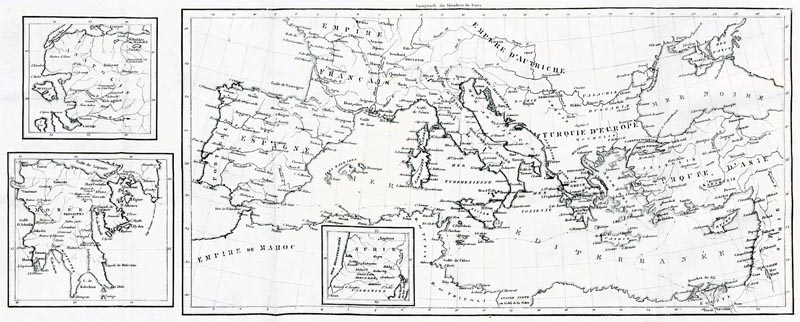 Travels in Greece, Palestine, Egypt, and Barbary, during the years 1806 and 1807, Translated by Frederic Shoberl - François René de Chateaubriand (p8, 1812)
The British Library
Chateaubriand set out on his travels to the Middle East in the summer of 1806, returning via Spain in 1807. His trip was ostensibly to provide background material for his work Les Martyrs, a Christian epic in prose, but may also have helped to resolve certain problems in his private life. He travelled to Greece and Constantinople on his way to Jerusalem, returning through Egypt, Tunisia and Spain.
His record of the journey often contrasts the meagre contemporary state of civilisation in Greece, Turkey and the Holy Land with the richness of classical antiquity and the Christian past. While not purporting to offer fresh archaeological evidence, he established a 'tourist route' through that antiquity which many other travellers would follow. He was, in his own words, "...in some ways the last visitor to the Turkish Empire in its previous form" before the progressive revolutions of the Eastern Question gradually weakened Ottoman control.
As always, Chateaubriand enriches his narrative with extensive quotations and vivid moral and philosophical perceptions, to create a colourful and resonant self-portrait of the intelligent wealthy European traveller, in touch with the ancient world through Christian and Classical writers, and dismayed by the present but stimulated and inspired by the past. His account of Jerusalem is fascinating, and he was one of the last travellers to visit the Church of the Holy Sepulchre before the damaging fire of 1808.
This new, modern translation conveys the verve and flow of his narrative while, for the first time, identifying within the text all the quotations and sources of Chateaubriand references.
Despite the estimation of Cardinal de Bausset, former Bishop of Alais, that Chateaubriand was "...the first and only traveller who has no need of etchings and drawings to bring places and monuments which recall beautiful memories and grand images before his readers' eyes" this new edition also collates a selection of engravings and lithographs from nineteenth-century travelogues by celebrated artists such as Edward Dodwell Esq, F.S.A, Thomas Allom Esq, William Henry Bartlett, David Roberts R.A. and Louis Haghe.
About the Author
François-René, Vicomte de Chateaubriand, was born at Saint-Malo in Brittany in 1768. Antipathetic to the French Revolution, he travelled to North America in 1791. Two later works derived from that period, René, and Atala, evidencing the new sensibility, greatly influenced the development of the Romantic Movement in France. On his return to France in 1792 he married, fought for the Bourbon army, was wounded at Thionville, and subsequently lived in exile in England. He returned to France in 1800, and it was a substantial literary defence of Christianity which attracted Napoleon's notice and led to his employment by the Emperor at Rome and in Switzerland. Ultimately however Napoleon's actions led to Chateaubriand's resignation in 1804, after the execution of the Duc d'Enghien.
He travelled widely from 1806, in Europe and the Middle East, and highly critical of Napoleon followed the King into exile in 1815 in Ghent during the Hundred Days. Raised to the peerage at the Restoration, he entered into a complex relationship with the monarchy which led to him supporting the future Charles X. He subsequently served as ambassador to Prussia and the United Kingdom, and was Minister of Foreign affairs from 1822 to 1824.
After the July Revolution of 1830, his refusal to swear the oath of allegiance to Louis-Philippe ended his political career. He continued to work on his Memoirs, and viewed as a member of the political opposition, a great literary figure, and a champion of freedom, was celebrated at the Revolution of 1848, during which period of turmoil he died.
---
---
Translated by A. S. Kline © Copyright 2011 All Rights Reserved
This work may be freely reproduced, stored and transmitted, electronically or otherwise, for any non-commercial purpose. Conditions and Exceptions apply.
Last Modified 17 October 2015