Boiardo: Orlando Innamorato
Book I: Canto XVII: Rinaldo's Quest
Translated by A. S. Kline © Copyright 2022, All Rights Reserved.
This work may be freely reproduced, stored and transmitted, electronically or otherwise, for any non-commercial purpose.
Conditions and Exceptions apply.
---
Contents
---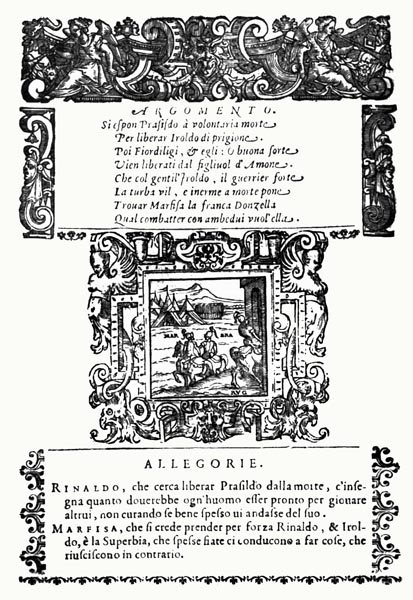 Book I: Canto XVII: 1-5: Iroldo begins his reply
I promised, in the previous canto,
To give the answer of that mournful knight,
Whose soul was so disposed to sigh with woe,
He, of whom Rinaldo had first caught sight,
In that green grove, beside a fountain; so,
Listen now, as I bring his tale to light.
With many a tearful word, he replied
To the warrior's question, as he sighed:
'A good twenty days distant from this place,
There stands a great and noble city,
A past queen of the Orient for a space,
Its name is Babylon and, there, a lady
Dwells called Tisbina, and her lovely face
Is fairest of any in that country,
Fairer than those in all the lands around,
That the sun warms, and the seas surround.
In the sweet flowering days of my youth,
I was possessed of her favour, she was mine,
My sovereign will wed fast to hers, in truth;
My heart to her fair breast I did consign.
And yet I yielded her elsewhere; with ruth,
Conceive the pain of that loss for, in fine,
It hurts more to lose a thing forever
Than to desire it, and yet lack it, ever.
Twas as if a portion of my spirit
Had been wrenched, by force, from my beating heart,
Thus, leaving death, and not life, within it.
Imagine such; one's soul nigh torn apart!
The sun his heavenly course twice has writ
On the sky, while the bright moon, for her part,
Four and twenty times has waxed and waned;
While this sad, wandering path I've maintained.
The slow passage of time, the many woes
That I have endured in distant places,
Have lessened my despair you may suppose,
Though my scorched soul still bears the traces.
Prasildo, the lord with whom she chose
To dwell, is possessed of such fair graces,
Such virtues, I was pleased to lose to one
So fine, and will be, till my days are done.
Book I: Canto XVII: 6-9: Falerina's garden
To continue, I roamed the whole world through,
In my despair and, as Fortune desired,
Who ever sends us on those paths we rue,
Reached the realm of Orgagna, sore and tired.
That domain a fair lady rules, in lieu,
Of Poliferno, its lord, who is required
To help Agricane win the daughter,
Of Galafrone, in some far quarter.
Now the lady whom he left in command,
Is a mistress of fraud and dark deceit.
She welcomes every traveller to that land,
Whom fair words, yet a false face, ever greet.
But should they seek to depart, out of hand,
They seek in vain, tis a prison all complete;
For they will find no means whereby to flee,
And are condemned to die, most cruelly.
Now know, that the wicked Falerina
(For such is the name of the enchantress
That calls herself the Queen of Orgagna)
Owns a noble garden, nay, a fortress,
Though free of a moat, or hedge, or other
Means for its defence; a sheer cliff, no less,
Rings it all about, towering to the sky,
And none can enter there, unless they fly.
A door of stone faces the rising sun
Where there's an opening in the cliff on high,
And a dragon (other guard there is none)
That feeds on flesh and blood, hovers nigh.
That fierce serpent consumes everyone
That enters their realm whom they espy,
For they send those they catch, all those that do,
To the beast, that dines on the ill-starred few.
Book I: Canto XVII: 10-16: How Prasildo won Iroldo's freedom
Now, in that kingdom, I too was deceived,
Prisoned, in chains, and guarded closely,
And spent a good four months, sorely grieved.
There, too, lay many a knight and lady.
Such distress must be felt to be believed,
Beyond description was our misery,
For, as chance and fate determined, each day,
Two were sent to the dragon as its prey.
The names were writ and drawn by lot, a pair,
A man and a woman and, of those caught,
The earliest were taken first, as fare
For that creature; twas human flesh it sought.
Now, while I was confined in prison there,
Of my being saved, I had scarce a thought,
And yet ill-fortune's workings never ceased
To dog my fate, for, lo, I was released!
Twas through Prasildo's endless courtesy.
He to whom I'd, sadly, left Tisbina,
Quitting Babylon, my native city.
He had heard, I know not how, earlier,
Of my unhappy plight and, secretly,
Had journeyed day and night to Orgagna,
Bringing treasure with him and, unknown
To all, made entry to that place, alone.
Once there, he tasked himself to obtain
My freedom; he would bribe the prison guard
With gold coin, and his object thus attain.
But the plan failed, the execution marred,
And, finding no other way he might gain
My safe release, he had my cell unbarred
By agreeing that he would take my place,
And die to save my life, of his great grace.
So, I was freed, and he chained there instead.
He faces death, so I might, thus, live on.
Behold, true chivalry! He's as I've said.
Yet he dies this day, slain by the dragon.
He will be dragged to where the beast is fed,
Tis human flesh the creature dines upon,
And here I wait, for they must soon pass by,
And that is why I grieve at heart, and sigh.
Though tis true I can't rescue him alone,
I'd have the world know of his chivalry,
All the grace and kindness he has shown,
And would repay all he has done for me,
And thus, I wait, my presence yet unknown,
To quit myself of debt, and, willingly,
Seek now to fight with those who do him wrong,
Though they might be a mob a hundred strong.
And if that leads in turn to my demise
Why then, my death will prove a joyous thing,
My soul will wing its way to Paradise,
And with Prasildo's, there, rejoice and sing.
O'er the manner of his death, I agonise,
And am grieved that, even by my dying,
I have no way to save my friend from pain
Nor ease his path; but prove an evil bane.'
Book I: Canto XVII: 17-22: Rinaldo offers to fight Prasildo's captors
With this, Iroldo bowed his head once more,
While Rinaldo, moved by his sad story,
Grieved with him for the burden that he bore,
And thought upon Prasildo's chivalry,
While the manner of his death he must deplore,
Then offered his services, courteously,
And his comfort too, saying: 'Yet, sir knight,
Your friend may still be rescued from his plight.
However large the band that lead him here
E'en though they were twice the number, yet I
Care not, for men of straw they must appear
And, by my oath of chivalry, they'll die.
I'll cut him free so swiftly, have no fear,
That none will think themselves, though they may fly,
Safe from my sword, and dying at my hand,
Till they reach Orgagna, and make a stand.'
Iroldo merely gazed at him, and sighed,
And then said: 'Ah, sir knight, go on your way.
There's no Orlando here, in all his pride,
Nor Amone's son, his cousin; no, I say,
Tis work enough for others, when allied,
To fight but one or two; we must obey
Fate's dictates, for you are but one alone,
These are but words, and you but flesh and bone.
Go, of your courtesy, I would not wish
You to remain here on my sole account.
You have no cause to play a part in this,
Tis a grave matter that I, here, recount;
To fail to speak my thanks would be remiss,
For your offer, nor do I thus discount  
Your courage, for tis a brave heart you show;
May God bless you, and all good men treat so.'
The knight replied: 'I am no Orlando,
But, nonetheless, my offer yet holds true.
I seek not for glory, by acting so,
Nor ask for any recompense from you,
But tis because I deem that, here below,
No pair of friends has ever been as true
As you two now are to one another;
Thus, to make a third would prove an honour.
You yielded him the lady that you loved,
And so, you were deprived of your delight.
He seeks to die for you, and therefore, moved
By his sacrifice, you seek death, sir knight.
Such friendship, by the Lord above approved,
Will endure in life and death; if you must fight,
And he be murdered thus, why, once again,
I say: I stand with you, though we be slain.'
Book I: Canto XVII: 23-31: He and Iroldo defeat Rubicone and his men
While they were conversing in this manner,
A great band of men now came in sight,
Bearing before them a mighty banner,
And leading, bound, a lady and a knight.
Some came lacking mail, some free of armour,
Some bare-legged, unknowing, to the fight.
They were the tavern dregs, that company,
Led by the worst of rogues, Rubicone.
His two thick legs resembled heavy beams;
Six hundred pounds at least the fellow weighed;
He was proud, strong, and bestial, it seems,
A devil in truth, and by the Devil made.
He'd a beard as black as coal, hair in reams,
A scar across his nose; his eyes displayed
A crimson hue, through but one could he see;
Yet ne'er a day passed when he went hungry.
This vicious wretch was leading a palfrey,
That bore a lady in chains, tightly bound,
And then a knight, of seeming courtesy,
Likewise held, his mount stumbling o'er the ground.
Rinaldo viewed them, for a moment happy,
For the maid was Fiordelisa, he now found,
That fair, yet most unfortunate, lady
She who'd told him of Iroldo's story,
And had been abducted by the centaur,
That hybrid creature, in the gloomy wood.
He leapt on Rabicano, full of anger,
And was ready in an instant to make good;
While that sorry crew devoid of armour,
A hundred cowards at least, simply stood
And gazed, as Rinaldo took to the field,
Then charged them, till they sought to flee or yield.
Iroldo had now mounted his own steed,
And drawn from its sheath his gleaming blade.
Our knight fought Rubicone, who, indeed,
Was the only one that seemed unafraid.
Yet the duel swiftly ended; fate decreed
That Rinaldo with the stroke that he essayed,
Sliced that mountainous heap of flesh in two,
At the waist; then commenced to cut and hew
At whichever of the others he could find,
Though he had little heart for the slaughter,
And often paused from his attack, resigned
To merely watching, as they fled in terror.
He decapitated four, and consigned
Two more to death, whose waists he did sever.
He grimaced, without pleasure, as he fought,
Forced to shear legs and arms, from those he caught.
The prisoners were obliged to remain,
For the moment, still bound, for that crew
Had abandoned them there, upon the plain,
While Rinaldo and Iroldo still flew,
After the fugitives, till all were slain
Or had escaped them, leaving, to the view,
Shields, flags and spears, and Rubicone
Lying dead on the ground, stained and bloody.
But Iroldo, who had grieved by the fount
At the plight of his friend, soon left the foe,
With a pile of dead set to his account,
And rode to free the maid and Prasildo.
He clasped the latter; both could now dismount,
Iroldo speechless as when, after woe,
One rejoices yet cannot say a word;
He offered tears, though not a sound was heard.
Rinaldo was as yet two miles away
Still chasing that fear-stricken rabble,
While the knights, overjoyed to win the day,
Gazed at the aftermath of the battle,
And especially at where Rubicone lay,
Cut in two, through flesh, cloth and metal,
And said it was no man, but Mohammed,
That had thus appeared, or they'd now be dead.
Book I: Canto XVII: 32-37: Rinaldo converts the three to his faith
Rinaldo rode back from the hill-slope swiftly,
Having wrought great destruction on that crew,
And the pair of knights knelt to him, humbly,
Hands conjoined, as if he were a god; those two
Seemed to think him sent by the deity.
'O Mohammed,' they cried, 'you that pursue
Our enemies, here, in this world below,
Aid us ever, in our trouble and our woe.
You have descended from the gleaming sky,
And, for our sake, have thus revealed your face,
Bringing aid to Humanity; whereby
You extend towards us your endless grace,
And make it known that, if we live thereby,
And render ourselves worthy in this place,
We shall gain a reward beyond all price,
Entering your eternal Paradise.'
Rinaldo was dismayed to, suddenly,
Become an object of adoration,
And yet found it intriguing, certainly,
To view their simplicity and passion,
In taking him for Mohammed, truly,
So, he answered humbly, in this fashion:
'Reject that same belief; naught such is true;
For I am as much of this Earth as you.
My flesh and bone, like yours, will turn to dust,
Yet not the soul that Christ has granted me.
You should not wonder at my strength, but trust
To the evidence of His great mercy.
He grants such powers to the true and just,
And, thus, the faith that claims my loyalty,
Which derives from a right and pure belief,
Calms my every fear, and quells all grief.'
Rinaldo made the knights to understand
That he was the Lord of Montalbano;
Then preached the Holy Creed, with sword in hand,
And told how Christ took on our form below.
In short, such eloquence he did command,
That they embraced the Faith, they loved him so.
Iroldo and Prasildo, shunned their error,
And renounced the Prophet altogether.
Then the three of them addressed the lady,
And explained the several reasons why
She should accept their Faith equally,
Claiming Islam was founded on a lie.
She was as wise as fair, and, contritely,
And with true devotion, and ne'er a sigh,
Was, by Rinaldo, confirmed a Christian,
As were the knights, at that nearby fountain.
Book I: Canto XVII: 38-46: Fiordelisa's description of Falerina's garden
Then he described, with equal eloquence,
His quest to find Falerina's garden,
The which had caused so many such immense
Suffering, and then he sought to question
Them as to the way. Being full of sense,
Fiordelisa soon condemned the mission:
'God keep you from such thoughts; there every breath
Is enchanted, and naught is gained but death.
I have a book; within, tis illustrated,
That garden entire, all drawn to scale.
For now, I'll but say what's indicated
As to the gate, and what it doth entail.
The garden, by her magic arts created,
Is bounded by cliffs, nor would it avail
A thousand masons, with sharp picks of steel,
To try to pierce them and that place reveal.  
There is a tower, where the sun doth rise,
Where is set a marble door for a gate;
A dragon, at the entrance, blinks its eyes,
For it never sleeps, be it soon or late.
It guards the way, and any man that tries
To enter there must fight, whate'er his state,
And yet, if he overcomes the dragon,
New trials await him as he journeys on.
The door locks swiftly, of itself, and none
That entered can return that way again.
And any man who that path has won,
Must win a second duel, or remain.
For a gate opes where hangs the midday sun,
A bull, that guards it, rises from the plain,
With one sharp horn of iron, one aflame,
That pierce through shield and plate, to wound and maim.
And if, by chance, the savage bull is slain,
(For twould need a stroke of fortune, indeed)
That portal, as the first did, shuts again,
While another door, to the west, is freed.
Against its guard a knight might toil in vain,
Tis a wild ass, of strange and vicious breed;
Its tail's a blade, its massive ears enfold
Any man whom that beast desires to hold.
In truth, its hide is made of solid metal,
Quite unpierceable, and shining like gold.
While it yet lives, all open is the portal,
Should it be slain, that door none can behold.
Yet soon, should the metal beast prove mortal,  
There's a fourth door (in my book, the tale's told)
To the north, which quickly opens, yet, there,
Strength and courage garner naught but despair.
A fierce giant guards that northern door,
With a sharp glittering sword in his hand,
And if a knight should slay him, then two more
Arise at the same spot where he did stand.
And if they are slain, they give rise to four,
And every one a sharp sword doth command,
And from four eight arise, from eight sixteen,
Born of the blood-drops scattered there, I ween.
And so on, endlessly, the count would grow;
The book declares it, and contains no lie.
For God's sake, refrain from venturing so,
You'll win but harm, and shame, and woe, thereby.
The facts are as I say, naught else to know,
Or gain by thinking on them, so say I.
Many a knight has sought to enter there;
All are dead; none return from that affair.
If you still seek to reveal your valour,
And delve into a different mystery,
Then, indeed, you could do nothing better,
Than attempt an act of mercy, with me,
That which I spoke of; on your honour
You have sworn, that you'll bear me company,
As my champion, and free Orlando
And the rest, from captivity and woe.'
Book I: Canto XVII: 47-50: The party of four find Dragontina's garden has vanished
Rinaldo mused upon all she had said,
Without replying, while the very thought
Of Falerina's garden ran in his head.
To enter there was all that he now sought;
He was untroubled by all she had read,
For the greater the danger that it brought,
The greater that task, the need for valour,
The more pleasing, and worthy of honour.
On the other hand, he'd promised the lady
To accompany her and, on reflection,
Was tightly bound; twas an act of mercy
Towards his cousin and companion,
Whom he truly loved, and, moreover, he
Could, at some other time, seek that garden,
Travel there alone, and his entry gain,
And conquer it, and issue forth again.
And so, at last they set out on their way,
He, Fiordelisa, and the other two,
And they journeyed swiftly, by night and day,
O'er hills, through vales, on paths both strange and new,
Till they reached the wildwood where the fey,
Dragontina, had caused that river to pursue
Its course though the garden, at her command.
Naught now remained. All was but empty land.
I have told you how the garden was un-made,
The splendid palace, the bridge, the river;
How the captives were freed; how all did fade.
Fiordelisa had left, by then, however.
She, knowing naught of Angelica's aid,
Had thought to find Brandimarte her lover,
And, with the assistance of Rinaldo,
Free all there, including Count Orlando.
Book I: Canto XVII: 51-57: They gain news from a knight
They rode on through the dark and gloomy wood,
And the hour of noon had already passed
When they reached a plain in its neighbourhood,
And beheld an armed knight approaching fast,
As if in fear, while spurring, hard as he could,
His poor steed, which with his whip he harassed,
Striking fiercely at its flanks on either side.
The man was shaking; pale as one who'd died.
They all called out to him for news, but failed
To extract a reply, he trembled so,
Glancing often behind him; yet prevailed,
For, at last, in a tone quivering and low,
The cause of his terror he, thus, detailed:
'Curse love's ardour, tis the cause of woe,
And tis King Agricane's that has sent
So many men to death, through his intent!
I was encamped with many another.
Fighting at the whim of Agricane,
We had taken the castle of Albracca,
And driven away King Sacripante.
The keep we'd not captured however,
When the maid who governed the city
Returned from her mission to seek aid;
Nine valiant knights had her wish obeyed.
Among them I saw King Ballano,
Oberto dal Leone, Brandimarte,
But one great lord, that I did not know,
Peerless in skill, of matchless bravery,
Though alone, routed us and, to our woe,
Slew Radamanto and Saritrone,
And five kings more, involved in that fierce fight,
He cut in two, as a token of his might.
I saw (and see it yet before my face)
How he sliced Pandragon, at a stroke,
Hacking through his chest and arms, apace.
While, on viewing it, from the ranks I broke.
I fled two hundred miles from that place,
And would have leapt in the sea, twas no joke
To think him ever at my back; I say
God keep you, for I would no longer stay;
I'll not feel safe till, at Roccabruna,
Behind its high wall, I find sanctuary,
And raise the drawbridge; there, to recover.'
And, with that, the knight departed swiftly,
Galloping neath the deep woodland cover,
Down that dark trail, into obscurity,  
Leaving the knights there, and the maiden fair,
To consider all he'd thought fit to share.
Conversing among themselves, they cried
That Orlando must have been the knight
Who'd delivered that great stroke, nor denied
That the captives must be free of their plight,
Not knowing how; yet, clearly, none had died,
Since it seemed they were involved in the fight.
And for the same thing, now, they all yearned,
To ride there, and so find what might be learned.
Book I: Canto XVII: 58-62: They encounter Marfisa
They left the wilds, and took a direct road
Beyond the Caspian Sea, whence they came
To where the mighty River Drada flowed,
And there they spied a knight, and that same
Was in full armour, and a brave sword showed,
And there a maid, as squire, had, as her aim,
To hold a steed, gripped tight by the bridle,
While the knight was mounting to the saddle.
Turning to the others, Fiordelisa
Said, quietly: 'If I am in the right,
For that device I surely remember,
No man is this, bravely clad as a knight,
But the warrior-maiden, Marfisa.
Search all the world entire, day and night,
Follow every path through every land,
No fiercer doth a lance and sword command.
Therefore, be warned, tis at your peril
If you should choose to joust with her.
Believe me, for I give you good counsel,
Twere best that we retreat, and then confer.
We can evade her, and that would be well,
For neath her savage talons we'd suffer
If she seized us, doomed then to die in pain.
For gainst her power none can their guard maintain.'
Rinaldo laughed, though he thanked the lady
For her counsel, for he wished to try a course
Against this Marfisa, and that shortly.
Grasping his shield tight, urging on his horse,
The sun was halfway up the sky when he
Drew near; each was as brave and strong, perforce,
As the other, when bent on survival,
Such that neither feared aught from their rival.
Marfisa gazed straight at Amone's son;
He seemed a most valiant knight indeed.
She considered his mount already won,
Though she might have to sweat to gain the steed.
They settled in their saddles; then, as one,
Wheeled about, and prepared to charge at speed.
Twas now, ere they set spur to either flank,
A herald shouted, from the river-bank.
Book I: Canto XVII: 63-66: She is summoned by Galafrone, but fights regardless
The king's messenger was aged, and he
Was escorted by as many as a score.
'We were well-beaten by the enemy,'
He told Marfisa, 'routed in this war.
For Archiloro swung his hammer idly,
He is dead, and will wield the thing no more.
Agricane slew that giant of a man,
And the rest of our army, turned and ran.
All our king's hope now rests in your hands,
You are our last recourse, says Galafrone.
Prompt aid from you that monarch demands,
Trusting that your great skill and bravery
Will bring you renown, thus he commands:
Capture this aggressor Agricane,
That thinks to seize the world, and slay us all;
Slay him, in turn, or make the tyrant crawl!'
Marfisa cried: 'Wait there a while longer,
I'll not be slow, in hastening to the field,
After each valiant knight here I conquer,
For these three, to captivity must yield.
Then, by the will of Allah as ever,
This proud Agricane's fate shall be sealed.
I'll take him alive; he'll wish himself dead;
Immured in the keep, he can spin my thread.
The headstrong warrior maid said no more,
But turned to face the waiting Rinaldo.
In a fierce voice, a lioness's roar,
She challenged all three knights, that haughty foe.
Their contest, by the river's sunlit shore,
Was most dreadful to view, a cruel show,   
For Rinaldo was strong, and strong his steel,
As our very next canto will reveal.
The End of Book I: Canto XVII of 'Orlando Innamorato'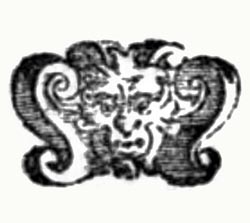 ---