Boiardo: Orlando Innamorato
Book I: Canto XIV: Freedom for Orlando
Translated by A. S. Kline © Copyright 2022, All Rights Reserved.
This work may be freely reproduced, stored and transmitted, electronically or otherwise, for any non-commercial purpose.
Conditions and Exceptions apply.
---
Contents
---
Book I: Canto XIV: 1-5: The centaur hurls Fiordelisa into the river
I've told you of the cruel battle fought
By Rinaldo, that brave and skilful knight,
And how that unnatural creature sought
To bear the lovely maid far from his sight,
While our Rinaldo himself could do naught.
Ask me not if she nearly died of fright,
Indeed, she trembled, numb, and yet she cried
To him, to hasten swiftly to her side.
The centaur fled, though turning his fierce face
Now and then, to the fair one, on his back,
And held her tightly clasped in his embrace,
In case the knight should launch an attack.
Rinaldo had mounted and, once in place,
Pursued, though swift Baiardo he did lack,
Thinking that the centaur he now chased
Was quite fast enough not to be outpaced.
But once he held the reins of that fair steed,
Rabicano, that mount beyond compare,
He felt as if he rode the wind indeed,
For he seemed to fly onwards through the air.
Never was horse of such wondrous breed
Viewed by human eye, as was gazed on there,
While valleys, hills, and plains, in its track,
Approached, and then vanished at its back.
It scarcely bent a single blade of grass,
So lightly did it gallop o'er the ground,
And none could perceive where it did pass
O'er the morning dew, for not a trace was found.
Now Rinaldo reached a river, yet, alas,
Though he'd followed the trail like a hound,
Was still behind; and, though his steed was fast,
He saw the centaur o'er the flood had passed.   
The savage foe had chosen not to wait,
But had fled, on his way, pitilessly
Leaving the lovely maiden to her fate,
Hurling her to the stream, that ran swiftly.  
What happened next, and the fair one's state,
I'll speak of in this same canto, shortly,
But having freed her weight from his back,
The centaur turned once more to the attack.
Book I: Canto XIV: 6-10: Rinaldo kills the centaur, and then pursues his quest
They commenced to duel in the water;
A violent and pitiless affair.
True, Rinaldo was clad in his armour,
And the centaur's body completely bare,
But the latter was skilful; moreover
He used his shield to defend with care;
And while Rabicano was a nimble steed,
He had still to be commanded, at need;
The water reached the saddle, and its flow
Was rapid, and the depths stony and murky.
The centaur swung his club, dealt many a blow,
But scarcely hurt the knight, who, skilfully,
Wielded sharp Fusberta, piercing his foe,
Swiftly delivering a good thirty
Deep cuts, till the shield was shattered, and red
Was his foe's wounded hide, whence he bled.
The wounded centaur emerged from the flood,
Rinaldo following with Fusberta,
But could scarce travel far, drenched with blood,
Ere Rabicano arrived; his master,
Slaying the centaur ere he reached the wood.
Rinaldo remained a while to ponder
What course to pursue, and where to go,
Lacking the maiden, who the paths did know.
He gazed around at the endless forest
Whose extent was beyond all estimate,
Sighed, and well-nigh abandoned his quest,
Yet, reflecting on the lady, and her fate,
And the Count's situation, thought it best,
If he were to rescue either, soon or late,
To complete the task, he'd set out to do,
Or die in the attempt; such was his view.
He therefore took a northerly direction,
Following the stream that bore the lady;
And, behold, by a fount, prepared for action,
He met a mounted knight, grieving sorely.
Bishop Turpin pauses his description
Here, to tell us more of Agricane,
The Tartar king, who, though the attacker,
Was at war within the walls of Albracca.
Book I: Canto XIV: 11-19: The taking of Albracca
Agricane was trapped inside but, boldly,
He continued to battle on, alone,
Routing the populace completely.
You should know that Albracca had grown
Round its keep, on a cliff that fell, sharply,
To the river below, while rings of stone,
Encircling battlements, girded it around,
From the high summit to the level ground.
Great towers were set above the water,
Where the wall flanked the plain, and the name
Of that mighty river was the Drada;
Unfordable, at all seasons, was that same.
Part of the wall had collapsed; however,
Such was the stronghold's might and fame,
The populace had little need to care,
So, they thought; swift and deep the current there.
Now I told you how the king, Agricane,
Was left, battling, within the city gate,
And was challenged there by Sacripante,
And the militia, defending the state.
Many a deed was done, fine and worthy,
By both, as you have heard me relate,
Although I paused, there, in my narration,
As a fresh contingent took their station.
That man of valour, though, was unafraid
Bold Agricane, who turned and slew the foe,
With two-handed blows of his blood-stained blade.
This new squadron was led by Torindo;
The Turk had returned, and this foray made,
Against the mighty king, who, blow by blow,
Was slaughtering all who faced him in the street,
Striving to make his victory complete.
The Tartar King now spurred on Baiardo,
Trampling the Turkish troops underfoot;
And yet King Sacripante was not slow
To chase Agricane as he slashed and cut
His way among them; no stag e'er did show,
Or leopard, such a turn of speed, and but
For the arrival of troops from the plain,
Agricane might have been caught and slain.
The defenders had descended from the wall
To block the streets with many a barricade,
And had hastened to take part in the brawl,
While some sought to work an ambuscade,
Thus, none were left to hold the gates at all,
As the gathered ranks their swift entrance made,
O'er the ramparts and battlements, their cry
'Death! Death!', prepared to conquer or to die.
The bitter onslaught drove brave Torindo,
And Sacripante, to the keep above.
Angelica was there, and Truffaldino
First to that place of safety to remove.
Every man of hers fell before the foe,
So bloodily I can scarce speak thereof;
Varano fell, as did Savarone,
King of Media, the first of many.
Those two were slain before the gate,
Where fierce conflict raged o'er the plain.
Brunaldo died elsewhere; he met his fate
At Radamanto's hand; twas he again
Who killed Ungiano, while soon or late,
All that champion's company were slain,
For not a single one survived that day,
Born but to die, their spirits snatched away.
The city of Albracca was taken,
With a depth of suffering not seen before.
On every side, the populace was shaken
And now endured the miseries of war.
All was burned but the keep, nigh forsaken;
High on its cliff, its banners still it bore,
Though every house was in flames below,
All destined to fall to their fiery foe.
Book I: Canto XIV: 20-24: Angelica departs to seek aid
Angelica, amidst this grave disaster,
Was most unsure as to what she should do.
The keep held little food or provender,
Scarce enough to last for a day or two.
Any man who saw how she did suffer,
And weep, and beat her face, then weep anew,
Would ne'er have failed to show her compassion,
Though his heart was the heart of a dragon.
Three kings had sought safety in the fortress,
With thirty other knights, and the lady,
Full many half-dead, or in sore distress,
And the rest were wounded, some quite gravely.
The walls were high and strong, the gate no less,
So, they agreed to kill the horses; bravely
Seeking to hold out against the Tartar,
Till God should aid them, in the matter.
Angelica pondered how she might bring
Help, meanwhile, to the beleaguered castle,
For, upon her finger, she wore the ring,
That, in the mouth, rendered her invisible.
The sun, on the horizon, was setting,
Its light departing from all things mortal,
When the maid summoned to her Torindo,
King Sacripante, and Truffaldino.
By her faith the maiden swore she'd return,
In twenty days, no longer, and then prayed
Those three to stay, and thus true honour earn,
By holding fast, till she could bring them aid;
For it might be that Allah would discern
Their plight, and show mercy, and be swayed,
While from every realm, she'd seek to obtain,
Such help; from every true king that did reign.
With that, the maiden mounted her palfrey,
And departed the castle, in the night,
Alone, beneath a sky of tranquil beauty,
For the full moon shone, with a gentle light.
None saw her go; she escaped completely,
For both sides were wearied from the fight;
The near-victorious army, drowned in sleep,
But an imperfect watch thought fit to keep.
Book I: Canto XIV: 25-32: She encounters an old man who deceives her
She scarcely needed to employ the ring,
For when the sun rose brightly in the sky,
She was fifteen leagues away, still sighing,
As she gazed at the fortress there on high,
Thinking of all those still remaining,
Hoping to bring them succour, by and by.
She rode on, and passed through Orgagna,
And then continued, reaching Circassia.
There she came to the very same river
Which had swept Fiordelisa away,
While Rinaldo was slaying the centaur;
And there, as she rode upon her way,
A white-haired old man she did encounter.
He, with mournful face, begged her to stay
And grant him aid; humbly, he knelt there,
Seeking her pity, as if bowed with care.
He said to her: 'I have a little son;
The true solace of my sad existence;
He is my pride and joy, the only one.
He, in my dwelling, at no great distance,
Lies abed with a fever, nigh undone,
And naught I can do proves of assistance.
If you fail to help me, he's like to die,
And I shall follow,' he ended with a sigh.
Angelica pitied his mournful state,
And set to comforting the aged man.
She knew of herbs that would palliate
The effects of fever, and now began
To speak of them. Oh, the unfortunate
Maid! Twas hidden, all his evil plan,
It would need a miracle to save her.
She, innocently, followed the traitor.
Now, you should know, that this aged fellow,
Who dwelt amidst the woods, not far away,
Haunted every nearby field and meadow,
Seeking fair maidens who might serve to pay
The tribute of one hundred, Poliferno
Orgagna's king, demanded; twas his way
To deceive, and then capture each lady,
As many as would meet the need, yearly.
Scarce five miles distant was his prison keep,
A tower on a bridge that spanned the river.
Twas marvellously strong, the water deep,
And those who ventured near he did capture.
And, indeed, a fine harvest he did reap,
Many a fair maid was his prisoner.
All were snared in the very same manner,
All, that is, except for Fiordelisa,
Brandimarte's lady, who, as you know,
The centaur had hurled into the river,
Though she swam, and was carried by the flow,
Downstream, as if she were but a feather,
Never sinking to the dark depths below,
But swept on, by the force of the water,
Until the current brought her to that place
Where, beneath the villain's bridge, it did race.
There, he dragged her half-conscious from the flood,
And had her cared for by his physician,
And by servants, till her health was made good.
Then, once satisfied with her condition,
He led her (still concealing his falsehood)
To join the other maidens in his prison.
Let us turn, again, to Angelica,
Who'd followed that devious old traitor.
Book I: Canto XIV: 33-36: Fiordelisa tells her of the captive knights
The old man remained on the bridge, while she
Entered the tower; then the door swung to,
And locked and barred itself, instantly,
(Free of human hand, as far as she knew).
When she realised his cunning trickery,
She wept, grieved, beat her hands, then wept anew,
Tore at her hair, and scratched her lovely face,
Then became aware of others in that place.
These ladies sought for sweet words to say
That might bring comfort to the grieving maid,
And as one does, to counter such dismay,
Each maid her own experience relayed.
While heaviest her woe appeared to weigh,
On Fiordelisa, who her grief allayed,
(Brandimarte's lady she) and told her,
Of the tribulations of her lover.
She sighed, as all the tale she recounted
Of how that brave knight, whom she loved deeply,
And she, and bold Astolfo, had entered
That garden where amidst the greenery
And the flowers he had been enchanted,
And was thereby robbed of his memory,  
Through Dragontina's arts, while Orlando,
Still captive in mind, had chased Astolfo.
And she related then how she had sought
For help, and had encountered Rinaldo,  
Telling her of how that knight had fought
The gryphons, and the giant, his fierce foe;
Of Albarosa, the pain that tale brought,
(Of his vow, to avenge the maid, you know);  
And, lastly, of that strange hybrid creature,
And how she'd well-nigh drowned in the water.
Book I: Canto XIV: 37-42: Angelica escapes and reaches Dragontina's garden
She was weeping, as she told the story,
Remembering her noble love, now lost;
When lo, they saw the door opening slowly,
And to the tower another captive crossed.
Angelica employed the ring, swiftly
And invisibly, to that traitor's cost,  
For its enchantment now concealed her flight,
Ere the portal closed, she was out of sight!
None saw her, such the power of the ring,
And, having escaped the tower unseen,
She found her palfrey, while deciding
To follow her heart, and seek that green
Enchanted garden, and that dark river,
That one's memory of all that had been
Erased at a draught, where Dragontina
Held Count Orlando, as her prisoner,
With many another, in sweet servitude.
She rode hard, and reached the garden at dawn.
The ring kept her from being pursued,
And from vile Dragontina's sight, that morn.
She hid the palfrey outside, to preclude
Its being seen by the witch; o'er the lawn,
She walked till she found the brave Orlando,
Fully armed, lying by a clear stream's flow.
Because the Count was on guard all that day,
He was resting, in his armour, by the spring.
A pine tree branch held his shield on display,
As Brigliadoro circled him while grazing
(That best of steeds); a few paces away,
Another mounted knight was seen idling,  
Beneath a palm-tree in the shade, calmly.
That knight was Oberto dal Leone.  
I know not, my lords, if you've heard tell
Of the exploits of that same Oberto.
A man of great renown, full wise, as well,
And brave, and skilful, as his deeds did show.
Every land he'd travelled, midst the infidel
And in Christendom, meeting friend and foe,
And he too was on duty in the garden,
When Orlando was found by the maiden.
King Hadrian, and the bold Grifone,
Were talking of love in the loggia.
Aquilante sang beside Chiarone,
The one sang alto, the other tenor,
The counter-tenor was Brandimarte.
While Antifor of Albarossia,
Was speaking with King Ballano, quietly,
Their subject ever war and chivalry.
Book I: Canto XIV: 43-44: She restores Orlando's memory and seeks his aid
Angelica took the Count by the hand,
And upon his finger she set the ring,
The ring that every spell did command.
He was restored and, recalled everything,
(And, thus, the fair visage, you'll understand,
Which, long before, had won his loving heart)
He knew not, and was still as yet unsure
If that face was hers; yet twas hers he saw.
The maiden told him all the tale, swiftly,
Of how he'd come to the garden, and how
Dragontina had trapped him, cunningly,
Stolen his memory, and made him bow
To her vile demands. Then, passed on quickly
To the war, and begged him to aid her now,
In fighting this Tartar, Agricane,
Who'd attacked, and then laid waste, her city.
Book I: Canto XIV: 45-49: The other knights are restored and swear to help
But, from her palace heights, Dragontina
Had observed Angelica in the meadow,
And had summoned all her guardsmen to her,
But the ring left them unarmed, once below.
The Count mounted Brigliador, his courser,
And then upon Oberto did bestow
The charmed amulet (who saw not a thing),
As, upon his finger he slipped the ring.
Then those two warriors swiftly agreed
To restore the other knights, friend by friend,
And there's surely, on my part, little need
To say how the fight in the park did end.
Oliviero's two sons they soon freed,
Aquilante and Grifone; depend
Upon it, now knowing them, Orlando
Was happy neither one was still his foe.
With a shout of joy, brother knew brother;
They clasped each other in a warm embrace,
While the enchantress, Dragontina,
Saw her garden disappear before her face,
Lamenting wildly; twas the ring as ever
Broke her spells; there was merely empty space
Where her palace had been; bridge and river,
Had vanished, and left but woodland cover.
Their minds filled with wonder and surprise,
All gazed at each other, and sought to know,
Who was there, for some each could recognise,
Others not, with many a 'Yes!' and 'No!'
Then the Count spoke, and did each man apprise
Of Albracca's state, and of the Tartar foe,
And exhorted each to aid, in her distress,
The guiltless maid, who'd freed them all, no less.
He told them of the harm that Agricane
Had wreaked upon that city, once so fair,
And how he now laid siege with his army
To the fortress, having laid the township bare.
The knights swore they'd seek the remedy:
Once they'd their swords again, they'd soon repair
To Albracca, and drive the Tartar thence,
Or die in the attempt: such was the sense.
Book I: Canto XIV: 50-56: The treacherous Truffaldino seizes the citadel
The company went swiftly on their way,
Galloping upon roads that they knew well.
To Truffaldino, I'll turn, if I may,
As yet guarding Albracca's citadel.
A malevolent child he'd, day by day,
Grown worse, and worse to come one might foretell.
He worked treacherously to gain the keep;
For while, suspecting naught, they lay asleep,
He took Torindo and Sacripante,
Despite, indeed, the former's fiery heart,
And the latter's great strength and bravery;
For the pair, having played a leading part
In the battle, were both wounded sorely,
And, weakened thus by loss of blood, apart
From the fact that he took them by surprise,
And bound them ere they opened their eyes.
Next, he sent a messenger to Agricane,
To speak in his name, and inform the king
That he held the stronghold, securely,
Had the pair in chains, and his men would bring
Them both to the monarch, and promptly.
But the Tartar was affronted on hearing
Of his deed, and proudly, anger in his eye,
Gave the messenger a caustic reply:
'May Allah curse the fellow, for never
Let it be said, by any known to chivalry,
That I conquered with help from a traitor;
I seek to gain my triumphs openly,
By strength and courage, and with honour.
Your master will regret his treachery,
And you, that you dared to say a word,
Of this to me, this evil I have heard.
I'm told and believe that this mighty keep
Cannot be long defended; then we'll see.
I'll hang him by one foot above the deep,
Tied to the edge of some high balcony,
With you hanging from his neck! Go weep!
For he, and all who worked his treachery,
So, he might rise the higher, soon will fall,
And be seen, swinging from the nearest wall.'
The messenger, who'd watched the monarch's face  
Grow, alternately, pale and fiery red,
Was delighted to vanish from the place,
And, caught between two masters, swiftly fled.
When he saw the king move away a pace,
He scuttled backwards, ere he turned his head,
And ran, as if pursued by some demon,
In a state of fear far beyond what's common.
Trembling, he returned, with the king's reply,
And repeated it to Truffaldino.
However, I must once more cast an eye
On the company led by Orlando.
They had ridden night and day, and, by and by,
Had reached the heights, from which, below,
They could see the ruined city, and there,
Opposite, the keep (Truffaldino's lair).
Book I: Canto XIV: 57-60: Orlando's company plan their attack
They viewed the endless host on the plain,
The lines of tents, with banner after banner.
Angelica was fearful, since, again,
She must seek to pass them in some manner,
Before Albracca's fortress they might gain.
But the noble-minded knights assured her
They would enter by the force of swords alone,
So, quenching the doubts that sight had sown.
They yet knew nothing of the treachery
That Truffaldino had perpetrated,
But on the mountain height they, carefully
Reflected on their task; then created
A plan by which the maid could be safely
Escorted through the lines of that hated
Tartar horde; there, fully armed and mounted,
They spoke, with no suggestion discounted.
At last, they agreed the means and manner
Of their passage through the ranks of the foe.
At the forefront, in the place of honour,  
Would ride Brandimarte and Orlando.
Behind them four knights would guard her,
Chiarone, Aquilante, Oberto,
With King Hadrian, thus forming a ring,
A man behind, in front, and on each wing.
These four were to defend and guard the maid,
With all the strength and skill at their command;
The last three in the rear would be arrayed,
And would act as circumstance might demand:
Albarossia's Antifor, with his sharp blade,
Grifone, and Ballano, formed that band;
While, in sum, that whole daring company
Thought all the world too slight an enemy.
Book I: Canto XIV: 61-66: He issues the challenge to Agricane and his army
They rode, confidently, down the slope,
With Angelica secure amidst them all,
Though the maiden lived in fear (more than hope)
That over her sweet face had cast its pall.
They reached the plain, without cry or call,
None, there, aware of the intent or scope
Of their plan; yet Orlando, that brave knight,
Sounded his war-horn, as they came in sight.
His challenge pealing out, he rode ahead,
Blowing that famous instrument of war,
An elephant's great tusk; then on he sped,
And down upon the Tartar camp he bore,
Rousing that host, none there did lie abed.
King Agricane, Poliferno, he swore
To drive from the field, and then defied
Them to fight, that he might humble their pride.
Across the plain that mighty challenge rang,
Then the peals of the horn rose to the sky,
Scarce a king or knight but felt an inner pang
Of dread, as they sought for a bold reply.
Yet Agricane feared not, his blade sang
As he practised his blows with a calm eye,
For he showed as the crown of valour there,
Whilst he ordered his warriors to prepare.
Nonetheless, he armed swiftly, and applied
His mail to his body, dense plates of steel,
Strapped his sword, Tranchera, to his side,
Tied his helm (wrought magically, I'll reveal),
Till all the world his armoured form defied.
No stronger helm did any face conceal,
(Solomon had employed a subtle spell,
For it was forged deep in the fires of Hell.)
The king believed that a mighty army
Had arrived, for word had come to his ear,
That a host has been raised by Galafrone
(Angelica's father) from far and near.
The place was his by right, and his only,
And that he'd seek to regain it was clear,
Thus Agricane, with the keep at his back,
Thought twas he who'd inspired the attack.
His own banners now spread to the breeze,
Agricane's trumpets cried out for war.
He rode Baiardo (clad in mail to the knees),
And not only led his troops, but went before.
His warriors poured forth, without cease.
In the next canto now, you may be sure,
I'll tell of our nine knights, brave and bold,
For a finer martial tale was never told.
The End of Book I: Canto XIV of 'Orlando Innamorato'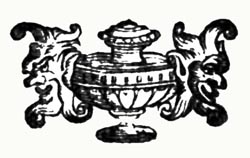 ---