Wolfram von Eschenbach
Parzival
Book XI: Terre Marveile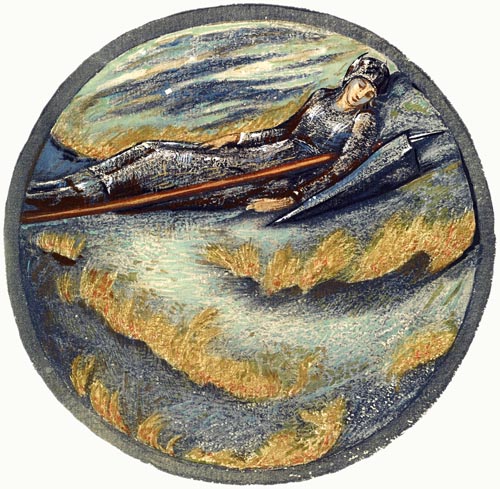 'Flame Heath'
From The Flower Book, Sir Edward Burne-Jones (English, 1833 – 1898)
Translated by A. S. Kline © Copyright 2020 All Rights Reserved
This work may be freely reproduced, stored and transmitted, electronically or otherwise, for any non-commercial purpose. Conditions and Exceptions apply.
---
Contents
---
Gawain questions Lady Bene, and then her father Plippalinot
GREAT weariness had closed his eyes.
He slept thus, waking past sunrise.
One wall of his chamber he found,
Had glazed windows to the ground,
And one of these stood open wide;
Through it he stepped, and went outside,
To see what he could, breathe the air,
And hear the small birds singing there.
The fine keep he could not ignore,
Which he had seen the eve before,
Ere he had met with his encounter,
And soon noticed one, and another,
Lady gazing from out their window,
And he wondered that they did so,
Rather than sleeping still; as yet
The sun was low, the dew full wet.
'I'll sleep again for their sakes, then,'
He thought, and took to his bed again.
The girl's cloak was his coverlet,
Did any wake him? No, not as yet,
Since his host would not allow it;
But now the sweet girl, whose habit
Was to sleep at her mother's feet,
Broke her slumber, and went to greet
Their guest, and offer him company.
Yet he still slept, contentedly,
So mindful of her role, instead,
She sat on the carpet by the bed.
(I cannot say I ever see
Such a vision in front of me,
Of an eve, or at early dawn!)
Gawain woke later in the morn,
He looked at her, and smiled, and said:
'God save you, lady, out of bed
For my sake, and seeking to serve
Me far beyond what I deserve,
Sacrificing your sleep like this,
Troubling yourself in my service.'
'I seek naught but your good favour,
Ask naught of you, for my labour;
My lord command me as you may,
I shall perform whate'er you say.
All who dwell here with my father,
We three children, and our mother,
Will always see you as their lord,
Such kindness to us you afford.'
'How long then have you been here?
For had I but known of it, my dear,
I'd have asked a question or two.
Would you answer me if I do?
Yesterday, and now this morning,
I saw many ladies leaning
From the windows there, above me,
Please tell me now who they may be?'
She was startled. 'Oh, ask me not!
I cannot speak, such is our lot.
Whate'er I may know, I am bound
To silence, and so ne'er a sound
Can I make, concerning this, to you.
Be not offended, ask me, anew,
Of other things, such is my plea.'
He asked again, most pressingly,
Regarding all the ladies he'd seen,
Those seated in the palace I mean,
But the faithful girl wept bitterly,
Showing her grief quite openly.
While it was early, her father came,
All disinclined to speak of blame,
Though perchance the lovely girl
Had disturbed more than a curl,
She was behaving, or so he read,
As if she had, sat by the bed.
Her father said: 'Weep not daughter,
Though at first it may stir anger,
All that happens in gentle fun
Is forgot as soon as its begun.'
'Nay, naught occurred,' said Lord Gawain,
'Other than that, which we'll make plain.
I asked the girl a question, but she
Thought it might bring some harm to me,
And so, she begged me to refrain.
Let me now ask the question again
Of yourself, dear host, come, tell me,
Who is each and every lady,
Seated there above; ne'er did I
Hear of any place, under the sky,
Where so many women ever
Appeared, so dazzlingly, together.'
'In God's name, my lord, say not so!
For there lies woe beyond all woe,'
The host cried, and wrung his hands.
'There's reason, then, to my demands,'
Answered Lord Gawain, 'and no less
Cause for concern at their distress.
Why should my question trouble you?'
'Because of the spirit, sir, in you;
For if you cease not from asking,
The outcome of your questioning
Will but bring your heart deep pain,
And sadden me, and those again,
In this place, born to serve you,
All my children who honour you.'
'You shall reply!' said Lord Gawain,
'If any such silence you maintain,
Denying me truth, I yet will learn
How matters stand, and you in turn
May suffer.' 'Alas my lord, yet I
Cannot but suffer should I reply.'
Cried his host: 'A shield I'll afford;
Arm yourself for battle, my Lord;
You are in Terre Marveile, and here
There lies the wondrous bed, I fear,
The Lit Marveile; the perils, my Lord,
Of Schastel Marveile, none before
Have conquered, the dangers there
Remain as great, and this affair
Will send you swiftly towards death.
Whate'er you've known, in a breath,
Of perilous ventures, what before
You have attempted, yet far more
Risk is in this. Woe comes your way!'
'I should be filled with sore dismay,
Said Gawain, 'if I left these ladies
Without seeking their pains to ease,
And learning all. I've heard before
Of this castle; come, tell me more,
Since, now, that I have come so near,
For their sakes, I'll dispense with fear.'
He learns of the perils of Schastel Marveile
'NO hardship is there to compare
With that of one who enters there
To undertake the perilous venture,'
The host told his guest, 'tis ever
Sharp and dreadful, my lord, believe
I am not speaking thus to deceive.'
His voice expressed his deep woe,
Yet Gawain ignored it, even so.
'Counsel me now on this battle!
Please God, I shall, at this castle,
Achieve great deeds of chivalry.
I value all that you say to me,
Yet twere wrong to ride away,
"Coward!" my friends and foes would say.'
His host now redoubled his cries,
No such woe ere troubled his eyes,
He turned to Gawain, and he said:
'Should God preserve your life instead,
You will be lord of all this land.
If you possess the strength of hand,
To free the ladies prisoned here,
(Since you show not a trace of fear)
Knights and men-at-arms, and all,
You'll be honoured in every hall.
You'll win such fame as no knight
Has garnered till now, in any fight,
For none ere now has proved as true;
God himself will have honoured you.
You'll be lord over many a beauty
From many a near or distant country.
But no dishonour twould be to go,
Now that Lischois Gwelljus has so
Surrendered all his renown to you.
And he was full worthy of it too,
For many a deed of chivalry
Had he wrought, with true bravery.
The Lord ne'er made so fine a heart,
Ither of Gaheviez apart,
So filled with every quality.
Yesterday, upon my ferry,
That very knight-at-arms I bore,
Who slew Ither at Nantes, before,
God bless him, he gifted me five
Great war-horses that kings did ride,
And dukes. Whatever spoils he won
There, at Belrepeire, will be sung,
For each was his sworn prisoner,
His shield bears the scars. And here
Had he come riding to seek the Grail.'
'Which way went he? Tell me the tale,
Good host, did he, being so near,
Learn of the peril that you so fear?'
Cried Gawain. 'Sir, he learnt it not.
To speak naught of it, is my lot;
I should be blamed had I done so.
And if you had not sought to know,
And so, yourself, asked the question,
You, also, had ne'er heard mention
Of what's wrought here: great sorcery,
That's fraught with dread and misery.
Should you not turn from your intent,
If from here to your death you went,
Then it would prove the direst blow
I, and my household, e'er did know.
Yet should you win the victory,
Twill put an end to my penury,
For you'll be lord of all this land
And I know your generous hand
Will raise me to wealth and fame,
And so bring honour to my name.
Joy without sorrow you will win
If you survive what you'd begin.
Now arm yourself against great woe.'
Gawain yet lacked his armour though,
And so, he called for all his gear;
With it his host did swift appear.
But he was clad, from feet to head,
By the sweet, lovely girl instead.
His host went off to fetch his steed.
Now, on one wall there hung, at need,
A strong, tough shield, one that later
Saved Gawain's life; so the charger
Was brought, and with it came the shield.
The master of the house did yield
His counsel: 'I will tell you how
You must deal with the danger now;
For my good shield you must bear,
The which is not pierced anywhere;
I never fight, full whole is its state.
Now, when you reach the castle gate,
You'll find a merchant sitting beside
The entry; leave your horse outside.
Buy aught of him, no matter what,
He'll guard your steed better for that,
Should you leave it there, as good will.
And if you can retrieve it still,
You'll be glad of your steed again.'
'I may not ride in?' asked Gawain.
'No indeed, those ladies, sir knight,
Will all stay hidden, from your sight.
The hour of peril is now at hand;
In a deserted place you'll stand.
Naught that's living will you find there,
Great or small. Be in God's care,
Entering that chamber, Lord Gawain,
That doth the Lit Marveile contain.
All the wealth, tis a treasury full,
That Commander of the Faithful
Has, in Morocco, would not meet
The cost of that bed, all complete.
If you lie there, tis your fate, too,
To suffer all God intends for you.
May the outcome be full of joy!
If chivalry be your sole employ,
Remember, sir, never to yield
Either your sword or your shield,
For just when it appears, sir knight,
Your trials are over, then the fight
Will commence!' When Lord Gawain,
Once more, his saddle did regain,
The girl's spirits sank full low,
While all around gave way to woe.
'If God' willing, I'll not prove slow
To reward you, that you did show
Faithful service in lodging me,'
Gawain assured his host, as he
Took leave of the maiden, whose tears
Were natural, born of her fears.
He rode away, while they did weep,
And made his way to the castle keep.
And if you'd know how he did fare,
I'll tell you, most willingly, there.
Gawain enters the castle
JUST as I heard it, I'll tell the tale.
Now, before the gate, without fail,
Gawain found the merchant, and he
In his booth, one far from empty,
Held goods to make me wild with joy
If such treasure I might employ.
Gawain rode up and dismounted.
Ne'er such wares had he counted
In all his life; the booth was made
Of samite, and, to serve the trade,
Was tall and square, and capacious.
And its worth, for the curious?
Were it a question of buying it,
No man could have afforded it;
Not e'en the Baruc of Baghdad,
Could meet the cost of all he had,
Nor the Catholicus of Rumkale;
Nor when Byzantium, on a day,
Still had its treasure, its Emperor
Could himself have done no more,
Not even if they had helped twice
Over, such was that merchandise.
Gawain greeted the trader; when
He'd looked at it, and then, again,
Viewed the wonders there for sale,
He asked to see what might avail
To keep his purse intact, a clasp
Perchance, or a belt with a hasp.
'Truly,' the merchant said, 'for years
Have I been here, yet none appears
But noble ladies to view my wares.
If your heart is fit for such affairs
As test a man, all will be yours.
Twas brought from far distant shores.
If you are bent on winning fame,
And seek adventure and a name,
And find success, why, you will see
Tis easy enough to trade with me;
All my wares you will have won!
Go your way, and God's will be done!
Twas the ferryman, Plippalinot,
Who sent you to me, was it not?
Your coming to this land many
Will praise, if you but set them free.
If you would try, leave the charger
Here with me, retrieve him later,
For of him I shall take good care.'
'I should be glad to leave him there,
If tis not lowering, for he has never
Met with so wealthy a groom ever!'
'Sir,' said the merchant, pleasantly,
'What more now would you have of me?
If you come alive from that place
All will be yours, and with good grace;
For who would own a better right?'
Now staunch courage roused the knight,
And sent him forwards, on foot, instead.
The castle was vast, as I have said,
And each of its flanks well-fortified.
If any had sought to breach its side
Naught would they win in thirty years.
Within lay a vast space, it appears,
(The Lechfeld's plain may be larger!)
Above the walls, rose many a tower.
When at the palace Gawain did gaze,
Of the tints the peacock displays
Seemed its roof, and brighter by far,
With hues no rain or snow did mar.
Within, all was well-executed,
The window shafts finely fluted,
The ceilings, high above, vaulted.
In alcoves lay couches; quilted
Fabrics draped them, and each one
Stood on its own, yet many a one
Was placed here and there, for countless
Ladies sat there, who nonetheless
Had now withdrawn. Thus, Gawain,
On whom a rescue from their pain,
And then a reign of joy depended,
A day of bliss, and sorrow ended,
Was not received by them at all.
If they had seen him in that hall,
What greater pleasure could they own?
None might do so, e'en one alone,
Despite his wish to serve them so.
It was not of their doing though.
Gawain's trials within Clinschor's Chamber of the Lit Marveile
MY Lord Gawain walked to and fro,
Viewing the palace; while doing so,
In one of the walls (ask not which side),
He saw a door, it was open wide,
And in the chamber to which it led
(The chamber of the marvellous bed)
He'd either win glory, or die
In the attempt. He entered thereby.
The floor was clear and smooth as glass;
Upon it stood, where a man might pass,
The Lit Marveile, the wondrous bed;
Below each post, and gleaming red,
Was clasped a ruby, finely rounded.
Thus, swifter than the wind it bounded.
The pavement there I now must praise,
Wrought by Clinschor in all the ways
He preferred; twas of chrysolite,
And jasper and sard, gleaming bright.
With subtle art Clinschor had brought
The spoil of many lands to his court.
The pavement was so glassy, Gawain
His purchase might barely maintain,
Nonetheless he ventured ahead.
Whene'er he took a step, the bed
Moved swiftly on from where it lay.
The heavy shield began to weigh
Upon him, which his host had so
Recommended against the foe.
'How shall I get at you? he wondered,
'Are you avoiding me?' He pondered.
'I'll teach you a lesson, if I should fly
Through the air, I'll trap you thereby!'
At that moment the bed stood still,
So he leapt towards it, with a will,
And landed in the midst. Dear Lord,
No such speed could aught afford
A bed! It crashed from side to side,
Spared not a wall, as he did ride,
Hurtling against the stones, until
The castle echoed to the thrill.
In this manner, my Lord Gawain
Rode many a charge, and, again,
If all the thunder that ever roared
Were in a room, and all the horde
Of trumpeters from all ages past
And the future, from First to Last,
Blowing away to earn their hire,
No greater a din could it inspire.
Though he was abed, he must wake;
What might he do for heaven's sake?
He was so pounded by the clamour,
He raised his great shield for cover.
He lay still, leaving his fate to Him
Who aids all those who trust in Him,
And seek His help in time of need,
Nor does he weary of help indeed.
When he finds trouble, a wise man
Appeals to God who, in His hand,
Bears plenteous aid, and will succour
A man of courage, and of honour.
This is what happened with Gawain;
He sought the help of Him, again,
To whose goodness and power, he
Ascribed his own renown, that He
Might watch over him in that way.
The sound and fury died away
The instant the bed came to a halt,
At the very centre of the vault,
The same distance from each wall.
Now a greater peril did befall.
Five hundred slings had been set,
With subtle art; their paths all met
At the place where Gawain now lay.
The shield was strong enough to stay
The hard, round pebbles that they threw;
Although the thing was pierced right through,
At several points, he was unharmed.
The violent hail of stones, thus charmed,
Was over. Never had he suffered
Such a bombardment. However,
Five hundred crossbows or more
Now let loose sharp bolts that bore
Upon the bed; and most anyone,
Used to that kind of attention,
Will know what it was like; full soon
The whirring died, which was a boon.
Whoe'er has an eye to his own ease
Should avoid fair beds like these,
Where no comfort's to be found.
Young men grew old, at a bound,
In that bed, their hair turned grey;
And yet he trembled not that day,
Though bolts and pebbles did fall
Upon his chain mail and, withal,
He was cut and bruised somewhat;
Pain and woe now seemed his lot.
Peace had descended on the knight,
Yet fame determined he must fight.
He had hoped his troubles were o'er,
But at that instant, through a door
Opposite him, a brawny rustic
Now appeared, as if by magic,
And he was terrible to behold,
Clad in a smock, on top a bold
Bonnet; in baggy breeches made
Of otter pelts was he arrayed.
A great club in his hand he bore
Its bulge a swollen orb, and for
Gawain he made to his annoy,
Angered by yet another ploy.
'This champion lacks armour,' he thought,
His defence is less than naught,'
And sat up straight as if each limb
Ached not and still supported him.
The other backed towards the door,
As if he were ready to withdraw;
Then he shouted, most angrily:
'Though you possess no fear of me,
All the same, I shall soon ensure
That you will die, to live no more.
That you live yet, tis a mark of evil,
And shows the power of the devil,
Yet though he sustains you, living,
Nothing can prevent your dying.
Once I've left, you'll meet your doom.'
With that, he departed the room.
Gawain cut from out his shield
The crossbow shafts that did yield
A clang as they had struck his mail,
Much like a milkmaid with her pail.
Now came a roar like twenty drums,
For, behold, a mighty lion comes!
Our fearless Gawain wondered then
What else was in store. Once again
He looked to his defence; his shield,
(Not being a knight prone to yield)
He grasped by its thong, and stepped
Onto the pavement. Fiercely it leapt,
This lion big as a horse, its hunger
Great; twas fated not to prosper;
It pounced on the man, but Gawain
Held his stance, though the lion was fain
To snatch his shield away, its paw
Sinking through it, claws and more.
And ne'er has such a beast before
Pierced such a shield with its claw.
He stopped the beast tearing the shield
From his grasp, his sword did wield
And sliced the right foreleg away,
So that the creature, held at bay,
Stood on three legs with the paw
Of the fourth caught fast, as before,
Wedged in the shield there, as its blood
Poured o'er the pavement in a flood,
Such that Gawain slid to and fro.
Time and again it sought to show
Its fangs, and leap at the stranger.
(Nor would I like to be its neighbour,
Twas trained to devour good people,
And so, all things being equal,
As he fought for his life, Gawain,
I would suspect, felt much the same).
Gawain had wounded the lion so,
As o'er the floor the blood did flow,
It sprang in fury at the man,
Who, with the blade in his right hand,
Stabbed it to such a depth the sword
Was buried to the hilt; it roared,
The creature, then stumbled ahead,
Fell to the floor there, and lay dead.
Gawain had overcome the danger.
His next thought was: 'I'll not suffer
Myself to sit here, drenched in blood.
What now will best work to my good?
This bed dashes around so wildly,
If I've any sense, I'll go carefully,
Not sit upon it, or lie down there,
For I'm done with all that affair.'
His head was reeling from the stones,
And crossbow bolts, and all his bones
Ached, and his wounds bled copiously,
Such that he sank on bended knee;
From there into a swoon he fell.
His head lay pillowed on the swell
Of the lion's chest, and his shield
Fallen beneath him half-concealed.
What strength and wit he possessed
Was lost to him, with all the rest,
So fiercely had he been assailed,
And yet his courage had prevailed.
His pillow was unlike that said
To have lain neath Kahenis' head,
Through the cleverness of Gymele
The maid from Monte Rybele.
He slept; she, the prize, slipped by.
Yet Gawain has won the prize say I,
And glory wings towards this man,
For you've heard how this all began
How, losing his five senses here,
He lies in a swoon, half-dead, I fear.
Gawain's plight is viewed by Queen Arnive, his grandmother
THE eyes of a hidden observer
Looked down on the blood-stained chamber;
Gawain and the lion seemed dead.
From a window, high overhead,
Gazed a young lady-in-waiting,
Whose bright face paled on viewing
The scene below, she ran to tell
The wise Arnive; at this, tears fell,
And tis Arnive I'll honour still,
For saving his life, as she will.
Queen Arnive now viewed the chamber,
But, from above, could not, however,
Tell whether joy would be on hand,
Or endless mourning for this man.
She feared indeed the knight was dead,
Couched on the lion, as twere a bed.
Much troubled, she cried: 'What woe,
If you but found death there below,
In fighting bravely for our sake,
We poor exiles; your virtues wake
Pity in me, be you young or old,
Faithful heart, so brave and bold.
You who are Christians now pray
To God for His blessing this day,'
She told her ladies; two she sent
To enter on tiptoe; she was bent
On knowing how the man did fare,
Such was her bidding to the pair.
You ask if either of them wept?
Both, I assure you; sorrow kept
Prompting fresh tears for the knight
Whom they found in a sorry plight,
His shield was all drenched in blood.
One worked, as gently as she could,
To unlace his helm, removing it,
And then the ventail, bit by bit;
A pale foam lay on his red lips.
She touched him with her fingertips,
Looking to see if he still breathed,
Or whether her senses were deceived,
For the issue was in doubt as yet.
On his surcoat was a dragonlet,
Cut in sable, she found a pair,
Such as Ilinot the Briton did bear
Bravely, he who had won glory
In early death; now, the lady
Plucked a little of the sable
Held it as close as she was able
To his nostrils, and sought to see
If it might be stirred but slightly,
By a breath; twas so, in the end!
At once, she told her lovely friend,
To fetch a basin of clean water,
This the latter swiftly brought her.
The girl worked a finger gently
Between his teeth, delicately
Pouring a few clear drops within,
Not too much, till he did begin
To ope his eyes, and so awoke.
His thanks most gallantly he spoke,
Saying to the sweet girl: 'I grieve
That you so find me, I conceive
Tis most ill-bred of me; a kindness
It would be on your part, no less,
To say naught, as a courtesy,
To any others, such is my plea.'
'You have lain, and here do lie,
On glory's field,' was their reply,
'You've revealed such brave intent,
Live long now, and rest content,
In the victory that's yours, today.
Now assure us poor souls; we pray,
That these your wounds are of a kind
That may yet grant us peace of mind.'
'You must help, if you'd have me live,'
He replied, 'fresh aid you must give;
Let skilled folk inspect my hurt,
That further harm they may avert.
Yet if I'm to fight again, then lace
My helmet on, and leave this place,
For I must look to make defence.'
'With armour you may now dispense,'
They said, 'one shall stay, the other
Must go to seek reward, however,
From four fair queens for bringing
Them the news you are yet living.
They will prepare an easeful bed,
And such medicines as are said
To cure, and salves that will gently
Soothe bruised flesh, and cleanly
Heal your wounds.' One of the pair
Ran with the news of this affair,
To tell the four he was not dead
But seemed strong enough instead;
That, God willing, he would bring
Them happiness, yet he was hurting.
'Thank God,' they cried. And now the Queen,
(Tis Arnive, old and wise, I mean)
Ordered them to prepare a bed,
And see that a carpet was spread
Before it, nigh a well-stocked fire.
Rare unguents she did then acquire,
For his wounds, prepared with skill,
And had four ladies do her will
And gently remove his armour,
Without shaming him however.
'Take a roll of silk, as a screen,
And so, unarm him at the scene,
Behind the silk; if he can walk,
Allow that, but if he doth balk
At such, have him carried where
I shall ready his bed, with care.
If he escaped the fight without
A mortal wound, I have no doubt
I shall restore him to good health,
Yet if venom, that works by stealth,
Proves fatal to him, then we too
Will be, as it were, slain anew,
And with this warrior's last breath,
Be doomed again to living death.'
All this was done; and thus, Gawain,
Relieved of armour, walked, in pain,
From that place, and was given aid,
By all those who such pains allayed.
Queen Arnive tends to Gawain's wounds
OF wounds he showed fifty or more,
From slingshot, crossbow-bolt, and claw,
Yet naught had pierced his chain-mail
To any depth; all such did fail
To pass the shield he'd held before
His body. The Queen, of her lore,
Took dittany steeped in warm wine,
And with blue sendal, silken, fine,
From his wounds wiping the blood,
Dressed them, as cleanly as she could,
So they might heal. As for his head,
Where sad dents in his helm had led
To bruised swellings, she contrived
To make sure that not one survived
Her potent salves applied with skill.
'And greater help I'd offer, still,'
She said: 'Cundrie La Surziere,
Doth many a medicine prepare.
She comes to visit, oft, and she
Supplies such things, and tutors me.
Since Anfortas was first afflicted,
Aid, from all things, he's enlisted;
This salve is one he's ever sought;
From Munsalvaesche it was brought,
Where Anfortas doth yet survive,
Soothed by the salve while he's alive.'
When Munsalvaesche she did name,
Gawain was pleased by that same,
Thinking the place to be quite near.
'You have restored my senses, dear
Lady, that took their leave of me,'
Gawain spoke with plain honesty,
'My pain abates, and any strength
Or sense that's mine, won at length,
Your servant owes to you, wholly.'
'We must labour, most faithfully,
To seek your favour, sir,' she said,
'Now do as I say, keep your bed;
Talk little; and a herb that I keep
I'll give to you to make you sleep;
A little of it will do you good,
But no other food or liquid should
Pass your lips, ere night doth fall,
(For, thus, you may recover all
Your former strength) when I
Will bring you fresh food, by and by,
To nourish you, until the morn;
Then let you slumber here till dawn.'
Now, in his mouth she placed the leaf;
He slept a sleep that brought relief.
She gently smoothed the coverlet,
And so, in that great lady's debt,
Warmed and easeful, lay Gawain,
Full rich in honour, poor in shame,
And thus, he slept throughout the day.
Now and again, a shudder, I'd say,
Ran through him, twas the action
Of the salve. A great commotion
Those ladies made, that company
Of the fair, there were so many,
Chattering, passing to and fro;
Queen Arnive gave them to know
That a grave silence must be kept
While the knight, their hero, slept.
The palace doors, at her command,
Were closed and barred, so no man
Might learn the news till next day.
Then fresh woe must come, I say.
The warrior slept until nightfall;
The wise Queen then removed all
The herb still left, from his mouth.
He woke to the taste of drouth,
And the lady told them to bring,
Drink, and food most nourishing.
He sat, drank, ate quite happily,
And was waited on, most nobly,
By the company of ladies, fair,
Who, decorously, served him there.
My Lord Gawain gazed right closely
At these, those, all; but the lovely
Orgeluse filled his thoughts again.
Ne'er in his life had Lord Gawain,
(Who had known both love invited,
And love denied, and unrequited)
Found his heart moved so deeply
By any woman. 'Now, my lady,
Said the knight to that wise Queen,
Who was his nurse, 'I may be seen
As far too strict, yet it offends me,
To see these ladies stand before me.
Ask them to sit, or dine, I pray.
'Sir, there'll be no sitting, I say,
By any except me; twere shame
Upon them not to serve your fame,
To whom we look for happiness.
Yet were we wise, we would bless
This eve, and do just as you wish.'
The noble ladies adhered to this,
Serving him with a right good will,
But asking, sweetly, that they, still,
Might stand there till he had dined,
For none would sit. He thus reclined,
While they his company did keep,
Until once more he sought to sleep.
End of Book XI of Parzival
---