Wolfram von Eschenbach
Parzival
Book I: Gahmuret and Belacane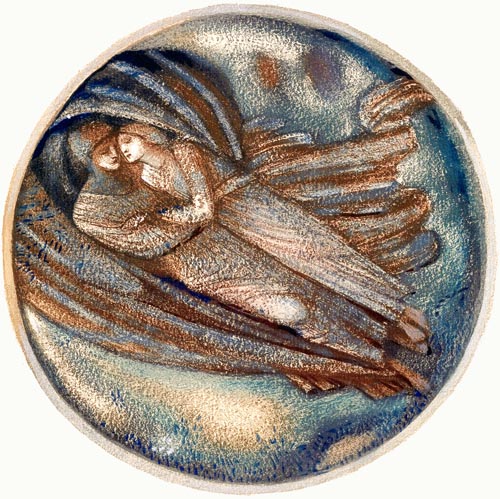 'With the Wind'
From The Flower Book, Sir Edward Burne-Jones (English, 1833 – 1898)
Translated by A. S. Kline © Copyright 2020 All Rights Reserved
This work may be freely reproduced, stored and transmitted, electronically or otherwise, for any non-commercial purpose. Conditions and Exceptions apply.
---
Contents
---
Wolfram's Prologue
THE heart that strays harms the spirit.
Shame and honour war within it
When the soul of a steadfast man
Piebald like a magpie doth stand.
Yet such a man may still know joy,
Heaven and Hell do both employ
Their part in him; disloyalty
Is black in hue, dark its company,
Yet still the true and loyal knight,
Holds, endlessly, to the white.
Now, such a winged metaphor,
Flies all too fast for the unsure,
Slower minds will grasp it not.
It will speed past, and be forgot,
Gone flying like a startled hare.
Thus with a dark mirror we fare,
Or a blind's man's dream, all dim
Do features seem, to us and him;
They shine not with a steady light,
Grant but a momentary delight.
Why tweak my palm to find a hair,
If never a hair was growing there!
You grip must needs be close indeed,
For such a mission to succeed.
Were I to cry 'Oh!' in fear of it,
A fool I'd be, you must admit.
Should I then seek for loyalty
Where it must vanish utterly,
A burning brand the well has won,
A dewdrop vanished in the sun?
Yet I've ne'er met a man so wise,
That he'd not wish me to advise
As to the path this tale maintains,
And what goodness it contains.
This story then ne'er goes astray,
But flees yet follows, every way,
Turns, then attacks, in the same
Moment, scattering praise and blame.
Who follows it as it leaps about,
Will be well served, amidst the rout,
By their wits, if they do not stray,
Nor sit too long straddling the way.
False friendship leads us to hellfire,
Beats down, like hail, noble desire,
Destroys nobility without fail,
Its loyalty so short in the tail,
If it meets with gadflies in the wood,
Two bites in three they'll make good.
Again, the many thoughts I'll pen
By no means just relate to men,
I set a challenge for women too.
Let any, who'd do as she should do,
Learn from me, to take great care,
And so, in learning thus, beware
Whom she trusts with her honour,
And her good name and, further,
To whom she grants her person
And her love, lest both affection,
And then chastity too is lost.
By God, lest it be to their cost,
I bid good women do aright;
Shame keeps virtue ever bright,
No better fate to them is shown;
The false for falseness ever known.
How long will thin ice endure
In August's heat? Well no more
Will their good name last a day;
Beauty as swiftly melts away;
Many a fair one's praised for it,
Yet, if her heart be counterfeit,
Rate her but a bead set in gold,
As, I say, about the fair is sold.
And yet I think it no small thing,
If a noble ruby adorns a ring
Of simple brass, with its virtue;
For that I'd liken to the true
Spirit of womanhood. If she,
Any woman, acts virtuously,
And ever shows her best nature,
I'll not search her every feature,
Nor probe her heart, for if she
Holds in her breast true loyalty,
Then she will never come to shame,
Nor shall aught hurt her good name.
If I'm to speak in judgement now
Of men and women, as I know how,
Then a lengthy story I must tell;
Hear then the tale of what befell;
It speaks of happiness and woe,
Where pain and joy in company go.
And yet were there full three of me,
Each with skills matched equally,
Inspiration would yet be needed
Ere the three of us succeeded
In telling you, what a single one
Must do; for such is my intention.
For I shall now retell a story,
That doth speak of great loyalty,
Womanly womanhood, anew,
And a manly manhood, so true,
In every trial, his steel prevailed,
His heart within him never failed,
While his hand, in battle, likewise
Seized on many a glorious prize;
Honour-seeking, in nature slow,
(For thus do I hail my hero)
A sweet sight to woman's eye,
Yet a bane to the heart, thereby;
Yet one, indeed, that shunned all wrong.
The one I've chosen for my song
Is yet unborn to this fine tale,
Yet shall be born here, without fail,
The lad of whom this story's told,
With all its wonders that I unfold.
Gahmuret, Parzival's father, wishes to seek his fortune
THERE is a custom holds secure,
Where runs our western neighbours' law,
And it still holds in one corner
Of our German lands moreover;
You need not me to tell you so.
Whoe'er held the lands of old,
Made the ruling (strange though true)
That the eldest brother was due
His father's whole inheritance.
That death erased, in an instant,
All the rights to the younger
Granted by the living father,
Was that younger son's misfortune.
Before they'd sung the one tune,
But now the eldest ruled alone.
Was he not the wisest known,
Who ruled all went to the elder,
Naught at all to those younger!
'Youth has its endless tomorrow,
While age is full of pain and sorrow.
There never was so sad a fate,
As aged poverty,' he would state.
That dukes, and counts and kings
(For I'll not lie about such things)
Should lose their land, every one,
While all goes to the eldest son,
That is a monstrous law indeed.
But thus, when his brother did accede,
Did Gahmuret, the brave and daring,
Not destined to be born a king,
A bold, and yet a temperate man,
Lose his strongholds and his land
There where his father, in renown,
Had wielded the sceptre and crown,
With regal skill, and royal might,
Till death in combat as a knight.
The mourning for him was bitter,
For he had kept faith and honour
Bright, and whole, until the end.
His elder son for those did send
Who were the noblest in the land.
And all did come to kiss his hand,
Showed themselves in fine array,
So as to claim their rights that day,
And have confirmed from his hand
Their fiefdoms throughout the land.
Now once they had gathered at court,
All their rightful claims had brought;
With these confirmed, hear how they
Proceeded; loyalty, I say,
Prompted that great gathering,
Humbly, to ask of their new king
That he show love for his brother,
Gahmuret, maintain his honour,
By granting him a title, that all
Might see whence he came withal,
And whence his freedoms derived,
And not of all such be deprived.
The king accepted their petition:
'Tis not beyond the bounds of reason,
What you request, you may be sure
This will I grant him, this and more.
My brother, do you not name him
Gahmuret the Angevin?
Well, Anjou is within my claim:
Let both be blessed with that name.'
Thus this elder brother, the king,
To the court did pleasure bring:
'My brother I shall yet support
In many a form, for, in short,
He shall be of my company,
And of the Household he shall be;
I shall show you, and my brother,
We were born of the same mother.
He owns naught, yet I have plenty,
And shall share, so generously,
That my salvation will ne'er be
In doubt with Him who, as we see,
Doth give us life, and life doth take;
And rightly He doth judgment make.'
Finding their king in this was true,
The lords were pleased and, in review,
Each bowed his thanks, and did rejoice.
Nor was Gahmuret slow to voice
A wish, within his heart concealed,
But now, good-naturedly, revealed:
'My lord and brother, if I sought
To live at yours or other's court,
What reputation would be mine?
But you are true and wise, I find,
And you may thus advise me now,
And of your kindness may allow
This gift. My arms and my armour
Are all that stands to my honour.
Should I win more through chivalry,
Were some renown granted me,
I might, indeed, be remembered.
I have sixteen squires in number,
Six have battle-armour worn;
Give me four pages, nobly born,'
Gahmuret said: 'who will share
In all I win, where'er I fare,
And I shall seek another land,
As once before, sword in hand.
And I may seek a virtuous lady,
If fortune yet proves good to me,
And if worthily I serve her,
I think I shall not do better
Than pledge myself completely;
May God grant such a fate to me.
When our father Gandin was king,
We used to ride forth suffering
Many a sorrowful pang of love;
You a thief and a knight did prove;
You knew how to take and conceal.
Oh, how I wish you would reveal
The secret of such thefts, that I
With your skill, might win love thereby!
His royal brother sighed anew:
'Oh, that I e'er set eyes on you!
You, with your jesting, tear apart
What was whole, my loving heart.
The king left wealth beyond compare,
Since we must part, then we must share;
For you dear to my heart I hold.
Bright jewels then and fine red gold,
Arms, clothes, brave steeds, and men,
Receive from me; take more again,
As much as your journey may need,
As supports your largesse, indeed,
For your generosity's e'er in view.
You are the crown of manly virtue.
In the far west had you been born,
Or if the east had seen your dawn,
Gustrate or Rumkale, tis no matter,
I would have granted you forever
The place that in my heart you hold;
For tis my brother I behold.'
'My lord, tis your own courtesy
That showers such praises on me;
Then help me now in such measure
As I request. For if my mother,
Or you, would give your wealth away,
Then good fortune will pave my way.
For my heart is set on soaring high;
It swells within, I know not why.
I feel as though twill burst from me!
What does ambition urge on me?
I shall seek the heights, if I but can;
Tis time my journeying here began.'
Gahmuret takes leave of his widowed mother, Schoette
HIS brother then granted him more
Than he had sought from him before;
Five war-horses to him he hands,
The finest mounts in all his lands,
Strong and spirited, swift and bold;
And many vessels wrought of gold,
Many bright ingots, did him allow.
The king was pleased to thus endow
Four panniers; in doing so,
Adding the rarest gems also.
And the squires in charge of these,
Were dressed well, so as to please,
And granted fine horses indeed.
Now Gahmuret, he went, with speed,
To his mother, who clasped him tight,
And let her sorrows flow, outright:
'Fil li roy Gandin,' thus she cried
Will you no more with me abide?'
So that womanly woman did cry:
'Son of my lord, was it not I
That bore you? And you are no less
Gandin's child; witness my distress;
God seems blind where He should aid,
And deaf to the prayers I have made.
Fresh sorrows now then must I bear?
I've buried my heart's delight, my fair
Spouse and my eyes' sweet pleasure.
If God now robs me of my treasure,
Just though he be, the talk I hear
Of him helping mortals is, I fear,
Untrue, for see he abandons me,
Harasses, and grants no mercy.'
Up spoke then the young Angevin:
'God solace you yet for losing him,
My mother, and there is true cause
For us to grieve for him, yet pause,
There is none to think this ill news
That I go forth, though you do lose
My presence, I go, you understand,
To seek my fortune in some far land,
That is the reason for my going.'
'Dear son, if you think of winning,
The love of some great lady there,
Scorn not the things I've prepared
To help you as you make your way.
Tell your chamberlains this day
To receive four panniers from me,
Of silks entire, from blemish free,
And many lengths of broad brocade.
Now if true kindness you displayed
You would seek my thanks to earn,
By naming the day of your return.'
'Madam, I know not, understand,
Where I shall go, to what far land,
Yet whate'er path I now shall take,
When your fair presence I forsake,
You will have dealt with me quite
As befits the honour of a knight.
The king too has granted me leave
In a style that should thanks receive,
And you will cherish him the more
Whate'er becomes of me, I'm sure.'
Now the tale tells us that the love
And friendship of a lady did prove
Of aid, fine gifts she gave, that day,
Worth a thousand marks, were they;
Whoe'er is offered them at that price
Should take them, such is my advice!
He had gained then, from his service
To this most charming friend of his,
A woman's love and her kindness,
With gifts to add to his happiness,
Yet they cured him not of ambition.
The warrior set forth on his mission,
Never to set eyes on his mother,
Or the realm, nor yet his brother,
Ever again; yet mourned by many.
He thanked all, of his courtesy,
Who had favoured him ere he left,
And since they did seem bereft,
He thought it right not to appear
To display that it was their mere
Duty; he was e'er straight and true.
Those who quite otherwise do,
And themselves proclaim their worth,
Are the last to be believed on earth;
No, let a man's close neighbours say,
Or those who meet him on the way,
How well his actions are conceived,
And then his tale might be believed.
Gahmuret was a temperate man,
Level-headed in all that he began,
Not one to boast; all his honours
He carried lightly; was ambitious,
But free of all worthless passion.
Yet, on considering his mission,
He knew no king or head of state,
Emperor, empress, or potentate,
In whose house he cared to serve
Except the greatest one on earth,
And such was then his deepest wish.
He takes service with the Caliph of Baghdad
NOW he had heard, concerning this,
That there was a ruler, in Baghdad,
And so great was the power he had,
That two thirds of the earth or more
Was subject to him, and his law.
He was revered those folk among,
And titled, in the heathen tongue,
'The Baruc', Caliph, of that place.
So great was his power o'er the race
That many a king of great renown,
As subjects, owed to him their crown.
The Caliphate stands to this day.
As in Rome they dispense, I say,
The Christian rite the law decrees,
So in that realm it doth please
The folk to follow infidel ways.
From Baghdad comes law and praise
(They think it true and free of ill,
And so to it they bend their will);
The Caliph grants them indulgence.
Now Gahmuret sought his presence.
The Caliph had seized Nineveh,
From two brothers; it had alway
Belonged to their great ancestors;
And the names of these brothers
Were Pompeius and Ipomidon.
Now they had battled hard and long,
Till the young Angevin appeared;
Gahmuret made himself so feared
With the Caliph he found favour;
And he deemed it then an honour
To serve him as a mercenary,
And find fortune in that country.
Be not disturbed that he did bear
A far different coat-of-arms there,
Than that bequeathed by his father.
As one who aspired to far greater
Things, now this lord displayed,
On his caparison, anchors, made
In bright 'ermine'; and his shield
And his surcoat the same did yield.
His harness greener than emerald,
Was the colour of silk they called
Achmardi, finer than silk brocade,
Of these he had a tabard made,
And the surcoat; and both did hold
'Ermine' anchors with ropes of gold.
He bore his anchors, you understand,
This proud exile, from land to land,
Though the anchors had ne'er seen
Sea-road or headland, nor had been
Deep enough to bite sand beneath,
For he found scant rest or relief.
How many lands did he sail around,
Or ride across? Well, if I'm bound
To swear to them, upon my honour
As a knight, none can I discover
But those of which the tale doth tell,
No other speaks as to what befell.
My author says he did become,
Through his efforts, in heathendom,
The most renowned for manly vigour;
In many a place gaining honour,
From Persia, as far as Morocco,
And in Damascus, and Aleppo;
And whate'er field knew chivalry,
Beneath the walls of Araby;
So that no other sought to fight,
In single combat, this brave knight,
Such was the fame that he won there.
His heart sought glory in each affair,
All others' deeds were soon eclipsed,
If Gahmuret entered in the lists;
This was the lesson all did learn,
Who e'er jousted with him; in turn
He e'er showed the courage he had;
Thus they spoke of him, in Baghdad.
He sails to the realm of Zazamanc
FROM Persia to Zazamanc he came,
Where folk lamented for one slain
In love's service; brave Isenhart,
She Belacane, sweet, true of heart,
Who had brought him to that end,
Though Isenhart had stood her friend,
Her love she'd denied him ever;
He lay dead who'd sought to love her.
His kinsmen thought to gain revenge,
In ambush and open battle, avenge
His death, and so besieged the lady.
When Gahmuret reached her country,
She'd beaten off the belligerent,
Isenhart's cousin, Vridebrant,
King of the Scots, he whose men
Had scoured the land from end to end,
And all its fertile ground had fired,
Before he, with his fleet, retired.
He offers his services for hire
HEAR now what did befall our knight.
Tossed to and fro, both day and night,
On stormy seas, at risk of death,
For he came sailing, in a breath,
Into the great harbour, below
The Queen's Palace, and did show
Himself there to many an eye.
Upon the plain he did espy
Many a tent pitched near the town,
Not by the sea, but on open ground,
And two great armies yet lay there.
He sent to know, in all this affair,
What was the town, for he knew not,
Nor did his crewmen, whose was what.
Patelamunt was the town's name,
And the envoys from that same
Sent tokens of friendship, and prayed
Gahmuret to come to their aid,
For they were in great need of such,
Or all must feel death's chill touch.
Now, once the brave young Angevin
Knew of the plight that they were in,
He offered his services for gold,
(As many a knight still does, I'm told)
Or they need give some other reason,
Why he should suffer enemy action.
With one voice, they gave him answer:
Of gold and gems he would be master,
Injured and sound begged him to stay.
Yet he needed not their gold, that day,
For he had there, in the ship's hold,
More than enough of the king's gold;
With Zazamanc's folk dark as night
He'd scant desire to stay and fight,
Yet good lodgings, in which to rest,
He asked for; they gave of their best.
At their windows the ladies leaned;
Gazing down, the facts they gleaned
Of his squires, and his equipage,
As he entered the town centre-stage.
There showed, on a rich sable field,
The 'ermine' emblem on his shield,
Which the Queen's Marshal did see
In the shape of an anchor must be,
And was right glad to see them there;
His eyes told him, in some affair,
He had known this knight before,
Or else his double; in that war
Perchance, when the Caliph laid siege
To Alexandria where, for his liege,
Gahmuret had shown peerless skill,
And laid about him with a will.
So he rode into town in style:
Ten loaded mules, in double file,
Preceding him, the people counted,
And twenty squires all well-mounted;
The baggage-train had gone ahead,
By pages, cooks and scullions led.
After the squires twelve pages rode,
And pleasant glances each bestowed,
Noble lads, full of grace and sense,
Some of whom were Saracens;
Behind them eight steeds came on,
Each with a rich caparison,
While a ninth his saddle wore;
Beside it a page his shield bore.
Then trumpeters on either hand
Rode by, such still are in demand;
A drummer tossed his tabor high,
Then beat it loud, as he went by;
While his lord would have thought
His whole passage went for naught
If there had been no flutes to see
And hear, nor yet his fiddlers three.
They passed by with measured stride;
Behind, the man himself did ride,
And with him the ship's master,
A skilled, and worthy, mariner.
The folk within the town were Moors.
Upon the house walls and the doors,
Gahmuret saw many a dented shield,
Pierced through by spears in the field.
About, he heard lament and woe.
The wounded lay at each window,
To breathe fresh air, but in such pain
That even then should those men gain
A doctor's aid they would never
From such hurt as theirs recover.
They'd met, faced with the enemy,
The fate of all who will not flee.
And many a fine steed was led past,
Its flesh by sword and spear gashed.
Many a dark-skinned maid he spied,
Raven-coloured, on either side.
His host, the Governor, received him,
And this was later most useful to him.
His host was a brave and noble man,
Who at the gate had made his stand,
Dealing many a forceful blow,
With him stood many knights also,
Their arms in slings, heads swathed,
But, though wounded, still a brave
Fight they had carried to their foe.
The Governor, begging him though,
In the friendliest manner, to request
Aught of his that might please a guest,
Whate'er his wish indeed might be,
Led him to his wife, courteously,
Who kissed him, much to his dismay;
Then to refreshments led the way.
These partaken, the Marshal went
To gain Queen Belacane's assent
To a reward; good news he brought,
Said he: 'Madam, the joy we sought
Shall now dispel all misery.
A knight of such true quality
We here and now do entertain,
That we should thank the gods again
For bringing such a man to us.'
'Tell me, how seems this virtuous
Knight?' 'A proud, noble warrior,
An Angevin, but one, however,
That serves the Caliph; you should see
How he fights, how wondrously,
Nor spares himself when in a fight,
How he attacks and then takes flight,
Attacks again, and thus shows the foe
What toying with them means; I know
How gloriously he can fight,
For when the Babylonians might
Have driven the Caliph from the wall
Where he sought Alexandria's fall,
Then what hosts of them he slew!
He dealt so furiously with that crew
They'd no recourse except to flee,
Or lie down and die, in misery.
And he has earned this reputation
In many a neighbouring nation,
Beyond all others is he known
For the bravery he has shown.'
'Then bring him here,' said the Queen,
And we may talk, this day I mean
For there's a truce and he may ride
To audience, and may sit beside
Myself; or must I go and seek him?
There is the colour of his skin,
Of course, that differs from ours;
Woe's me, if it is aught that sours
His view of us, or weighs with him!
For I would seek to honour him,
If my council do so allow.
Yet how shall I receive him now,
If tis his pleasure to consent?
Is he of such noble descent,
That my kiss will not be idle?'
He is, I pledge, of royal title,
Your Majesty; and so I will
Tell all the princes to fulfil
Your wish, and wait on you the while,
Till we may both advance in style.
Command your ladies; I shall go,
As is your will, and tell him so,
Then bring this man of quality,
This nobleman, for you to see.'
Gahmuret appears before Queen Belacane
IT was no sooner said than done.
The Marshal went there at a run.
He bore rich robes to Gahmuret,
Which he then donned, ere they met,
Right costly robes, so I have heard,
True royal gifts; then, at a word,
He who knew how to answer such,
Mounted a steed, its cost not much,
Since a lancer out of Babylon,
Had once charged at him, thereon,
And he had thrust him from the steed,
To the man's great chagrin, indeed.
Did his host bear them company?
He and his knights, most willingly;
Yes, they proved happy so to do,
And thus they rode up, two by two,
Dismounting at the palace door,
Which a crowd now stood before,
For many a knight there did gather,
In rich robes, all grouped together.
His pages went first, joining hands
In pairs, as seen in other lands.
Their master, following, did meet
A host of ladies, whom he did greet,
They in wondrous clothes were dressed;
There stood the Queen among the rest,
And when her eyes first lit on him,
She had great harm of this Angevin;
For so handsome did he appear,
That he unlocked her heart, I fear,
That had been most secure till then.
She took one pace, and then again,
And of the knight she made request,
Sought a kiss from her noble guest,
Whom to a soft divan she led,
With a samite cover o'er spread,
By a window, whence he could see
The encampment of the enemy.
If aught is brighter than the day,
Twas not the Queen, I might say,
Not seeming as the dew-wet rose,
But dark as ever midnight glows.
Upon her head was a coronet
With many a ruby there inset,
She told her guest what pleasure he
Had brought her with his company.
'My lord it seems I've heard aright
Of your great prowess as a knight.
Yet I beg you, of your courtesy,
Forgive me, if you hear from me
Naught but the grief within my heart.'
'And not in vain; since, for my part,
With whate'er vexed or vexes you
This right hand shall take issue,
And if it may bring you relief,
Let it be minister to your grief.
I am but the one man alone,
And yet if any wronged your throne,
Or wrongs it still, here is my shield,
Though it serve not to win the field.'
With courtesy, a prince then spoke,
'Yet if the strength we could invoke
Of some noble leader, our enemy
Would not indeed escape so lightly,
Now, Vridebrant has gone from here.
His own country, it doth appear,
He must free from the kith and kin
Of King Hernant, for they harry him,
Since he slew that king, for the sake
Of Herlinde, and did vengeance take.
They'll ne'er cease till he does so.
He leaves here fierce warriors though:
The Scots Duke Hiuteger, for one,
Who many an encounter has won;
He remains with his company,
Who have proved a worthy enemy;
They fight with vigour and with skill.
And Gaschier of Normandy is still
To deal with, that grand old man,
With many a mercenary to hand;
And Kaylet of Hoskurast, the King
Of Spain and Castile, who did bring
A greater force to swell the fight,
Many a fierce and warlike knight.
The King of the Scots, Vridebrant,
He brought them all to this land,
All these, his allies, as you see,
And many a foreign mercenary.
To the west, by the coast, do lie
Isenhart's men, with tearful eye,
Who lament their liege lord slain,
And, overwhelmed by their pain,
Have not retired from that place,
(Heart's tears thus run down apace)
Since he died in single combat.'
'Tell me, my lady, more of that,'
Gahmuret asked of his hostess,
Being an ever-courteous guest:
'Tell me why they thus besiege you,
What enmity do they bear you?
You have many a brave warrior,
And so it saddens me the more
Their near subjection so to see,
Neath the malice of this enemy.'
Queen Belacane tells the tale of Isenhart
'I will tell you, sire, since you wish,
A noble knight's the cause of this,
Who with faithfulness served me,
His life was like a budding tree,
For he was brave, and he was wise,
And loyalty blossomed likewise
From deep roots, for noble was he
Surpassing all in nobility;
Yet more modest than a woman,
Although a brave and daring man.
None more generous anywhere,
No hand more free did any bear,
(What shall be in some other day,
I know not; others then must say)
He was unknown to treachery;
Of race he was a Moor like me,
His father was King Tankanis,
Whose renown was as great as his;
He then was this same Isenhart,
And I, as a woman, for my part,
Betrayed myself by letting him
Serve me; an act of love, my sin
To deny him consummation;
Winning by it condemnation.
They think I sent him to his fate,
But treachery is not the weight
That bears on me, though his men
Claimed it of me, and will again.
I loved him more than e'er they can,
And many a witness is at hand,
Since the gods, both his and mine,
Know the truth, twas a love so fine
I suffered many a heart's pain
For him, yet modesty again
Made me delay his true reward,
And endless grief did me afford.
My virgin state spurred him to win
Renown, each joust that he fought in,
Until I sought to test his love,
And soon his loyalty did prove
For he doffed all his armour then,
For my sake, the truest of men
(That Pavilion standing there,
Was his, that marvellous affair,
The Scots, they have raised it here)
Yet bare of steel, he knew no fear,
Life indeed seemed not his care,
Fighting without armour there.
In my court a prince there was,
And his name was Prothizilas,
A brave man who rode out to try
His fortune, fated though to die,
(It was no mock death that he found,
In seeking to contest the ground
In the Forest of Azagouc)
Though not as valiant, in my book,
As my true suitor, Isenhart,
Who also with his life did part.
A spear each of them bereaved
Of life, through the shield received
And then the body; and I mourn
It still, none more wretched born;
Nor shall I e'er cease to regret
Their deaths (for the affection yet
I bear them ever blooms) nor can;
Nor have I e'er wed any man.'
It seemed to Gahmuret that she
An infidel indeed might be,
Yet no sweeter womanly spirit
Did ever woman's heart inhabit.
From her eyes the tears rained down,
A purifying stream that found
Its path from beneath her eyes
To her breast, with countless sighs.
Her devotion to her sorrow
Was her task night and morrow,
With the rituals of true grief,
For such indeed was his belief.
Then Queen Belacane spoke on:
'Isenhart's maternal cousin,
The King of the Scots appeared,
Brought his fleet and army here,
Though it was not in his power
To do me greater harm, that hour,
Than did my dear Isenhart's death,'
And then a sigh was her next breath.
Many a tearful glance she gave,
Shyly, as strangers will behave,
Such that her eyes told her heart
Gahmuret seemed a man apart,
Handsome, while his complexion,
Though fair like many a heathen
She had seen, did no way impair
Her judgment; true love did stir:
She gazed at him, and he at her.
Love at first sight
AT last she ordered that they pour
A farewell cup, although far more
Inclined to leave it, wishing rather
Her servants had ignored her order,
For that last cup had never failed
To dismiss all that love entailed;
For her life his life now did own,
While she felt his life was her own.
Gahmuret rose then spoke anew:
'Madam, I inconvenience you,
I forget myself, and sit too long,
And thus I seem to do you wrong.
Though I am sad at your distress,
For it troubles me, yet no less
Am I at your disposal, lady.
You have only to command me,
And I will seek to avenge you.'
'And I,' she said, 'have faith in you.'
Gahmuret visits the town's defences
NOW the Governor did not neglect
To make his new guest his object,
Asking him if he wished to go
And 'view the walls and gates below',
And Gahmuret, that worthy knight,
Replied it would be his delight
To view the battlefield, indeed.
A knightly host did then proceed
Along with them, young and old,
Around the sixteen gates and told
How not one had yet been barred,
Not since the death of Isenhart:
'Revenge men seek, day and night;
An equal struggle proves this fight,
Yet, all this time, not one was closed.
Isenhart's men a threat have posed,
Battling before eight of the gates,
As you can judge now from our state.
Losses we bore, since they fight hard
Those forces, for brave Isenhart,
Those lords of Azagouc striving
To win revenge for their dead king.'
Above those troops, before each gate
A pennant flew, it showed the fate
Of Isenhart; a knight pierced through
With a lance-thrust, this the new
Device that his men had chosen.
'To assuage their grief, the token
On our pennants, in this affair,
A hand upraised in oath, to swear,
Is the figure of Queen Belacane,
Who in that manner doth proclaim,
That since he died she doth suffer,
(Pained by the loss of her lover),
For once we saw their flag in play,
(Which could but add to her dismay),
Her image we displayed in black;
White samite the field at its back.
Ours fly here now above each gate,
But still before another eight,
Lie the armies of Vridebrant,
Borne here from a foreign land.
Each gate is guarded by a prince
Who sallies forth in its defence,
Bearing his banner, and thereby
One of Gaschier's counts doth lie
In our hands, and offers ransom.
Gaschier is Kaylet's sister's son,
So the harm done by her brother
Will now be paid for by this other.
Such good-fortune we seldom see.
Between the moat and the enemy
There lies a broad stretch of land,
Some thirty courses wide, all sand
Not turf; and two brave knights may face
Each other in combat, in that place.'
Gahmuret's host had more to tell:
'There is a certain knight, as well,
Who seeks to joust beneath the wall,
If she, who sent him here, gave all
For his service, twere scant reward
For the fine display he doth afford
Our eyes: he is proud Hiuteger.
And so, I must tell you further,
That each morn he doth appear
Since the foe besieged us, here,
Equipped and ready for the fight,
Before the palace gate, a sight
To see; and we have oft obtained
Love-tokens from this brave knight, gained
By being thrust into our shields,
Gemstones that his lance-tip yields,
Retrieved by the heralds and shown
To be as precious as any known.
He has unseated many a knight,
He likes to meet the ladies' sight,
And they commend his courage too;
To them a name and fame is due;
All the favour he might demand
Is here indeed, at his command.'
The dying sun now did gather
His bright glances in, as ever,
And they returned, at that sign,
All ready now, at eve, to dine.
He dines with Queen Belacane
NOW of the dinner I must tell,
Brought to the table right well,
As befitted her guest, a knight.
Then the Queen came in sight.
And she helped him to every dish;
Now the heron, and now the fish.
She had come with many a maid,
To see that due honour was paid
And with her own hand did serve
The food to him, without reserve,
And far from standing at his side,
(Despite his protests) knelt beside
His place, delighted with her guest,
Happy to serve him of the best.
She filled his cup, saw to his needs,
And he took note of her kind deeds,
Of all she said and did. His minstrel
Sat at the far end of the table,
His chaplain on his other side.
He glanced at the lady there beside
His seat, and then spoke, bashfully:
'Such honour, lady, as you show me,
I am not used to; you should serve
Me only as I indeed deserve,
If you'll grant me my opinion;
Nor should you do as you have done,
Ride down to dinner here, with me,
If I may ask a favour; let be,
And we may seek a happy mean;
You honour me too much, my queen.'
She went to where his pages sat,
Told them to dine, and grow fat,
Seeking thus to honour her guest
And the thanks that they expressed
Were endless, nor did she forget
Their host and hostess, in their debt
She raised her cup: 'Let me commend
Our guest to you, for, my friends,
Yours is the honour, and I pray
You bear it well in mind, this day.'
She took her leave, but then she sought
This guest again; his heart was caught,
Filled with the love that she inspired;
And she by that same love was fired,
As her heart and eyes bore witness;
Their common cause she did confess.
She spoke once more, with modesty:
'My lord, you must now command me;
Whate'er you ask I shall provide,
For you deserve whate'er you eyed;
If you find all tends to your ease,
That indeed our hearts will please.'
Four men, with candlesticks of gold,
Bright candles for her path did hold,
Though she was riding to a place
Where flame enough lit up her face.
So their supper had reached its end,
And Gahmuret was sad, but then,
Joyed at the honour he had found.
And yet his cares did now abound,
For he was vexed by Love's power,
That humbles Man's pride in an hour.
Now the Governor's wife withdrew,
To her chamber, the Governor too
After saying, to his noble guest:
'May you sleep sound, and find sweet rest;
Tomorrow we go forth to fight.'
His servants took leave of the knight.
The pages' beds lay all around him,
As usual, heads turned towards him.
Great candles stood there, burning bright.
He lost all patience with the night,
Which passed so slowly; he thought
Of the dark Moorish queen; he sought
To rest, but like some willow wand
Whipped from side to side, his fond
Desire set all his joints a-quiver;
He was on fire for love and honour;
War he sought, now pray his wish
Is granted, his heart throbbed with his
Lust for the combat, his breast also
It arched, as sinew doth the bow,
So immense was his fierce desire;
To love and war did he aspire.
He fights Hiuteger of Scotland, and Gaschier of Normandy
SLEEPLESS that night, Gahmuret lay,
Until grey dawn brought on the day.
The sky had scarce begun to glow
Before he had his chaplain go
And make ready to sing the Mass;
And before the hour had passed
He, for God, and for his master,
Sang it through; the servants, later,
Brought Gahmuret his full armour;
And he went forth seeking honour,
Where single combat might be found
He mounted his charger, at a bound,
A war-horse trained to the joust,
Quick to answer, and wheel about
And gallop swiftly on command.
You could see his emblem stand
High above his helm, an anchor,
As he was led where folk did gather
By the gate, while they called out
As he appeared, and raised a shout,
As this armoured knight drew near,
That so their great gods must appear.
His lances too were borne along.
How then was he caparisoned?
His steed was clad in iron plate,
To guard it from an evil fate,
And over this a green samite
Which weighed but little, soft and light.
His tabard and surcoat were green,
Woven in Araby these had been,
I tell no lie; and his shield thong,
With all its trappings, bright and strong,
Was of corded silk, with jewels set,
Its boss of red gold gleaming yet
From the furnace; he served for Love;
No battle-fear might this man move.
The queen was at the window there,
With her ladies, to watch the affair.
See where Hiuteger now doth wait,
Where before he'd chanced his fate,
And won the prize. Seeing the knight
Galloping towards him in full flight,
He cried: 'A fool do they think me?
For a fool, at best, indeed I'd be
To take a Frenchman for a Moor.
When did this fellow join the war?'
They each spurred on their eager mount,
And each of them gave good account;
Their blows were well and truly meant
Both thrusting home, with real intent.
Splinters flew from Hiuteger's lance,
But his foe, with his fierce advance,
Sent him flying toward the ground,
Ne'er before such hurt he'd found.
And Gahmuret now trod him down,
Gazing about, with an angry frown.
Yet, struggling hard to recover,
His foe denied him his surrender,
Though the man had found his master.
'Who masters me?' he asked the victor,
'I am Gahmuret the Angevin.'
He yielded; Gahmuret sent him in.
And this won Gahmuret much praise
From those who upon this did gaze;
The lovely ladies, and the queen,
Such are the watching eyes I mean.
Now Gaschier of Normandy,
A fearless knight, proud and free,
Advanced towards him at full pace,
A powerful warrior of his race.
Gahmuret readied himself to bear
A second lance, in that affair,
Broad its tip, its shaft was strong.
The foreigners charged headlong;
Down went Gaschier, steed and all,
The shock alone had caused his fall,
And was forced himself to render.'
'Give me your hand, in surrender,'
Cried Gahmuret, 'for you fought well!
And now send to those Scots and tell
Their men to hold from the attack,
Then ride to the town, at my back.'
The order, or request, was made;
The Scots from all attack delayed.
Kaylet, King of Spain is Gahmuret's maternal cousin
NOW Kaylet was next to appear,
And Gahmuret, finding him here,
His cousin on his mother's side,
He could do naught but turn aside;
For why should he cause him harm?
The Spaniard yet cried the alarm,
And pursued him, as had the rest.
Kaylet's helm bore an ostrich-crest,
In flowered silks he was arrayed,
(All fine things should be portrayed)
The bells upon the silks did sound,
As he passed by o'er the ground.
Ah, the flower of manly beauty!
Without a peer in that fair duty,
Except for two, as yet to come,
Beacurs who was King Lot's fair son,
Gawain's brother; and Parzival.
In later days they outshone all
In beauty though, as yet, unborn.
Twas Gaschier, that splendid morn,
Who seized Kaylet's bridle, saying:
'If you oppose the Angevin, riding
There, flushed with my surrender,
Meek as a lamb he will render
You; and be advised, my lord,
I promised him we would afford
Him passage now, free of conflict,
And then he has my hand upon it.
For my sake now, press not the fight,
Or he may prove the better knight.'
'If, 'Kaylet, said, 'it is my cousin
Gahmuret, scion of King Gandin,
I have no quarrel with the man.
Let go my bridle; free your hand!'
'Not before your head is bared,
For worse than that I have fared.'
Kaylet unlacing, shed his helmet.
But Gahmuret fought on; as yet
The morning was scarce half-spent,
And now the townsfolk were intent
On viewing the jousts that he led,
As along the outer walls he sped,
For he seemed like a living snare,
Catching all those who met him there.
A fresh mount he had, I'm told,
Which flew along, spirited, bold,
It scarcely seemed to touch the ground;
And yet, for all its speed, he found,
His mount could be controlled with grace,
Wheeling to either side, at pace.
What could he not achieve indeed
When mounted high on such a steed?
Deeds of courage; I praise his cause;
He rode within sight of the Moors,
Where they lay, that powerful enemy,
Camped, to the west, against the sea.
Gahmuret defeats Razalic
THERE was a prince named Razalic,
He was a knight amongst the pick
Of those in Azagouc; each day
He never failed to make his way
To where, as his rank demanded,
He might fight, yet now he landed
In dire straits, for the Angevin
Met his charge, and toppled him;
His defeat arousing sad lament
From the maid he did represent.
Gahmuret's squire, ere this deed,
Steel-tipped a shaft of cane or reed,
Twas with this he had thrust the Moor
From his perch to the sandy floor,
But there would not let him linger,
Swiftly making him his prisoner.
As for the war, here ends its story;
And Gahmuret has won the glory.
Gahmuret and Queen Belacane consummate their love
HE saw eight pennants floating there,
Nearing the town, and so took care
To have Razalic turn them away,
While ordering him to ride that way;
And Razalic followed his lead,
Accepting what his fate decreed.
And Gaschier too came riding in,
Telling the Governor of that win;
That Gahmuret was in the field,
And had forced Gaschier to yield.
The Governor, angered, tore his hair,
And roared, most like a lion, there;
And if he failed to chew ironstone,
Or flint, twas their absence alone
Prevented him; out loud he cried;
Then: 'An old fool am I,' he sighed,
'The gods send me a noble guest,
But if he's slain amongst the rest,
I'll lose my honour beyond recall.
My sword and shield, useless all.
But let none say so, if any dare!'
With that he left his men to stare,
And galloped on towards the gate.
Razalic's squire arrived there straight;
Bearing a shield, he did advance,
One with a man pierced by a lance
Depicted there, on both its sides,
Made in Isenhart's land; besides
This he bore the helmet, and sword,
Razalic had carried abroad
To prove his prowess; yet, despite
His skill was unhorsed by our knight.
If that heathen at some later day
Died unbaptised may He, I say,
Who works the miracles we see,
Treat Razalic most mercifully.
The Governor had ne'er seen a sight
That e'er so pleased him, as a knight.
He recognised the emblem straight,
And galloped onward through the gate.
There he met the young Angevin,
Still seeking some enemy's ruin,
And took him quickly by the arm
And led him in, to ward off harm.
Gahmuret let him have his way,
And so unhorsed no more that day.
Lachfilirost, the Governor, asked:
'Tell me sir, is it you who has
Defeated Razalic? If such is so,
Our land is safe now from the foe.
For he is the lord of all the Moors,
All who fight in Isenhart's cause;
He great loss for us did portend.
Now all our woe is at an end.
At some angry god's command
His men have invaded our land,
But now their power to wage war
Ends with victory o'er this Moor.'
Lachfilirost led Gahmuret in,
Which vexed that scion of Gandin.
To greet him the Queen rode down,
Took his bridle, smoothed his frown;
The Angevin's host then let him go;
Gahmuret's squires followed though,
While the Queen led forth her guest,
Through the town, to show this best
Of champions; when the time was right,
Dismounting, alongside the knight.
'What faithful squires you are indeed!
Such close attention he'll not need.
Perhaps you think to lose him thus?
Yet now his comfort lies with us.
Here is his steed, lead it away.
I'll keep him company this day.'
He gazed at a host of ladies there.
The Queen made it her own affair
To disarm him with her own hand.
Therein a noble bed did stand,
With a sable coverlet, and where
A private honour was all his care.
They were alone, the maids had gone,
Closing the chamber doors thereon.
There the Queen yielded, to sweet love,
With one whom her heart did approve.
Though they were of different hue,
What matter, if their hearts be true?
The people brought rich offerings
To please their gods. Remembering
What Razalic was sworn to do,
You'll see that he performed it too,
Although his grief for Isenhart
He still bore there within his heart.
From the noise, the Governor knew
That Gahmuret was now on view,
For all the princes of Zazamanc
Came in an eager crowd to thank
Gahmuret for the victory.
And two dozen knights, certainly,
He had downed in that brave fight,
And taken all their mounts outright.
Those three princely captives too,
Came riding in before their view,
And the rest with them they brought
All to present themselves at court.
Gahmuret is now lord of Zazamanc
LORD now of that land, Gahmuret,
Relaxed and at ease, having slept
And refreshed himself, she dressed
In fine robes, and then, by the hand,
That Queen, who had been a maiden
But was now indeed a woman,
Before them all her true love led,
This Angevin, and to them said:
'I, and my land, are now of right
Subject to the rule of this knight,
If friend and foe do so concede.'
Then Gahmuret asked, it was agreed,
That Lord Razalic approach and kiss
His spouse. Lord Gaschier, did this
Also, and proud Hiuteger the Scot,
Though a painful wound was his lot.
He seated them, though he yet stood:
'I would greet my cousin, if I could
And yet the Queen not take offence,
Though I shall offer her my defence,'
He said courteously, 'I am bound
To free a kinsman of such renown.'
The Queen smiled, and the knight
Being sent for, soon came in sight,
Pushing his way through the crowd;
He speaks with his cousin, Killirjacac
HE came before the Queen, and bowed,
This fair young count, Killirjacac,
Wounded lately in an attack,
But also winning honour there.
He had been brought to this affair
By Gaschier of Normandy,
And was there to serve a lady.
A French subject was his father,
Kaylet's sister was his mother,
And he had been raised at court.
Peerless in beauty he was thought.
As soon as Gahmuret viewed him,
(And he indeed looked so like him,
That their kinship was clear to all)
Upon the Queen he then did call
There to embrace and kiss the youth:
'And come kiss me too, forsooth!'
He cried, and kissed his 'dear brother',
Both much pleased, one with another.
'Ah, my charming young man,' he said,
Is it to serve some maid, you're led
To risk your life in this dire matter?'
So he sought the youth to flatter.
'Such concern me little, my lord;
With Lord Gaschier I came abroad
Who is my uncle. He best knows why;
A thousand knights in arms, say I,
I maintain here at his service,
Brave warriors whom, at his wish,
I gathered at Rouen, in company,
And led them out of Normandy.
Champagne I left on his account,
Now mischance has found him out,
Unless, through a generous deed,
You gain honour now from his need,
Meet fate's treachery with kindness,
And add lustre to your success.
From my friendship, let him gain:
Show pity for your captive's pain.'
He speaks with Kaylet and the captive lords
'FOLLOW your own fair counsel then.
Go with Lord Gaschier; come again,
Both bring my cousin Kaylet here.'
Kaylet did soon with them appear,
Returning to his presence swiftly.
Gahmuret and the Queen warmly
Welcomed him, she kissed the knight,
Since he was a king in his own right,
Her consort's cousin. 'I do swear,'
Said Gahmuret, smiling, 'if this affair
Was in your Spain, and I'd besieged
Your Toledo, and all to please
That King of Gascony who's forever
Attacking you, then I would ever
Be thought disloyal, my cousin dear.
Yet you bring seasoned warriors here.
Who forced you then to such a thing?'
The proud young lord, answered him:
'Schiltunc, my uncle, led me to war,
Vridebrant is his son-in-law;
At my uncle's urging I came,
Because of the marriage, in his name,
I brought six thousand knights with me,
Seeking to aid his victory,
And others too, that serve his cause;
Though some indeed have left the wars.
For love of the Scots, many a man,
Two kings no less from Greenland,
Came here in strength, a sea of knights
To admire; and Morholt, who fights
With wit as well as strength, made one;
But now their presence here is done.
I shall act as the Queen commands,
And all my men, and serve her lands;
For, after all, we two are kin.
Her army is yours; though their skin
Is not as ours, were they baptised
No king of ours would these despise.
Yet I wonder what brings you here?
Tell me when you did thus appear.'
'But yesterday, you understand;
Today I am lord of all this land.
The Queen made me her prisoner,
And I, inclined to surrender,
Who yet a warrior would prove,
Could only defend myself with love.'
'Your twin victories, it seems to me,
Come of true deeds of chivalry.'
'You mean because I shunned a fight
With my own cousin? Why, outright,
You challenged me, both loud and clear;
Think you I turned away from fear?
Only now is there time to parley.'
'Your emblem, it meant naught to me;
That anchor Gandin never wore,
He my mother's brother-in-law.'
'Yet your brave ostrich in the field,
I knew, and then, upon your shield,
The serpent's head. That bird tis true,
And this I say in tribute to you,
Was perched on high, not on its nest;
And I could see your deep unrest
At my capture of those two lords.
A brave fight they did there afford.'
'I fancy I'd have fared no better.
And if the sourest devil ever
Had triumphed there, where you did meet,
The ladies would have thought him sweet.'
'You shower praise.' 'I flatter? Never;'
Come, ask of me some other favour.'
Then they summoned Razalic there:
'My cousin Gahmuret, I declare,'
Said Kaylet to him, courteously,
'Took you prisoner, most nobly,
With his own hands.' 'Yes, that is so;
My lord, he's one to whom I'll show
Allegiance ever, as will my land
Of Azagouc, for its command
Lies not with Isenhart again;
In a lady's service he was slain,
Who is your cousin's lady now.
To win her love was e'er his vow,
And seeking it his life was lost.
Yet I forgive her at the cost
Of a kiss. Now, my lord is gone,
Who was kin to me; if, anon,
Your cousin, versed in chivalry,
Doth make amends for him, to me,
I will clasp my hands in homage.
Should he grant us his patronage,
He will have both wealth and honour,
All that Tankanis, his father,
Did once bequeath to Isenhart,
Whose body lies there, set apart,
Embalmed, and guarded by his men.
And not a day has passed since then,
When I've gazed not upon his bier,
There where his body doth appear,
Since this lance-tip pierced his heart.'
The valiant knight did gently part
His gear, and from its folds he drew
A silken cord, where it hung true;
Then slid it back against his skin.
'There is yet time ere night begin.
If Lord Killirjacac will go
To the army, and bear also
My message, as I beg of him,
The princes will ride back with him.'
And he sent, with him, a ring of gold.
And swiftly, to that fair stronghold,
The princes rode, through the town,
Dark-faced Moors of great renown;
And with the giving and receiving
Of pennants, and much oath-taking,
The lords of Azagouc were sworn
To their fiefdoms; those high-born
Princes were honoured one and all;
To Gahmuret, their lord, did fall
The better portion, nonetheless.
Gahmuret shows his generosity.
THESE the first, then came the rest,
The lords of Zazamanc, who won
(At the Queen's bidding this was done)
Their lands and tithes from Gahmuret,
As was right; he could now forget
A younger brother's poverty;
Land to the measure of a duchy
Prothizilas had left behind,
He who was of princely line,
And this Gahmuret gave in fee
To one who'd battled loyally,
Failed not but won honour there,
Lachfilirost, the Governor;
His pennant too he rightly claimed.
Hiuteger now was loudly named
And, with Gaschier the Norman
That most brave and noble man,
The lords of Azagouc led him
Straight before their sovereign,
Who now, at their request, set free
Those lords, quenching all enmity.
And then they called on Hiuteger,
To grant a boon, in this affair:
'Gift our lord the great Pavilion,
A prize for all that he has won,
For Isenhart gave Vridebrant
The greatest treasure of this land,
When his armour he gave away;
No, there is naught to this day
To match his Helm of adamant;
Strong and hard, it e'er did stand
As emblem of our strength, and more,
His faithful friend in every war;
Love's victim, Isenhart risked all,
And paid the price with his sad fall.'
Hiuteger the Scot raised his hand
And swore that, once in his own land,
He'd seek the Helm, and willingly,
Return it to them o'er the sea.
The princes, at that gathering,
Now took their leave of this new king,
And from the palace they departed.
He continued, as he had started,
Generous in the gifts he gave,
To the faithful and the brave;
Such a shower of wealth untold
You might have thought the trees bore gold;
And this despite the ravaging
Of that land; the lords relieving
Their hero of his good and chattels,
Whether allies, kin, or vassals,
(And there were more than one or two)
Such being the queen's pleasure too.
The conflict had been great before;
The peace was rendered strong and sure.
Naught do I invent, for, behold,
King Isenhart, as I was told,
Was buried with royal honour,
By all his friends, who did favour
His rites with a full year's income
From all their land, a goodly sum;
While Gahmuret himself decreed
That all those lords should indeed
Retain the land in their possession,
And manage it in due succession.
Next morn their armies quit the field,
All those allies the ground did yield
Before the gates, and went their way,
Yet bearing many a litter that day.
The plain was bare of all but one
Great tent, the grand Pavilion,
Which Gahmuret had shipped aboard,
Spreading the news, by every lord,
That to Azagouc it would be sent,
Though such was not his true intent.
Gahmuret leaves Queen Belacane
SO the proud warrior lingered there,
Until, beginning to despair
Of finding deeds of chivalry
Pining and fretting endlessly,
All his joy turned to sadness.
And yet his lover was no less
Dear to him than his own life;
Ne'er was there a lovelier wife,
Who in her own heart was conscious
Of a chaste woman's virtuous
Ways that ever waited on it;
Gahmuret depended on it.
He asked his pilot to prepare
For sea; the one who'd brought him there,
A faithful mariner from Seville,
One who had often served his will,
Though he was not indeed a Moor.
'None shall know of it on shore,'
Said the pilot: 'and then the ship
May swiftly give their fleet the slip;
We must, in leaving thus, be bold.'
Gahmuret filled it full of gold.
Of his departure, tells the tale;
That night, in secret, he set sail.
Queen Belacane was twelve weeks gone
With child, when he set out upon
His voyage; how swift the breeze
That drives such men o'er the seas!
His farewell letter to the Queen
SHE found a note, writ by his hand,
In French; this she could understand.
These the words from her lost lover:
'Here, one love salutes another!
Now like a thief I sail, my dear,
Only to spare more tears I fear;
I cannot hide it from you, lady,
If you were of one faith with me,
Then I must seek to be with you
Forever; know that this is true:
That I live, e'en now, in torment.
If the child be male, his descent
Will guarantee his fortitude.
He is of the House of Anjou.
Love will be his mistress ever.
In battle he shall fight forever,
A storm of hail to all fierce foes,
Harsh friend, indeed, to such as those.
To the deeds I'd have him aspire
Wrought by Gandin, his grandsire,
Who died in battle against the foe,
As Gandin's father did also,
And Addanz was that man's name;
He was a Briton, won great fame,
His shield was never whole for long.
He and King Uther Pendragon
Were the children of two brothers,
Lazaliez one, Brickus the other.
Their father's name was Mazadan,
And to the land of Feimurgan
He was lured, by a faery queen,
Terdelaschoye, his love, I ween.
My race descends, then, from this pair,
Nor shall it cease to shine as fair;
Each man has worn his crown in turn,
Each his badge of honour did earn.
My lady, you may win me still,
If baptism shall prove your will.'
Nor did she wish it differently:
'Oh, how swiftly that might be!
I'll be baptised, and with all speed,
If he'll return, in my great need.
Where else has this noble lover
Left the fruits of love, however?
Sweet amour ne'er shall you stay,
If you bring sorrow night and day,
And must plague my life forever.
I would honour his god, and ever
Live according to his own wish,
And be baptised.' Sorrow with this
Assailed her heart, and her joy now
All lost, she sought the withered bough,
Just as the turtle-dove will do;
Doves to each other prove so true
That whene'er their spouse is gone,
They seek a withered branch anon.
The birth of Parzival's elder half-brother, Feirefiz
SHE bore a son when her time came,
His skin particoloured; that same
Had God pleased, by some miracle,
To paint black and white, a marvel!
And the Queen would kiss the light
Places where his skin showed white.
Feirefiz was the name she gave him,
Her Feirefiz the Angevin;
And when he grew to be a man,
Whole forests fell to his right hand,
For many a long lance, in the field,
He shattered, and many a shield.
Two hues his hair and skin, not one;
Like a magpie was this 'pied son'.
Gahmuret reaches Seville
NOW, more than a year had passed by,
Since Gahmuret, seen by every eye,
Had been acclaimed in Zazamanc,
Thus elevating himself in rank,
Through his resounding victory,
Yet still was storm-tossed on the sea,
Driven by every wind and gale.
And there he spied a silken sail,
Dyed gleaming red, far from land.
It brought fair words from Vridebrant,
Messengers to Queen Belacane,
Asking her pardon for the pain
He had caused by that dire affair,
Though he had lost a kinsman there,
Due to her; that ship also brought
The Helm of adamant they sought,
Greaves, a hauberk, and a sword.
A marvel indeed, yet, be assured,
They met in passing! So indeed
My author says, and I give heed.
They gave up all those gifts to him;
Gahmuret swore, when he did win
His return to the Queen, why then,
He'd repeat their message again.
He reached harbour I am told,
Paid his pilot in fine red gold,
For all his labours upon the sea,
And there they parted company,
Much to that mariner's sorrow;
And then he left, on the morrow,
And made his way, with a will,
From that haven, to fair Seville.
End of Book I of Parzival
---