Geoffrey Chaucer
Troilus and Cressida
A modernised version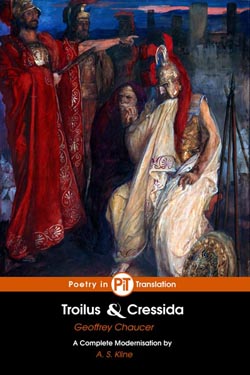 ---
Book I - Troilus's Love
Book II - Love Encouraged
Book III - The Consummation
Book IV - The Separation
Book V - The Betrayal
This version aims to provide a readable and accessible modernisation of the poem while preserving Chaucer's rhymes and diction wherever possible, at the same time eliminating all archaic words which would require marginal notes to explain.
---
Modernised by A. S. Kline © Copyright 2001, All Rights Reserved.
This work MAY be FREELY reproduced, stored and transmitted, electronically or otherwise, for any non-commercial purpose. Conditions and Exceptions apply.
---
Last Modified June 2001