A. S. Kline - Like Water or Clouds: Download
Reference:
Kline, A.S., (biography and history/poetry translation) "Like Water or Clouds - the T'ang Dynasty and the Tao"
Author Email:
Description of text
The brilliant, and tragic, T'ang Dynasty of China, which reached its zenith in the eighth century AD, is explored, through its history, its ways of thought, and the lives and works of China's three greatest Classical poets, Wang Wei, Li Po, and Tu Fu. Extensive, highly-crafted, translations of their poetry are included, and the text is hyperlinked to the poems. Browse or download this free text.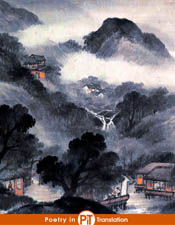 Kline, A.S.
---