A. S. Kline - Like Water or Clouds: Download
Reference:
Kline, A.S., (biography and history/poetry translation) "Like Water or Clouds - the T'ang Dynasty and the Tao"
Author Email:
Description of text
The brilliant, and tragic, T'ang Dynasty of China, which reached its zenith in the eighth century AD, is explored, through its history, its ways of thought, and the lives and works of China's three greatest Classical poets, Wang Wei, Li Po, and Tu Fu. Extensive, highly-crafted, translations of their poetry are included, and the text is hyperlinked to the poems. Browse or download this free text.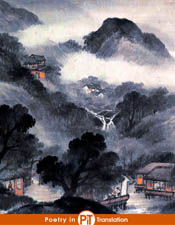 Kline, A.S.
---
---
Download Descriptions
Microsoft Word (.doc)/Adobe PDF files: Compressed proofs for print-on-demand publishing (6" x 9", 15.24 x 22.86 cm).
Html: W3C validated html with minimal mark-up to facilitate conversion/integration.
Epub/Mobi: Commercial-quality e-reader digital editions. Please note that the Mobi file is formatted for Amazon Kindle e-ink devices. An edition optimised for Kindle Fire HD/HDX is available from Amazon.
NB: High-resolution, unmodified equivalents of images contained in the downloads can be obtained from the public domain collections of the Los Angeles County Museum of Art (www.lacma.org) and the Yale University Art Gallery (www.artgallery.yale.edu).