Horace: The Satires
Book II: Satire IV
Translated by A. S. Kline © Copyright 2005 All Rights Reserved
This work may be freely reproduced, stored and transmitted, electronically or otherwise, for any non-commercial purpose. Conditions and Exceptions apply.
Contents
---
BkIISatIV:1-23 Catius on the Culinary Arts
Catius, where from, where going? 'No time to stop,
I've got to set down new precepts, ones that outdo
Pythagoras, Anytus' accused, and learned Plato.'
It's wrong I confess to trouble you at so awkward
A moment, but kindly grant me your pardon, please.
If anything now is lost, you'll soon recall it,
Whether it's art or nature your memory's a marvel.
'Well, it's a worry how to hold it all in mind,
Since it's a subtle theme, framed in subtle language.'
Declare the teacher's name and if he's Roman or not.
'I'll tell you the precepts themselves, but hide their author.
Remember to serve eggs of elliptical shape,
Since they're whiter and better flavoured than the round:
They're harder-shelled and the yoke inside is male.
Cabbages grown in dry soil taste sweeter than those
From farms near town: tasteless from moist gardens.
If a guest suddenly descends on you in the evening,
To whose palate a tough fowl might not be the answer,
You'd be wise to plunge it alive in diluted Falernian:
That will tenderise it. Mushrooms from the meadows
Are best quality: others are dubious. Healthy
Each summer he'll be, who ends his lunch with black
Mulberries, picked from the tree before the sun's strong.'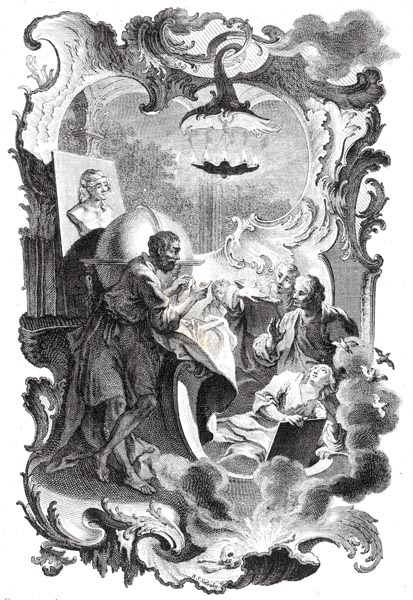 'Pythagoras'
Balthasar Sigmund Setletzky, after Johann Esaias Nilson (Dutch, 1731 - 1771)
The Rijksmuseum
BkIISatIV:24-39 There are subtle theories to master
'Aufidius mixed honey and strong Falernian,
Unwisely: since one shouldn't admit to empty veins
Anything that's not mild: you'd do better to flood
The stomach with mild mead. If the bowels are sluggish
Mussels and common shellfish and tiny leaves of sorrel
Will clear the problem, but not without white Coan wine.
New moons swell slippery oysters but not every sea
Is richly stocked with shellfish: the Lucrine mussels
The big ones, are much better than those from Baiae,
Circeii for oysters, sea-urchins come from Misenum,
Tarentum, the home of luxury, boasts wide scallops.
No one can idly claim skill in the culinary arts,
Not without mastering first the subtle science of flavours.
It's not enough to carry off fish from the priciest stall,
Not knowing which are better with sauce, which grilled
Will stir the flagging guest to raise his elbow once more.'
BkIISatIV:40-69 Tricks of the trade
'If you hate tasteless meat, let an Umbrian boar
Fed on acorns from holm-oaks flex your round dish:
Since Laurentian's no good, fattened on reeds and sedge.
Roe-deer reared in a vineyard aren't always edible.
The gourmet will hunt for forelegs of pregnant hare.
What the age and qualities of fish and fowl should be
Is a question previously hid from all but my palate.
There are some whose only talent is finding new pastries.
But it's not enough to have only one specialisation:
As if one were worried solely that the wine's not bad,
And then careless what oil was poured over the fish.
If you decant Massic wine under a flawless sky,
Any cloudiness will be cleared by the night-time air,
The bouquet that sets the nerves on edge will fade:
But its full flavour's lost if it's strained through linen.
Cleverly add the lees of Falernian to Surrentine,
And collect the sediment using a pigeon's egg,
The yolk sinks to the depths with any impurity.
Fried prawns and African snails will revive the flagging
Drinker: for, after wine, lettuce floats in an acid
Stomach that prefers instead to be stimulated
And freshened by sausage and ham, in fact prefers
Something piping hot brought in from a greasy stall.
The recipe for a rich dressing is worth careful
Study. The base consists of sweet olive oil: mix in
Undiluted wine, and salt, the sort a Byzantine jar
Smells of: when it's been boiled with chopped herbs,
And sprinkled with Corycian saffron, let it stand,
Then add the oil squeezed from Venafran olives.'
BkIISatIV:70-95 Towards the happy life!
'Apples from Tibur are not so well flavoured as those
From Picenum: but they look nicer. Venuculan grapes
Are best when preserved: Alban are better smoked.
You'll find I was first to lay them out with apples,
The first to serve caviar and wine-lees, black salt
And white pepper too, sifted, on plain little dishes.
It's a great sin to spend a fortune on market fish
And then force the sprawling things onto narrow salvers.
It turns a delicate stomach when the boy hands you
A cup with fingers greasy from eating the pickings,
Or offensive rime clings to an antique mixing bowl.
How trivial the cost of a broom, sawdust, napkins,
But how enormous the error if they're forgotten!
Fancy sweeping mosaic floors with a dirty brush
Of palm leaves, or putting filthy covers on Tyrian
Damask, forgetting the less trouble and cost involved
The more the blame's justified than in neglecting things
That only the tables of the rich can aspire to.'
Wise Catius, I pray by our friendship and the gods,
Whenever you go to a lecture remember to take
Me along. However trustworthy your memory,
Repeating it all, as interpreter, can't deliver
As much delight. And there's his face and presence, you
Having seen him think little of: but I've no small longing
To approach that distant fountain, and there be allowed
To imbibe the precepts for living a happy life.
End of Book II Satire IV
---