Gottfried von Strassburg
Tristan: Part IV - Lord Morolt
---
Translated by A. S. Kline © Copyright 2020 All Rights Reserved
This work may be freely reproduced, stored and transmitted, electronically or otherwise, for any non-commercial purpose. Conditions and Exceptions apply.
Last Modified 6th January 2020
---
Contents
---
Tristan leaves Parmenie for Cornwall
NOW clever Tristan did address
His problem with all cleverness,
Deciding, most ingeniously,
To share himself out equally,
As if he had been cut in two;
And grant each father his due
As one divides an egg, for he,
Would grant each man separately
What was best suited to each one
In this and that one's situation.
If none of you have ever heard
Of such division, in a word
I'll tell you how the thing is done:
For it is clear to everyone,
But two things shape anyone,
Their possessions and their person.
These two support nobility
And worldly honour equally;
For if you separate the two,
Rank poverty will then ensue,
And the person disregarded
Is scorned and goes unrewarded.
A man becomes but half a man,
And the same is true of woman,
Though as persons they are whole,
Intact in body as in soul.
Be it then a man or woman,
Their possessions and their person
Work as one, their cause the same,
In giving form to one whole name;
But if one's parted from the other,
Then nothing will come of either.
Tristan embarked thus on his course
With a will, and talent, perforce,
And worked the business cleverly.
With meat and drink, and finery,
He ordered up many a fine steed,
Whate'er festivities might need,
And then a feast he did declare.
He summoned all the nobles there,
All those with power in the land,
And they all came at his command,
As friends do when they are bidden.
Tristan was thus prepared when
All were assembled, at his board.
On two youths he bestowed the sword,
Both Rual's sons, to be his heirs,
And the successors in his affairs,
And whate'er of all his treasure
He could grant in ample measure
Towards their dignity and honour,
He was as keen to grant them ever
As if they were sons of his own.
Nor were these two knighted alone,
On twelve companions they did call,
Including courtly Curvenal.
And then the courteous Tristan
Took his brothers by the hand
And led them ceremoniously.
On all of his retainers did he,
His vassals, and his kinsmen, call,
Of wit and knowledge; to the hall,
All those of sense and judgement,
Were summoned to hear his intent.
Behold, good sirs, now all are here!
Tristan stood tall, and they gave ear:
'My lords,' he said,' on whom I call,
And summoned here, whom, one and all,
I shall ever be pleased to serve
In every way that you deserve,
Loyally and sincerely, each hour,
To the utmost of my power,
My kinsmen and my vassals bold,
By whose grace it is I hold
Whate'er honours God has given,
All who, victoriously, have striven,
With your aid, I have thus achieved
All that, ere now, my heart conceived.
Though God has granted it, I know
Your skill and courage made it so.
What more, then, can I add to this?
In these past days you have risked
All, shown generosity and honour,
In so many ways, that sooner
Shall this world end, I doubt not,
Than your faithfulness be forgot.
Friends and vassals sworn to me,
Here out of love or loyalty,
Be not displeased at what I say,
For I declare to you all today,
My father Rual bears witness,
That my uncle chooses to bless
Me with Cornwall's co-regency.
He shall forever unmarried be,
So I shall be thus his sole heir.
He wishes me to attend him there,
Where'er he is, where'er he goes.
I have resolved, since this arose,
And my heart is set on it, that I
Shall do as he wishes and thereby
Return to him, depart from you.
But all the revenues that are due
From these lands, I grant them all,
In fee, to my father Rual.
Whether in Cornwall aught goes ill,
Whether I die or live on still,
They shall remain his forever.
And his sons here, shall ever,
With his other children, bear,
And also any future heir,
True title to those revenues.
My vassals, such as I may choose,
And my right to the land, remain,
Thus I am sovereign in name,
Still, through all my years and days.'
At this there rose shouts of dismay,
Among all the assembled knights.
They were now disheartened quite;
Spirit and confidence were gone.
'Ah, my lord,' they cried, as one,
'Better had it been, we say true,
If we had ne'er set eyes on you,
And thus been spared all this distress
That casts a shadow on our success.
My lord, our faith and trust was all
In you, and you gave life to all.
Now the life we'd hoped to see,
Where we might live on happily,
Tis dead and buried, if you go.
Lord, you've added to our sorrow,
Increased it and not made it less,
We felt the surge of happiness,
But now that surge recedes again.'
As sure as death, this fact I know,
However deep the grief did go
In others' hearts thus, in Rual
It sank more cruelly, withal,
Though it was to his benefit,
For of it he'd see great profit.
Lord knows, he had ne'er received
A gift with such sharp unrelieved
Misery as he now accepted.
Now the thing had been effected,
And Rual was his viceroy there,
The revenues his, and his heirs,
All granted him by Tristan's hand,
Tristan now commended the land
And all its folk to God, and then
He took ship for Cornwall again.
With him his tutor, Curvenal.
Was the sorrow of good Rual,
And that of all his following,
Of all folk, indeed, some small thing,
Their heart's-sadness at their loss?
Believe me; they all felt the cost;
All Parmenie was full of woe,
And sad lament, and deeper woe;
While Floraete, the Marshal's wife,
Both true and faithful in this life,
Brought herself such heart-pain,
As a good woman will maintain,
When the Lord has granted her
A life of womanly honour.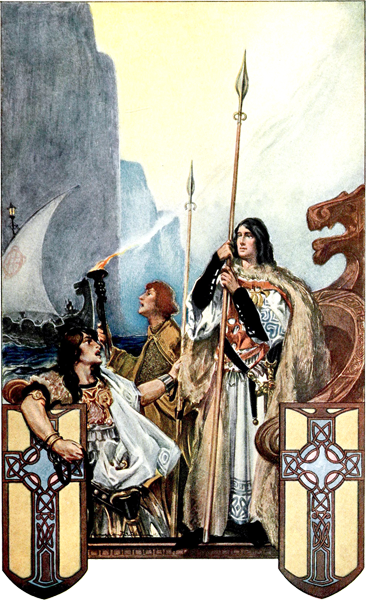 'Glory to Tristan'
Wagners Tristan and Isolde - Richard le Gallienne, Edward Zeigler and George Alfred Williams (facing p16, 1909)
Internet Archive Book Images
Morolt demands tribute from King Mark
TO what fresh matter shall I turn?
Homeless for now, Tristan did learn,
On reaching Cornwall, of a rumour,
Troubling, and touching his honour,
That Morolt had come from Ireland,
Who, of Mark, tribute did demand,
Threatening single combat unless,
He received what was due, no less,
The payment from Mark's whole land,
From Cornwall, and from England.
The tale of this tribute runs thus,
For in the histories they discuss
The matter, and tradition doth tell
This same tale I have read, as well;
The king of Ireland, they relate,
Was named Gurmun the Fortunate,
A son of the House of Africa,
Whose father was a ruler there.
Now when the latter died, his land
Then passed into Gurmun's hands,
And those of his brother, equally,
Who alike was heir of that country.
But Gurmun, proud and ambitious,
Scorned to share a kingdom thus;
His heart insisted he should rule,
As sole monarch, and as his tools
He enlisted strong, steadfast men,
The bravest known in conflict when
The odds were high, the boldest knights,
And sergeants blooded in hot fights,
Whom he wooed by wealth and charm,
And then proceeded these to arm,
Then left his share to his brother
Of that land, and sought another.
He swiftly departed those shores,
Once having carefully secured
Leave from the sovereign power of Rome,
To win for himself a foreign home,
Gaining possession of all he won,
But conceding to Rome when done
Some right and title to that land.
He tarried not, you'll understand,
But left there, with his little army
And wandered over land and sea,
Till he came at last to Ireland,
Subdued the people, sword in hand,
And forced them, though unwilling,
To take him as their lawful king.
After which they helped him fight
Against their neighbours, and contend
So fiercely that Gurmun, in the end,
Through assaults, and pitched battles
Conquered all, lands, cities, castles;
And, in due course, his ruthless hand
Subdued all Cornwall and England.
At that time Mark was but a child,
And most unwarlike, like a child,
And, losing power, when all was done
Was but a tributary to Gurmun.
It aided Gurmun, at that hour,
Adding to his honour and power,
That he married Morolt's sister
And was much feared thereafter,
For Morolt held a dukedom there,
Yet desired some country where
He might be sole ruler, for he,
Was bold, spirited, and wealthy,
Strong in himself, and his dukedom.
Morolt was Gurmun's champion.
The nature of the tribute
WHAT tribute then did they demand
Be sent from Cornwall and England?
What then was Ireland to receive?
I'll tell you truly; would you believe
In that first year, such was their fate,
Of bronze three hundred marks in weight
No less, they had to send, then silver
In the second, and gold thereafter
In the third year. Then, in the fourth,
Morolt from Ireland came forth,
In strength, prepared for war or combat.
Barons and knights knelt where he sat,
The lords of England and Cornwall,
And before him he made them all
Draw lots as to which should render
Up to him their young and tender
Children, of those now capable
Of service, and agreeable
In appearance, as demanded
By the customary standard;
No daughters though, but only sons,
Of the latter thirty at once,
To be chosen from either land,
And with no way, you understand,
To oppose such degradation,
Than battle, nation against nation,
Or, perchance, instead of that,
Champions in single combat.
Now, the oppressed placed little hope
In open warfare, since their scope
For battle, much reduced at length,
Had led them to decline in strength;
While Morolt was harsh to excess,
Proving powerful and merciless,
Such that scarce any, eye to eye
With Morolt, dared risk their life,
No more than any woman would.
Once that tribute was made good,
Their sons despatched to Ireland,
When the fifth year was at hand,
At the solstice they were required
To send envoys, as Rome desired,
To that place to hear the demands
To be placed on all subject lands;
For each year did Rome proclaim
How those lands were to maintain
Justice, and thus dispense the laws,
And obey the statutes, every clause,
As was indeed the Roman manner.
And they were obliged, thereafter,
To live in strict accord with all
Such orders, at Rome's beck and call.
So every year, thus, the two lands
Sent tribute, meeting the demands
Of Rome that was, indeed, no less
Than their great and noble mistress;
Yet they honoured her, not as a due,
A debt that did to Rome accrue,
Required by custom or religion,
But rather by the will of Gurmun.
We now return to the story;
Tristan knew of the misery
That was visited on Cornwall,
And the harsh terms whereby all
Was now demanded in this way;
He knew the tribute they must pay.
And now he heard the folk lament,
Through all the land, as on he went,
Their country's suffering and shame,
In every stronghold where he came.
And when he had reached the court,
Tintagel's castle, as he had sought,
He witnessed now such tears and woe
As along the streets he did go,
That he was affected deeply.
The news of his arrival swiftly
Reached King Mark, and all were glad
Of it, at court, I mean as glad
As their sad state would allow.
For all the noble lords were now
Assembled there, as you have heard,
Though full of shame, to keep their word;
To draw lots all those peers were come,
With the loss of their sons to some.
And thus did Tristan find them all
All the great lords of Cornwall,
Kneeling all, but praying alone,
Openly there, and making moan,
Without shame, tears flowing free,
Body and soul in agony,
Begging the good Lord, that He
Toward their sons show mercy.
Now Tristan approached the court,
As the peers God's mercy sought,
And how was Tristan there received?
That may be answered, readily.
To tell the truth, their welcome showed
Less affection than he was owed
By that household, and the king,
Than it would if this dread thing
Had not brought such oppression.
Yet Tristan payed it no attention,
Making his way, resolutely,
Among the lords, but readily,
To where the lots were being drawn,
Before the lords, their looks forlorn;
There, Mark and Morolt were seated.
Tristan this crowd of peers greeted:
'My lords, to name you with one name,'
He cried: 'Are you not filled with shame,
Hastening to draw lots, and sell
Your noble blood, your land as well,
Bringing your country to dishonour,
With this burden placed upon her?
Brave as you were in other days,
Should you not seek your country's praise,
Earn for yourselves, and her, respect;
Should not her glory be your object?
Yet you lay your freedom, in defeat,
Abjectly, at your enemy's feet,
In paying this tribute of shame,
As you have ever granted his claim,
Yielding your sons to servitude
Who must, if you showed gratitude
To God, be your supreme delight,
Your very life itself, your light!
And yet not one of you can show
The reason for his doing so,
Or what enforces this demand,
Except the threats made by one man!
No other reason can you give.
And yet you cannot, as I live,
Find one among you who will set
His life at risk, and try if yet
He shall prevail against this man
Or glorious death defeat his plan!
And if he seeks to, and yet dies,
Heaven and Earth will then prize
His glorious death, for they value
Not this shame you bring on you.
If he the right though doth maintain,
And proves this unjust tribute vain,
By conquering, honour he'll achieve
In this world and God's grace receive
In the next, for eternity.
Fathers should give their lives to see
Their children live, since both are one,
Such God wills for father and son.
Yet it goes against God's command
To yield to such a sorry demand,
To surrender a child's freedom,
Giving your sons up to serfdom,
And rather than pursuing a feud,
Delivering them to servitude,
While you yourselves, living free,
Yet doom yourselves to misery!
If you now would hear from me
A course more fitting in piety
And honour, then choose a man
Where'er he may be, of this land,
Who is adept at single combat,
Willing to take the risk, at that,
As to whether fate doth bring
Him victory, or some other thing.
And do you pray, in God's name,
That the Holy Ghost grants that same
Victory, and brings him honour,
And protects him from dishonour,
So that he need show no great fear,
At the size and strength of Morolt here.
And in God let that man trust,
Who never will desert the just,
Nor any with right on their side.
Take counsel swiftly and decide,
How to avoid this sore disgrace,
And challenge the man to his face!
Dishonour your heritage no more,
And show your courage as before!'
Tristan proposes to challenge Morolt
'AH, my lord,' they all cried, as one,
'It is not so with him, there are none
Who could face the man and survive!'
'Enough!' said Tristan, 'are you alive
To what you are, by birth the peers
Of kings and emperors? It appears
You mean to disown every son,
Barter your children, one by one,
Though they're of noble birth, to go,
Rendered by you, as bondsmen so?
If it is true that, to your shame,
Not one will fight in God's name,
Not one has the courage to so dare,
And fight in a just cause, to spare
You from the wrong that you suffer,
That burdens this land like no other,
Be good enough to leave to me,
And to God, this thing, and see
How my life I shall adventure,
Setting my youth at a venture,
And undertake this fight for you!
God grant it turn out well for you,
And so restore you all your rights.
And if it so happen in this fight,
That I should fare less than well,
Your cause, as far as I can tell,
Is harmed not, for if I should fall,
It will not change what would befall,
Neither averting nor incurring,
Increasing, nor diminishing
The sorrow that you all will feel;
This wound here I shall not heal,
All will stand as it did before.
And if it happens that I do more
And defeat him it is God's will,
God alone be thanked for it still,
For the man I am about to meet
Is a man who knows not defeat,
Whose strength and skill have stood the test,
Of war, as many will here attest,
While my powers are immature,
And I am not as suited to war,
Or deeds of arms, as need demands;
And yet this lies in my two hands,
And two means of victory I share,
God and justice will aid me there!
And they shall fight alongside me,
And there is a willing heart in me,
Which serves a man well in a fight,
So that if these three see me right,
I shall not yield to but one man,
Howe'er this matter shall stand.'
'My lord,' the knights cried together,
'May the holy power that ever
Maintains this world, its Creator,
Reward you in this endeavour,
For your aid and inspiration,
And the hope that you occasion,
With which you now fill us all.
Let us our counsels now recall;
Our deliberations proved in vain;
Had Fortune meant, it is plain,
To favour us, given the efforts we
Have made to end this misery;
For we of Cornwall have oft sought
To see him challenged, and fought,
We would not have so delayed;
Yet every attempt we have made
Every discussion, and every plan,
Has not brought forth a single man
Who would not sooner have seen
His sons as slaves than come between
That fate and this man; in such strife
Each man fearing to lose his life,
Facing this devil of a man.'
'How can you speak thus?' cried Tristan.
Many a strange thing comes about,
And many a time, despite all doubt,
Lawless arrogance is overthrown,
By lesser force, as is well known,
And it might happen here, indeed,
If a man dare but work the deed.'
Now Morolt was listening the while,
And was annoyed to hear this style
Of address from a lad like Tristan,
Who talked as fiercely as any man,
Claiming this duel so forcefully,
And was angered at heart, privily.
But Tristan continued to speak:
'My lords, all say what you do seek,
What is it that you'd wish me do?'
'Sire,' they answered, 'we say to you,
If the hope you have offered us
Could be fulfilled by duelling thus,
We would all wish you to proceed.'
'Is that your pleasure? Then, indeed,
Since all yet suffer endlessly,
And the mantle doth fall to me,
Then I'll take up this very thing,
I will try the matter, God willing,
And see whether God will favour
You through my art, and whether
Good Fortune will desert the man.'
Tristan does so
AT this, Mark tried to turn Tristan
From his purpose, with all his skill,
Thinking to win him from it still,
And so renounce it, for his sake.
Lord, he would not, and no mistake!
By neither entreaty nor command
Could he be brought to understand
What Mark desired, but stood fast,
And he would have his way at last.
Instead he went to where Morolt sat,
And continued his speech, at that:
'Tell me, my Lord, why you are here?'
'Why do you ask, my friend, tis clear,'
Morolt replied, 'why I am come;
You know full well, tis the custom!'
'Now list to me, you nobles all,
My lord the king, and each vassal;'
In his wisdom, Tristan replied,
'My lord, it cannot be denied,'
He said to Morolt, 'you say right,
I will admit the thing outright,
Shameful as it must ever be
This land has been a tributary
And, with England, to Ireland sent,
Without the law's due consent,
Harsh payment for far too long.
The weak gave way before the strong,
And after many a weary hour,
Were subjugated by your power,
With many an act of violence.
These countries lacking sure defence
Saw many a stronghold laid low,
And their inhabitants also
Suffered such heavy losses they
Were overwhelmed many a day
By oppression and injustice.
And the brave men who survived this,
Were forced into subjugation,
Since they feared for their nation,
And their own lives, and acted now
As circumstances would allow.
And so, as we still see today,
Injustice long has had its way,
And yet the people should by now
Have sought to scorn and disavow
Such tribute, by true acts of war;
For these lands are weak no more,
And great advances have they seen,
Growing in numbers here, I mean,
Natives and foreigners, both lands,
Have prospered greatly, as it stands,
Adding towns and fortresses,
Growing in status and in riches.
Now we must have returned to us
All that has thus been lost to us.
Our salvation depends on force!
Indeed there's no other recourse,
If we are to enjoy such gains,
Except to armies and campaigns.
As far as numbers are concerned,
Both lands are, as I have learned,
Well-peopled, thus we have no lack
Of men; the Irish shall give back
All that they have stolen ever,
And we shall go ourselves, together,
As soon as God will this allow,
And whate'er of ours they now
Possess, whether much or little,
They will repay us, every tittle,
If you but do now, as I say,
And follow my advice today.
And then our bronze we shall see
Turn to bright gold, for full many
A strange thing has come to pass
And none foresaw it, at the last.
The noble sons of these barons
May yet still regain their freedom
Those who are serfs now in Ireland,
Though they dream not tis at hand.
May God grant me yet that favour!
For I desire that, in His honour,
It be granted to me to stand
With my fair banner in my hand,
After our warlike sweat and toil,
And plant it there in Irish soil,
With these noblemen beside me,
And humble Ireland entirely,
And hold the very soil they tread,
And make that land our own instead!'
Morholt accepts the challenge
THEN spoke Morholt: 'My lord Tristan,
I think it might profit a man
To think less on such a matter,
For howe'er men might chatter
We will not yield what's ours by right,
To you or any other knight!'
Then he went and stood before Mark.
'My lord, speak now, and I will hark
To you, and all those present here
To talk of their sons with me; I'd hear
Your opinion of what was said,
Is it your will, upon this head,
And your intention, every man,
That all shall be as lord Tristan
Has stated; is all then as he says?'
'Yes, my lord, his speech conveys
Our will, whate'er he says or does
Is policy, and approved by us.'
Morolt spoke out: 'Then you do break,
Your oath to my lord, and forsake
The terms agreed on by us all!'
The courteous Tristan stood tall:
'Not so, my lord, I fear your tongue
Runs away with you, tis wrong
To question thus men's loyalty.
Not one noble here doth seek
To break his oath of allegiance.
Tis an agreement, in this instance,
Was sworn between you this while,
And it shall be upheld, its style
That, of goodwill, from out the land
Of Cornwall here, and from England,
To Ireland tribute would be sent,
Given both countries free consent,
Or that instead they would defend
Themselves, by battle, to the end,
Or by single combat if so wished.
They will be granting you justice
If they are willing so to do,
And thus redeem their pledge to you,
Either by duel or by battle.
My lord, with yourself take counsel,
And tell me which one you prefer,
For whichever of the two you, sir,
Decide on, single combat or war,
Then count on us, as on the law,
To meet you any time from now.
For spear and sword, I here avow,
Shall now decide twixt us and you.
Choose then, my lord, twixt the two,
And tell us what our course shall be,
This tribute we like not, you see.'
Morolt spoke then: 'My lord, Tristan,
I came in some haste to this land,
And thus do know what I desire.
I've not the men I would require
To offer a warlike defence.
Indeed, when I came from thence,
I sailed with but a token force,
And I arrived here, in due course
With a most peaceable intent
Towards this double realm, content
To do as I have done before;
Little did I dream then of war.
I foresaw naught of this indeed
With folk with whom I'd agreed
To depart with my rightful due
And with goodwill, yet now you
Ask that which I'm unready for.'
Tristan replied: 'If you wish for war,
Sail back home to your own country,
Summon your knights, in assembly
Muster your forces, then return
And see what fate we each may earn.
If in six months that be not done,
Expect us there, for we shall come!
We have been told, this while before,
That acts of war will be met by war,
And force will be countered with force.
If men are left with no recourse
Except to be humbled in this way,
And noblemen made slaves, I say,
And this be deemed right and fair,
We'll trust to God in this affair,
And that our past humiliation,
Will be visited on your nation.'
'God knows,' cried Morolt, 'Lord Tristan,
Your words might trouble any man,
And fill his heart with dread, indeed,
If he'd ne'er been forced to pay heed
To such boasting. An empty threat;
I'll escape, I trust, unscathed yet!
I've found myself often enough
Where pride spoke, and heard such stuff.
But tis in my thoughts that Gurmun
Has little to fear, when said and done,
From your strength, and your banners.
And, what's more, this lack of manners,
This insolent scorning of your pledge,
Since I refute all you allege,
Will not be heard of in Ireland,
Since we'll decide it, man to man,
We'll confirm in the duelling ring
Who owns the right, in this thing,
Whether it is I, or it is you.'
'With God's aid I shall prove all true
That I have said,' spoke out Tristan,
'And may He grant death to that man,
Whoe'er he be, that is in the wrong.'
Drawing his glove, he strode among
The lords, and offered it to Morolt.
'Gentlemen, now,' he said, 'take note,
My king and all the nobles, hear;
I declare before all men here,
The terms on which I undertake this,
That there might be no injustice:
Neither my lord Morolt nor he
Who sent him, no man rightfully
Had aught from Cornwall or England!
This I will prove with my own hand,
And confirm before God and men,
On his lordship's person; again,
I say, he has this long while past
Subjected these realms, first and last,
To the greatest pain and degradation
That e'er fell upon these nations.'
At this, there broke out, instantly,
Fervent shouts from all and sundry,
Many a tongue to God did cry,
Calling out to the Lord on high,
Begging Him, in what must follow
To remember their shame and woe,
And free them from this oppression.
Yet Morolt offered no concession,
Despite all their cries of concern,
Not a tremor did all this earn,
It failed to touch the man deeply.
He took the glove, disdainfully;
A seasoned dueller, he accepted
The challenge as twas presented;
And returned it, with proud mien,
And a hostile countenance, I ween.
Such a venture was to his liking,
For he felt quite sure of winning.
The combatants arm themselves
NOW the terms had been declared,
In order that they might prepare
They parted until the third day,
When the barons made their way,
With a mass of folk, toward the shore
Where those two would go to war,
Such that this field by the sea,
Was crowded through its entirety.
Morolt now sought to arm himself,
And for this duel equip himself.
I'll not blunt my fair intention,
Nor burden my imagination,
By painting, meticulously,
A portrait of his weaponry,
Of Morolt's armour, or his strength,
While he has been praised at length
For his valour and his bravery.
Full many a warlike quality
Was granted him in every land;
Acclaimed he was, on every hand,
For he was famed for his stature,
His courage, and steady nature,
For all that makes a perfect knight.
Let this suffice. I know, aright,
He was in this, as he was ever,
Able his full strength to deliver
According to the knightly code,
Whether alone or whether he rode
To battle; for all the skills of war
He had displayed so oft before.
But good King Mark was troubled
By the advent of this duel,
As deeply as might a woman
Suffer sore heartache for a man.
He was as certain as could be
Tristan would die, and would gladly
Have continued thus to endure
The tribute, as had been before,
If the duel might thus be waived
And the lad from death be saved;
But that was not how matters sat,
Thanks to this, and thanks to that,
Thanks to the tribute, and the man.
Now, the as yet untried Tristan,
Unused to any such encounter,
Clad himself in chain-mail armour,
As best he could, without delay.
Thus, in the customary way,
Body and limbs were encased
In one suit, o'er this he placed
Steel pieces of the finest work,
Twin greaves, and a strong hauberk,
Wrought with all the maker's skill,
Bright and gleaming, to serve his will.
Then Mark, as Tristan's noble friend,
Bound on his spurs, though he did bend
To do so with a grieving heart;
He tightened all the straps, an art
Most needed to make all secure,
With his own hand, and furthermore
Added a surcoat, finely woven,
Its design all carefully chosen,
Its every seam and fold wrought
By fair hands that had sought,
With peculiar intricacy,
To execute it marvellously,
Upon their embroidery frames,
Weaving perfection in that same.
Oh, what a story I might tell,
Of how it suited him so well,
How admirable and handsome,
He looked once the thing was on!
Except that I would not lengthen
This whole tale; were I to mention
All that each matter might deserve,
It would prove a surfeit of words.
You must accept the facts to be:
He graced the surcoat admirably,
And granted it more lustre than
The coat conferred upon the man.
Howe'er splendid it was, and fine,
In no way, in form or design,
Did it equal in worth the man
Who wore it now with such élan.
Mark girded on a sword, above,
One that his very life did prove,
His heart and soul and salvation
From Morolt, and on occasion
From many a danger thereafter.
It was so true in its stroke, surer
In its course than any other,
Stronger than many another,
Nor up nor downward did it bend,
But sped on straight toward its end.
A helm they brought, both fine and bright,
Gleaming with a crystalline light,
The strongest helmet and the best
That any noble there possessed;
Nor do I think that, among all,
Was e'er a better in Cornwall.
And on that helm, Love's fiery dart
Was rendered, with most subtle art,
That presage of a future love;
A presage love's effects would prove
True, within him, in their might,
However lengthy the respite.
Mark set the helm on Tristan's head.
'Nephew, I now lament,' he said,
'Before God, that I e'er saw you!
If I must suffer pain through you,
Then I will be driven to forsake
All things that do happiness make.'
A shield for Tristan now was brought,
Which a well-practised hand had wrought
With all the skill at its command.
It had been burnished too, by hand,
Till it possessed a silvery gleam,
To match the helm and it did seem,
As did his mail, to shine with light,
As bright as a new mirror might.
A wild boar was embossed on it,
A masterpiece of workmanship,
All cut from sable black as coal.
The shield too, to complete the whole,
His uncle took up in his hands,
And hung upon the splendid man,
It suited him, shaped to his side
As if with his own form it vied,
So that it would leave him never,
And he would wield it thus forever.
Now that the excellent Tristan,
That fine and laudable young man,
Had mail and helmet, greaves and shield,
The four one perfect whole did yield,
As if the armourer had sought
Each one to heighten and support
In its beauty, the rest, in turn,
And be beautified in return,
Such that the splendour of the four
Could ne'er have been matched so before.
And what of the greater wonder
Hidden there, within and under,
To the peril of his enemies?
Was that of less account than these
Rare works of craft, the outer layer?
I know, as sure as day, though fair
The outside, that the form beneath
That these outer forms did sheathe,
Designed and wrought with artistry,
Was made with greater mastery,
To form the pattern of a knight,
Than ever outward beauty might.
The work of art that lay therein
Was, in conception and within
Its form, contrived to be most fair:
How the art of its maker there
Shone forth! Arms, legs and torso,
Were fine and noble, and did show
As both well-formed and elegant.
And his chain-mail, in its intent,
Became him marvellously well,
Fairer than any man could tell.
His steed was managed by a squire,
No finer a mount in the entire
World; not Spain or anywhere.
It was not sunken here or there,
But deep and broad in the chest,
And quarters, fine in all respects,
Strong in the flank, and in the joints,
A perfect mount in all its points.
Its legs and hooves too showed
It met the needs of all who rode
To battle, the hooves were rounded
The legs straight and well-founded,
And long, their form as true and clear
As those of the finest wild deer.
Of excellent line, about the chest
And forward of the saddle, the rest
Was as it should be in a charger.
A white trapping was thrown over,
Shining there as pure and bright
As ever did the clear daylight,
Matching thus the armour's gleam,
Of a length and ample, I deem,
To cover all smoothly and evenly:
It fell just short there of the knee.
Now that Tristan was splendidly
Equipped for battle, as chivalry
Demanded, and the duelling code,
Of those who to such battle rode,
Judges of men and armour, all
To whom such judgement did fall,
Agreed that of armour and men
None had seemed so fair to them.
Yet howe'er fine seemed the sight,
It was much finer once the knight
Had mounted and then, lance in hand,
He and his charger took their stand;
Then did it make the fairest sight
Then was there no more splendid knight,
All above the saddle, and below.
Shoulders and arms did freely flow,
While his knowledge was complete
Regarding how to keep his seat
In the saddle, both well and firmly.
His legs fell stylishly and neatly,
At his steed's shoulders, strong
And straight, and smooth as wands.
Man and steed suited each other
So well, so sweetly went together,
That you might think them born
As one, and bred so, night and morn.
In the saddle he sat right well,
Kept the saddle, whate'er befell,
Smoothly, and deliberately,
Showing his true nobility.
And yet howe'er agreeable
Tristan might be, howe'er noble
His presence was, outwardly,
His spirit was of such quality,
So noble, within, and so fine,
A finer spirit you'd not find;
No nobler soul, nor finer nature,
Beneath a helm did ever feature.
The duelling ground is a sea-girt isle
NOW they chose the duelling ground,
An isle the sea did full surround,
Yet near enough still to the shore
For all to watch what lay in store.
It was agreed as well that none
But those two should set foot thereon
Until the finish of the duel,
And this rule was adhered to well.
Accordingly two skiffs lay there
To ferry them both to the affair.
Each could ship a man and steed
All fully armed, and they indeed
Were full ready now and waiting.
Morolt boarded one, and taking
The sweep, sculled himself across.
Arriving at the isle, he lost
No time in making the skiff fast,
This once done he mounted at last,
Took hold of his lance and rode
At full tilt, and in splendid style,
The length and breadth of the isle,
Wheeling and galloping his steed,
And, as if it were a jest indeed,
Upon the ground would advance
Feigning light blows with his lance.
Tristan too prepared his course,
Saw aboard his lance and horse,
With all the gear he needed now,
And took up his stance in the bow.
'My king,' he cried, 'my lord Mark,
Fear not for my safety for, hark,
All of this is in God's good hands.
Our fears are vain, and if, perchance,
All goes better than men foresee?
Our good fortune and our victory
Would not be due to my poor skill,
But to God's power and his will.
Forgo then all your fear and dread,
For I may conquer here instead.
On me this affair weighs lightly,
So let it be with you, and rightly,
Take heart! Be of good cheer, with me!
For all will be as it must be.
Take heart now and howe'er this end,
To Him in whom I trust, commend
Your land and people, and may He
Be at the duelling ground with me,
And there grant justice to his own!
God must conquer, or be shown
To suffer in me a sore defeat:
His the judgement, when we two meet!'
Tristan is wounded in the thigh
HE gave the sign of the cross at this,
And with God's name upon his lips
Set his skiff moving, toward the isle,
While many prayed for him the while.
Many commended his life and body
To God, and blessed him fervently,
Many a hand sent sweet farewell
After him; hearts wished him well.
Once he stood on the further shore,
He cast the skiff adrift once more,
Then swiftly he mounted his steed.
Morolt rode up to him, at speed.
'Tell me, now, what the meaning is,
Of setting your boat adrift like this?'
'For this reason,' he answered then,
'Here is a boat, and here two men.
Certain it is, unless both fall,
That one will need no boat at all,
Given the victor who lives on
Needs but the one boat to be gone,
The one you brought to this isle.'
'Clearly we shall not reconcile,'
Said Morolt, 'and this duel must be;
Though if we parted amicably,
If you renounced it even now,
And you agreed to then allow
The tribute, granting me my due,
Twould bring good fortune to you;
For I shall be sorry, in a breath,
To be the one to cause your death;
No knight that I e'er had in view
Has pleased me as greatly as you.'
But the good Tristan thus replied:
'The tribute must be set aside,
If now between us you seek peace.'
'No, no' answered the other, 'cease
To speak about such terms as these,
You shall not set us thus at ease;
Take my word for it, we'll not be
Friends thus; the tribute goes with me!'
'Then we are parleying in vain,'
Tristan replied, 'speak not again.
Since, Lord Morolt, you seem so sure
Of killing me, then let us war;
Defend yourself if you would live,
No other warning shall I give!'
Tristan now wheeled his steed about,
And then, returning straight, set out
Upon a charge against his foe,
Gripping his lance, levelled low,
With all the ardour he was able,
Of which his heart was capable.
With legs that beat much like wings,
His spur-clad ankles rowelling
Into his charger's flanks, he sped.
Should the other linger, instead,
He whose life was now at stake?
He did as all men do who take
Their decision and choose prowess.
At his heart's bidding he, no less
Ardent, wheeled about, so turned,
And then more rapidly returned,
Raising, then lowering, his lance;
And, like the devil, did advance,
Horse and rider thus came upon
Tristan, swift as any falcon,
While Tristan was just as eager.
Thus they flew at one another,
With equal fire and bravery,
Breaking their spears, both equally,
Shattering them against the shields,
As each a thousand fragments yields.
Now both drew their swords, and fought,
And, hand to hand, each other sought;
Mounted, engaged as savagely
As God Himself might joy to see!
Now I've heard all the world declare,
And in the tale it is laid bare,
That this was single combat; all
Are agreed it did so befall,
And that there were no more than two.
And yet I shall now prove to you,
That it comprised a general action
Fought between faction and faction;
And though I found it not, tis true,
In the tale of Tristan, I will for you
Render the thing believable;
For the true version, I recall,
Has always said, and doth so still,
That Morolt in both power and will
Possessed the force of four strong men.
Such was his fourfold faction then;
While for the other side did fight,
First God, and secondly true Right,
Thirdly, their vassal and their man,
The faithful and steadfast Tristan,
While the fourth was Willing Heart,
Who ever plays a wondrous part
In direst need; from four and four,
Though at deployment I am poor,
I quickly two clear factions make,
Or even a battle amongst eight.
No doubt, at first, you thought the thing
Foolish, on hearing me saying
That two armies, on but two steeds,
Did there contest the field. Indeed,
But now you see how, on each side,
Four knights beneath one helm did ride,
Or else a fighting strength of four,
Did gainst another go to war.
So now then, without more delay,
Each faction sought to win the day;
Morolt, with the strength of four,
Fell upon Tristan, with a roar
Like thunder; that limb of Satan
Struck so savagely at Tristan
That he almost robbed the knight,
At a stroke, of sense and sight.
Had not his solid shield instead,
Protected both his helm, and head,
For Tristan had acquired the skill
To thus defend himself, at will,
Both his helm and his chain-mail
Would have proved of slight avail,
And both had failed to halt Morolt,
Who had then dealt a mortal blow.
Indeed, Morolt forced him to bow,
So harsh a rain of blows fell now.
Thus he continued; hammering,
Until that rain of blows did bring
A moment when Tristan did yield
A little, and thrust up his shield
An inch too far, his guard so high
That Morolt struck him in the thigh,
An ugly blow, near fatal, there,
Laying both flesh and bone full bare,
Piercing through leg-guard and mail,
So that the blood from him did sail
Into the air, and stained the ground,
And moistened all the isle around.
'How now?' cried Morolt, 'will you yield?
For now you learn, upon this field,
No man when he is in the wrong
Can e'er maintain a cause for long;
The wrongness of your cause is seen,
If you would live, you must, I ween,
Consider how; for that deep wound
Must end in death, and that full soon;
Except through me, no other man
Can provide the cure, no woman;
The blade, with deadly poison bated,
Upon your flesh its greed has sated.
No physic, no physician can
Save you from dying, other than
Ireland's queen, Iseult the Elder,
She who is my own dear sister.
Versed in many a herb is she,
To medicine she holds the key,
And she alone knows all the art
Of healing, and may such impart.
If she should fail to cure this thing,
Then you must be past all healing.
If you would but take heed of me
And grant the tribute due to me,
I will ask the queen, my sister,
To work, for you, all in her power;
And I will share with you entire,
In friendship, all you may desire,
Deny you nothing you may wish
If you but grant my right in this.'
Tristan answered. 'Neither my right
Nor yet my honour in this fight,
Will I yield for your sister or you.
I have brought the freedom of two
Lands with me, freely, in my hand,
And with it leave, you understand,
Else must I suffer, with each breath,
Far greater hurt, and e'en my death.
No single wound leads me to yield,
Nor thus relinquish this fine field.
For we must now fight on anew,
Naught's decided twixt I and you.
The tribute means your death or mine,
There is no help for that, I find!'
With this he launched a fresh attack.
Morolt is conquered
NOW, some will cry: 'Alack, alack,'
As I myself must, I avow,
'God and true Right, where are they now?
Why are Tristan's friends not here?
Will they aid him, and now appear?
The company are punished sorely,
Yet they arrive with help unsurely,
They must come soon, or be too late;
Let it be now, to baffle fate.
For here are two set against four,
Both fighting for their lives, and sure
To fail; if aught these two shall save,
Aid must come soon to help the brave.
But then God and true Right rode in,
Granting just verdict, and did begin
To achieve their friend's salvation
And his enemy's destruction.
Now they were ranged equally,
Four against four, company
Riding there against company.
And so Tristan, as soon as he,
Felt the presence of his friends,
His courage rose, on which depends
All victory; to him they brought
Strength and fresh encouragement.
He spurred his steed with fierce intent,
And galloped on at such a pace
That, meeting his foe, face to face,
Filled with joy and battle-lust,
In his ardour, his steed he thrust
Against the enemy with such force
He felled the foe, both man and horse.
No sooner had Morolt recovered
And sought to mount, than the other
Was fast upon him and, in a trice
Struck his helmet, and so did slice
It from his brow he sent it flying.
At this Morolt, on strength relying,
Rode and struck at his steed, wholly
Severing the foreleg above the knee,
Through the trappings, nigh a span;
It sank to the ground, neath Tristan,
While Morolt, after his swift attack,
Shifted his shield onto his back,
Having cunningly leapt aside,
While his experience he applied,
Retrieving his helm, ere he sought
To mount again, for once, he thought,
He was astride and donned his helm,
He might attack and overwhelm
His enemy; but though he found
His helmet, and covered the ground,
Enough to seize his horse's bridle,
And thrust his left foot, little idle,
Into the stirrup, and with his hand
Grasp the saddle, he found Tristan
Had overtaken him, who struck so
Savagely across the saddle-bow,
Morolt's heavily mailed sword-hand,
With sword, and all, fell to the sand.
As it fell, Tristan struck a blow;
Deep in the skull, the blade did go,
Such that when Tristan then withdrew
The sword again, to strike anew,
He left a fragment of the blade
Embedded in the wound he'd made.
And this would bring Tristan later
To great fear, and greater danger,
For, as I'll show you, in a breath,
That sliver near caused his death.
Morolt was now the doomed party,
A weak and powerless adversary,
Who tottered and swayed, reeled and fell.
'How now!' cried Tristan, 'now come tell
Me, Lord Morolt, can you make sense
Of this; where now is your defence?
Your wound is deep it seems to me,
And seeks to harm you seriously.
Howe'er my wound may be, within,
You'll need some potent medicine;
All that physic Iseult, your sister,
Ever heard of, if you'd recover!
God who is e'er the just and true,
Has judged your injustice and you,
And through me, as his instrument,
Grants justice to the innocent.
May he keep watch yet over me!
May arrogance learn humility!'
Then he strode towards Morolt,
And grasping his sword, he smote
With both hands, and from his foe
Severed the head, with its cap also.
Queen Iseult the Elder preserves the sword-fragment
TRISTAN turned to the landing-place,
Which Morolt's skiff did yet embrace,
Boarded the boat, and made for shore,
And when upon dry land once more,
He heard great joy, and great lament;
Lament and joy, and tis my intent
To tell you why: for all, you see,
Who were heartened by his victory
A blessed day had dawned, and they
Now clapped their hands, and then did pray,
Praising God with their lips, and sang.
There many a hymn of triumph rang
Out loud; yet for the foreigners,
Those poor accursed Irish strangers,
The day but brought them tragedy,
And they keened now as fervently,
As the others yet prayed and sang,
And, in deep sorrow, wrung their hands.
As these grief-stricken Irishmen,
Sorrowing now, with loud lament,
Prepared to board, and sail once more,
Tristan drew near them on the shore.
'My lords,' said Tristan, 'go gather
The tribute, bear it to your master,
That you upon that isle will find.
My uncle, King Mark, has consigned
To you this gift, thereby; go, say,
If he should choose, upon a day,
To send his emissaries here,
Seeking tribute, if they appear,
We shall not let them leave our lands
And voyage back, with empty hands.
They with such honours will return,
Whate'er it costs us, let him learn.'
Now all the while Tristan did hide
His blood be-drenched wound, in pride,
Concealing it beneath his shield,
From the foreigners on that field;
A fact that saved his life indeed
In days to come, so fate decreed.
For they saw naught, and so returned
Not knowing of the wound he'd earned.
But now they left him, and crossed
To the isle, to seek him they'd lost,
Found there a mutilated man,
And bore the remnants to their land.
Now when to Ireland they came,
They took up that gift, the same
Three parts, the head, the torso,
And then the severed hand also,
Setting the three together, as one,
So that no further harm be done.
They carried them to their master,
And all the message I gave earlier
As I related it to you,
They repeated to their lord too.
I imagine now, and would expect,
As one has every right to expect,
That King Gurmun the Fortunate
Was far from happy at this state
Of affairs, nor had cause to be,
For now, in this one man, had he
Lost heart and spirit, hope, and then
The fighting-strength of many men.
The banner of his authority
Which Morolt once had borne, freely,
Through all the neighbouring lands,
Had now fallen from his hands.
As for Queen Iseult the Elder,
The sister, her grief was greater;
Her mourning now, and her lament,
Proved fiercer, and more vehement.
She, and Iseult the Fair, her daughter,
Were anguished, one and the other,
And they lamented loud together.
You know the heart-rending manner
In which women grieve when they
Are thus bereaved; on such a day
They gaze upon the dead intently
As if bent on grieving wholly,
So that the sorrow in their hearts
Might grow greater ere it departs.
These kissed now the head and hand;
Which had conquered many a land
Subjecting folk to oath and vow,
As I've described to you ere now;
Then they eyed the head-wound nearly,
Above, beneath, closely and sadly.
And now the wise and watchful queen,
Spied the steel splinter lodged between
The bone and tissue, deep embedded.
She sent for pincers which, inserted,
Allowed extraction of the fragment,
When worked within, at full extent.
Sadly, the queen and her daughter,
Examined the nature of the splinter,
Then took the thing up, carefully,
And placed it in a reliquary,
Where later, you will understand,
It brought great peril on Tristan.
So now the lord Morolt is dead.
If I were to bring upon your head
The tale of all their grief and sorrow
We would still be here the morrow.
What use? Who could portray it all?
Morolt was, as those are who fall,
Borne to his burial and then
Placed in the grave, like other men.
Gurmun mourned, and then did he
Send messengers with his decree
Through all the Kingdom of Ireland,
That every woman and every man
Should watch for any living thing,
From Cornwall, any mortal being,
Though that thing be woman or man,
And slay the thing, and cleanse the land!
This law was firmly set in place,
And none who was of Cornish race
Could journey there, free of strife,
Without it costing them their life,
No matter what surety they gave;
Till many there had found a grave,
Many a mother's guiltless child,
Killed, that the land be undefiled.
Yet all of it was wrought in vain,
For Morolt had been justly slain.
Not in God his trust he placed,
But in his strength, and he had faced
His foes in violence and pride,
In which state he lived and died.
End of Part IV of Gottfried's Tristan
---