Rimbaud
Further Selected Poems
Translated by A. S. Kline © Copyright 2008 All Rights Reserved
This work may be freely reproduced, stored and transmitted, electronically or otherwise, for any non-commercial purpose. Conditions and Exceptions apply.
---
Contents
---
The Blacksmith
(Le Forgeron)
Palais des Tuleries, about the 10th of August 1792
His hand on a gigantic hammer, terrifying
In size and drunkenness, vast-browed, laughing
Like a bronze trumpet, his whole mouth displayed,
Devouring the fat man, now, with his wild gaze,
The Blacksmith spoke with Louis, with the king,
The People there, all around him, cavorting,
Trailing their dirty coats down gilded panels.
But the dear king, belly upright, was pallid,
Pale as the victim led to the guillotine,
Submissive like a dog, cowed by the scene,
Since that wide-shouldered forge-black soul
Spoke of things past and other things so droll,
He had him by the short hairs, just like that!
'Now, Sir, you know how we'd sing tra-la-la,
And drive the ox down other people's furrows:
The Canon spun paternosters in the shadows
On rosaries bright with golden coins adorned,
Some Lord, astride, passed blowing on his horn,
One with the noose, another with whip-blows
Lashed us on. – Dazed like the eyes of cows,
Our eyes no longer wept; on and on we went,
And when we'd ploughed a whole continent,
When we had left behind in that black soil
A little of our own flesh...to reward our toil:
They'd set alight our hovels in the night;
Our little ones made burnt cakes alright.
...Oh, I'm not complaining! All my follies,
They're between us. I'll let you contradict.
But, isn't it fine to see, in the month of June,
The enormous hay-wains entering the barns?
To smell the odour of burgeoning things,
The orchards in fine rain, the oats reddening?
To see wheat, wheat, ears filled with grain,
To think it promises us good bread again?...
Oh! You'd go to the forge, be more cheerful,
Sing and hammer joyfully at the anvil,
If you were sure to gain a little in the end –
Being, in fact, a man – of what God intends!
– But there it is, always the same old story!...
But now I know! I don't credit it any more,
Owning two strong hands, a head, a hammer,
That a man in a cloak, wearing a dagger
Can say: go and sow my land, there, fellow;
Or that another, if maybe war should follow,
Can take my son like that, from where I'm living!
– Suppose I were a man, and you a king,
You'd say: I will it!... – What stupidity.
You think your splendid barn pleases me,
Your gilded servants, your thousand rogues,
Your fancy bastards, peacocks in a row:
Filling your nest with our daughters' odour,
Warrants to the Bastille for us, moreover
That we should say: fine: make the poor poorer!
We'll give you our last sous to gild the Louvre!
While you get drunk and enjoy the feast,
– And they all laugh, riding our backs beneath!
No. Those puerilities were our fathers!
The People is no one's whore now, three steps further
And then, we razed your Bastille to the ground.
That monster sweated blood from every mound,
Was an abomination, that Bastille standing,
With leprous walls its every story yielding,
And, we forever held fast in its shadow!
– Citizen! That was the past, its sorrow,
That broke, and died, when we stormed the tower!
We had something in our hearts like true ardour.
We had clutched our children to our breast.
And like chargers, snorting at the contest,
We went, proud and strong, beating here inside...
We marched in the sun – like this – heads high
Into Paris! They greeted us in our ragged clothes.
At last! We felt ourselves Men! We were sallow,
Sire, drunk, and pallid with terrifying hopes:
And there, in front of those black prison slopes,
Waving our bugles and our sprigs of oak,
Pikes in our fists; did we feel hatred, no!
– We felt such strength we wanted to be gentle! ...
And since that day, we have proved elementals!
A mass of workers sprang up in the street,
And, cursed, are gone, a swelling crowd replete
With ghostly shades, to haunt the rich man's gate.
I, I run with them, and set informers straight:
I scour Paris, dark-faced, wild, hammer on shoulder,
Sweeping something droll out of every corner,
And, if you smile at me, then I'll do for you!
– Well, count on it: all this is going to cost you
And your men in black, culling our requests
To bat them about on their racquets all in jest,
And whisper, the rascals, softly: "Oh, what sots!"
To cook up laws, and stick up little pots,
Filled with cute pink decrees, and sugar pills,
Cutting us down to size, to amuse themselves,
Then they hold their noses when we pass by,
– Our kind representatives who hate the sty! –
Fearful of nothing, nothing, but bayonets....
That's fine. Enough of snuff and lorgnettes!
We've had our fill, here, of those dull heads
And bellies of gods. Ah! That's the bread
You serve us, bourgeoisie, while we rage here,
While we shatter the sceptre and the crozier!...'
He takes his arm, tears back the velvet curtain
And shows the vast courtyards beneath them,
Where the mob swarms, and seethes, where rise,
Out of the frightful mob those storm-filled cries,
Howling as bitches howl, or like the sea,
With their knotted stakes, their pikes of steel,
With the clamour of their market-halls and slums,
A ragged mass of blood-stained caps, and drums:
The Man, through the open window, shows all
To the pale sweating king, reeling, about to fall,
Sick at the sight of it!
'Those are the Scum, Sire.
Licking the walls, seething, rising higher:
– But then they've not eaten, Sire, these beggars!
I'm a blacksmith: my wife, madwoman, is there!
She thinks she'll get bread at the Tuileries!
– They'll have none of us in the bakeries.
I've three youngsters. I'm scum, too – I know
Old women weeping under their bonnets so
Because they've taken a daughter or a son:
One man was in the Bastille – oh, they're scum –
Another the galleys: both honest citizens.
Freed, they're treated like dogs, these men:
Insulted! Then, they have something here
That hurts them, see! It's terrible, it's clear
They feel broken, feel themselves damned,
There, screaming beneath you where you stand!
Scum. – Down there girls, infamous, shriek,
Because – well, you knew girls were weak –
Gentlemen of the court – gave all you sought –
You'd spit on their souls, as if they were naught!
Now, your pretty ones are there. They're scum.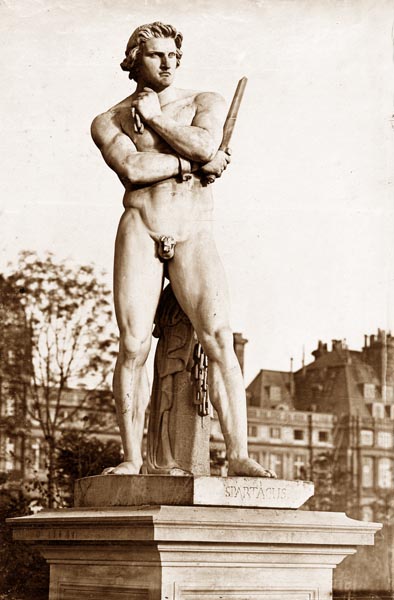 'Spartacus, Tuileries Gardens, Paris'
Charles Nègre (French, 1820 - 1880), Getty Open Content Program
Oh, all the Wretched, whose backs, in the fierce sun
Burn, and yet they still work on and on,
Feeling their heads burst with their exertion,
Hats off, you bourgeoisie! Those are Men.
We are the Workers, Sire! Workers! And then
We're for the great new age, of knowledge, light,
When Man will forge from morning to night,
Pursuing great effects, chasing great causes,
When he will tame things, slowly victorious,
And like a horse, mount the mighty All!
Oh! Splendour of the forges! And no more
Evil, then! – What's unknown, its terror maybe
We'll know! – Hammer in hand, let's sieve freely
All that we know: then, Brothers, we'll go on!
Sometimes we dream that dream's vast emotion
Of the simple ardent life, where you revile
All evil, working beneath the august smile,
Of a woman you love with love's nobility:
And all day long you labour on proudly,
Hearing the clarion call of duty sounding!
And you feel so happy; and nothing, nothing,
Oh, above all, no-one makes you kneel!
Over the fireplace, there, you'd have a rifle...
Oh! But the air is filled with the scent of battle.
What did I say? I too am one of the rascals!
And there are still sharks and informers.
But we are free! With our moments of terror
When we feel we are great, so great! Just now
I was talking of peaceful work, of how...
Look at that sky! – Too small for us, you see,
If we feared the heat, we'd live on our knees!
Look at that sky! – I'll return to the crowd,
To the vast fearful mob who cry aloud
And roll your cannon through the cobbles' sty;
– Oh! We will wash them clean when we die!
– And if, against our cries and our vengeance,
The claws of old gilded kings, all over France,
Urge on their regiments in full battle-dress,
Well then, you lot? Shit to those dogs, no less!'
– He shoulders his hammer once more.
The crowd
Feels soul-drunk close to that man, and now
Through the great courtyard, all those rooms,
Where Paris pants and the voices boom,
A shudder shakes the immense populace.
Then, with his broad hand, its grimy grace
Gilded, while the pot-bellied king sweats,
The Blacksmith set his red cap on that head!
---
Sun and Flesh
(Soleil et Chair)
I
The Sun, the hearth of life and tenderness,
Pours burning love on the delighted earth,
And when you rest in the valley you know,
How nubile earth is, how it overflows;
How, raised up by soul, its immense breast
Is love, as God is, and, like woman, flesh,
And big with sap and sunlight will enclose
The mighty seething of all embryos!
All burgeons, and all rises!
– O Venus, O goddess!
I long for the ancient times of youthfulness,
Animalistic fauns, lascivious satyrs,
Gods, love-maddened, biting the bark of firs,
Kissing the blond Nymph among water lilies!
I long for the days when the green sap of trees,
River-waters, red blood from the branches, ran,
A whole universe, through the veins of mighty Pan!
When the soil trembled, green, under his goat-feet;
When, kissing bright Syrinx, soft his lips would meet,
To sound beneath the sky the vast hymn of love;
When, in the plain, he heard about him move
A living Nature responding to his word;
When the silent trees, cradling the singing bird,
Earth, cradling man, and the whole blue Sea,
And all creatures, loved, loved in that Deity!
I long for the age of mighty Cybele
Who rode, they say, gigantically lovely,
In her vast bronze chariot, through splendid cities;
Her twin breasts pouring, through the immensities,
Of an infinite existence, each purest ripple.
Man sucked happily at her blessed nipple,
Like a little infant, playing on her knee.
– Strong, Man knew gentleness and chastity.
Misery! Now he says: all things I know,
And goes about eyes shut and ears closed.
– Cries: No more gods, no more! Man is king,
Man is God! Love's our Faith, the noblest thing!
Oh, if only man still drank there at your breast,
Cybele, mother of gods, men, all the rest!
If he had not forsaken deathless Astarte,
Who rising, once, from the immense clarity
Of blue waters, flesh-flower the wave perfumed,
Showed her rosy navel where snowed the foam,
Goddess with vast black conquering eyes, to move
The nightingale to song, the heart to love!
II
I believe in you, I believe! Oh, divine mother,
Sea-borne Aphrodite! – Ah, the path is bitter
Since another God yoked us to his cross. You,
Flesh, Marble, Flower, Venus, I believe in you!
– Yes, Man is ugly, sad under this vast sky,
Wearing clothes, now his chastity's laid by,
Since he's defiled his proud godlike head,
Like an idol in the fire, has bowed instead
His Olympian form to basest slaveries!
Yes, as a pale skeleton, after his decease,
He would live on, insulting primal beauty!
– And the Idol in whom you praised virginity,
In whom you made our clay divine, Woman,
So as to light the impoverished soul of Man
That he might arise, in love's immensity,
From earthly prison to the day's pure beauty,
No longer knows how to play the courtesan!
– What a fine farce! And the world again
Sniggers at the sweet and sacred name of Venus!
III
If those times would but return, times lost to us!
– For Man is finished! Man has played every part!
In the light, tired of breaking idols, see him start
To revive once more, free of all his deities,
And scan the heavens, since he is heavenly!
The Ideal, the invincible thought, eternal
All; the god that lives in his fleshly thrall,
Will rise, and mount, burn beneath his brow!
And when he sounds the whole horizon now,
Despising ancient yokes, free of trepidation,
You will come bringing sacred Redemption!
– Splendid, radiant, from depths of vast seas,
You will arise, and grant Love's infinities
With their eternal smile to the huge Universe!
The World will vibrate like a vast lyre – it thirsts
The World thirsts for love: you'll bring it bliss –
In the trembling there of an enormous kiss!
IV
O splendour of the flesh! O ideal splendour!
O love renewed, triumphant dawn aurora,
Where, at their feet the Gods and Heroes,
Callipyge the white and her little Eros,
Drowned in the snow of rose-petals, press
Women and flowers beneath their feet's caress!
– O great Ariadne, drench the sand with tears
As visibly, out there on the waves, appears
Theseus' sail, flying white beneath the sun;
O sweet virgin child, by a night undone,
Silence! In his gold car strewn with black grapes,
Lysios, wandering over Phrygian landscapes,
Drawn by lascivious tigers, tawny panthers,
Reddens the sombre moss by azure rivers.
– Zeus, the Bull, like a child's keeps from harm
Europa's naked body, who casts a white arm
Over the God's tense neck, trembling the wave...
Slowly he turns on her his dreamy gaze;
She lets her pale flowerlike cheek rest, it lies
Against Zeus' brow; her eyes close; she dies
In a divine kiss, the waves, murmuring there,
Adorning with golden foam her unbound hair.
– Between the oleander and the gaudy lotus,
The great dreaming Swan slides by, all amorous,
Folding Leda in the whiteness of its wing;
– And as Cypris passes, strange lovely thing,
Arching the splendid curves of back and neck,
Proudly displaying her large golden breasts
And snowy belly embroidered with black moss,
– Hercules, Tamer of Beasts, draws across
His huge body his lion's skin, like a glory,
Fronts the horizon, his brow sweet and deadly!
Vaguely lit now by the moon of summer,
Erect and naked, dreaming in golden pallor,
Streaked by her heavy wave of long blue hair,
In the shadowy glade starred by the moss,
The Dryad views the silent sky up there...
– White Selene, allows her veil to pass,
Fearfully, over lovely Endymion's feet,
And throws him a pale beam, kiss discreet...
– The Fountain weeps in slow ecstasy afar...
It's the Nymph who dreams, an elbow on her vase,
Of the fine young man her wave has touched.
– A breeze of love through the night has washed,
And, in the sacred wood, its terrifying arbours,
Majestically erect, the sombre Marbles,
The Gods, on whose brow the Bullfinch has birth,
– The Gods listen to Man, and the infinite Earth!
May 1870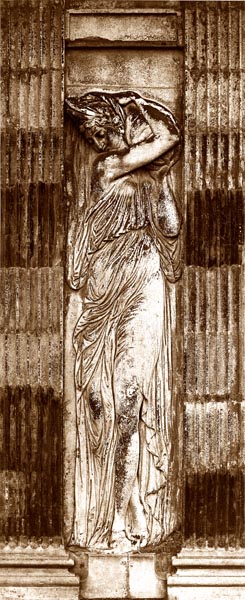 'Détail des Nymphe de Jean Goujon / Nymphe, Fontaine des Innocents, Paris'
Charles Marville (French, 1813 - 1879), Getty Open Content Program
---
Ophelia
(Ophélie)
I
On the calm black wave where the stars sleep
White Ophelia, an immense lily, drifts by,
Lying in her long veils, she floats the deep...
– In far-off woods you hear the huntsman's cry.
For more than a thousand years, sad Ophelia
White phantom, has sailed the long black flow.
For more than a thousand years, her sweet folly
Has murmured its song while night breezes blow.
The wind kisses her breasts and wreathes flare
From her long veils rocked gently by the stream;
Trembling willows weep on her shoulders there,
The rushes lean over her brow's broad dream.
The ruffled water-lilies sigh all round her;
At times, in a slumbering alder, her passage jars
A nest, from which escapes a wing's slight stir;
– A mysterious chant falls from the golden stars.
II
O pale Ophelia! Lovely as the snow!
Yes, you died, child, taken by the river!
– It was the winds from Norway's peaks that blow
That spoke to you softly of freedom the bitter;
Twining long tresses, it was the wind's whisper,
To your dreaming spirit, brought strange rumours;
It was your heart hearing the song of Nature
In the boughs' moaning, and the night's tremors;
It was the voice of maddened seas, vast roaring,
Shattering your child's breast, too tender, human;
It was a pale fair lord, one April morning,
Leaning against your knees, a poor madman!
Sky! Love! Freedom! What dreams, poor crazed one!
You melted for him as snow does in the blaze;
Your words were strangled by your grand vision
– And fearful Infinity dazzled your blue gaze!
III
– And the Poet tells how in the starlight pale
The flowers you culled, by night, you come seeking,
How he has seen on the stream, lying in her long veil,
Like an immense lily, white Ophelia floating.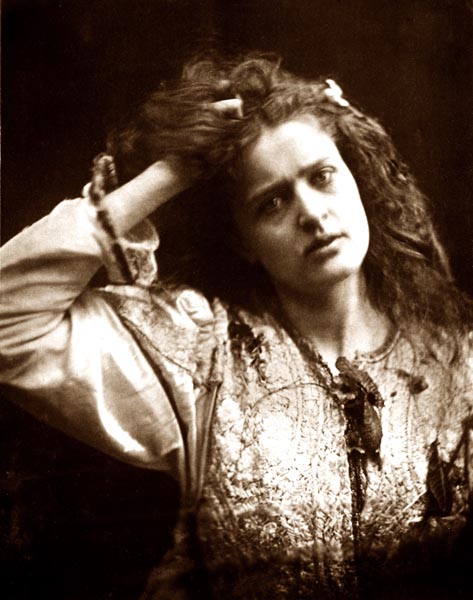 'Ophelia'
Julia Margaret Cameron (British, born India, 1815 - 1879), Getty Open Content Program
---
Ballad of the Hanged
(Bal des Pendus)
One-armed friend, on the black gallows,
Dance on, dance on, the paladins,
The lean paladins of the devil,
The skeleton Saladins.
Sire Beelzebub takes by the scruff of the neck
His little black puppets that scowl at the sky,
And, with a back-hand blow to the head,
Makes them jig to an old carol, on high!
And the jostled puppets twine their thin arms:
Like black organ-pipes, their breasts to the light
That, once, gentle ladies pressed to their charms,
Clasped without end in love's hideous delight.
Hurrah! The bright dancers, whose bellies are gone!
You can cut capers, both ends and the middle!
Hop! Never mind if it's fighting, dance on!
While Beelzebub, maddened, saws at his fiddle!
Oh the hard heels, no use here for a shoe!
They've all nearly quitted their shirt of skin;
The rest's no embarrassment, seen without sin.
On each cranium, snow's set a white cap too:
A crow makes a plume for each cracked skull,
A morsel of flesh clings to every lean chin:
You'd call them, twisting in sombre battle,
Stiff knights in cardboard armour, worn thin.
Hurrah! The wind sighs at the skeleton's ball!
The black gibbet moans like an organ of steel!
In answer, the wolves from the blue forests call:
The horizon a hellish red sky must reveal...
Ho, shake these funereal braggarts, I say,
Craftily telling with long broken fingers,
A rosary of love on their pale vertebrae:
You, the departed, we're not in the cloisters!
Oh, see in the midst of this danse macabre
How a tall mad skeleton leaps to the sky
Inspired by ardour, a bucking horse rather:
Who, feeling the rope on his neck, by and by,
Clenches his knuckles on thighs with a crack,
Uttering cries and satirical moans,
And, then like a tumbler renews the attack,
Skips back to the dance with a creaking of bones!
One-armed friend, on the black gallows,
Dance on, dance on, the paladins,
The lean paladins of the devil,
The skeleton Saladins.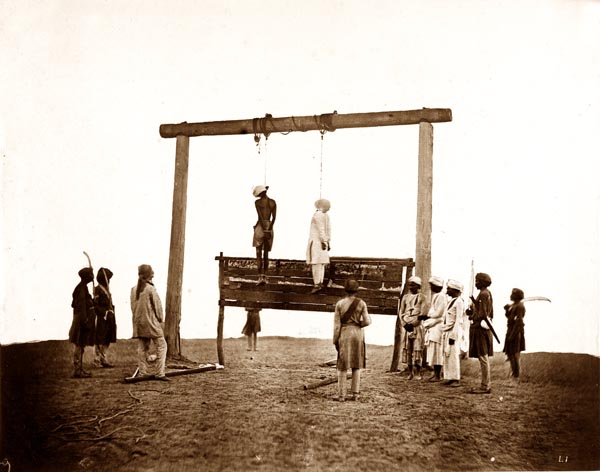 'Two Sepoys of the 31st Native Infantry, Who Were Hanged at Lucknow, 1857'
Felice Beato (English, born Italy, 1832 - 1909), Henry Hering (British, 1814 - 1893)
Getty Open Content Program
---
Evening Prayer
(Oraison du Soir)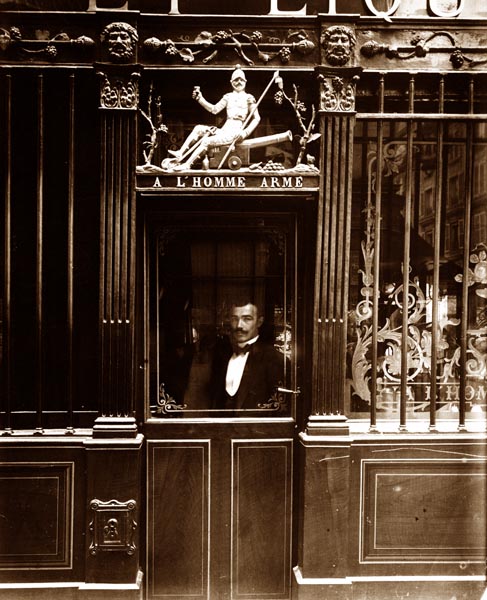 '25, Rue des Blancs Manteaux (Café, rue des Blancs Manteaux) (1900)'
Eugène Atget (French, 1857 - 1927), Getty Open Content Program
I sit to life – an angel in a barber's chair,
A finely fluted beer-mug grasped in my fist,
A curve to its neck and belly, a pipe there
In my teeth, air rank with impalpable mist.
Like warm excrement in an old dovecote,
A thousand Dreams inside softly burn:
At times my sad heart like sapwood floats
Bloodied by the dark gold dripping urn.
When I've drunk my dreams, carefully,
Having downed thirty or forty jars, I stop,
And gather myself, to ease my bitter need:
Gentle as the Lord of cedar and hyssops,
I piss towards dark skies, high and heavenly,
Approved of by the giant heliotropes.
---
My Little Lovers
(Mes Petites Amoureuses)
A lachrymal tincture bathes
The cabbage-green roofs:
Under the tender tree that laves...
Your rubber waterproofs
Whitened by peculiar moons
With round staring eyes,
Knock your knees together, too,
My ugly guys!
We loved each other in those days
Blue ugly one!
We used to eat soft-boiled eggs,
Chickweed, a ton!
One night, you anointed me poet,
Blonde, and ugly:
Come down here, and you'll get it,
Across my knee;
I've puked up your brilliantine,
Dark, ugly so and so;
You cut off my mandolin
While in full flow.
Pah! My dried salivas,
You ginger ugliness,
Still infect the furrows
Of your round breast!
Oh my little lovers
How I hate you!
Plaster with painful blisters
Your sad tits too!
Trample on my old vases
Of sentiment;
– Hop to it! Be ballerinas
For one moment!...
They're out of joint your shoulders,
Oh, my lovers!
With a star on your back that smoulders
Turn your tricks there.
And yet it's for those thick lips
My rhymes I've proved!
I'd like to shatter your hips
For having loved!
Dull mass of fallen stars,
Pile in the corners there!
– You'll die into God, marred
By ignoble care!
Under peculiar moons
With round staring eyes,
Knock your knees together, too,
My ugly guys!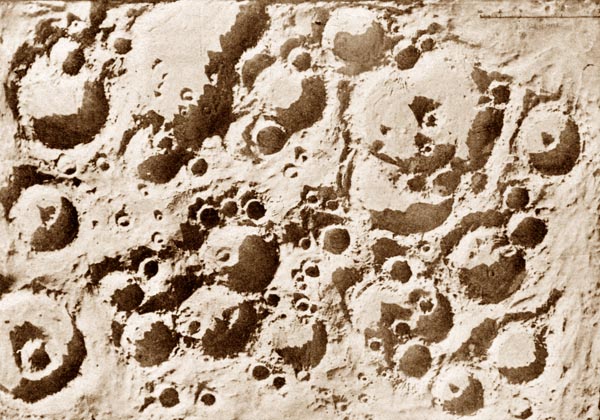 'Moon Landscape'
Anonymous (British, late 1850's), Getty Open Content Program
---
The Stolen Heart
(Le Coeur Volé)
My sad heart leaks at the poop,
My heart covered in filthy shag:
They squirt it with jets of soup,
My sad heart leaks at the poop:
Under the jibes of that rough troop
Drowned in laughter, see them rag,
My sad heart leaks at the poop,
My heart covered in filthy shag!
Ithyphallic and coarse, their jests
They've corrupted it every way!
On the wheelhouse their grotesques,
Ithyphallic and coarse their jests.
O waves, abracadabrantesque,
Take my heart, wash all away!
Ithyphallic and coarse their jests,
They've corrupted it every way!
When they've finished chewing their plugs,
What shall we do O stolen heart?
Then Bacchic hiccups from ugly mugs:
When they've finished chewing their plugs:
My guts will heave, the filthy lugs,
If it's swallowed outright, my heart:
When they've finished chewing their plugs
What shall we do O stolen heart?
May 1871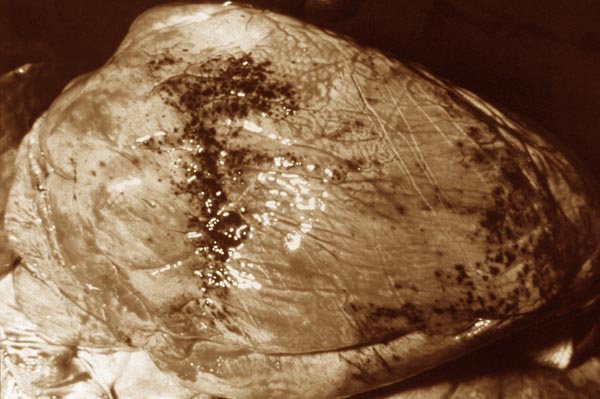 'Diseased Heart'
CDC/ Dr. Jerry J. Callis, PIADC/Dr. Brian W.J. Mahy, CDC (1982)
Public Health Image Library (PHIL)
---
The Parisian Orgy, or Paris Repeopled
(L'Orgie Parisienne, ou Paris Se Repeuple)
O Cowards, we're here! Platforms of light!
The sun with fiery lungs has cleared, at last,
Boulevards that Barbarians held for a night.
Behold the sacred City, couched in the West!
On! We will prevent the return of fire,
Here are the quays, the boulevards, and here
The houses against an azure radiant sky,
Starred by night when the bombs rose clear!
Hide the dead palaces with planks like ships!
The setting sun, fearful, brightens your faces.
See the red-headed troop, the wrigglers of hips:
Haggard, you'll seem droll, if you act crazy!
Eating poultices, pack of bitches on heat,
The cry of gilded houses calls to you. Steal!
Eat! Here is the night of joy, its spasms deep,
Descending on the street. O desolates, reel
With drink! When day intense and mindless,
Comes strewing rustling luxuries around you,
Would you dribble, motionless and soundless,
Into your glass, eyes fixed on some white view?
Gulp, for the Queen, her arse that falls in folds!
Listen out, for the work of stupid tearing
Hiccups! Hear them leap in night's fiery gold:
The old, the useless, lackeys, and fools panting!
O hearts of dirt, O you disgusting mouths,
Work more vigorously, mouths of horror!
Wine, for these ignoble torpors' drouths...
Your bellies melt with shame, O Conquerors!
To superb nauseas let your nostrils gape!
Steep your neck's tendons in foulest poison!
Lowering crossed hands on your childish nape
The Poet commands: 'O cowards, forgo reason!
Because it's the Woman's guts you're rifling,
A further convulsion yet you fear from her,
A cry, asphyxiating your infamous perching
Over her breast, with its dreadful pressure.
Syphilitics, kings, mad puppets, ventriloquists,
What can they matter then to Paris the whore,
Your poisons or your rags, your minds or fists?
She'll shake them off, those rotten snarling jaws!
And when you're down, whimpering on your bellies,
Your flanks wrung, clamouring for your supper,
The distraught courtesan, breasts ripe for sallies,
Will clench her hard fists, far from your stupor!'
When your feet danced with such intense anger,
Paris! When you knew so many cuts of the knife,
When you lay there, retaining in your eyes, clear,
Some of the goodness of spring's tawny life,
O city almost dead, O city of dolour,
Your face and breasts jutting towards the Future,
Opening its thousand gates to your pallor,
City whom the sombre Past would honour:
Body re-galvanised to endure vast pains,
You drink dreadful life once more! You feel
A flux of livid worms writhe through your veins,
And icy fingers on your bright love congeal!
No matter. The worms, the worms' lividity
Can no more obstruct your breath of Progress
Than the Strix quench the eyes of Caryatides,
Blue ledges, where the astral gold tears press.
Though it is frightful to see you so smothered;
Though there was never formed of any city
A fouler ulcer on the green face of Nature,
The Poet still cries: 'Splendid is your Beauty!'
The tempest made of you supreme poetry;
The immense stir of force quells your sighs;
Your work seethes, death groans, chosen City!
Hoard, in your heart, the fatal trumpet's cries.
The Poet will garner sobs of the Infamous,
The Galleys' hatred, the clamour of the Cursed;
And Woman will be scourged by his rays of love.
His verses will leap high: Villains, your worst!
– Society, all is restored: – the orgiasts
In the ancient brothels raise their ancient cries:
And on the reddened walls the frenzied gas
Flares sinisterly towards pale azure skies!
May 1871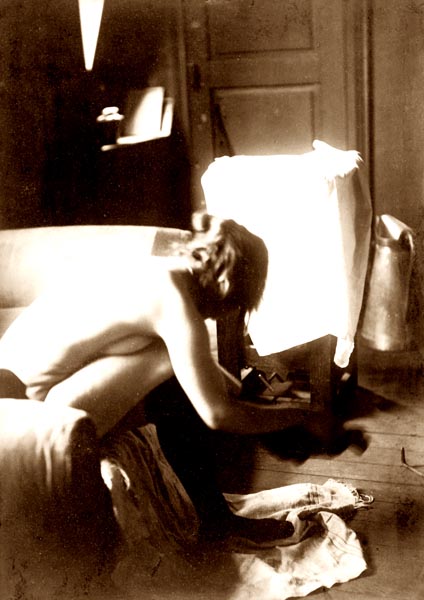 'Seated Nude'
Attributed to Edgar Degas (French, 1834 - 1917), Getty Open Content Program
---
Jeanne-Marie's Hands
(Les Mains de Jeanne-Marie)
Jeanne-Marie has strong hands,
Hers are dark, tanned by summer,
Bloodless hands like a dead man's
– Are they the hands of Juana?
Did they win their creamy-brown
Sailing some voluptuous sea?
Have they dipped in moons, found
In waters of serenity?
Have they drunk of barbarous skies,
Calmly on delightful knees?
Have they rolled cigars, wise
To trade in diamonds and rubies?
On burning feet of Madonnas
Have they thrown gold flowery charms?
The black blood of belladonnas
Wakes and sleeps in their palms.
Hands that chase the Diptera
With which the auroral blue
Buzzes, there, towards the nectar?
Hands that measure poison's brew?
Oh, what Dream has seized them
In their pandiculations?
A wild dream of Asias then,
Of Kengawers or Zions?
– They sold no oranges these hands
Nor tanned at the feet of deities:
They washed no swaddling bands
Of eyeless and weighty babies.
They're not the hands of cousins
Nor the broad-browed working girls
Brows that, drunk with tar, the sun
In woods that stink of factories, burns.
They are benders of the spine,
Hands that never work us evil,
Stronger than machines in line,
Than the horse more powerful!
Seething like the furnaces,
Shaking off each shudder,
Their flesh sings the Marseillaise
But the Eleison never!
They'll grasp your necks, O evil
Women, yours, they'll crush them,
All your infamous hands, noble
Women, white and carmine.
The glory of those hands of love
Turns the heads of ewes!
On their juicy phalanges
The vast sun sets a ruby too.
A stain from the populace
Browns them like ancient tits;
The backs of those hands the place
That each proud Rebel kissed!
They have paled, marvellous,
In the hot sun filled with love,
On the bronze of machine-guns
Across insurgent Paris moved!
Ah, sometimes, about your wrists,
O sacred Hands, there hung again,
Where our never-sobered lips
Trembled, Hands, a shining chain!
And there's a sudden Lurch too
In our being, when, indeed,
Angelic Hands, they'd blanch you,
By making all your fingers bleed!
---
The Sisters of Charity
(Les Soeurs de Charité)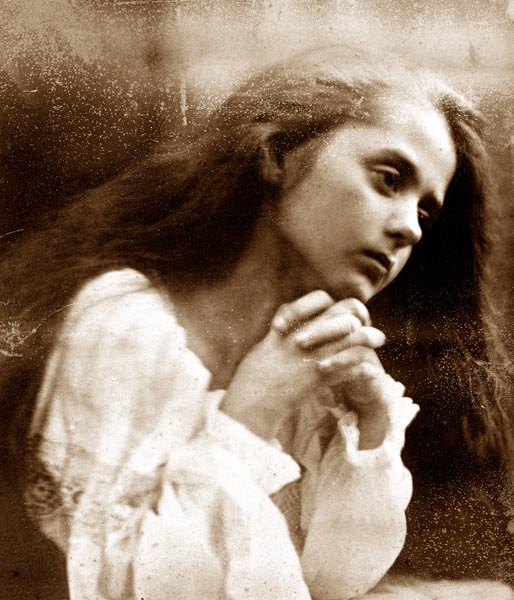 'Young Girl Praying'
Julia Margaret Cameron (British, born India, 1815 - 1879), Getty Open Content Program
That bright-eyed and brown-skinned youth,
The fine twenty-year body that should go naked,
That, brow circled with copper, under the moon,
An unknown Persian Genie would have worshipped;
Impetuous with virginal sweetnesses,
And dark, proud of his first obstinacies,
Like tears of the summer night's distresses,
That turn on beds of diamond, young seas;
The youth, faced with this world's ugliness,
Shudders in his heart, wounded deeply,
And, full of profound eternal emptiness,
Begins to long for his sister of charity.
But, O Woman, heap of entrails, pitying, sweet,
You are never the Sister of charity, never,
Dark gaze, belly where rose shadows sleep,
Splendidly formed breasts, slender fingers.
Blind un-awakened one, with eyes enormous,
Our every embrace is merely a question:
Bearer of breasts it's you who hang on us,
We who nurse you, charming and grave passion.
Your hatreds, your dumb torpors, your weaknesses,
And your brutalisation suffered long ago,
You give back, O Night, like an excess,
Un-malevolent, of blood, each month or so.
– When Woman, borne for an instant, taken on,
Terrifies Love, life's call and song of action,
The green Muse and burning Justice come
To dismember him with their august obsession.
Ah! Endlessly thirsting for splendours and calms,
Forsaken by both implacable Sisters, whimpering
With tenderness for the science of soothing arms,
He brings his blood-stained brow to Nature's flowering.
But, wounded, sacred studies, shadowy alchemy
Are repugnant to the proud sombre scholar;
He feels the atrocious advance of all that's solitary.
So, still handsome, without disgust for the bier,
Let him, traversing all the nights of Truth,
Credit vast ends, Dreams, immense Journey,
And in his soul and sick limbs call on you,
O mysterious Death, O sister of charity!
June 1871
---
First Communions
(Les Premières Communions)
I
Truly, they're stupid, these village churches
Where fifteen ugly chicks soiling the pillars
Listen, trilling out their divine responses,
To a black freak whose boots stink of cellars:
But the sun wakes now, through the branches,
The irregular stained-glass's ancient colours.
The stone always smells of its earthly mother.
You'll see masses of those earthy rocks
In the rutting country that solemnly quivers,
And bears, on ochrous paths, near heavy crops,
Those burnt shrubs where the sloe turns bluer,
Those black mulberries the hedge-roses top.
Once a century, they make the barns respectable
With a wash of curdled milk and blue water:
If grotesque mysteries are viewed as notable,
Near to the straw-stuffed Saint or Madonna,
Flies, that know every inn and every stable,
Gorge on wax there, dotting the sunlit floor.
The child's duty above all's to home and family,
Simple cares, honest toil that stupefies;
They go, forgetting how their skin crawls freely
Where the Priest of Christ's powerful finger lies.
The Priest has a house shaded with hornbeam
So he can loose these tanned brows to the light.
The first black suit, the finest pastries, there,
Beneath the little Drummer or Napoleon
Some plate where Josephs and Marthas stare,
Sticking their tongues out with excess emotion,
Joined, on the day of truth, by maps, a pair,
Are the sole sweet mementoes of Devotion.
The girls always go to church, content forever
To hear themselves called bitches by the sons,
Who put on airs, after Mass or Sung Vespers,
Those who are destined to grace the garrisons,
In cafes taunt the important families, snicker,
Dressed in new jackets, yelling frightful songs.
Meanwhile the Curé for the children's choosing
Pictures; in his garden, and, when Vespers done,
The air fills with the distant sound of dancing,
He feels, despite all celestial inhibition,
His calves beat time, his toes with joy wriggling;
– Night steps, dark pirate, onto skies all golden.
II
The Priest has noted among the catechists,
Gathering from the Faubourgs and the Quarters,
This little unknown girl, her eyes pale mist,
Her sallow brow. Her parents humble porters:
'On the great Day, seeing her among the Catechists,
God will snow down blessings on this daughter.'
III
On the eve of the great Day, the child feels ill.
Better than in the tall Church's dismal murmuring,
First a shudder comes – bed's not uninteresting – still,
The supernatural shudder may return: 'I'm dying...'
And, like a theft of love from her stupid sisters,
She sees, exhausted and hands on heart, there,
Angels, Jesus, a Holy Virgin that glimmers;
And calmly her whole soul swallows her conqueror.
Adonai! ... – In their Latin endings dressed,
Skies shot with green bathe Brows of crimson,
And, stained by pure blood from heavenly breasts,
Across swirling suns, fall great snowy linens!
– For her present and future virginities
She bites on the freshness of your Remission,
But more so than sweetmeats or water-lilies,
Your forgiveness is like ice, O Queen of Zion!
IV
Then the Virgin's no more than the virgin of the book.
Mystical impulses are often thwarted...
The hideous print and the old woodcut come,
Poverty of images, bronze-sheathed by boredom.
Startled, her dream of chaste blueness,
By vaguely indecent curiosities,
Surprises itself among celestial tunics,
Linen with which Christ veils his nudities.
She yearns, she yearns, still, soul in distress,
Brow on the pillow racked by muffled sounds,
To prolong the supreme flashes of tenderness,
And dribbles – Darkness over house and grounds.
And the child can bear it no longer, she stirs,
Arches her back, opens the blue bed-hangings,
To draw the coolness of the room towards her,
Beneath the sheet, to breasts' and belly's burning.
V
Waking – at midnight – the window-panes were
White. Past the blue sleep of moonlit hangings,
The vision of Sunday candours captured her;
She'd dreamed of red. Her nose was bleeding,
And, feeling quite chaste and full of weakness,
Savouring love's return to a God once known,
She thirsted for night when the heart may guess
At soft skies where it worships and bows down;
For night, impalpable Virgin-Mother, that bathes
All youthful emotion in its shadowy silences;
Thirsted for deep night where the heart, blood-stained,
Pours out without cries rebellion without witnesses.
And playing the Victim and the little bride,
Her star saw her, a candle between her fingers,
Descend to the courtyard where clothes dried,
White spectre raising the roofs' black spectres.
VI
She passed her holy night in the latrine,
To the candle, from roof-holes, white air flowed,
And full of purplish blackness a wild vine,
Skirting the next-door yard hung down below.
The skylight made a heart of living brightness,
In the yard where the low sky, with its red-gold,
Plated the panes; cobbles, stinking with excess
Wet filth, sulphured the sleep-dark wall-shadows.
VII
Who'll speak of that languor, those unclean pities,
And what hatred will fall on her, O you filthy
Lunatics, whose divine work still warps destinies,
When leprosy finally devours that sweet body?
VIII
And when, having swallowed all her hysterias,
She sees, in the melancholy born of happiness,
Her lover dreaming of the white million Marys
In the dawn of the night of love, her distress:
'Do you know I killed you? Took your mouth,
Your heart, all that one has, all you possess;
And I, I am ill: Oh, I wish that I were drowned
With the Dead, drenched by nocturnal waters!
I was a child, and Christ has soiled my breath.
Filled me with loathing, through and through!
You kissed my hair thick as a fleece, and yes,
I allowed it....Oh, there, it's all fine for you,
Men! Who don't see that the most loving woman
Is, behind conscience full of ignoble terror,
The most prostituted and the most saddened,
That our every impulse towards You is error!
For my first Communion is long past.
I have no power ever to know your kisses:
And my heart and flesh, your flesh has clasped,
Seethe with the rotten kisses of Jesus!'
IX
Then, the desolate soul, and the soul that's putrid,
Both will feel the stream of your maledictions.
– They'll be at rest in your inviolate Hatred,
Freed, for death's sake, from honest passions,
Christ! O Christ, the eternal thief of vigour,
God who, for two millennia, bowed to your pallor,
Nailed to the earth, in shame and mental horror,
Or overwhelmed, the brows of women of sorrow.
July 1871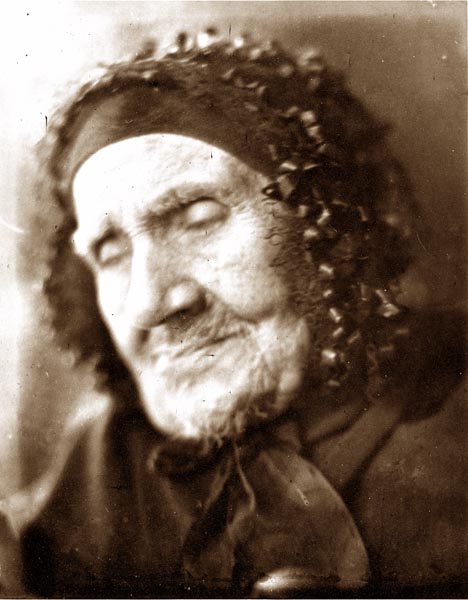 'Aged 94, Taken on the Anniversary of her 72nd Wedding Day'
Julia Margaret Cameron (British, born India, 1815 - 1879), Getty Open Content Program
---
What One Says to the Poet on the Subject of Flowers
(To Monsieur Théodore de Banville)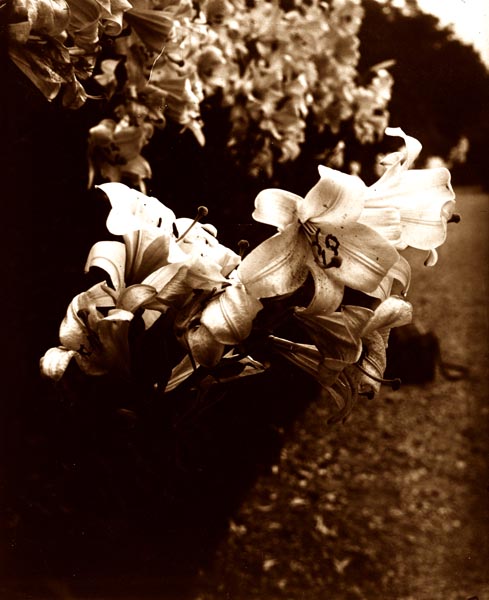 'Lys (Lilies)'
Eugène Atget (French, 1857 - 1927), Getty Open Content Program
I
Thus, ever, towards the azure night
Where there quivers a topaz sea,
Will function in your evening light
The Lilies, those clysters of ecstasy!
In our own age of sago, as they must,
Since all the Plants are workers first,
The Lilies will drink a blue disgust,
From your religious Prose, not verse!
– The Lily of Monsieur de Kerdrel
The sonnet of eighteen thirty, the plant,
That Lily, they bestow on 'The Minstrel'
With the carnation and the amaranth!
Lilies! Lilies! You see never a one!
Yet in your Verses, like the Sinners'
Sleeves, those of soft-footed women,
Always those white flowers shiver!
Always, Dear, when you take a bathe,
Your Shirt with yellow armpits rots
Swells to the breeze of rising day,
Above the soiled forget-me-nots!
Love, only, through your nets
Smuggles Lilies – O unequal!
And the Woodland Violets,
The dark Nymphs' sugary spittle!...
II
O Poets, if you could but own
To the red on the laurel's firm stem
To the Roses, the Roses, blown,
With a thousand octaves swollen!
If BANVILLE could make them snow,
Blood-stained, whirling in gyrations,
Blacking the eye of that stranger so,
Who sees wicked interpretations!
In your forests, by your paths,
O so placid photographers!
Like the stoppers on carafes,
The Flora's more or less diverse!
Always the vegetables, French,
Absurd, consumptive, up for a fight,
Bellies of basset hounds they drench,
Peacefully passed in evening light;
Always, after fearful drawings
Of blue Lotus or that Sunflower,
Pink prints, subjects befitting
Girls in communion's sweet hour!
The Asoka Ode agrees with the
Loretto window stanza; showers
Of bright butterflies, heavy, flutter,
Dunging on the daisy flowers.
Old verdures, old braided ribbons!
O vegetable biscuit bakes!
Fantastic flowers of old Salons!
– For cockchafers, not rattlesnakes,
Those vegetable dolls in tears
Grandville would have mislaid
In the margin, sucking colours
From spiteful stars with eye-shades!
Yes, the drooling of your flutes
Produces precious sugar!
– Heaps of fried eggs in old boots,
Lily, Lilac, Rose, Asoka!...
III
O white Hunter, running through,
Stocking-less, the Panic field,
Shouldn't you, couldn't you
Acquire a little botany?
You'd have succeed, I'm afraid,
To russet Crickets, Spanish Fly,
Rio golds to Rhine blue, Norway
To Florida, in the blink of an eye:
But, Dear, art cannot, for us,
– It's true – permit, it's wrong,
To the astounding Eucalyptus,
Boa-Constrictors, hexameter-long;
There...! As if Mahogany
Served, even in our Guiana,
Only the Capuchin monkey
To ride the mad weight of liana!
– In short, a single Flower: is it,
Lily or Rosemary, live or dead,
Worth a spot of sea-gull's shit,
Worth a candle drip, I said?
– And I mean what I say, mind!
Even you, squatting there, in one
Of those bamboo-huts – blind
Shut, behind brown Persian curtain –
You'd scrawl about things floral
Worthy of some wild Oise department!...
– Poet, yet that's a rationale
No less laughable than it's arrogant!
IV
Speak, not of pampas in the spring,
Black with terrible rebellions,
But of tobacco, cotton growing!
Speak of exotic harvest seasons!
Speak, white brow that Phoebus tanned,
Of how many dollars Pedro
Velasquez of Havana earned;
En-shit the Bay of Sorrento
Where in thousands rest the Swans;
Let your stanzas undertake
The draining of the mangrove swamps,
Filled with hydras, water-snakes!
Your quatrains plunge in blood-wet groves
Return, bringing Humanity
Diverse offerings, sugars, cloves,
Lozenges and rubber-trees!
Let us know if the yellowness
Of snowy Peaks, near the Tropic,
Is prolific insect's nests
Or lichens microscopic!
Seek, O Hunter, our wish what's more,
Diverse fragrant madders,
That, for our Army, Nature
Might cause to bloom in trousers!
Seek, beside the slumbering Glades,
Flowers that look like muzzles, oh,
Out of which drip gold pomades,
On the dark hide of the buffalo!
Seek wild fields, where in the Blue
Trembles the silver of pubescence,
Calyxes of fiery eggs that brew
Steeped in burning oily essence!
Seek the Thistle's cotton-bin,
Whose downy wool ten asses
With ember eyes toil to spin!
Seek flowers which are chassis!
Yes, seek at the heart of black seams
Nigh-on stone-like flowers – marvels! –
That near their hard pale ovaries
Bear soft gemmiferous tonsils!
Serve us, O Crammer, as you can,
On a fine vermilion platter
Stews of syrupy Lilies, plan
To corrode our German silver!
V
Many will sing of Love sublime,
The thief of sombre Indulgence:
Not Renan, nor Murr the cat, I'm
Sure, know Thyrsi, blue, immense!
You'll quicken, in our torpors,
Hysterias, through your fragrances;
Exalt us towards candours
Purer than Marys' whitenesses...
Colonist! Trader! Medium!
Your Rhyme, pink, white, will be
A welling ray of sodium,
A well-tapped dripping rubber-tree!
From your dark Poems – Juggler!
Let dioptric white, green, red,
Burst out like strange flowers,
Electric butterflies instead!
See! It's the Century of hell!
Telegraph poles will honour
– A lyre, where steel songs swell,
Your magnificent shoulder!
Rhyme us above all a version
On the ills of potato blight!
– And to aid the composition
Of Poems of mysterious light
To be read from Tréguier
To Paramaribo, don't forget
To buy Tomes by Monsieur Figuier,
– Illustrated – from Monsieur Hachette!
Alcide Bava
A.R.
14th July 1871
---