Suetonius - The Twelve Caesars: Download
Reference:
Kline, A.S., (prose translation) "Suetonius - The Twelve Caesars"
Author Email:
Description of text
The Twelve Caesars. A new, complete, English translation, with hyper-linked in-depth name index.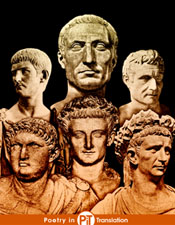 Kline, A.S.
---
---
Download Descriptions
Microsoft Word (.doc)/Adobe PDF files: Compressed proofs for print-on-demand publishing (6" x 9", 15.24 x 22.86 cm). Hyper-links in italic followed by page cross-references in square brackets.
Html: W3C validated html with minimal mark-up to facilitate conversion/integration.
Epub/Mobi: Commercial-quality e-reader digital editions. Please note that the Mobi file is formatted for Amazon Kindle e-ink devices. An edition optimised for Kindle Fire HD/HDX is available from Amazon.
NB: High-resolution, unmodified equivalents of images contained in the downloads can be obtained from the public domain collections of the British Library, the Yale University Art Gallery and individual photographers who have released their work into the public domain via Wikimedia Commons.