Alexander Pushkin
Ruslan and Ludmila: Part III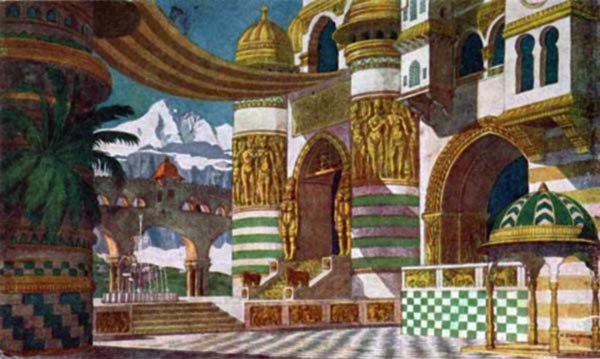 'Yet in that wondrous palace none was moving; there was not a sound'
Ivan Bilibin (Russian, 1876 - 1942)
WikiArt
Translated by A. S. Kline © Copyright 2021 All Rights Reserved
This work may be freely reproduced, stored and transmitted, electronically or otherwise, for any non-commercial purpose.
Conditions and Exceptions apply.
---
Contents
---
Canto IV: The Castle of the Twelve Maidens
EACH morning, as I rise from sleep,
To God I give my thanks, truly,
That in our day He seeks to keep
Us from the likes of sorcery.
And then our marriages are safe –
All honour, all glory to them! –
New-wedded husbands need not chafe,
Such dark designs won't undo them.
Yet there are spells still, I rue them,
Other charms; there's no debate,
That smiling lips, and eyes of blue,
And voices sweet, shall be our fate –
O, my friends! Believe them never!
Their poisons will intoxicate,
I fear them, and choose quiet, as ever.
O, Genius of Poetry,
O Bard of things visionary,
Of love's mystery, devils, dreams;
Dweller in hell and paradise,
Of my inconstant muse, it seems,
The confidante, defence likewise;
O, Northern Orpheus, who redeems
All things in my playful story,
Forgive me still, though I aspire,
To follow you, your wayward lyre,
In sweet deceit, to win mere glory.
For have you not heard Zhukovsky
Sing, my friends, of how a villain
Sold his soul, sinning utterly,
His daughters' souls too, one by one,
To the devil, and how through prayer,
Fasting, faith, and charity,
And true repentance, in full share,
Found a patron, wise and saintly;
How he died, how his twelve daughters
Fell, into an enchanted sleep.
What delight and fear they brought us,
Those visions rising from the deep,
Wondrous scenes, in darkest night,
Black demons, and heaven's anger,
The sinner severed from the light,
The virgin beauty of each daughter.
We wept with them, and wandered there,
Around that castle, steeply walled,
And while they slept, could not but care
For them as they lay, still, enthralled.
On Vadim then we called in prayer,
And when the twelve awoke, the blessed,
Then to their father's place of rest
We accompanied them, relieved.
Well then, perchance? ...we were deceived!
Shall I, alone, speak what is true?
Young Ratmir had spurred on his way,
Southwards, impatient to pursue
Before the sun was lost from view,
Ludmila, Ruslan's bride; yet day
Now faded and the sky grew black;
He tried to pierce the mist, in vain,
Before him, that obscured his track,
And covered all the distant plain,
And veiled the river at his back,
The last light lost in gilded trees.
Past darkened cliffs he quietly goes;
He gazes round, but nowhere sees
A place to offer him repose.
But now he rides into a vale,
Espies a castle built on high,
Its towers dark above the dale;
Its battlements reach to the sky.
And on the wall a maid doth glide,
Moves like a lone swan on the tide,
Lit by the last pale twilight ray,
Her song nigh lost in some quiet bay,
Deep within the silent valley:
'On darkening fields, the night falls swiftly;
A cold wind rises, late the hour.
Too late, young traveller, to journey!
Take welcome refuge in our tower.
By day we feast, and we make merry;
All is true bliss and peace by night.
Come then, and join us, here alight,
Come, young traveller, with us tarry!
Here, you'll find there's many a beauty;
Sweet gentle speech, and kisses bright.
Come now, ascend the secret height,
Come, young traveller, with us tarry!
For you, at dawn, we'll drink a bevvy;
A cup of wine, ere you take flight.
Come now, ascend the tranquil height,
Come, young traveller, with us tarry!
On darkening fields, the night falls swiftly;
A cold wind rises, late the hour.
Too late, young traveller, to journey!
Take welcome refuge in our tower.'
She beckons to him, ever-singing;
The warrior rides beneath the wall:
To the gate her singing brings him,
Fair maidens greet him, blushing all.
Gentle voices rise about him,
He's surrounded, cannot stray,
Captivating glances bind him;
And now his steed is led away.
The young man enters the palace,
The swarm of hermitesses passes
Round him, one his helm removes,
One his armour, another proves
Quite equal to his sword and shield;
Now his steel cladding for the field,
Must be replaced with lighter clothing.
But first the warrior is led
To a Russian bath, all steaming.
From silver tubs the water's fed,
Vaporous waves softly plashing,
And cooler founts gently splashing.
Rich rugs parade their luxury;
The warrior lies down to rest,
With all their subtle warmth he's blessed,
While, with gaze lowered, silently,
Each charming, and half-naked maid
Ministers to him, tenderly,
All crowd around him, grant their aid,
Plying sweet service, gracefully.
For over him one maiden waves
Birch branches, from which the vapour
Draws a fragrance; another laves
The knight's weary limbs, all over,
With dew culled from spring's fresh roses,
Cooling them; while her work closes
With perfuming his curly hair.
And Ratmir, filled with pure delight,
Forgets Ludmila, lost to sight,
And all her wished-for beauty, there;
He languishes, in sweet desire,
His roving glance more brightly glows,
He melts with longing, heart afire,
And, filled with expectation, glows.
Soon, from his bathing, brave Ratmir,
Now dressed in velvets, doth appear,
And to a rich feast sits him down,
The lovely maids all gathered round.
No Homer, I; in sounding verse,
He sang of warriors, hardy souls,
Their splendid banquets did rehearse,
The chiming cups, the foaming bowls.
A follower of Parny, I,
Would rather praise, with careless lyre,
Bare shoulders in the night, a sigh,
A loving kiss, its tender fire!
Lit by the moon the fortress towers;
I see a distant chamber; there,
His lonely dreams his only fare,
Our knight now sleeps away the hours;
His brow, his cheek, are all aflame,
His lips half-parted, yield deep sighs,
As if sweet kisses he would claim,
While gazing into loving eyes.
Low moans oft from his lips depart,
And, as if in dream, he tightly
Presses the covers to his heart,
While the clear moon glitters brightly;
And in deep silence, now, the door
Creaks open, and across the floor
A maid is passing– gliding lightly,
Gleaming, in the gentle moonlight.
Begone winged dreams, fly from his brow!
Wake Ratmir, for your time is now!
Waste not the precious hours of night!...
She draws near; outspread he lies,
Slumbering in voluptuous bliss;
The quilt slips down, he moans and sighs,
His brow the covers hotly kiss.
Breathless, unmoving, she, like one
Both pure and chaste, seemingly
An Artemis, stands silently,
Gazing on her Endymion;
Yet on the bed she sets a knee,
Then leaning o'er the sleeping one,
And trembling inwardly, with this
Bows down her face and thus, I deem,
With a mute and passionate kiss,
Wakes the warrior from his dream…
But now the virgin lyre, my friends,
Has fallen silent in my hands;
Its tune Ratmir no more commands –
My timid voice, grown weaker, ends,
A song I dare no longer sing:
Ruslan to mind we here should bring,
Ruslan, the peerless, and the true,
Hero, and faithful lover too.
Full wearied by that stubborn fight,
Beneath the Head he lies, asleep,
And sweet it was to rest that night.
Yet early dawn now fills the deep
And glowing heavens with its light.
Clear is the air; a playful ray
Gilds his locks and brow with gold,
Ruslan rises, mounts; on its way
His steed darts, eager now, and bold.
And time runs on; it's harvest day;
Soon yellow leaves fall from the trees,
In woods, the chilling autumn breeze
Has silenced the birds, completely.
And heavy clouds of sombre mist
Along the chill vales wind, discreetly;
Winter is near, the bare hills kissed
With cold, while our Ruslan, bravely,
Continues on his northward track,
And meets with obstacles at every
Pace; hurls some hero on his back;
With some witch or giant must fight;
And sees, as in enchanted dream,
Veiled by the mist, the subtle gleam
Among the trees, one moonlit night,
Of mermaids in the branches swaying,
Each, on her lips, a subtle smile,
Beckoning slyly to him, saying,
To him, not one word the while…
And yet no secret charms could win him,
Desire slumbered deep within him;
None such can harm the fearless knight,
He heeds them not, he seeks the light,
Ludmila, everywhere, is with him.
She, still invisible, meanwhile,
Protected by the magic hat,
And free of the sorcerer's vile
Advances, dreams of this and that.
As silent, sad, our fair Ludmila,
Walks the gardens, she, as ever,
Longs for her love, and heaves a sigh,
Or thinks of Kiev's fields afar,
To which her lonely heart would fly;
Her father, brothers, to mind's eye,
She brings, and wonders how they are,
And her old nurse, and naught can mar
Such thoughts – forgot captivity,
And separation! Yet we see,
Her soon reverting from illusion,
And then our fair princess we own,
Is once again mired in confusion,
Wandering, silent and alone.
Meanwhile the lovesick sorcerer's men,
Search all the day, and search again,
Throughout the castle and the park,
Looking for the lovely captive;
Afraid to rest, or prove inactive,
Yet seek in vain, until the dark.
Ludmila merely toyed with them.
In some faery grove they'd see her,
For, hatless, she'd appear to them.
A cry of 'Here! Here!' she'd utter,
And they'd race after her, en masse.
But then – invisible once more –
On silent feet, their ranks she'd pass,
And flee them, as she had before.
Hour after hour, they would find
Traces of her errant wandering:
Plucked from out the branches' rustling,
The golden fruits she'd leave behind,
They'd hear the stream's water tinkling,
Or note crushed grasses, where she'd dined:
And knew then, how she drank and ate,
Midst birch groves, or neath some cedar;
To shelter, nightly, was her fate,
While tears expressed her sorry state –
Calling to her spouse, Ludmila
Languished ever, yawning sadly,
And rarely before dawn, rarely,
Leaning her head against a tree,
She'd doze a little, and be free
Of woe and weariness; yet she,
Ere darkness fled, and it grew light,
Made for the water, falling bright
From some high place, to bathe her eyes:
And, once, the dwarf, to his surprise,
Seated, early, at his window,
Observed a spray of water rise
As if flung from the fall below,
By unseen hand, towards the skies.
Until nightfall, now here, now there,
Ludmila wandered, full of care,
Through the gardens, in her longing,
And oft they'd hear the rise and fall,
Of her sweet voice, in the evening,
Gather threads from a Persian shawl,
Or some fair garland of her making,
Or a tear-stained handkerchief, all
But the fair one they were seeking.
Choked with anger and frustration,
Tormented by his jealous passion,
The sorcerer devised a plan;
To catch Ludmila was his mission.
So, the lame blacksmith, Vulcan,
Fair Aphrodite's spouse, began
To forge a net, his wife to snare,
And to the gods' mocking laughter
Exposed her gentle form as, after
Her deeds with Mars, she rested there…
One day the princess, sat quietly,
Within a marble gazebo,
Suffering from ennui, full weary,
Gazing on the flowering meadow,
As the branches gently swayed.
Suddenly, she hears, the maid,
A voice calling out: 'Dear friend!'
And sees the faithful Ruslan nigh,
His face, his form, yet dim his eye,
And pale his face, blood doth descend
From his pierced thigh. 'Tis you, Ruslan!'
She cries, heart fluttering, and lo,
Flies to him, like some swift arrow.
'Here…bleeding…all pale and wan?'
Reaching him, she clasps him tight
Yet finds…the vision vanishes!
Horror! Tis but some ghostly knight,
And she ensnared in silken meshes.
The hat has fallen from her brow;
'She's mine!' the cry; he sees her now,
The sorcerer, stands, before her eyes.
She falls, quite senseless, to the ground,
And yet a dream comes to surround
The maid, within its wings she lies.
What fate attends on our princess!
O, dreadful sight, the dwarf it seems
With brazen hand seeks to caress
Ludmila's charms, the while she dreams!
Is he to know the taste of bliss?
Yet, high, some horn rings out…at this
He turns; a challenge then? With dread
The sorcerer pales; confused, once more
He sets the hat upon her head;
The horn sounds, louder than before!
And, shouldering his beard, he goes,
To meet, it seems, with unknown foes.
Canto V: The Rescue
AH! How sweet is my princess!
The maid I like the best of all;
Sensitive, modest to excess,
And to her marriage vows no less
True; capricious? – not to recall,
Just sweeter for her liveliness.
She knows how to win us, truly,
Enchants us with her charm, alway;
Must one not contrast that, hourly,
With our Delfira's harshness, say?
The first the lovely gift was sent
Of so delighting hearts and eyes;
Her speech, her smile, both realise
In me love's passion and intent;
While, for spurs and whiskers meant,
The latter's a Hussar in disguise!       
Blessed the lover who at evening
Finds a fair Ludmila waiting,
Naming him her heart's true friend;
Yet twice-blessed he who, in the end,
Shuns Delfira, swiftly fleeing,
And far from her his way does wend;
While best of all is not to meet her.
Yet – naught of this is to the matter!
Who's trumpet call is it that sounds;
Who challenges the dwarf to fight?
Who's dealt that sorcerer a fright?
Ruslan, it is, whose call resounds,
Echoing through the castle grounds;
Beneath the battlements he waits,
The horn much like a storm doth blow,
His steed is champing, at the gates,
And with its hooves it churns the snow.
The prince is poised yet, suddenly,
A thunderous blow strikes his steel helm,
Dealt by some hand, invisibly,
Destined to well-nigh overwhelm;
Ruslan half-stunned, lifts up his head,
And spies a mace above, on high –
For Chernomor soars through the sky;
The dwarf indeed would see him dead.
Ruslan crouches, thrusts up his shield,
Waves his sharp sword, and scorns to yield;
The dwarf flies upward to the clouds,
Vanishes there among mist-shrouds,
Then plunges at the prince once more.
Yet Ruslan, with his sweeping blade,
Strikes the sorcerer to the floor;
Dismounts, the blow received, repaid,
And runs to grasp him by the beard;
The sorcerer struggles, groans, and then
With Ruslan clutching him, tis feared –
The steed bemused – flies off again;
Into the clouds the dwarf soars still;
The hero's borne, beyond his ken,  
Over the mountains bare and chill,
Grasping the beard hard, with a will,
His arms aching, interminably;
Over the gloomy forest, high,
Over the mountain range they fly,
Over the dark depths of the sea,
Ruslan clinging, as they speed by.
Weakening, awed by Ruslan's strength,
The dwarf turns, slyly, to Ruslan,
'Prince, I'll harm you not!' at length,
He cries: 'Honour to you, brave man!
I'll forgive you, your blow forget,
And so, descend, though we're ill met,
Though upon one condition only…'
'Silence, sorcerer!' cried the knight,
'Ruslan deals not with wizardry,
With one whom torment yields delight.
Never will there be contract made!
The thief must fall to my steel blade.
Up to the stars, go soar in flight,
Yet lose your beard to darkest night!'
The sorcerer feels his courage fade,
With silent sorrow, deep frustration,
He tugs his beard in consternation,
Trying to win his freedom so:
But Ruslan will not let him go,
Teasing and tweaking, with elation.
Two whole days the dwarf flies, slowly,
And on the third he cries for mercy:
'Oh, sir knight, but show compassion,
For I can scarcely breathe: no more,
My life is yours; my fate is sure;
I will descend where'er you say.'
'Ah, you tremble! With scant delay,
Submit yourself to my command!
My fair Ludmila I demand.'
And Chernomor, humbly, obeys;
He sets off homewards with the knight;
And, in an instant, they have sight
Of his dread fortress through the haze.
There Ruslan took his sword in hand,
And with his free hand grasped the beard,
And much like grass in meadow-land,
Clean through the length of hair he sheared.
'There now!' he cried, dismissively,
'Where, thief, is all your beauty? Gone,
With all your powers!' Then, securely,
His helm he tied the beard upon;
And whistling, he called up his steed;
The horse flew to him, magically,
The sorcerer, half-dead indeed,
He thrust in a sack, cheerfully,
And fearing to waste a moment, soared
Through the air to the mountain-top,
And, with the dwarf secure aboard,
Into the palace, and there did stop.
Spying the beard, upon his helmet,
To mark his victory, proudly set,
The crowds of Moors that he now met,
The throngs of slave-girls, fled away,
From hall to mighty hall he strode,
Called 'Ludmila!', from bay to bay,
Seeking his spouse in that abode;
Hearing naught there but the echo
Of his voice, from empty reaches,
That never a trace of her bestow;
His eagerness scant patience teaches.
He enters the garden by a door –
Gazes around, but finds her not,
Anxious, determined but unsure –
All seems dead, mute every spot,
Silent groves and chill gazebo,
The river banks, its placid flow,
In meadow, valley, no Ludmila,
No sign, no sound of her, ever.
The prince, seized as if by fever,
Feels a chill, his eyes grow duller,
In his mind dark thoughts arise:
'Grief…captivity,' he sighs,
'A moment… the water there…'
Sad fancies, and he bows his head,
In silent longing, filled with dread,
Still as a stone; while woe and care
Consume his mind, his heart on fire,
Tormented by despair, desire.
The shade it seems of his princess
Clings to him, and seeks his kiss…
And in his passion's wild excess,
He rages round the park, at this,
Cries out, to Ludmila calling,
Great rocks from the hillside falling,
As he attacks them with his sword;
Cracks the gazebo, fells the trees,
Sends the bridges crashing downward,
And turns to wastes the shrubberies!
Far off the echoes ring abroad,
As thunderous noises fill the breeze;
Eagerly, he seeks a victim,
Swings right and left to land a blow –
When suddenly there before him,
Ludmila lies; by flailing so
He's knocked the hat quite off her brow…
No more invisible, she's there,
Chernomor's cap dislodged somehow,
And in full sight the young and fair…
Vanished is all her magic power,
Dispelled by the hero of the hour!
He's freed Ludmila from the snare,
And, scarce believing his own eyes,
Intoxicated, joy his share,
Falls at her feet, in sheer surprise;
He tears the net, you may depend,
From his most true and faithful friend,
With tears of love, to her doth bend;
And yet the maid seems to slumber,
Her eyes and lips sealed together,
Some secret dream doth her attend.
Fixed is Ruslan's gaze, his fears
Torment him, rooted to the spot…
When suddenly a voice he hears
The Finn's voice comes, to ease his lot:
'Take heart, dear prince! Be on your way,
Bear home the sleeping Ludmila;
Strength of heart be your mainstay,
Be faithful now to love and honour.
For Heaven's righteous bolt will fall,
Peace shall reign, and love shall bless –
In shining Kiev, your princess
Will rise from sleep, no more in thrall
To her strange dream; so ends distress.'
Ruslan, in happier frame of mind,
In his arms now takes his bride,
Leaves the heights, and goes to find
His steed, and then prepares to ride
And leave the fortress far behind.
With the dwarf in his sack, they go
Down to the valley-floor below;
There in his arms Ludmila lies,
Fresh of face, as the dawn in spring,
Her braid coiled in a golden ring,
On the hero's shoulder, she sighs,
As through her hair the breezes stray,
A soft glow o'er her cheeks doth play
A rose she seems, to Ruslan's eyes.
How oft, as he rides on his way,
Her breast heaves, in her deep slumber!
How oft she breathes her lover's name,
Murmuring in a languid whisper!
Love, and her dreaming, bring that same
Image to her… and, as she sleeps,
He feels her breathe, he sees her smile,
Or her blind tears flow as she weeps,
While he rides on, mile after mile…
Along each vale, o'er mountain height,
He journeys on, both day and night;
Ne'er halting, to his road he keeps.
And does the young prince, languishing,
Aflame with unassuaged desire,
And in great torment, never tire
Of his role, in closely guarding
His slumbering princess like this;
But smothering his deep longing,
Rests content, chastely dreaming,
And in that only seeks his bliss?
So, the wise monk writes, when telling
The story of our prince, and his
Has proved the text that kept alight
The legend of our noble knight:
And I believe it; love unshared
Is merely passion, dull, impaired:
In mutual pleasure lies delight.
When languid spring the heart enthralled,
Your sleep did not, fair shepherdesses,
Resemble those of our princess's…
As on one evening, now recalled,
My lovely Lida, slyly scheming,
Beneath a birch tree, in the glade,
Seemed untroubled in her dreaming,
At rest within the forest's shade…
Ah, that first kiss of love, conveyed,
So shyly, lightly, shall not fade;
So gentle it broke not her dream,
So placid did her slumber seem…
What nonsense; it exists no more!
Why seek such love to remember?
Of joy and sorrow, but an ember
Glows, of what died long before.
And I must seek – in its December –
Ruslan, his bride, and Chernomor.
The steppe stretches out around them,
Where clumps of spruce trees appear;
And there's a tall mound standing clear,
With darkened summit, before them,
Outlined against the bright blue sky.
Ruslan sees now, there sits the Head;
His steed, with greyhound's pace, draws nigh;
The wonder of wonders seems dead,
Yet looks on them with silent gaze,
A forest of black hair hangs o'er
The mighty brow, a tangled maze,
The face is lifeless, charms no more,
Tis pallid, like a lump of lead;
Vast lips apart, as if in dread,
Huge teeth set in a fleshy bed…
While over that near-cadaver,
The judgement hour already looms.
Ruslan flies to it, with Ludmila,
While at his back the dwarf still fumes.
'Noble Head, all hail!' he cries,
I return, and bring the traitor!
The miscreant's our prisoner!
With this, the Head revivifies;
Ruslan's cry has roused a feeling
Now it wakes, as if from dreaming;
The Head looks all about, and groans,
Sighs, loudly, in its dreadful woe….
On seeing the proud knight, it moans,
And spies its brother there also.
Its nostrils flare, a crimson hue
Spreads o'er its cheeks, and from the eyes
A flame of fiery anger too,
Beams out its fury to the skies.
With gnashing teeth, to its brother
In language harsh, and icy cold,
A fierce reproach it seeks to utter,
As if some passing-bell has tolled…
Suddenly, its speech seems fainter,
The face grows pale, the eyeballs roll:
Soon now it will no longer suffer,
For death frees that tormented soul…
And then the prince, and Chernomor,
See it shudder; it breathes no more,
Extinguished like some fading coal.
The Head remains there, unmoving.
The knight rides silently away;
The dwarf, behind the saddle, trembling,
And clinging there as best he may,
While, in some vile tongue, invoking
The demons to whom sorcerers pray.
On the sloping, shaded margin
Of some nameless little river,
Amidst the pine-trees, dark within,
And sheltering in a glade therein,
A hut stood; there slow-moving water,
Bathed its reed fence, while the breeze
Made scarce a murmur through the trees;
A place of calmness, solitary
In aspect, yet not melancholy,
Built some unknown soul to please.
The place its secrecy maintained,
The forest round it dark and deep,
As if a silence bound to keep
That from the world's creation reigned.
Ruslan halted there, close by it.
It was the very dawn of day;
The valley, glowing in the quiet,
Amidst the mists of morning lay.
He set the princess on the grass,
He sat beside here then, and sighed,
In deep despondency, alas,
Yet sweet hope lingered there, inside.
When, suddenly, he saw sailing,
Down the quietly-flowing river,
A boat, while the sound of singing
Floated to him on the water.
His net upon the surface cast,
A fisherman leaned on his oar,
Back to his hut he came at last,
And landed on the wooded shore.
There, a young maid ran outside;
The prince observed her, silently,
Quite captivating, sweet was she,
Nor sought her smiling face to hide;
Admired her loosely hanging hair,
Her slender form; her smiling gaze,
Her neck, and both her shoulders bare,
Her beauty such as garners praise.
The pair met again with pleasure,
And sat beside the cool water,
Bent upon an hour of leisure,
Deep in love with one another.
Yet who has our brave Ruslan,
Recognised in this fisherman?
Who then is he, the happy lover?
Tis Ratmir, one born for glory,
For great deeds retold in story,
In love and war his rival; he
Had yet found new serenity,
Ludmila, glory, both forgot,
A calm existence now his lot,
Embracing his love, tenderly.
The prince approached them, while Ratmir
On seeing Ruslan, gave a cry,
Welcoming him, as he drew near…
And Ruslan clasped him; eye to eye,
'What do I witness here? he sighed,
'Why have you quit the warrior life,
The sword that you once glorified?'
'Enough, my friend, enough of strife,'
Ratmir replied, 'my soul is weary
Of fame and glory, and the fight,
Such are phantoms, vain and empty,
Mere ghosts that cannot bear the light.
Love is the glory that shines bright,
And peace proves dearer to the heart.
No more athirst for war's madness.
Rich in my new-found happiness,
Why from these oak-woods should I part?
All else I have put by forever,
Even my longing for Ludmila.'
'I'm glad of that, my good Ratmir,
For Ludmila I've brought with me.'
'Is it so? Then good news I hear,
And you have set the princess free…
And she is with you? Where is she?
May I? – Yet, no, I'll not betray
My friend, who proves so very dear,
For she's the one who, day by day,
Transforms me, as you see here.
She is my life, my joy, my truth!
True love she has revived in me,
Restored to me my long-lost youth,
Granted me peace, and certainty.
For I was promised happiness,
By twelve fair maidens, all in vain;
Twelve sirens, each a sorceress,
Who offered me what brought but pain;
For her, I quit their fortress ward,
Guarded by oak-trees, and forgot
Battle and glory, helm and sword,
Chose love and peace, here, as my lot.
A recluse, tranquil and unknown,
I dwell, delight my only goal,
Beside my friend, my love, my own,
Who is the light, now, of my soul!'
The sweet shepherdess made no move,
But listened quietly at his side;
She smiled sweetly, or she sighed,
Fixing her gaze upon her love.
There, the fisherman and the knight,
Their hearts and souls upon their lips,
Sat, on the shore, while it was light –
Till night achieved the day's eclipse.
Dark grew the woods below the hill;
Time for our hero to depart!
The moon arose, and all was still;
Cloaking the maiden, his dear heart,
As she slept, in a robe, Ruslan,
Went to mount his faithful steed;
Ratmir followed; a thoughtful man
Silent, preoccupied indeed,
Yet wishing the prince victory,
Love, and glory, and happiness…
Recalling, involuntarily,
His proud youth, with quiet sadness.
Why has destiny not fated
My fickle lyre only to sing
Of fine deeds, to things (outdated),
To love, to friendship music bring?
Why, poet of sad truth, must I
Sing vice, and malice, with a sigh,
For future generations tell
Of secret doings, and rehearse
The treachery that now befell,
Our noble pair, in truthful verse?
Farlaf, still seeking the princess,
Though of her love all unworthy,
Having lost his chance at glory,
Hid, waiting for the sorceress;
And in a solemn hour she came,
Naina, yes, that very same,
That seer who some foul witch begat,
Crying: 'You must know me, surely?
Saddle a horse, then; follow me!'
And then…she turned into a cat;
The horse was saddled; just like that,
Off she went; he followed closely,
Through the oak-woods, deep and gloomy.
Veiled by clouds of mist, the valley
Slumbered quietly, in the night,
While the moon slid, silently,
From cloud to cloud, then cast its light
On a hill, thus, brilliantly,
Illuminating it, outright,
While, beneath it, Ruslan, sitting,
Troubled by his endless longing,
Kept vigil o'er his sleeping bride.
There he pondered, deep in thought,
Dreams on dreams, a rising tide,
Flowing through him, all unsought,
As cool wings above him brought
Slumber; soon his eyes grew dim,
Till, at the maiden's feet, falling,
Sleep, in an instant, conquered him.
Now a sinister dream he dreams:
Within it, sees that bride of his,
Pale and motionless; she seems,
Poised on the brink of an abyss…
When, suddenly, she vanishes,
He stands alone above the deep…
But, then, a voice – tis hers no less,
Calls, seeking aid… and in his sleep,
He plunges, careless of his life;
Into the dark, pursues his wife…
But then, recovering from his fall,
Sees Vladimir, in his great hall,
Surrounded by his grey-haired knights,
With his twelve sons, seated by him,
And a crowd of guests, as he alights,
At phantom tables, dining nigh him.
Yet the old prince is full of ire,
As full as on that day of parting,
And all sit silent, round their sire,
And not a one of them is moving.
No cheerful noise, none are at ease,
No bowl from which to drink anew…
While there, among the guests, he sees,  
The face of Rogdai, whom he slew,
Drinking from a frothing cup;
As if alive, he sits; the dead man,
Cheerful, quaffing, ne'er looks up,
To meet the stunned gaze of Ruslan.
And Ratmir's there, midst friends and foes;
The voice of Bayan rising, clear,
Accompanied by the zither, flows,
Chanting of heroes and good cheer.
Now Farlaf enters, with Ludmila,
The old man chooses not to stand,
But bows his head, sadly, to her;
Princes, boyars, on either hand,
All of that noble crowd, are silent;
Then, all vanishes, they are gone!
A mortal cold, in an instant,
Grips the prince, who yet sleeps on.
Sad tears he sheds, weeps bitterly;
He stirs: thinks, then, that he but dreams!
Yet languishes, tormented clearly;
And, still, he cannot break, it seems,
The spell that holds him, securely.
A pallid moon lights the mountain;
The trees are embraced by darkness,
Pure silence grips the vale, again…
Farlaf, the traitor, makes his ingress.
There, lies an open patch of ground,
His fearful heart now skips a beat,
He sees, ahead, the gloomy mound,
Ruslan asleep, at Ludmila's feet,
The prince's steed circling round.
The witch has vanished in the mist,
His fearful heart begins to pound.
The bridle falls from his slack fist,
And yet he quietly draws his blade,
As he prepares to slay the knight,
With but the one blow, shrewdly made…
He rides closer, but scent and sight,
Rouse the charger; its enemy
It senses, stamps, yet all in vain!
Ruslan hears naught; the dream, tis plain,
Still weighs upon him, dreadfully!...
Stirred by the witch to seek his gain,
Farlaf now plunges the cold steel,
Three times into our hero's breast…
And with the spoils of his ill quest,
Away, into the dark, doth wheel.
Beneath the mountain, till dawn-light,
Ruslan lay there, insensible.
The hours passed, an endless trickle
Of blood flowed from the wounded knight.
Yet, at day-break, he woke in pain,
When, uttering a heavy groan,
He tried to rise; but flesh and bone
Proving unequal to the strain,
Like one who's dead, lay still again.
The End of Part III of 'Ruslan and Ludmila'
---