Alexander Pushkin
Ruslan and Ludmila: Part I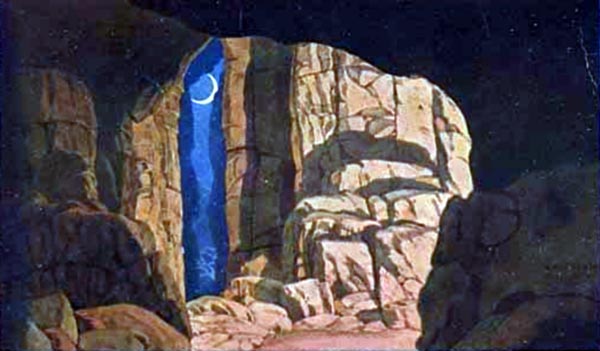 'Yet there's a cave he makes his goal'
Ivan Bilibin (Russian, 1876 - 1942)
WikiArt
Translated by A. S. Kline © Copyright 2021 All Rights Reserved
This work may be freely reproduced, stored and transmitted, electronically or otherwise, for any non-commercial purpose.
Conditions and Exceptions apply.
---
Contents
---
Dedication
FOR you, the sovereigns of my soul,
Fair ladies, for yourselves alone,
These tales from my hand unroll,
In golden hours of leisure sown;
The whispered fables of past ages,
Shall here fill every playful line.
Receive these eloquent few pages!
For which I ask no praise; for mine
Is but sweet hope; my heart content
If some young girl shall, furtively,
Peruse, her mind on love intent,
These errant songs; or such as she.
Prologue
THERE is a green oak by the bay,
And on the oak a chain of gold:
A learned cat, both night and day,
Circles upon that chain, of old:
And to the right – he spins a song,
And to the left – a tale of wrong.
What marvels there! The wood-sprite rides,
Among the leaves the mermaid hides;
While on deep paths of mystery
Strange unknown creatures leave their spoor;
For huts on hen's legs you can see,
That lack a window or a door;
Wood and valley vision-brimming:
There at dawn the waves come washing
Across the sands and silent shore,
And thirty noble knights appear
One by one, from those waters clear,
Attended there by their tutor;
While a king's son who's riding near
Makes a fierce king his prisoner;
A wizard carries through the sky
A knight, past all the people there,
Over the forests, seas, they fly;
A princess pines there in a cell,
Served by a brown wolf, long and well;
While, with Baba Yaga inside,
A mortar gives that witch a ride;
As King Koschei grows ill with gold.
It's Russia! – Russian scents unfold!
And I was there, and I drank mead,
I saw the green oak by the sea,
I sat there while the learned cat
Told its stories; here's one that
I remember, and now, unfurled,
The tale I'll tell to all the world…
Of deeds performed in ages past,
Things wrought in legendary days.
Canto I: The Abduction
IN his high hall, midst guests amassed,
His fierce sons at his side always,
Sat Vladimir, the Bright Sun, feasting;
His fair daughter he was wedding
To Prince Ruslan, brave and fair,
And from a heavy cup, held there,
To their health, sweet mead was drinking.
Our ancestors ate slowly, they
Long passed the silver bowls around.
They ladled out the wine, that day,
And steaming cups of ale they downed.
Into their hearts they poured good cheer,
Foam hissing at the goblet's rim,
Watching the butlers, prompt, appear,
With vessels filled all to the brim.
In one great hubbub all confounded,
The guests their joyful circle made;
On high a pleasing voice then sounded,
The zither's fleeting music played.
A hush – all listened as Bayan,
That noble singer, praised the pair,
Ludmila's charms, the bold Ruslan,
Love's joining of the brave and fair.
Yet, consumed by ardent feeling,
Ruslan, eating not, nor drinking,
From his 'dear heart' turns not his eyes,
He burns with passion, frowns and sighs.
Tugs his moustache and, impatient,
Counts the passing of each moment.
At one table, midst the feasting,
Three grave young knights are sitting,
Despondent, and with gloomy brows;
Neglectful of the fare, the ale,
They neither eat, nor drink, nor rouse,
Forget the cups, the brimming pail.
They do not seem to hear Bayan,
Embarrassed, they lower their eyes,
These three are rivals of Ruslan,
A deadly brew of love and hate,
Within their hearts' depths, they disguise.
The first: Odin-Rogdai, the brave,
That, with his sharp blade, once gave
A greater breadth to Kiev's fields;
The second, Farlaf, loud and vain,
In feasting first, but, then again,
With the sword the one who yields;
The last one, passionate at heart,
The young Khazar, Khan Ratmir.
Sullen and pale, they brood apart,
And from the feast they take no cheer.
The feast is done. The feasters rise,
And mingle, while all turn their eyes
Towards the newly-weds, the bride
Lowering her gaze, in modesty,
As if her heart quaked inwardly,
The groom all smiling at her side.
Night's shadows now embrace the earth,
And, close to midnight, silence reigns;
The sleepy boyars cease their mirth,
Mead-fuddled, bow, then take the reins.
The groom's delighted, all elation,
Clasping, in imagination,
Caressing, his shy virgin bride;
While the Grand Duke moves to bless
Their union, with fond tenderness,
And sorrow that he seeks to hide.
And now the girl, without delay,
Off to the marriage bed they light;
Dimmed the lamps, yet, many a ray
Of Love's lamp now warms…the night.
Gifts of love are here made ready,
Its sweetest hopes are now found true;
Jealous robes, that tumble sweetly
Byzantine carpets now must woo…
Do you not hear the loving whisper?
And the sound of their sweet kiss?
And then an interrupted murmur,
A last shyness? Expectation
Fills the groom with true delight,
When, at this moment of elation…
Harsh thunder sounds… a flash of light,
The lamp expires, and smoke pours out,
All's darkness, all things sway about,
While the soul of Ruslan freezes….
Then dread silence, all noise ceases,
A strange voice rings out, loudly, twice,
A dreadful form the darkness seizes,
One blacker than a foggy haze,
Then once again the tower is still.
The groom starts up, despite his will,
Upon his brow the sweat like ice.
Trembling, with chill hand, he strays,
Questioning the darkness where
Naught's to be found but empty air…
And never a sign of his dear heart!
The emptiness he grasps at; she,
His Ludmila, snatched suddenly,
Borne away through some evil art.
Oh, if you must find martyrdom
Bearing a passion, hopelessly;
Though to a life of sadness come,
My friends, not all is misery;
Yet if, after long years, pining,
I embraced my love a moment,
After tears, desire, and longing,
Only to find her, in an instant,
Lost forever…my friends, then I
Would, willingly, prefer to die!
Ruslan was simply most unhappy.
What would the Grand Duke have to say?
Hearing the news, brought suddenly,
His son-in-law he sought to flay.
He summoned him, convened the court:
'Where is Ludmila?' overwrought,
He cried, with dread and fiery brow,
Ruslan replied not. 'Friends and kin!
I think of your past deeds, who now
Will pity an old man, seek, and win
My child, by following after?
For their success shall not prove vain –
Yes, wail you wretch! And forever
Cry how you failed her, live in pain! –
Her rescuer a bride shall gain,
And my forefathers' realm also,
Friends, kin, who'll answer to my plea?...
'I', the sad groom said, 'I shall go!'
'I', 'I', – with Rogdai, cried loudly –
Farlaf, and the joyful Ratmir.
'We will saddle our horses now,
Happy to seek both far and near.
You'll not be parted long, we vow.
Fear not: the princess we'll pursue.'
His gratitude was great, in tears,
He stretched his hands to them, anew,
Full of sorrow, bowed by his years.
Swiftly, the four knights departed,
Ruslan despondent, and half-dead,
Tormented, near broken-hearted,
Thinking of her whom he had wed.
Mounting their eager steeds, all four,
Race now along the Dnieper's shore,
Leaving a dust-cloud in their wake,
Are soon, upon the course they take,
Lost to sight, while long he'll stand,
The Grand Duke, gazing into space,
Bare, empty fields on either hand,
As his sad thoughts pursue the chase.
Ruslan was silent, full of care,
His reason and his memory dim,
While, haughtily, glancing there,
Over his shoulder, after him
Sped Farlaf, but a pace or so
Behind, crying: 'Friends, now that I
Taste freedom, well if I should spy
Some fierce giant!  The blood will flow,
Love many a victim shall afford,
Many through jealousy must bleed,
For passion's sake. Rejoice my sword,
Rejoice, rejoice, my eager steed!'
The Khazar Khan who seemed, already,
To clasp Ludmila for his pains,
In thought, upon his saddle fairly
Danced, youth pulsing in his veins,
The light of hope gleamed in his eye.
Onwards, he makes his stallion fly.
Now rearing his fine steed, teasing,
Now urging his brave mount uphill,
Now leaving him to his prancing.
Rogdai, gloomy, silent, fearing
Some unknown fate, now feels the chill
Of his jealousy far more than
All the rest; his anguished gaze
Now often fixed upon Ruslan,
A dark and dreadful cast displays.
To the same road the rivals keep,
All that day, while the sky is light,
To where the Dnieper's banks are steep,
And, from the east, shade fills the night.
Mist pours down to veil the river;
Their weary steeds have need of rest.
Where their road crosses another
Below the mountain, it seems best
To part: 'To fate,' the riders cry,
Let us entrust ourselves.' And so,
Each steed, unspurred now, by and by,
Choosing a path, meanders slow.
What then, my Ruslan, all distraught,
Alone, in silent desolation?
It seems Ludmila, all you sought,
Was but a dream; a lost elation.
Your visor raised upon your brow,
The reins loose in your powerful hand,
Your ride amid the dark fields now,
And neither faith nor hope command,
Both ebbing there, within your soul.
Yet there's a cave he makes his goal –
A light there; he dismounts, to stand
Before it, and then moves to enter
That slumbering vault, old as nature.
Despondently he walks, to where
An aged man is seated; clear
His eye, and calm his quiet gaze,
Grey with years his tangled hair.
The lamplight falls about him there;
Over the ancient book it plays,
In which he reads. 'Welcome, my son!'
With a smile, he now greets Ruslan,
'Twenty long years are past and done;
Faded now, but an aged man,
Here I have waited, patiently,
For this day that I long foresaw;
Bound now by fate's unyielding law,
Come, sit here, and attend to me.
Ruslan, Ludmila's lost to you,
The strength of your great spirit, too
Has waned, and yet these ills will pass.
Though evil chance plagues you, alas,
With faith and hope yet, bravely fight
Against all woes; with manly art,
Advance – though in the dark of night –
With shining blade, and valiant heart.
Ruslan, seek out the one who's wronged you,
The dreaded sorcerer, Chernomor,
Lodged in his mountain fastness, who
Has snatched away young girls before.
No man as yet has entered there,
Nor even set his gaze thereon,
But you shall end this ill affair,
And penetrate his hold; lay on,
And slay the wretch with your own hand.
No more I'll say, where all's amiss:
Your fate now, you must understand,
Depends on your own will in this.'
Our knight knelt at the old man's feet,
And kissed his right hand, joyfully,
A fairer world he seemed to greet,
His heart forgot its misery.
He felt restored: yet, suddenly,
The blood again drained from his face…
'Your sorrow's cause is plain to me,'
The old man said: 'And yet your case
Is not so sad, your woe I'll banish.
You fear the sorcerer's ill passion;
Be calm; no harm shall he accomplish,
She need fear naught in his dread prison.
He draws the stars down from the sky,
He whistles, and the moon must tremble,
Yet he must still see time go by;
His art is weak, though he'd dissemble.
A jealous guardian at her door,
Who keeps her under lock and key,
Yet, impotent, he'll do no more
Though his captive owns to beauty.
He wanders near her cell, in silence,
Cursing the harshness of his lot…
But, fair knight, the light goes hence,
Let peace and rest not be forgot.'
On a bed of moss, Ruslan lies,
By the embers of a dying fire,
Seeking forgetfulness, he sighs,
Tossing and turning, with desire…
Tis all in vain! He yet must speak:
'Sick at heart, though sleep I seek,
Father, my mind: it will not rest.
Life wearies me; what shall I do?
Ill dreams torment your sorry guest.
Converse with me: who then are you,
Blessed confidante of fate? Forgive
The bold nature of my question:
And why in this waste do you live?
Engage me yet in conversation.'
The old man answered him like this,
Sighing; 'I have forgot, dear son,
My distant home, a land of mist.
Finnish by birth, why, I was one
Who tended to my neighbour's sheep,
In lonely vales to which we keep,
And in my carefree youth I knew
The dense oak-groves, the running streams,
The stony caverns, and the few
Pleasures that fill a poor man's dreams.
My days in solitude I spent –
There came an end to my content.
Near our village, there lived a girl,
Named Naina; in all this world,
No sweeter flower of solitude,
Existed, none was lovelier.
One morning I came upon her,
For, playing on my pipe, I viewed
Her by a stream, as there I grazed
My flocks in a grassy meadow.
Young and beautiful, she raised
Her hands to wreathe a garland so,
And my fate was sealed forever…
Ah, knight – for it was Naina!
As my reward, I felt the blaze
Of passion for my daring gaze,
For love had set my soul on fire,
Heavenly joy that lifts us higher,
And all the pangs of deep desire.
Six months passed, and, full of fear,
I opened up my heart, drew near,
Cried: 'How I love you, Naina!'
Yet my timid words she ever
Scorned, displayed a look of pride;
Vainly flaunting her charms anew,
Indifferently, she replied:
'Well, shepherd boy, I love not you!'
Now all things seemed strange to me,
Gloomy the native oak-trees' shade,
The shepherds' frolics in the glade,
Naught could ease my melancholy,
Sunk deep in dark despondency;
To leave Finland was my mission,
And risk the dangers of the ocean;
To sail, and with a band of brothers,
Attempt thus to achieve high fame,
Naina's fresh attention claim,
Swore it, in the style of lovers.
I found bold fishermen, and we
Took to the waves, to seek for gold,
Shores where all once lived peacefully
Now saw the steel flash bright and cold,
The warring vessels clashing loudly.
Thus, full of hope, I sailed away,
Midst my countrymen, fought fiercely,
Many the foes that we did slay,
Till the snow, the waves, ran redly.
Our fame, it spread; until, I say
Foreign kings feared our arrival,
Their proud squadrons fled, that day,
The northern blades dealing trouble.
Fiercely we fought, cheerfully too
We shared the spoils, and sat down
To feast with men we conquered, who
Ate with us, and with never a frown.
Yet, my heart lost to Naina,
Below the sound of feasts and war,
I yet longed for her, as ever,
Seeking still my native shore.
'Friends,' I cried, 'tis time to leave,
Hang our chain-mail neath an eave
Of some fine hut, in peace of mind!'
The oars now stirred; our battles past,
Leaving a trail of fear behind,
We sailed forth, Finland's shores to find,
And proudly anchored – home at last!
Fulfilled, was my enduring dream,
Fulfilled, was all my deep desire!
The moment shone with lightning-fire,
Sweet meeting's bright and ardent gleam!
At the feet of my proud beauty,
I laid my sword, stained and bloody,
Corals, and pearls, and shining gold.
Drunk with passion, I stood dumbly,
Surrounded by her throng of wholly
Envious friends, no longer bold,
But rather, now, turned prisoner.
Yet full of scorn, my love forgot,
She, in her indifferent manner,
Cried: 'Hero fine, I love you not!'
Why speak, dear son, of things that I
Now lack the strength to remember?
Here, in solitude, where I sigh,
The spirit numbed, the grave closer,
Sadly, my sorrows I recall,
And at the thought of times gone by,
Heavy the tear that's born to fall
To my grey beard, from out my eye.
But, listen! In my homeland there,
Amidst wild fishermen, is where,
In the wastes, strange arts folk ply.
Beneath the trees' eternally
Silent roof, in the forest deep,
Grey-haired sorcerers, secretly,
Upon the highest wisdom keep
Their minds directed; they foresee
All; and such is their potency
That all to come, as all long past,
Is subject to them, utterly;
Love itself, and the grave at last.
And, I, who sought love avidly,
Determined that, nevertheless,
I'd rouse love in proud Naina
By magic, spite all woefulness.
Thus, the forest's dark interior
I hastened freely to embrace.
Immured in solitude, I learned
The sorcerer's art, till I had earned,
Through unseen years in that place,
Dread knowledge of fair Nature's power;
Came long-sought momentary grace:
To magic now I might aspire.
'The crown of love and love's desire,
Naina, now is mine', I cried,
Thinking to gain the goal denied,
But fate it was that won the day,
My stubborn enemy alway.
Filled with youthful hope, and dreams,
Roused by my desire, I, swiftly,
Cast a spell, and summoned to me,
Midst the forest's shadowy gleams,
Dark spirits, till lightning, briefly,
Magically, the gloom did greet,
And with a whirlwind there did meet…
Earth shuddering beneath my feet.
And, on the forest floor before me,
A crone, grey-haired, I now did see,
A hump-backed form, in my retreat,
With trembling head, yet eyes alight
Oh, my Naina twas, brave knight!...
With silent dread I now measured
That wretched form with my eyes,
My doubt I scarcely could disguise,
And cried: 'Is this my treasured
Darling? Naina can this be you?
Naina where is all your beauty?
What power changed you utterly,
And formed you, terribly, anew?
How long then since I left the light,
And parted from my dear, my soul;
How long?'… 'Full forty years, all told,'
The crone replied, eyes glittering bright,
'Seventy years are mine this day.
What then? … Tis thus the years speed by:
Your spring is done with now, I say –
As is my own, life drains away –
And we are old now, you and I.
Yet listen, friend, it matters not,
If fickle youth's forsaken you,
If I am grey, and crooked too,
My liveliness my charms forgot,
If I am not what I was then,'
And, muttering, she spoke again:
'For (tis my secret), nonetheless,
A witch am I, a sorceress!
And so, she was indeed, and I,
I stood there dumb and motionless;
For all my knowledge won thereby,
A perfect fool was I, no less.
And then the horror! For my spell
Had worked on my grey-haired goddess
Successfully, yet far too well;
Fresh passion stirred within her breast.
Her dread mouth twisted in a smile;
In graveyard tones, yet free of guile,
She mumbled out her love for me.
Imagine then my agony!
I trembled, and gazed at the ground;
Despite her coughing, still I heard
A deep, a passionate note sound:
'Well now, dear friend, I, in a word
Find that this heart of mine was born
For tenderness, both night and morn;
My feelings wake, for love I burn,
For all love's passion and desire…
Come to my arms, for you I yearn…
Dear friend, I'm dying of love's fire…'
And thus, she peered at me, Ruslan,
With passionate and lustful eye,
While plucking hard at my caftan
With skinny hands. I thought to die.
Closing my eyes tight shut from horror,
Dreadful it was to linger there,
Till I could bear the place no longer,
Broke free, and ran in deep despair.
She cried: 'O you, of love unworthy!'
Pursuing: 'you disturbed me, truly,
Stole my pure, my innocent days!
You won Naina's love, and yet
You scorn her; faithlessly forget;
Such are the hearts of men always!
All breathe their treason, and none stays.
Alas, I blame myself; the monster
Had seduced me, passionate ever.
Wretched traitor! Now, shame and grief
Are mine! Yet, tremble heartless thief!
Thus, we parted. Since then, in brief,
I've lived a solitary creature,
With disappointment in my heart,
Finding solace deep in Nature,
In peace, and in the subtle art.  
Now, the grave is summoning me,
Yet those emotions linger on,
The witch has them in memory;
There, the flame of passion gone
Has turned from ire to enmity.
A black and evil-loving spirit,
She'll hate you as she hates me, friend;
And yet, to all grief there's a limit,
All earthly sorrows have their end.'
Our brave knight listened, eagerly,
To the old man's tale, open-eyed;
No lapsing into sleep, while, swiftly,
Night on its peaceful way did glide;
Deep thought his mind thus occupied,
Until the dawn shone clear and bright…
And then, in gratitude, the knight
Embraced the old man, with a sigh,
And, hopeful, left him, by and by.
He leapt into the saddle; tightly
Gripped tween his strong legs his steed,
And, with a whistle, spurred him lightly:
'Be with me in my hour of need,
Father!' he cried, as, glancing round,
He galloped o'er the empty ground.
'Farewell!' the old sage shouted twice,
'Forgive your bride; by love be bound;
Forget not this old man's advice!'
The End of Part I of 'Ruslan and Ludmila'
---