Cornelius Tacitus
The Annals
Book XIV: XL-LXV - Nero's grip tightens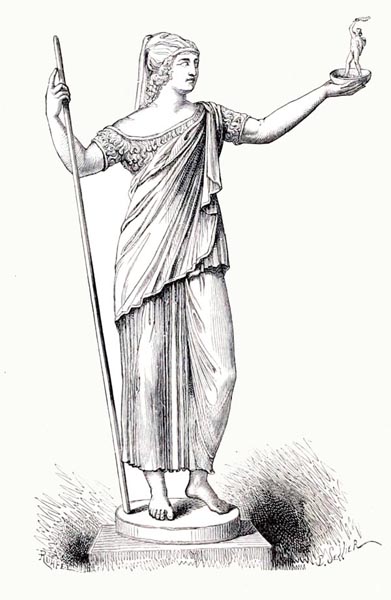 'Venus Victrix'
History of Rome and the Roman people, from its origin to the establishment of the Christian empire - Victor Duruy (1811 - 1894) (p69, 1884)
Internet Archive Book Images
Translated by A. S. Kline © Copyright 2017 All Rights Reserved
This work may be freely reproduced, stored and transmitted, electronically or otherwise, for any non-commercial purpose. Conditions and Exceptions apply.
---
Contents
---
Book XIV:XL Two major crimes
In that same year (AD61), two notable crimes were perpetrated, one by a senator, the other through the audacity of a slave.
The first crime was a conspiracy against an ex-praetor, Domitius Balbus, who was vulnerable due to his advanced age, childlessness and wealth. A relative of his, Valerius Fabianus, who was destined for public office, drew up a false will in his name, aided and abetted by Vinicius Rufinus, and Terentius Lentinus. They, in turn, had taken Antonius Primus and Asinius Marcellus into their confidence.
Antonius was bold and eager, while Marcellus, distinguished as being the great-grandson of Asinius Pollio, possessed a character not to be despised, except in that he believed poverty to be the greatest of evils. Fabianus sealed the document, which was witnessed by those I have mentioned, and a handful of less illustrious individuals.
Brought before the Senate, Fabianus, Antonius Primus, Rufinus and Terentius Lentinus were sentenced under the Cornelian law (of Sulla, 81BC). Marcellus was exempted from punishment, though not disgrace, out of respect for his ancestry and due to Nero's intercession.
Book XIV:XLI Legal subterfuge
At the same time, the young ex-quaestor Pompeius Aelianus, was also indicted for complicity in Fabianus' crime, and banished from Italy, and from his native Spain. The same ignominy was visited on Valerius Ponticus, who to save the accused from being brought before the city prefect submitted it to the praetor, in order to evade justice temporarily by a legal subterfuge and later by collusion.
A clause was added to the Senate's decree regarding Ponticus, such that whoever purchased, or offered to perform, this type of evasion would be liable to the same penalty as if convicted of dishonesty in open court.
Book XIV:XLII The murder of Pedanius Secundus
The second case, not long afterwards, involved the murder of the city prefect, Pedanius Secundus, by one of his own slaves, either because the slave's emancipation had been refused after a price had been agreed, or because he was intoxicated with a male lover and could not tolerate his master proving a rival.
When, however, the whole body of servants resident under that same roof were due to be led off to execution, according to the ancient custom, the massing together of the populace, in order to save so many lives, amounted almost to sedition, and the Senate House was besieged.
Even within its walls, there were those keen to reject excessive harshness, though most supported the existing law. Of these, Gaius Cassius, rising to speak, argued the point in the following manner:
Book XIV:XLIII Gaius Cassius argues for wholesale punishment
'Senators Elect, I have frequently made one of our number when new decrees were being proposed which ran counter to the laws and traditions of our ancestors; nor did I oppose them, and not because I doubted whether those past provisions were better or more just, beyond all question, while any alteration appeared a change for the worse, but so as not to appear to overrate my own branch of study by displaying an excessive love of ancient custom. At the same time, I thought that whatever influence I possessed here should not be undermined by exhibiting perpetual dissent, in order that it would remain intact for whenever the State needed my opinion.
That moment is here, a time when an ex-consul has been murdered in his own home through an act of treason devised by a slave, which none gave warning of, or prevented, though nothing had as yet lessened the force of the Senate decree (of AD57), which threatened the whole household with execution. Vote for impunity, by Hercules, and whom shall his rank protect, when it proved no help to this prefect of Rome? Whom shall the size of his household save, when four hundred could not protect Pedanius Secundus?
Who can hope for help from his servants, when not even fear for themselves can avert danger from us? Or, as some pretend without a blush of shame, was the perpetrator avenging some wrong of his, in the setting aside of a father's bequest and the loss of an inherited slave? Let us go further then, and declare his master was justly murdered!'
Book XIV:XLIV He demands an example be set
'Will you allow debate, on a matter which has been deliberated over by wiser minds than ours? Yet even if we were being required to frame such legislation for the first time, do you really think that a slave could decide to kill his master without a threatening word, with nothing spoken in rashness? Assume however that he kept counsel, obtained the weapon from those who knew nothing: could he evade the watch, open the bedroom door carrying a light, and perform the murder without anyone knowing? Many indications precede a crime: if our slaves disclose them to us we can live alone among many, safe from trouble, and if ultimately we must perish, at least vengeance will be taken on the guilty.
The temper of their slaves was always a source of suspicion to our ancestors, even when they were born on that same estate, or under that same roof, and knew kindness from their owners from the outset. But now those of other nations are part of our household, with diverse customs, and alien religion or none, you will never control such a motley crew except by fear. But innocent lives will be lost, you cry! True, for when every tenth man of a routed army is beaten to death, the lot falls on the brave also. Every great example contains something of injustice, benefitting the State though to the detriment of the individual.'
Book XIV:XLV The sentence is carried out despite popular opinion
While not a single member dared to oppose Cassius' verdict directly, a murmur of voices rose, expressing pity at the numbers, age or gender of the majority of the victims who were undoubtedly innocent. Nevertheless, the faction advocating execution prevailed.
But the sentence could not be complied with, a dense crowd gathering, threatening the use of stones and firebrands. Nero therefore rebuked the people, by edict, and lined the whole road by which the condemned were led to punishment with detachments of soldiers. Cingonius Varro had even proposed that the freedmen present under that same roof be deported from Italy. This, Nero vetoed, lest the ancient custom, which mercy had failed to temper, be reduced to a mere show of savagery.
Book XIV:XLVI The rise of Trebilius Maximus (later Governor of Britain)
In that same consulate (AD61), Tarquitius Priscus was convicted, on charges laid by the Bithynians, of extortion, much to the delight of the Senate who remembered his persecution of Statilius Taurus, his own pro-consul.
A property census was carried out in the Gallic provinces by Quintus Volusius, Sextius Africanus, and Trebellius Maximus, Volusius and Africanus being mutual rivals due to their rank: though, while they both held Trebellius in contempt, he was promoted beyond them.
Book XIV:XLVII The death of Memmius Regulus
That year saw the death of Memmius Regulus, renowned for his authority, his self-possession, and his being held in good repute, to the maximum degree possible in the shadow of the emperor, so much so that Nero, in ill health, and surrounded by sycophants who were predicting the end of empire if events so dictated, replied that the State still had a last resource. When asked in what, especially, he added: in Memmius Regulus. Yet Regulus continued to survive, protected by his quiet manner, and by his being born of a recently ennobled family, his modest wealth arousing no envy.
In that year also, Nero dedicated a gymnasium, the oil being supplied to the equestrian and senatorial orders with Greek liberality.
Book XIV:XLVIII Antistius accused of treason
In the consulate of Publius Marius and Lucius Afinius (AD62), the praetor Antistius, whose independence of action as plebeian tribune I have already mentioned, composed a number of scandalous verses regarding the emperor, and broadcast them aloud at a crowded table, while dining with Ostorius Scapula.
Following this, he was accused of treason by Cossutianus Capito, who had lately regained his senatorial rank due to the intercession of his father-in-law Tigellinus. That law was now revived for the first time, and it was thought that it was less Antistius' execution that was sought than the glorification of the emperor, who was to snatch him from death when condemned by the Senate, using his veto by virtue of holding tribunician powers.
Though Ostorius stated in evidence that he had heard nothing, the adverse testimony was believed; and the consul designate, Junius Marullus, moved that the accused be stripped of his praetorship and executed in the traditional manner.
The rest then expressing assent, Thrasea Paetus, after a long speech honouring Nero and vigorously attacking Antistius, argued that the accused should not undergo the full penalty merited, given so excellent an emperor and a Senate so constituted as not to be constrained by any compulsion: the executioner and the garrotte had been long abolished, and there were punishments established by laws under which sentence could be decided, without the judges seeming harsh in the extreme, or the age being disgraced.
Indeed, he added, the longer Antistius dragged out his guilty existence on some island or other, his property having been confiscated, the more miserable it would be to him personally, while constituting the noblest of examples of public clemency.
Book XIV:XLIX Thrasea secures the milder sentence
Thrasea's display of independence overcame the servility of others, and on the consul authorising a division, the former's judgement was followed, except for a dissenting few, of whom the most eager sycophant was Aulus Vitellius, who directed his abuse at the most virtuous and, as is usual with cowardly natures, was silent when answered.
The consuls, however, not venturing to ratify the decree, wrote to Nero stating their combined opinion. He hovered between embarrassment and anger, finally replying that Antistius, without provocation, had uttered the gravest insults regarding his emperor; retribution for those insults had been demanded from the senators; and the penalty initially agreed upon would have matched the seriousness of the offence. However since he had intended to prevent excessive harshness in their sentencing, he would not overrule their moderation: they must decide as they wished, and were at liberty to acquit.
These comments and their like were read aloud, his displeasure being obvious, but the consuls did not alter the penalty on that account, nor did Thrasea withdraw the proposal or the rest abandon the course they had pursued; one group of senators lest it should arouse ill-will against the emperor, the majority because there was safety in numbers; Thrasea because of his usual strength of mind, and lest the credit he had gained was lost.
Book XIV:L Fabricius Veiento, and the burning of his books
Fabricius Veiento was attacked on a not dissimilar charge, of composing a series of libels on various senators and priests, in the books he had entitled his Codocil. His accuser, Tullius Geminus, also claimed that he had been selling what was in the imperial gift, and the right to promotion. For this reason, Nero undertook the case himself, convicted Veiento, expelled him from Italy, and ordered his books burnt. The latter were in demand, and widely read, as long as it was dangerous to procure them: later, their purchase being freely allowed brought oblivion.
Book XIV:LI The death of Burrus
While the public ills grew daily more serious its resource diminished with Burrus' passing, whether by sickness or poison is unknown. It was attributed to his health, in that he had died from a gradual swelling of the throat, which obstructed his breathing. Many asserted, however, that on Nero's orders his palate was smeared with a noxious drug, in the guise of a remedy, and that Burrus, detecting the crime, averted his eyes from the emperor when he visited, and replied to his enquiries with a curt: 'Myself, I am well.'
A deep sense of loss remained in a State mindful of his virtues, and of his successors, one of them mild and innocent, the other the most flagrant of criminals. For Nero had appointed two commanders to the praetorian cohorts: Faenius Rufus, as he was a favourite of the masses, managing the corn-supply without himself profiting by it; and Sofonius Tigellinus, because of his former licentiousness and propensity for scandal.
Both displayed their known attributes, Tigellinus having the greater influence with the emperor, and being a party to his intimate debauches; Rufus maintaining an excellent reputation with the populace and the military, but disadvantaged with Nero.
Book XIV:LII Attacks on Seneca
The death of Burrus shook Seneca's authority, for not only was public morality the weaker for having lost one of its erstwhile champions, but Nero was turning to worse advisors. They, in turn, attacked Seneca, with a variety of claims; that he was still adding to that enormous wealth, which had passed the bounds of private measure; that he was directing the citizens' enthusiasm towards himself; and that in the delightfulness of his gardens, and the magnificence of his villas, he was out to surpass the emperor also.
They even reproached him with arrogating the laurels awarded for eloquence to himself alone, writing verse more often, now that Nero had come to love the art. For, regarding the emperor's entertainments, he was openly and unjustly critical of his powers when driving his horses, and derided his lack of expression whenever he sang.
How long, they cried, must not a single thing in the State prove outstanding unless it was deemed to be of Seneca's invention? Nero's boyhood was indeed over now, and the vigour of youth was upon him: let him be rid of his old master, he was possessed of more than enough teachers in his own ancestors.
Book XIV:LIII Seneca seeks an interview with Nero
But Seneca was not unaware of his detractors, their names were made known by those with some care for decency, while Nero's avoidance of intimacy was becoming more apparent. He therefore sought a time to address the emperor, and permission being granted he began: 'It is the fourteenth year, Caesar, since I was moved by hopes of you, the eighth that you have ruled the empire: in the intervening time you have heaped upon me so much wealth and honour that nothing is lacking to my happiness but keeping it within bounds.
I shall summon mighty precedents, not from my rank in life but yours. Augustus, your great-great grandfather, granted Marcus Agrippa the city of Mytilene as a retreat, and Gaius Maecenas, something akin to retirement abroad here in Rome. The one had been his ally in the wars, the other burdened by further labours in the city, ample rewards indeed, though for exceptional service.
As for myself, how have I been able to summon your generosity except by my literary efforts, conducted, as I might put it, in the shadows, and which have gained fame because I am seen to have assisted your first youthful efforts, a mighty reward for such things. But you have surrounded me with endless favours, innumerable riches, so that I often ask myself: "Is it I, born to be a mere provincial knight, who am numbered among the greatest citizens? Have I, the newcomer, distinguished myself among these noblemen displaying their ancient glories? Where is the mind that found content in moderation? Is it present in the laying out of these gardens of mine, in pacing about those villas near Rome, in my being blessed with such tracts of land, in my far-flung investments!"
A single justification occurs to me, that I had no right to resist your generosity.'
Book XIV:LIV Seneca seeks to gift his estates to Nero
'But we have both filled the measure, you of what an emperor may give to a friend, and I of what a friend may accept from his emperor: beyond that envy breeds. Envy, indeed, like everything mortal, lies far beneath your summit, but it is a burden to me, I need relief. As I would beg for support in war, or when wearied by the road, so on the journey of life, old and unequal to the lightest cares, now I can no longer bear my riches onward, I seek aid.
Order my estates to be managed by your procurators, and subsumed in your fortune. Not that I would reduce myself to poverty, merely surrender what dazzles me with its brightness, that I might summon again to the service of thought those hours now reserved for the care of my gardens and villas. You have energy and to spare, and have watched for years the workings of supreme power: we, your older friends, can now demand our rest. This too will work to your glory, that you raised, to the heights, those who would have accepted the middle way.'
Book XIV:LV Nero dissimulates, flattering Seneca
To this, Nero replied approximately thus: 'That I can immediately respond to your studied eloquence, is the first gift of yours I possess, you who taught me to speak spontaneously not merely by premeditation.
Augustus, my great-great-grandfather, granted Agrippa and Maecenas rest from their labours, but had himself reached an age whose authority justified whichever place of whatever kind he assigned them; and yet he took from neither the gifts he himself had given. They earned them in war, and amidst danger; indeed Augustus' youth was lived amongst such things. Nor, weapon in hand, would your arm and spear have failed me: but you did what the present time demanded, nurturing my boyhood and then my youth, with reason, advice and precept.
And your gifts to me will endure, as long as life itself: those you had of me, gardens, wealth, villas, are vulnerable to chance. They may seem extensive, but many scarcely equal to you in attainment have owned more. I am ashamed to speak of those freedmen who exhibit greater riches than yourself. I am even forced to blush, that you, the first in my affections, do not exceed all others in your fortune; unless by chance you set yourself below Vitellius, three times consul, or myself below Claudius, and the wealth Volusius won by years of parsimony incapable of being matched by my generosity to you?'
Book XIV:LVI The offer is rejected, but Seneca still adopts a low profile
'In fact, not only are you vigorous in years, equal to public affairs and their reward, but I myself am only entering the first stage of my rule. Why should you not, if my youthful step slips, recall it, and ever more zealously guide, by your aid, the power you have embellished? If you return your wealth to me, it will not be your sense of moderation that will be on everyone's lips nor, should you abandon your emperor, your peace in retirement, but rather an avarice and cruelty attributed to me! And however much your restraint were praised, it is still not fitting for the wise to win credit themselves for an action which reflects badly on a friend.'
Nero followed this by embracing and kissing him, nature having formed him, and habit trained him, to hide his enmity in deceitful caresses. Seneca ended, as with all conversations with the powerful, by thanking him: nevertheless he curtailed his previous displays of power, banishing the crowds from his audience chamber, shunning attendants, and rarely appearing in the city, as if poor health or his philosophic studies detained him at home.
Book XIV:LVII The downfall of Faenius Rufus and the execution of Sulla
With Seneca unnerved, it was simple to undermine Faenius Rufus, in his case charged with his friendship with Agrippina. And Tigellinus, growing more powerful by the day, and thinking his malign arts, the sole source of that power, would be welcomed all the more, if he could but bind the emperor to him through partnership in crime, probed Nero's fears, and finding his greatest anxieties concerned Plautus and Sulla, both lately removed from court, Plautus to Asia Minor, Sulla to Narbonese Gaul, he began to draw attention to their noble birth and their closeness to the armies of the East and Germany respectively.
He himself, unlike Burrus, he said, had no other ambition but only Nero's safety. In Rome, where he was present, he could ward off any plot, but how were distant rebellions to be crushed? Gaul was alert to the name of Julius the dictator (Sulla being distantly related to him), nor were the peoples of Asia Minor any less in awe of the glory of such a grandfather as Drusus the Younger (Plautus being his grandson).
Sulla was poor, he continued, therefore highly audacious, and feigned lethargy until he could find an opportunity for rashness. Plautus, with his great wealth, never even pretended a desire for quiet, but in imitation of the ancient Romans had adopted the arrogance of that sect the Stoics, and their appetite for playing politics.
There was no more delay. Six days later, his executioners having crossed to Marseilles (Massilia), Sulla, who had taken his place at table, was killed before any whisper of alarm had reached him. His head was brought to Rome, where Nero laughed at the unsightliness of its premature grey hairs.
Book XIV:LVIII Plautus is warned of his danger
That Plautus' execution was in train, was not exactly a secret, his safety being the concern of a greater number, while the distance by land and sea gave time for rumours to start. The widespread story was that he had sought out Corbulo, then commanding significant forces, and that if there was a purge of the illustrious and innocent, then Plautus was greatly exposed to danger. Indeed, it was said, Asia Minor had taken up arms to support the youth, and the soldiers sent to perpetrate the crime were neither strong in numbers nor enthusiastic at heart, and after failing to accomplish their orders, had joined the rebellion.
These fictions, as is the way with all rumours, were augmented by idle credulity. In fact, a freedman of Plautus, granted a following wind, had outrun the centurion, and brought advice from Plautus' father-in-law Lucius Antistius: to the effect that he should flee a coward's death, while a refuge still existed; sympathy for his great name would be found among the virtuous, support among the bold; meanwhile no resource should be ignored. Were he to repel the sixty soldiers (the number set to arrive) then, while the news was reaching Nero and another force was sent on its way, a train of events would follow which might escalate into full-scale war. Finally, he would either save his life in this manner, or bravery would weigh less heavily on him than cowardice.
Book XIV:LIX The execution of Plautus
But Plautus was unmoved by this, perhaps because, exiled and defenceless, he could see no help; or was tired of uncertain hope; or was constrained by his love for his wife and children, towards whom he felt Nero might be less implacable if free of alarm.
Some say further messengers had arrived from his father-in-law, implying nothing drastic was about to happen; while his teachers of philosophy, Coeranus the Greek, and Musonius the Tuscan, had urged him to await death calmly, rather than choose an uncertain and anxious existence. He was found, in fact, at midday, his body stripped for exercise, and in that state was cut down by the centurion, in front of the eunuch Pelago, whom Nero had placed in command of the detachment like a royal minion with his accomplices.
The victim's head was brought back to Rome; at the sight of which the emperor (I shall give his very words) asked: 'Nero, why fear a man with such a nose? (see Cassius Dio LXII, 14) and relinquishing all concern prepared to expedite his marriage with Poppaea, deferred until now due to like anxieties, by removing his wife, Claudia Octavia, who, however well-behaved, was frowned upon for her father's name, and her support amongst the populace.
He sent a letter to the Senate, not, however, confessing to the executions of Sulla and Plautus, but stating that both were disruptive spirits, while he himself was maintaining a painstaking watch over State security. For that reason, a national thanksgiving was decreed, together with the erasure of Sulla and Plautus from the Senate roll, a mockery of an act more painful than the evil visited upon them.
Book XIV:LX Claudia Octavia banished
Therefore, on receipt of the Senate decree, since it seemed that his every crime was applauded, he put away Claudia Octavia, saying she was sterile; then married Poppaea. Long his mistress, ruling over Nero the lover, and then the husband, she forced one of Claudia Octavia's servants to accuse a slave of intimacy with her; the defendant chosen being one Eucaerus, a native of Alexandria, and an expert performer on the flute. In pursuance of this, her maidservants were put to the question, and though some subject to torture assented to falsehoods, the majority maintained their mistress' innocence; one, on being pressed by Tigellinus, responding that Octavia's body was more chaste than his mouth.
Nevertheless, Octavia was put aside, at first by civil divorce, receiving two ominous gifts, Burrus' house and Plautus' estates: soon afterwards being banished to Campania and placed in military custody. This led to frequent and open protests by the populace, who were less discreet, and in their humbler station incurred less risk, than their betters. It resulted in a rumour that Nero, repenting of his action, was to recall Octavia to his side.
Book XIV:LXI Poppaea protests
At this, exultant crowds scaled the Capitol, and the gods finally were thanked. Statues of Poppaea were toppled, and images of Octavia were borne shoulder-high, the people strewing them with flowers, and erecting them in the forum and the temples. Even the emperor was reverenced thus, with loud praise.
They were already filling the Palace itself with their numbers and clamour, when bands of soldiers, with levelled weapons and the lash, were sent to scatter the troublemakers. All the damage done by the outburst was rectified, and Poppaea's honours reinstated. She, always rendered cruel by hatred, and now by fear, had thrown herself at Nero's feet, anxious lest the violence in the streets might grow fiercer and Nero respond to popular feeling. Her affairs she said were not in such a state that she could fight for her marriage, though it was dearer to her than life, but life itself had been rendered intolerable by those slaves and followers of Octavia, who invoked the name of the people, daring in peace what would scarcely occur in war.
Those weapons, she said, had been lifted against their emperor; they only lacked a leader, and one could be easily found once events were afoot, it only needed her, whose nod from afar had raised the storm, to travel to Rome. What, in any case, had she herself done wrong? Whom and in what way had she offended? Perhaps it was because she, indeed, was about to grant a true heir to Caesar's House? Would the Romans rather have the offspring of an Egyptian flautist presented to the heights of power?
In short, if that was where things were leading, let him summon his lady, freely and not through compulsion, or let him look to his own safety. Right action and lenient measures had quelled the first disturbances: but let the people despair of Octavia being restored as Nero's wife, and they would soon find her a husband!'
Book XIV:LXII Anicetus takes the fall
Her various arguments, appealing to fear and anger, at once terrified and incensed her listener. Yet an accusation made by a slave was worth little, and the maidservants' interrogations were inconclusive. Therefore, it was resolved to secure a confession from someone other, apropos of whom a charge of fomenting rebellion could also be invented. Anicetus, moreover, the admiral of the fleet at Misenum as I mentioned, and the perpetrator of matricide, was felt to be ideal, who after committing that murder had experienced slight favour but then a more serious antipathy, since the agents of crime are always viewed as a visible reproach.
He was, therefore, summoned, and Nero reminded him of his earlier service: alone he had upheld the emperor's safety against a mother's treachery; now an opportunity presented deserving of no less gratitude, the removal of a dangerous spouse. Neither hand nor steel were needed: he had merely to confess to adultery with Octavia. He promised him a reward, to be kept secret at present, but a large one, and a pleasant place of retirement, threatening him with death if he refused.
Anicetus, with an innate perversity and a facility bred by his history of crime, invented and confessed even more than he had been ordered to, before friends of the emperor who had been summoned as if to council. He was then packed off to Sardinia, where he endured a less than penurious exile and died a natural death.
Book XIV:LXIII Claudia Octavia is banished
Nero, meanwhile, stated in an edict that Octavia, as established by himself, had seduced the admiral in hope of gaining the support of the fleet and, given her adultery, had procured an abortion, he conveniently forgetting his previous accusation that she was infertile; and he then confined her to the island of Pandateria (Ventotene).
No woman in exile presented a more pitiful sight to the eye. Some still recalled Agrippina's banishment there by Tiberius, and retained the more recent memory of Julia Livilla's expulsion by Claudius: but both were in their maturity, had experienced a little happiness, and recollections of past good-fortune could ameliorate the cruelty of the present.
For Octavia, her wedding day had proved her funeral, entering a household where nothing but sorrow awaited; her father snatched away by poisoning, followed by her brother; then the appearance of a handmaid more worthy of notice than her mistress; then Poppaea turned bride to a wife's ruin; and finally, an accusation heavier to bear than any form of doom.
Book XIV:LXIV The death of Claudia Octavia
And so this girl of twenty-two, surrounded by soldiers and centurions, already banished from life by foreknowledge of her fate, could not yet find peace in death. A few days then intervened before that death was demanded, though she bore witness that she no longer had a husband and was merely a sister (through Nero's adoption by Claudius), invoking shared ancestry through the House of Germanicus, and finally the name of Agrippina, with whom she had felt safe, enduring a marriage unhappy enough, that was true but not fatal.
She was bound with rope, and the veins in all her limbs opened; and because the blood, constrained by her terror, was slow to flow, she was suffocated in the steam from an over-heated bath. A further, more atrocious, cruelty followed, her head being severed and carried to Rome for Poppaea to view.
How often must I remember to say that offerings were decreed in the temples for all these occurrences? Let those who come to know the events of those times, from myself or other authors, make the firm presumption that whenever the emperor ordered an exile or a murder, thanksgiving was made to the gods, and what was once a token of good fortune was now a sign of national disaster.
Nevertheless, I shall be not silent, if a Senate decree prove novel in its sycophancy, or the last word in self-abasement.
Book XIV:LXV Poisonings and a conspiracy
That same year (AD62), Nero was credited with the death by poisoning of two of his foremost freedmen: Doryphorus, as an opponent to his marriage with Poppaea, and Pallas, because he had retained his great wealth throughout an old age too long protracted.
Romanus, in secret accusations, charged Seneca with being an associate of Gnaeus Piso, but was brought down by Seneca's more powerful attack, on the same charge. Piso took fright at this, and the birth of an elaborate and unfortunate conspiracy against Nero resulted.
End of the Annals Book XIV: XL-LXV
---