Wolfram von Eschenbach
Parzival
Book XIV: Gramoflanz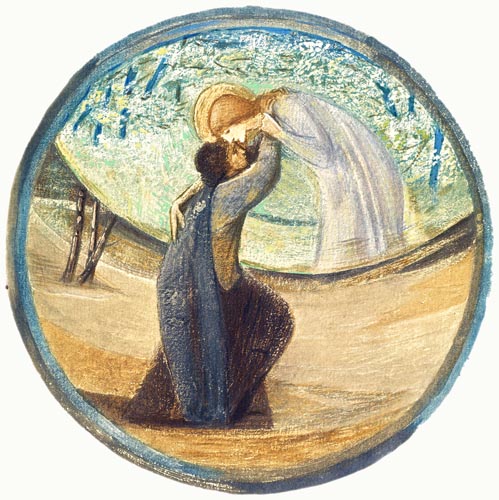 'Arbor Tristis'
From The Flower Book, Sir Edward Burne-Jones (English, 1833 – 1898)
Translated by A. S. Kline © Copyright 2020 All Rights Reserved
This work may be freely reproduced, stored and transmitted, electronically or otherwise, for any non-commercial purpose. Conditions and Exceptions apply.
---
Contents
---
Gawain and Parzival joust, neither recognising the other
NOW, should Gawain seek to advance
And to joust there with the lance,
I fear for his success. Ought I
To be anxious for the other? Why,
In war that knight was worth an army,
And here's but the single enemy.
His surcoat and trappings did show
Far redder than the ruby's glow,
His crest was of some heathen land,
O'er the seas, the shield in his hand
Was pierced by lance-thrusts, for he
Sought adventure, and from the tree
That Gramoflanz guarded, he too
Breaking a branch, had wrought anew
A garland, such that my Lord Gawain
Knew it, and thought the King again
Awaited him there. If that were so,
If twas Gramoflanz challenged, though
Not one lady was then in sight,
He had no option but to fight.
From Munsalvaesche were both their steeds.
Spurring them on to valiant deeds,
They charged together, at full tilt.
This joust was not on gravel or silt,
But bright green clover, wet with dew.
Their sufferings pain my heart anew.
Their charge was all that men desire,
For a jouster did each warrior sire.
He who gains the victory now
Loses much, gains little, I vow,
For he will rue it when he learns
From whom that victory he earns,
Since both are bound by affection
And a loyalty that no such action
Can tarnish, now, or in time to come.
Now hear what in the joust is done,
In swift onrush are those two met
Yet in a manner both must regret.
High kinship and noble company,
Meet here to fight, in all enmity.
The happiness of whichever wins
Forfeit to sadness, the fight begins.
Each drives his lance with such force
Each must fell both rider and horse,
And here's what they are then about,
Hammering wedges, clout for clout,
Dealing blow after pickaxe blow,
With their keen swords, while, like snow,
Shield fragments cover the grass,
With each pass and counter-pass.
Late ere a decision shall come,
Early come to it, and yet none
Undertakes to make peace there
For they are alone in this affair.
Arthur's envoys have audience with King Gramoflanz at Rosche Sabins
HEAR now how Arthur's envoys found
King Gramoflanz, and on what ground,
He'd placed, and encamped, his army.
Twas on a meadow by the sea.
To one side flowed the broad Sabins,
On another the Poynzaclins,
Here was the estuary of the two.
On the fourth side one might view
Rosche Sabins his great capital,
Guarding the meadow, as its castle
Enfolded it with moat and wall,
And many a mighty tower tall.
Over a space a full mile wide,
By half a mile, there did abide
The host of his retainers who
Upon that meadow one might view;
Here Arthur's messengers rode by,
Full many a stranger met their eye,
Knight, or man-at arms, or archer,
Encased in his bright steel armour,
And there gleamed many a stout lance,
While other companies did advance
Towards the envoys, stepping high,
Their banners waving, neath the sky.
Trumpets blared, and they could see
Vigour and life filled this enemy,
Ready to march to Joflanze now;
And there was beauty, I'll avow,
Sounds of ladies' bridles jingling,
For about King Gramoflanz' ring,
There rode many a lovely creature.
Now, if the story I can master,
I'll tell you who had ridden there
To aid the King in this affair,
Lodging by him in the meadow;
And, should you not already know,
Then let me yield you my account.
There, seated on his lively mount
See King Brandelidelin,
Out of water-girt Punt, with him
Six hundred ladies he had brought,
Of glittering beauty, to that court,
Each of whom kept in her sight
Her lover armed for gallant fight,
And knightly deeds, and renown,
Brave hearts had those from that town.
If you'll take it on trust from me,
Bernout de Riviers one might see,
Whose powerful father, Count Narant,
Had left him all of Ukerlant.
Over the sea in ships he'd sailed
With a host of ladies, who ne'er failed
To garner praise from all, anew,
Two hundred unwed girls, and two
Hundred more with their spouses,
All were born of the noblest houses.
There, if I have the number right,
Five hundred lords, all set to fight,
Supported Bernout, son of the Count,
And many soldiers, in vast amount.
In this manner, King Gramoflanz,
Sought his just cause to advance,
And avenge the stolen garlands,
In single combat, where one stands
To lose, and the other to gain,
And so, the winner may maintain
His right and be judged the most
Glorious there, before the host.
Thus, all the princes of his realm
Came there with shield and helm,
Together with their ladies, fair;
Splendid was the gathering there.
Now, Arthur's envoys found the King,
On a thick mattress calmly sitting,
Of palmat silk, quilted, I'm told,
All over with broad cloth of gold.
Bright and fair young ladies graced
His presence, as they deftly cased
His legs in steel armour, below
A canopy, whose brocade did glow,
Rich and costly, and it was woven
In Ecidemonis; there twas chosen,
And now it swung, raised on high
On a dozen lances, neath the sky.
The messengers now spoke aloud,
Thus, to the proudest of the proud:
'Sire, we are sent by King Arthur,
Whose own name lacks not in lustre,
For, on occasion, he's won honour,
Though his glory you would lower.
Why seek to vent your displeasure
On that brave son of his fair sister?
Had he done you greater wrong,
Lord Gawain could still count upon
Every knight of the Round Table,
Since all are his friends, and loyal.'
'I shall deliver, with this same hand,
The duel I pledged there, understand,'
Replied the king,' and in such manner
That I will chase this Gawain either
To his glory, or his disgrace.
I've heard that to the duelling place
Come Arthur and his Queen, in force,
I'll bid them welcome, in due course.
If the wretched Orgeluse has sought
To set him against me and my court,
He shall not act as her mere tool,
For whate'er comes I fight the duel,
And have so many knights on hand
I fear no violence in my own land.
But whate'er tis my fate to endure
From one man alone, then be sure
I shall accept it, and bear the pain,
For were I to seek, now, to refrain
From my intent, and abandon this,
Tis a loving service I'd relinquish.
Lord Gawain may thank that lady
To whose sympathy and mercy
I have surrendered life and joy,
For this duel, for I ne'er employ
My powers upon but one enemy,
Tis because of his labours only,
That have borne such fruit, that I
Will not his right to combat deny.
So, my valour stoops, for I never
Fought so few opponents ever.
None denies it, ask if you please,
For I have fought many, with ease,
Who yielded fame to this firm hand,
And I ne'er fought with but one man.
Nor should the ladies now praise me
If I should gain the victory.
It warms my heart that she was freed,
For whom this duel is fought indeed,
Or so I'm told, and one has heard
Many strange lands obey the word
Of this famed Arthur, and it may be
She comes here with him, that lady
I'll serve till death, as she commands,
Through joy and woe; tis in her hands.
What more could stir me, than that she,
Of good fortune, herself might see
True service in this, as everything?'
Lady Bene brings Gramoflanz news of her mistress Itonje
FAIR Bene sat beside the King;
He rested his arm against her.
No objection did she offer
To the duel, knowing his skill
In the joust, and his firm will;
A fearless look she did maintain.
Yet had she known that this 'Gawain'
Was her Lady Itonje's brother,
And he involved in this matter,
Her content had vanished away.
She'd given Gramoflanz, that day,
The very ring Gawain had brought
Over the Sabins, for to that court
Princess Itonje had sent the ring,
In token of her love for the King.
Bene had sailed, by fast galley,
Along the Poynzaclins, the lady
Bringing him news that Princess,
Itonje, who was her fair mistress,
From Schastel Marveile had set out,
With the other ladies; and, no doubt,
Told the king of the affection
That was aimed in his direction,
And the esteem, both far greater
Than any young lady of tender
Years, had ever felt for a man,
(She fulfilled Itonje's command)
Which her lady sent, through her,
To him; and that her lady did suffer;
And that to deserve his love meant
More than all else to her; this sent
The King into transports of love;
And yet against Gawain he'd move!
If such is the cost, then I'd rather
Go through life without a sister!
Gramoflanz sets out for the jousting field
NOW accoutrements were brought
Of such splendour none who sought
A lady's favour, driven by passion,
Could to greater lengths have gone,
To please the fair, not Gahmuret,
Nor Galoes, his brother, nor yet
King Kyllicrates; for no finer
Brocade adorned a man ever,
Bought from Ipopotiticon,
Or brought from spacious Acraton,
Woven in Kalomidente,
Or in Agartyrsjente,
Than was chosen for his person.
He kissed the ring with passion
That Princess Itonje had sent,
For as a love-token twas meant,
Believing so in her loyalty
That when care troubled him, he
Found her love a steadfast shield
Against the woe events did yield.
And thus, the King was fully clad,
And twelve young ladies now he bade
Support the splendid cloth of gold
Beneath whose roof the proud and bold
King would ride; each held a pole
And on a pony rode, her role
To bear the costly canopy,
As one of that fair company,
And shade the warrior, while two
Young ladies, the loveliest too,
Supported the King's mighty arms;
No weaklings they despite their charms!
Parzival realises his opponent is Gawain
KING Arthur's envoys, on their way
Back to that camp where Arthur lay,
Came to where that courteous knight
Gawain was still engaged in fight.
Filled with concern, they shouted out,
As danger hedged him all about,
For his opponent neared success,
Gawain's strength now proving less,
Due to his wounds, such that Gawain,
The noble, would have known the pain
Of defeat, had they not loudly
Named that knight, most indignantly.
Then the man who fought Gawain
From further conflict did refrain
And flung his sword to the ground.
'Alas, to Misfortune am I bound,
And thus accursed!' cried the stranger.
'Grievous is the fault, that ever
Saw my engagement in this matter;
The blame is mine, and the error.
Misfortune has taken to the field,
Good Fortune herself must yield,
Misfortune's coat of arms I bear,
As in the past; to think that there
Tis not Gawain whom I attack,
But I myself, and at my back
Comes Misfortune; Fortune fled,
On the instant, and honour's dead.'
Gawain heard, and perceived, his woe.
'Alas, sir, who thus speaks in sorrow
And with such kindness towards me?
If such had been said previously,
While I yet had a little strength,
Why then we had not fought at length,
Nor I have lost the renown I fear
Which you have taken from me here.
Now would I like to know your name,
And thus, where I may find that same
Renown should I seek it later.
As long as Fortune followed after,
I fought well if there were but two.'
'May I make myself known to you,
My Lord, for I am at your service,
And shall be ever, as in this,
For I am your kinsman Parzival.'
'Then,' Gawain answered, 'all is well.
Perverse folly is rendered straight,
Two hearts, that are one, sad Fate
Made battle each other, in enmity,
And tire each other, foolishly,
Till your hand overcame us two;
Regret it then, if your heart be true,
Since yourself also you overcame.'
On ceasing to speak, he was fain
(Staggering then, all giddily,
His head spinning, furiously)
To stand no longer, all his strength
Had ebbed, and he fell, full length,
Onto the grass. A page, swiftly,
Ran o'er the field, to his aid, for he
Was one of Arthur's most loyal men
Sent out as an envoy, who then
Pillowed him, his helm did unlace,
And fanned cool air across his face
With his white peacock-feather cap,
Cushioning his head upon his lap.
These attentions paid Lord Gawain
Brought him to his senses again.
Gramoflanz insists that the duel take place
NOW the forces from both armies
Were arriving in brave companies,
Each advancing to their places,
Gleaming logs marking the spaces.
Gramoflanz did their cost incur,
Since he was here the challenger.
A hundred burnished trees did stand,
Fifty, I'm told, on either hand,
At a distance of forty courses,
A goodly field for the horses.
Light gleamed from side to side.
To this ground entry was denied,
For here the duel would be fought.
Gawain and Gramoflanz both sought
To keep their folk from entering
As though this wide jousting ring
Were circled by a castle wall,
Or a deep moat, restraining all.
Detachments from either army
Had come to view this, merely
To see who might win the fight,
Seeking the names of each knight
Who would, thus, enter the ring;
Yet the strangeness of the thing
Was that neither force, twas thought,
Their usual champion had brought.
King Gramoflanz appeared anon,
After that combat, one on one,
In the flowery meadow, was o'er.
He came there eager to ensure
His vengeance for the fair garland,
And satisfaction he would demand.
He learnt that a duel had been fought
Fiercer than any erstwhile sought,
And that those who waged the fight
Did so causelessly, at first sight.
He rode forth from his company
Towards the pair, now battle-weary,
Deploring all their wasted labour.
Gawain had felt the pangs of honour,
And so, had now regained his feet,
Rendering the courtly scene complete.
Now Bene had ridden after the King,
And reached the site of this fighting,
Where these knights had met with pain,
And there she found my Lord Gawain,
Whom she had chosen to be her joy,
Though he could scarce a reed employ.
She gave a cry of deepest sorrow,
Slid from her palfrey, and did go
Swiftly there to clasp him tight.
'Cursed be the hand of that knight
That taught your fair body such woe,
For your brave countenance was so
Much a mirror of manhood, you
Outshone all others; oh, I speak true!'
She sat him down, upon the grass,
Her bright tears falling, full and fast,
And then, sweet child, wiped the blood
And sweat from him, as best she could;
He was well-heated in his armour.
'It grieves me much to see you suffer,'
Said Gramoflanz, 'though I would wish
To render your state much like this.
If you'll return to this meadow,
To do battle, on the morrow,
I shall be pleased to await you.
At this moment, it is most true,
I'd rather fight a feeble woman,
Than attack your weakened person.
Unless your limbs fresh strength were lent,
What praise were mine? Be content
To rest this night, and linger not,
If you're to answer for King Lot.'
Parzival showed scant weariness,
Or pallor and, free of all distress,
His helmet he'd but now unlaced
As the noble monarch he faced.
'Sir,' he said, 'let me undertake
In any matter that's now at stake,
The part of my kinsman Gawain.
If he has offended you, again,
I am it seems still fit to fight;
Should your anger on him alight,
I shall halt you with my sword.'
'Sir, Gawain, shall indeed afford
Me, tomorrow, all that is due,
In debt for the garland, for new
Fame shall it reap, or my name
Will be tarnished by fresh shame.
I doubt not you're a warrior, too,
And yet this quarrel is not for you.'
Bene turned swiftly to the King,
As from her sweet lips did ring,
Angry words: 'Tis treachery now
You bring to this matter, I avow,
For your own heart rests in the hand
Of that man from whom you demand
Your due; a heart that's filled with hate.
To whom have you rendered your fate,
And surrendered, in Love's fair name?
She needs his aid, and you proclaim
Your own defeat; Love's lost her right
To you; for if you loved, sir knight,
Twas but in bad faith on your side.'
The King now drew fair Bene aside,
After her outburst, saying: 'Madame,
Be not so angry. Tell her I am
Truly her bondsman, and will be
Her loyal servant, endlessly.
Remain here now with your lord,
And to his sister, Itonje, accord
My respects, and yet I must fight
And take my vengeance on this knight.'
Finding her lord was no other
Than her lady's noble brother,
Pledged to do battle on that field,
Her sorry heart was forced to yield
To a whole shipload of sorrow
For she was a loyal spirit, and so,
'Away with you!' she cried, 'Your heart
'And loyalty dwell far apart!'
The King rode off with his company
While Arthur's pages, valiantly,
Caught at the mount of each knight,
For the steeds their own duel did fight.
Parzival dines with Gawain
NOW Gawain and Parzival went
With Lady Bene to Gawain's tent.
Parzival had won such honour
With his knightly skills that ever
Men were right glad to see his face,
Gathered to praise him in that place.
And I'll tell you more, if I may:
Veterans in both armies that day
Spoke of the deed that had gained
One there, renown, and maintained
That was Parzival; I say twas he,
While trusting that you will agree.
He was handsome, none more so,
As many a knight and lady also
Declared when Lord Gawain brought
Him there, and clothes for him sought.
(They were robed in the very same
Precious fabrics that I'll not name)
Soon it was known everywhere
That Parzival had entered there,
He of whom they had often heard,
A valiant knight, as all concurred.
'If you would wish to visit four
Ladies of your lineage, and more
Fair ladies besides, I will gladly
Come, and keep you company,'
Said Gawain. 'If there are to be
Fair ladies in your company,'
Parzival answered, 'ne'er let me
Be cause of offence, for I see
Many a witness, and whoe'er
Beside the River Plimizoel there,
Heard Cundrie treat me with scorn
Will curse the day that I was born.
God keep woman's honour in sight!
To me they are a source of delight,
And I so feel my sad disgrace,
I'm loth to have them view my face.'
'Well, indeed you must,' replied Gawain,
Leading Parzival, despite his pain,
To where four queens granted a kiss.
The Duchess was troubled by this
Having to kiss one who'd resisted
Her, howe'er much she'd insisted,
Spurning her when she had offered
Her love, land too she'd proffered,
When below Logroys he'd fought,
And she his present aid had sought.
She was fraught with embarrassment,
While Parzival appeared radiant,
Having been drawn, thus, artlessly,
Into letting his heart course free
Of misgiving, while shame was caught
And led captive from the court;
So that he felt cheered once more.
Gawain forbade Bene, I'm sure,
On pain of the loss of his favour,
From telling fair Itonje, moreover,
That Gramoflanz did now demand
That Gawain appear, lance in hand,
On the morrow, and so must fight
The appointed duel with that knight,
And all for his theft of that garland.
He said: 'Your tears you must command.'
'I have good cause to weep,' no doubt,
She replied, 'and let tears stream out,
Since whichever of you, Gawain,
Should fall, she will suffer the pain.
She is killed, if either is slain.
What then should I do, again,
But lament, for my lady and I?
How does it help,' here, she did sigh,
'That you're her brother, if for your part,
You seek to wage war on her heart?'
The army had gathered, it was time
For Gawain and the others to dine.
Parzival now received the request
To share a place with the Duchess,
To whom Gawain commended him.
'Will you commend one whose sin
It is to scorn all women?' said she,
'What should I do with such as he?
Yet I'll treat him as you demand,
And share with him, at your command.
If it flatters his pride, what care I?'
'Madame,' was Parzival's reply,
'You do me wrong, for I'm well versed
In good manners and, thus rehearsed,
Scorn to mock any of the sex.'
The dinner was fine, in all respects;
There was plenty, and it was served
With all the ceremony it deserved.
Men and women dined pleasurably,
And yet twas plain to fair Itonje
That Bene was weeping quietly,
And, her face o'ercast completely;
She was refraining from eating.
'What is this, why the sighing?'
She asked herself, 'did I not send her
To the man for whom I suffer,
And who possesses my poor heart?
What comes now to drive us apart?
Spurns he my devotion, my love?
Yet he no more in me can move,
No more affection stir for him,
Than that I die of grief for him!'
He again seeks to fight on Gawain's behalf
IT was past noon, the meal was done,
And Arthur, with many a one,
Knight and ladies, and his Queen,
Came where Parzival might be seen,
Seated amidst the young and fair,
And he not the least handsome there;
Good form prescribed that, in meeting,
He must be kissed, in sweet greeting,
By many a lovely woman. Arthur
Showed him every due honour,
And praised him for the high renown
He had won, famed now as the crown
Of chivalry, both far and wide.
'When we last met, Sire,' he replied,
'My honour was much under attack,
There scorn's whiplash scarred my back.
But now, since you deign to speak so,
I too have heard that some may know
Of me, and concede me a little
Honour, and though I may struggle
To convince myself, I'd be glad
To believe it so, if those who had
Knowledge of me, and my past shame,
But thought me worthy of such fame.'
All those who sat there declared
That he in such deeds had shared
Abroad, to such heights did aspire,
His honour was rendered entire.
And now Orgeluse' knights arrived
Where Parzival sat, at Arthur's side,
And the King received them, as one,
Within his host's pavilion,
Though he had sat in the meadow,
As a most courteous man, to show
All due politeness, and not because
The tent was not, of itself, spacious.
Now all, again, sat round the King,
In that mead, in a courtly ring.
Strangers were met here together,
But to tell you of one and another,
Who all they were, each Christian,
By name, and then each Saracen,
Were more than a lengthy matter.
What knights there served Clinschor?
Who were those, of the fair noblesse,
From Logroys, sworn to the Duchess?
Which valiant knights had Arthur brought?
If one were to count every court,
All of their castles, and domains,
Who could recall all their names?
Yet they were as one in saying
That Parzival was so dazzling
That all women must dote on him,
And in all that might distinguish him
Nobility had failed of naught.
Gahmuret's son addressed the court:
'Let all consider now, and aid me
In that which I lack most keenly.
I was lost from the Round Table
In strange manner, as if in fable,
And I ask that noble company,
Of your companionship, help me
To that fair gathering again.'
What he now asked Arthur was fain
To grant, then to the inner circle
A further request of that noble
Gathering he now made, namely
That Lord Gawain should simply
Allow him to spend all his power,
On the morrow, at the given hour,
In the duel. 'I'm more than content,
He said, 'to attend that same event,
And wait the coming of that knight,
King Gramoflanz, as he is hight.
Early this morning, from that tree,
I broke a branch, purposefully,
To weave a garland, so he might
Come forth, all prepared to fight.
Let me, thus, in your cause appear,
I scarcely thought to see you here,
Dear kinsman, and never did regret
Aught so greatly as that we met
In battle. I thought you that king,
Come to fight, for I was planning
His death. If he's to be brought low,
Tis I must toil to make it so,
And deal him harm, with such intent
That after our joust, he'll rest content.
Kinsman, my rights here are restored,
Thus, true friendship I may afford
Yourself, and are we not related?
Leave me to address this, tis fated;
My worth shall not remain concealed.'
'Kinsmen and brothers, here revealed
With the King of Britain, I possess;
None may seek, of their high noblesse,
In my stead, to contest the fight.
I rely on my cause, for it is right,
With luck I'll gain the victory;
I'm not so feeble; it lies with me.'
Gawain replied. Arthur had heard,
And put an end to it, with a word,
Returning to his seat in the ring.
Gawain's butler soon came running,
With all his brave young gentlemen.
Gold cups, bright with many a gem,
They brought with them, and when
All had drunk their cup, they again
Retired, when all went to their rest.
Night fell, as Parzival addressed
The question of his martial gear.
Aught that did to his eyes appear
Broken, or worn, he saw restored,
And a new shield they did afford
Him, for his own was pierced so
With many a fierce thrust and blow.
They brought him a fine solid one,
By men-at-arms all this was done
Who were all strangers to him; some
Were Frenchmen, bold and handsome.
As to his steed, that splendid charger
Ridden against him by the Templar,
When they fought, beside the stream,
A squire ensured it had ne'er been
Sleeker-looking, since that day.
It was night, and time to obey
Sleep's fair summons; his gear complete,
And all his equipment at his feet,
He did as darkness might suggest,
And settled himself down to rest.
He fights and defeats King Gramoflanz
NOW, King Gramoflanz felt anger
That a duel, sought by some other,
Concerning the garland perchance,
Had been fought, and that his chance
To exact vengeance had been lost;
For his men had failed, to his cost,
By not daring to resolve the matter.
What course took he, this warrior?
Ever-accustomed to glory,
By daybreak, so runs the story,
He and his mount were fully armed.
Were wealthy ladies then so charmed
By him that they'd adorned his gear?
It was lavish enough without, I fear!
He'd adorned himself as servitor
To Itonje, her most faithful lover.
Parzival, too, went forth that morn,
All secretly, at the crack of dawn,
Fully armed, with a good fresh lance
Of Angram, he'd freed, in advance,
Of its pennant. Now, as he wore
Towards the burnished logs, he saw,
King Gramoflanz was waiting there,
Ready to further this affair.
Without a word, the tale doth say
Each put his sharpened lance in play,
And drove it through the other's shield,
To such effect that both did yield
A rain of splinters, whirling high
Into the air from both, thereby.
Both men were skilled in weaponry
And every manner of chivalry.
Over the meadow's wide expanse
The dew was marred by their advance,
While their helms rang to the blows
Of their blades, for, heaven knows,
They fought bravely, trampling the grass
Everywhere that they did pass.
I sorrow for the blood-stained flowers,
And even more those warriors,
Enduring much pain and distress,
Without a qualm, yet nonetheless
No pleasure to such doth belong,
Unless a man has suffered wrong.
Meanwhile, Lord Gawain prepared
For the duel; ere mid-morn he fared
Abroad, and learned that Parzival
Had ridden out; was it to call
For peace and truce? (Yet the knight
Was acting otherwise, he did fight
Manfully with that proud king!)
At high morn, the bishop did sing,
A Mass for Lord Gawain, and there
A great host of armed men did share
The space around; fair ladies bright,
On horse-back, each with her knight,
Waited in Arthur's ring, before
The bishop's chant began, and saw
King Arthur himself standing nigh
The priests, whose voices rose on high.
After the benediction, Gawain,
Armed himself and, I maintain,
Before the Mass his legs were clad
In steel leg-pieces, for he had
Already begun to arm. And now
Maids began to weep I avow.
The whole army went to view
That place where was heard anew
The clash of swords, the crackle
Of sparks as two helms did rattle,
And the sounds of many a blow.
King Gramoflanz had scorned to know
Single opponents in the field,
Yet now he felt that he must yield,
As if from the force of six, to one
Who gave him proof, ere he was done,
Of his fighting skill, and so taught
The King a lesson, which is thought
Of worth in our day, for thereafter
King Gramoflanz, despite his bluster,
Did never again presume the honour
Of challenging two men together;
One man, out there, is serving him
More than enough to vanquish him.
Meanwhile both the armies did reach
Their places on the meadow, and each
Gazed at, and judged this bitter game.
The warriors' horses quietly came
To a standstill, while their riders fought
On foot, maintaining their onslaught;
And time and again, each man made
To turn his sword, and shift the blade.
In this manner, the King did stand
To win sore payment for his garland,
While this kinsman to his fair love
Itonje, brave Parzival, did prove
The recipient of but little joy,
Labouring in another's employ,
And toiling for her, of whom, by right,
He should have won honour outright.
They who had oft much honour sought,
Now paid dearly for what they bought.
On behalf of his friend, one did fight,
The other Love's subject as her knight.
Twas now that Gawain did appear,
As the crucial moment drew near,
For twas now the victory was all
But won by the Welshman, Parzival.
Also, Bernout de Rivieres,
Affinamus of Clitiers,
And Brandelidelin, those three,
(The latter King of Punturteis)
Rode bare-headed to the place,
While Arthur and Gawain did grace
The meadow on the other side,
And towards the weary pair did ride.
These five agreed to end the fight,
And then, the moment too seemed right
To Gramoflanz, who now did yield;
Thus, all concurred upon that field.
'My lord King,' said King Lot's son,
'Now I shall do as you have done,
And advise a short rest, as you
Advised me yesterday; you too
Should pause, I say, for you have need.
Whoe'er forced you to this, indeed
Sapped your strength to counter me,
And now I alone may seek to be
Your opponent; though you seek two
To fight ever, I'll fight with you
Tomorrow, and may God make clear
Whose cause is just; let truth appear!'
Now, after stating that he would,
Come to the meadow and make good
His cause there, the King rode away,
And joined his followers. 'Now, pray
Kinsman,' thus did noble Arthur
Address Parzival, 'though, earlier,
You begged leave to duel, and though
On seeking such, Gawain said no,
Did you not go from us like a thief,
To fight this man and, tis my belief,
Careless of whether we wished it so?
We should ne'er have let you go,
Had we but known; and yet Gawain
Need not be angry, I now maintain,
Though men will praise your victory.'
'My kinsman's fame ne'er troubles me,
Replied Gawain, 'if I must appear
Tomorrow, the time is still too near,
While if the King were to excuse me,
I should think the man most kindly.'
Gramoflanz sends envoys and a letter to King Arthur
The army returned in its companies,
There too were many lovely ladies,
And brave knights so caparisoned
No army was ever so well adorned.
The men of the Round Table there
Most glorious tabards did wear
Which like the fair Duchess' train
Were rich, and woven in the main,
From cloth of gold of Cydinunte,
And fabric bought from Pelpiunte.
The horses' trappings were ornate too.
Parzival was now praised all through
Both armies, and his friends pleased.
King Gramoflanz' knights ne'er ceased
To claim, when all was said and done,
None was so splendid neath the sun,
So formidable, not e'en in story,
And that he alone should have the glory
Whate'er the deeds both sides begot.
And yet, even now, they knew not
Whom it was that was so acclaimed.
Now Gramoflanz' people maintained
That he should send envoys to Arthur
Seeking assurance that no other
Of his company should seek to fight,
But that he'd send forth the knight,
With whom he wished to contend,
Gawain, Lot's son, he did intend
To battle. Two pages, therefore,
Well versed in manners and lore,
Were sent as envoys to that king.
'Attend, and judge who is most fair
Of all the ladies that you see there,'
Said King Gramoflanz, 'use your wits,
Watch her beside whom Bene sits,
Note how she appears, most closely,
And whether she seems sad or happy.
You'll see from her eyes, moreover,
Whether she's pining for her lover.
Give my friend Bene this letter,
And this ring, and to no other;
She knows to whom they both must go,
Do all discreetly, discharge it so,
And you will have acted loyally.'
Arthur is apprised of Itonje's love for King Gramoflanz
NOW, in the other camp, Itonje,
Had learnt that her own brother
And the dearest man that ever
A girl had taken to her heart,
Would fight, refusing to depart
From his pledge. Her suffering
Conquered reticence, deep feeling
Triumphed o'er modesty in this,
And whoe'er scorns her anguish
Does so without my concurrence,
Since she loved, in all innocence.
Itonje's mother, the fair Sangive,
And her grandmother, wise Arnive,
Led her away to a silken tent,
Where Queen Arnive seemed intent
On reproaching her for her sad state,
Condemning her behaviour of late,
And since there seemed no way out
She confessed what she was about,
All she'd concealed from them so long.
'My brother will do me great wrong,
Yet he'd have reason to refrain,
Did he but know,' and she was fain
To speak of love; when she was done,
Arnive spoke: 'Go, seek out my son,
And have him come alone,' said she,
To a gentleman-in-waiting, and he
Duly went and fetched King Arthur.
She would speak of her granddaughter,
And let him know whom she pined for,
In the hope that he would deplore
Her plight, and so remove the cause.
Thus she addressed him, without pause.
It was then that Gramoflanz' envoys
Arrived at the court, the two boys
Dismounting in the field, where one
Saw Bene near the pavilion,
A young lady, by her, asking
A question of the noble King:
'Does the Duchess think it right
To have my brother slay outright
One who loves me, on a whim?
The deed must bring shame on him.
What wrong has he had of the king?
He should be gracious in this thing,
And, as I am his own dear sister,
Look upon the king with favour.
If my brother can feel at all,
He'll see our love is true withal,
And if my brother is true to me
He'll know tis no true chivalry
To seek my death, on the morrow,
Brought about by bitter sorrow.
Should he slay the king, let him be
Arraigned before you, instantly!'
Such was her complaint to Arthur:
'You are my uncle, remember;
By the bond, then that unites us,
Halt what is most injurious.'
'Alas!' said Arthur, 'that you reveal
Such noble love so young, and feel
For him so, dear niece,' full wise
In experience, he added, 'likewise,
The fair Surdamur, your sister,
Loved the Emperor Alexander
And rued her love, as you shall too.
And yet, sweet girl, if I but knew
That his heart and yours were one,
I'd end this duel, and have done.
Gramoflanz, son of Irot, he
Is of such a nature I foresee
This duel must be fought indeed,
Unless your love forestalls the deed.
Has he, at some feast or other,
Set his eyes on you, this lover?'
'Never; though we love each other,
We have ne'er seen one another.
But of true love, and affection,
He has sent me many a token.
For my part, he has but received
All that is true love, undeceived,
Banishing all doubt between us.
The King is constant and serious
In his attachment, all this while,
And his kind heart is free of guile.'
King Gramoflanz' envoys deliver his letter
BENE who seemingly had caught
Sight of the king's envoys who sought
Audience with King Arthur, now said:
'None should be standing there, instead,
By your leave, I shall order those two
To withdraw themselves from our view.
If my lady is moved so to lament
And with such passionate intent,
And doth not soon her rank recall,
Twill be the common talk of all.'
Lay Bene was sent forth by the King.
One of the pages pressed the ring,
With the letter, into her hand.
They'd heard, from where they did stand,
The anguish her mistress did express.
They said they were there to address
King Arthur, if she'd seek audience.
'Wait there then, till I fetch you thence,'
She said, and, once within the tent,
Reported the messengers' intent:
'I wish to prevent their watching,
Or hearing aught we are saying,
For otherwise one well might ask:
Why I am making it my task
To show my lady to them, in tears;
What grudge of mine thereby appears?
'Are those two lads,' declared the King
That I saw riding towards the ring,
In search of me? Well, they are both
Of high birth, I am nothing loth
To having them share our counsel,
For both the lads will speak well.
Both are well-bred and courteous.
One or the other is full curious
Enough not to have thus ignored
The signs of her love for their lord.'
'I know naught of that,' she replied,
'By your leave, the king's supplied
This ring, and letter; one of them
Handed me both, as I spoke to them
There, outside. Take them, my lady!'
The letter was kissed, fulsomely,
Then pressed to her heart. Itonje cried:
'Sire, read for yourself, here inside,
Whether the King loves me or not!'
Arthur reads the letter and speaks to the envoys
ARTHUR viewed it thus, on the spot,
And found what Gramoflanz, who knew
What it is to love, had spoken through
His own lips, as if he'd been there.
Arthur could see that all seemed fair,
And, as far as his knowledge went,
That he'd ne'er seen a more innocent
Expression of love, nor so complete.
With most fitting words he did meet:
'I now salute her,' the missive read,
'Whom I should salute, for service led
To my obtaining salute from her.
Young lady, to you I now refer,
Since with hope you solace me.
And our two loves keep company,
Which is the source of all my joy.
Since your heart doth ever employ
Itself in constancy, your lover
Finds solace here beyond all other.
You are a seal on my faithfulness,
The banisher of my woes, no less.
Your love ensures that no misdeed
Will ever be seen in me, indeed
Your goodness speaks of loyalty
That never alters; our constancy
Is like to that of the Southern Pole,
That opposite the North Star holds
Its station, neither quits its place,
And our loves stand thus, face to face,
Never, through faithfulness, to part.
Now young lady, consult your heart,
Remember me, and the suffering
I have felt for you; in this thing
Be swift to aid me; if any man
Seeks to part us, should hate demand
He does so, then bear this in mind,
Love has the power to be kind,
And so, requite us, and take care
Lest womanly honour in this affair
You might wound, and let me be
Your servant, best as I may be.'
'You are right,' said Arthur, 'the King
Salutes you honestly; with the ring,
This letter tells me such a tale,
I confess none did e'er regale
Me with so fine an invention
On the theme of Love's affection.
Keep him from suffering pain anew,
And he must do the same for you.
Leave this to me. The duel I'll halt.
Cease your tears, and their sharp assault,
Though you're indeed a prisoner!
Whence came this love for each other?
You must pay him your love as hire,
Since service is what he doth desire.'
'She who brought it about is here,'
Itonje said, 'though none did hear
Of the matter; if you wish it, she
Will now arrange for me to see
Him to whom I give my heart.'
'Show her;' said Arthur, 'for my part,
If I am able to, for your sake
And his, fair efforts I shall make,
And shall ensure that your fond wish
Is fulfilled, entirely, in this,
And you find happiness, together.'
'Twas Bene,' she said, 'none other.
His two envoys are here as well,
If you value my life, have them tell
Whether the King, with whom truly
My happiness rests, would see me?'
As discreet as he was courteous,
King Arthur went forth, and thus
Finding the lads, welcomed them there.
The one addressed him then, with care:
'Sire, King Gramoflanz,' said the boy,
'Asks, of your honour, that you employ
Your good offices, to maintain
The pledge twixt him and Lord Gawain.
And he requests that no other knight
Should appear, to contest the fight.
Your army is so vast that should he
Have to face them all, twould not be
Right or proper. Let Lord Gawain,
Alone, the honour of this maintain
For twas agreed, between the two,
That the duel was theirs to pursue.'
'I'll clear us of accusation there,'
Said Arthur, 'for never, I may swear,
Was my nephew sorrier that he
Fought not that joust personally.
As for the knight who met your lord
His victory, that all men applaud,
Is in his nature, as Gahmuret's son.
In these three armies there is none
Knows of a warrior more skilful,
Nor of one so brave in battle.
All that he does is glorious, all!
I speak of my kinsman Parzival,
Of the fair looks, whom you shall see.
In light of the oath, of chivalry,
I shall comply with the request.'
King Arthur seeks a meeting with Gramoflanz
HE and Bene, and, at his behest,
The two pages, rode all about,
While Arthur gladly pointed out
The various lovely ladies there.
They saw too, that dazzled pair,
Many a crest fluttering on high,
On burnished helm, against the sky;
(Nor would it harm a lord today
To behave in as generous a way.)
They all rode around, while Arthur
Named for them many a warrior,
While they took their fill of gazing
At the knights, and the pleasing
Faces of the maids and ladies,
A host of these, and many beauties.
The army was encamped in three
Sections, and with a space left free
Between each one, and King Arthur
Rode with the two envoys further
Into the meadow, away from there,
Then, privately, addressed the pair:
'Bene, sweet girl, of fair Itonje,
A sorry tale it was she told me!
She could scarcely contain her tears.
You two will understand my fears
If I say that Gramoflanz has all
But quenched her bright eyes, withal.
Now aid me you two, Bene as well,
And have the King these fears dispel,
By riding to meet me here, today;
Tomorrow let him fight as he may.
I'll have Gawain at my elbow,
To greet the King in the meadow.
And if he rides through my army
Today, he'll win the greater glory
Tomorrow, mighty Love will yield
Him a brave weapon and a shield,
Which his opponent will be glad
To be quit of, the strength to be had,
I mean, from Love's inspiration,
That in many a confrontation
With the foe, wreaks such dismay.
Let him bring his courtiers, I say,
I'll reconcile the Duchess to him
And he to her; now go to him,
Work discreetly to serve our ends,
You'll garner great credit, my friends.
And yet I must complain to you,
What, to your king, did Arthur do,
That he should treat my family
To this war of love and enmity,
(For such this odd tangle seems)
As though but a trifle he deems
All this? My peers should surely
See fit to treat me courteously?
If he should reward her brother
With hatred, yet seek to love her,
He needs but pause to realise
That when his own heart so defies
Generous thought, then it doth prove
Naught but a traitor to true Love.'
'Indeed, if courtesy he'd sustain'
A page replied, 'he should refrain
From that, Sire, which troubles you.
There is the old quarrel, in view
Of which it might prove better
If my lord waits at a distance, rather
Than riding here to meet with you.
Duchess Orgeluse doth still pursue
Her feud with him, yet complaining,
To all she speaks with, of the king.
'Let him come here, with but a few,'
Answered Arthur, 'let me review
The matter with her, and I'll seek
A truce, ere he and I shall speak.
I'll grant him a fitting escort,
My nephew Beacurs, from my court
Shall ride to welcome him mid-way.
He shall have safe passage this day,
Nor should think it any dishonour;
For I shall show him every favour,
And he shall meet with many a peer.'
King Gramoflanz rides to Arthur's court
THE envoys took their leave, I hear,
Leaving the King alone in the field,
Thinking on how all might be healed.
Lady Bene rode with the pair
To Rosche Sabins and on, through there,
To Gramoflanz camp, on the far side.
He was well-pleased, as they replied
To his questions, and thought their news
Of Fortune's making, nor could refuse
The suggestion, once they'd spoken.
His companions, were thus chosen:
Three princes rode forth with the King,
His maternal uncle too did bring
Three likewise, Brandelidelin
The King of Punturteis I mean;
Bernout de Rivieres was seen
To join the King, and Affinamus
Of Clitiers, he most courteous,
And these latter each took one
True and loyal companion;
So that they made twelve in all.
Gentlemen in waiting, withal,
A crowd of them, and then a host
Of men-at-arms, that ride did boast.
And the clothes they wore? I'm told
They were brocades, bright with gold.
The King's falconer rode at his side,
Ready for sport, while they did ride.
For his part, Arthur sent, that day,
Beacurs to meet the King mid-way.
Now o'er the wide space of meadow
Where'er a path he could follow,
Through marsh and brook, rode the King
In pursuit of game, yet ever yearning
For his love. Beacurs met him there,
And their greeting was a glad affair.
Nigh on fifty handsome pages too
Had ridden with Beacurs, in review,
Young counts and dukes, of high race,
While princes too the field did grace,
And all exchanged courteous greeting
Fair salutation upon meeting,
And made acquaintance cheerfully,
In a spirit of true amity.
Beacurs was of handsome visage,
And the King questioned a page
As to who this fair knight might be.
'King Lot's son, Beacurs, that is he,'
Bene replied, for she was there.
The King mused: 'Heart, go with care,
And find the maiden who, I deem,
An image of this youth doth seem.
She sent the hat from Sinzester,
With the hawk, and is his sister.
If she showed me further favour,
Above Earth's riches I'd prize her,
Were Earth twice its present size.
Her love must be sincere, while I
Come here in hopes of her mercy.
Till now she has encouraged me.
That being so, I'm sure that she
Will rouse my spirits, lovingly.'
Her handsome brother he now took
The king by the hand; each man shook
The other's, both were fine and white.
He meets with Arthur
NOW, to King Arthur's great delight,
Free of any great show of might,
He had obtained a truce outright
From Orgeluse, who felt, at last,
That for the loss of Cidegast
She had received due recompense.
Despite a sorrow so intense
It troubled her yet, her anger
Occupied her mind no longer,
For with Gawain's embraces, she
Was less inclined to enmity.
Arthur thus led courtly ladies,
All fresh and lovely beauties,
Wed and unwed, to a rich tent;
A hundred, in all, therein went.
To Itonje, naught could be sweeter,
As she sat there than to see her
Lover; she was, therefore, happy,
Yet one might read, in her lovely
Eyes, that Love still tormented her.
A host of knights were gathered there,
Though Parzival outshone them all.
King Gramoflanz came there, withal.
That fearless monarch wore brocade,
In Gampfassasche his coat was made,
Threaded with gold that shed its rays
Far and wide, and dazzled their gaze.
Arriving, his company dismounted,
Pages, too many to be counted,
Ran ahead and entered the tent;
The chamberlains, with firm intent,
Cleared a path towards the Queen.
King Brandelidelin was seen
To enter the pavilion before
His nephew and as all there saw
Was greeted by Queen Guinevere
With a kiss, and then she did share
The same with King Gramoflanz,
Count Bernout, as he did advance,
And Affinamus. Then King Arthur,
Turned to Gramoflanz: 'Ere ever
You think of seating yourself here,
Look about, since there may appear
To be some lady that you prefer,
And well, you have leave to kiss her.'
The king out in the meadows there,
Had seen one who did thus prepare
His eyes to recognise his lover;
I refer to that handsome brother
Of one who had declared her love
As his, for all the world did prove
Lesser than he, in her bright eyes.
King Gramoflanz could thus surmise
Where the one who loved him sat,
And his happiness soared, in that
Arthur had allowed them to meet,
And, with a kiss, each other greet.
Upon the lips, he kissed Itonje.
Brandelidelin, readily,
Sat him down by Queen Guinevere,
While King Gramoflanz sat near
The girl whose bright face, I fear,
Was suffused with many a tear,
Till now, this was all, in a sense,
She'd had of him; her innocence
Were punished if he said naught,
But simply sat by her in thought.
He must speak, and pledge to serve
Her, and then he might deserve
Her thanks for his coming there.
Yet naught issued from the pair.
The two seemed content to gaze.
If I should catch what either says
I'll examine what this may mean;
If a 'no' or 'yes' one can glean.
Arthur and Brandelidelin forge a reconciliation
With a 'Now you've had time to say
A word to my wife, come this way,'
Arthur led Brandelidelin
To a small tent, and so within,
While at his request the King
And his companions, sitting
Amidst the ladies, thus remained,
And not one of them complained,
Of being left among the fair.
The pleasure they all garnered there,
Dazed by beauty, on every hand,
Was such as might content a man
That sought comfort for his woes.
Drink was brought, and I suppose
If the knights and the ladies there,
With the Queen, all drank their share,
A better colour they had to show,
For it. Now cup-bearers did go
To Arthur and Brandelidelin,
And as they departed, the King
Began: 'What if it did ensue
That your nephew my nephew slew;
If he wished, my friend, to offer
Himself as suitor to his lover,
My young niece, who tells her woes
To him o'er there, as I suppose,
She, if she had her wits about her,
Would never see him as a suitor,
And then, as far as that may be,
His deeds had bred her enmity.
Where hatred seeks to play a part,
Then joy must flee the loving heart.'
He turned to the lord at his side,
And he of Punturteis replied:
'These maternal nephews rather,
May end this, with equal honour,
For you and I must ban this fight,
And then ensure that each knight
Shall not now from the other part
Without taking him to his heart.
Your niece Itonje must command
My nephew, first, to stay his hand,
And waive the duel for her sake,
For life and love are here at stake;
Then all the danger will be o'er.
Help you the Duchess to ignore
Any feelings she harbours still,
And regain for him her good will.'
'All this,' said Arthur, 'I shall do.
Gawain, my nephew, he too
Has such authority with her
That to us both she will defer,
Over this matter we'll preside;
You must resolve it on your side.'
'I shall,' said Brandelidelin,
And then the pair returned within
The great pavilion, and there
The King of Punturteis did share
A place again nigh Guinevere,
And Parzival who did appear,
No less fair, on her other side,
No finer a man had any eyed.
Then Arthur sought my Lord Gawain,
Who knew already, as twas plain,
That King Gramoflanz had come,
And next saw Arthur riding from
His pavilion, then dismounting,
So, he ran out to greet the King.
They found the Duchess would agree
To reconciliation, yet she
Set out her terms, that for her sake
Her beloved Gawain must make
Peace, and cease to seek this fight,
And that Gramoflanz must, outright,
Withdraw the charge against King Lot;
The whole matter must be forgot,
And he must let the garland go.
She asked Arthur to tell him so,
And Arthur, that sagacious man,
Departed, to consider his plan.
Whatever hatred Gramoflanz
Still harboured, in this instance,
For King Lot, had melted away,
As snow does in the heat of day,
Without his resenting a thing.
He'd quenched his hatred of that king
For fair Itonje's sake, since she,
As he sat by her, made him agree,
To all she asked! And now they saw
Gawain approach, with many more
From out that glittering company,
Nor could I name that host, truly,
Or say whence all their titles came.
Now all ill-feeling, and all blame,
Was laid aside, for affection's sake.
Peace is achieved
PROUD Orgeluse her way did make,
To the pavilion, without pause,
With her mercenaries and Clinschor's
Squadron, a part though, not the whole,
And there the sides from pole to pole
Of that tent had been drawn aside,
Beneath its roof, and naught did hide.
Arthur had asked the wise Arnive,
And her daughter the fair Sangive,
And her daughter Condrie to attend
The solemn scene which would end
All conflict, and let those who feel
This to be trifling, let them reveal
Their news of a finer occasion.
Jofreit, Lord Gawain's companion,
Led Duchess Orgeluse by the hand
Towards the tent where she did stand,
And a noble courtesy rehearsed
As the three queens entered first.
Brandelidelin at this,
Greeted each one with a kiss,
The Duchess kissing him in turn,
While Gramoflanz, hoping to earn
Her goodwill, now approached her
To make peace, and she did offer
Him a kiss (thus to mark the peace)
From her sweet lips, yet did not cease
To mourn the death of Cidegast,
And felt the urge to weep at last.
Even now her womanly grief
Compelled her to seek relief
In tears, and to mourn that kiss.
Call it loyalty, if you wish.
Gawain and Gramoflanz, also,
Set their own seal upon it so,
With a kiss, and then King Arthur
Acting as if for Lot her father,
Gave his niece to Gramoflanz,
In marriage; not a circumstance
That he was unaccustomed to,
Though delighting Bene anew.
Condrie too was married within,
To Lischois, Duke of Gowerzin,
Whose fond love for her had brought
Him many a fierce pang unsought;
His life was devoid of happiness
Till he found joy in that princess.
Arthur gave Sangive, Lot's widow,
To the Turkoyt, Florant, also,
And that prince took her most gladly,
As a gift to cherish wholly.
The King was generous in that way,
In giving lovely ladies away;
He never wearied of doing so!
(All was agreed beforehand though)
Gramoflanz and Itonje are wed
ONCE all was settled, Orgeluse
Announced that my Lord Gawain, whose
Service, for love of her, had won
Him great acclaim and distinction,
Was the rightful lord of her lands
And person, saddening many a man
That, as knight-servitor, had sought
Her love, and many a contest fought.
Gawain, with his noble company,
Arnive, the Duchess, and a bevy
Of lovely ladies, and Parzival,
And Sangive and Condrie, these all
Took their leave, while fair Itonje
Stayed with Arthur. Let nobody
Boast of a finer wedding feast!
The Queen, Guinevere, was pleased
To grant Itonje, moreover,
And King Gramoflanz, her lover,
(Who, by love and loyalty moved,
His true distinction had proved),
All her aid, and her attention.
Many a knight, I might mention,
Went to his quarters, wholly
Smitten by love of some fair lady.
And thus, I need speak no further
Of the substance of that supper,
For all those who loved outright
Wished only that day were night.
King Gramoflanz, spurred on by pride,
Despatched a messenger, to ride
To Rosche Sabins, where his army
Was now encamped, beside the sea,
Instructing them to join him, all,
Ere dawn broke, and his Marshal
To seek a proper gathering place,
And then prepare the site apace.
'See that it speaks magnificence,
Each prince with his own ring of tents.'
He wished to make a great display.
The man set out as day gave way
To darkness, when many a knight
Found himself in a sorry plight
Brought about by some woman,
For when one's service as a man
Comes to naught, one rapidly
Succumbs to pain and misery,
Unless that woman grants her aid,
Rewards the efforts one has made.
Parzival departs Arthur's encampment
AS to Parzival, he thought only
Of Condwiramurs, his lovely
Wife, her charms, her modesty,
For deep within his heart was she.
Might he take up with another,
For such love, his service offer,
Pursue the path of faithlessness?
Such a love he'll ne'er address.
His manly person and true heart
Have ever played the honest part,
Maintained by loyalty, and so
No other will he seek to know
But Condwiramurs, the fairest
Flower with which Earth is blessed.
'How Love has treated me,' he thought,
'Since first the realm of Love I sought!
Of Love's true lineage am I,
How then can Love be lost thereby?
If I must strive to win the Grail,
And yet my love for her prevail,
Challenged must I forever be.
If my eyes yield delight for me,
While my sad heart speaks of woe,
They shall oppose each other so.
None win joy in such a manner.
Fortune guide me in the matter!'
Nearby his armour lay. 'Since I,
Lack what the joyful own, and by
That I mean Love which sets aright
A man's sad thoughts and brings delight,
Since I am denied my part in such,
I care not what happens, overmuch.
God does not will my happiness.
If our love, mine, and hers no less,
That drives me to languish for her,
Proved a bond that fate might sever,
One plagued by doubt and despair,
For another love I might prepare.
But this, the love that she inspires,
Parts me from other love, aspires
To no other hopes of happiness,
For no other love may I address.
No escape shall I find from woe.
May Fortune to those others though
Grant the joy that they long for,
True and lasting. May God secure
Joy for all those fair companies!
I from amidst the joys that please,
Shall ride.' He reached for his armour,
Not needing aid from any other,
And soon encased himself. For now
A fresh field of toil he'd plough.
And when that man, forsaking joy,
Was fully clad, he did employ
His own hands saddling his horse.
He found his shield, and in due course
The knight took up his lance. His riding
Forth so early in the morning,
Would be lamented thereabout.
Day was breaking, as he set out.
End of Book XIV of Parzival
---