Guillaume de Machaut
The Book of the True Poem (Le Livre dou Voir Dit)
Part IV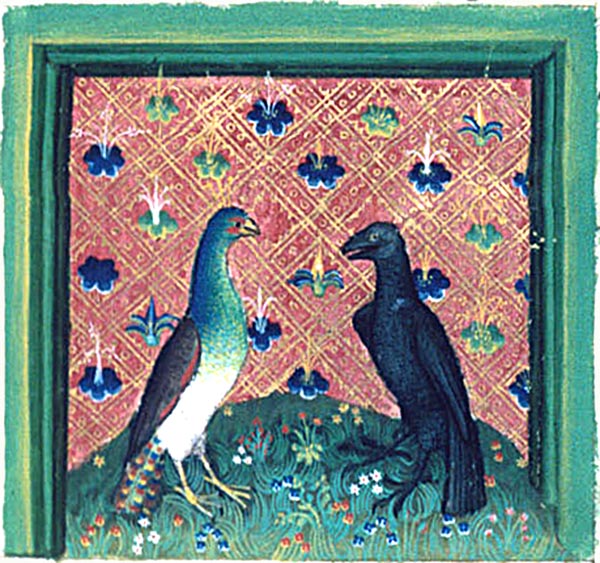 A peacock being mocked by a raven, Austria, W. (Salzburg); c. 1430- British Library
Translated by A. S. Kline © Copyright 2020 All Rights Reserved
This work may be freely reproduced, stored and transmitted, electronically or otherwise, for any non-commercial purpose. Conditions and Exceptions apply.
---
Contents
---
Lines 6963-6990: Of Polyphemus' love for Galatea
GALATEA, whom the monster
Greatly loved, claimed, however,
That Love scared him; for it appeared,
That where he loved he also feared.
See what this shows: that there is naught
A woman cannot gain, unsought;
If Amor but gives his consent,
Women can do much, sans intent;
Yet what can Love seek I wonder
Setting himself amidst such ordure?
Blame and reproach I afford him,
Whoe'er may their praise accord him.
Now, when Polyphemus was denied
His sole eye, he yet blindly sighed,
And oftentimes he sat alone
High on a massive seat of stone,
And there, when his pleasure he sought,
He played his flute, such her report,
All its hundred pipes together,
And made the whole landscape shudder.
So, it seemed to those who heard him,
And midst the thunder, they feared him.
And thus, the monster played, to suit
Himself, who knows what on his flute.
And yet one song he did compose,
So she tells, of his love and woes;
I find it here, but cannot say
If it's a song, or yet a lay.'
Lines 6991-7222: Polyphemus' song addressed to her (cf. Ovid's 'Metamorphoses' Book XIII)
'"GALATEA'S body's whiter
Than the flowering meadow, nobler,
Fairer, sweeter, and yet more true
Than is the very straightest yew,
Brighter than the water shining,
Prettier, and yet more pleasing
Than little tender goats to me,
Soft as the shellfish from the sea,
Her flesh; fair one, more lovable
Are you and more agreeable
Than the sunlight is in winter,
Or the cool shade in the summer.
O lady of great worth, say I,
There you stand beneath the sky,
Taller, more graceful than the palm,
In all your noble perfumed charm;
Rosier, of brighter colour
Than the apple of sweet flavour;
Lady your brightness doth surpass
The brightness of shining glass,
Worthy lady, riper in shape
Than the sweetest ripened grape.
Lady, courteous, friendly ever,
Whiter than the white swan's feather,
Or the young quail's, or the gull,
More pleasant and more beautiful
Than a garden, moist and fertile,
Full of sweet fruits that lips beguile,
Come to your lover, who doth call
To you, hide not from him at all,
He who desires and loves you so,
Grant my wish, my pleasure also.
For should you deny me further
None indeed could e'er be crueller.
Should you do not do as I would wish,
Ne'er was bull crueller than this,
Undaunted in its arrogant pride.
Tougher were you than oak beside
Should you not prove amenable,
And vainer and more changeable
Than a running stream, more pliable
Than a willow branch, more flexible
Than a vine where white grapes grow,
Less merciful, I'd have you know,
Less moved by pity, or by kindness
Than the briar, that wounds us less;
More harmful than the ocean wide,
With all its depths, more full of pride
Than a peacock, praised fulsomely,
Spreading its tail, vaingloriously;
More hateful and more annoying,
More painful yet than fire burning
Dead brushwood, lard, or dry sedge;
Sharper than e'er is thorny hedge,
More savage than a bear in heat,
False as the Hydra in defeat,
And darker than the troubled water,
If you disdain to love me ever.
More fearful than the frightened doe
Or stag that runs before the bow,
And not like to the stag merely,
But more wont to flee me, truly,
Than is the wind; yet, if I could,
I'd cure your fickleness for good.
For if you knew my true intent,
I do believe you would repent
Of fleeing so readily from me,
Then you would rather stay with me
And you would take more pains than this
To accomplish my every wish.
For you would enter my domain,
The cave I dwell in, and remain,
Where the cliff arches high above.
Neath the mount that cannot move.
So strong and rock-bound is the place
No sunlight there shall mar your face,
However lengthy proves the summer,
Nor shall you feel the chill of winter.
In my garden are apple trees,
And they bear ample fruit to please,
Almost more than they can hold,
And, if you deign such to behold,
I've rich grapes on my vines growing,
That I'll keep against your coming,
Purple and white, and you shall eat
Of those that please you or, replete,
Partake of strawberries, if you wish,
You may gather there, and relish,
That grow in the woods; their treasure
You may heap there at your leisure;
And then sorb-apples too, and sloes,
Bud and blossom, whate'er there grows,
And ripe plums, both red and green,
You may gather, the leaves between.
Deign to take me for your spouse,
And you'll have chestnuts in your house,
And all the fruits of bush and tree,
In great plenty; rich shall you be,
If you agree that you'll be mine.
As my wife you shall never pine
For lack of aught. And better still
Are all my herds, of vale and hill,
About us here, below the mount,
And in the woods in vast amount,
And in my cave there, penned within.
And if you seek their count to win,
I've creatures there beyond number,
Such that I cannot tell their number,
For he's a poor man who can come
To a total, and his riches sum.
If you think it cannot be true,
All I have said, why then, come view
All that lies in my possession,
And you will know, without question,
If tis a lie. My cattle you'll see,
With udders so full they scarcely
Can contain the milk they hold,
And then the lambs not one year old
And the kids, and in the cavern
I drink milk whate'er the season,
And with it I have soup to please
And from it too I oft make cheese.
You may surely take your pleasure
Of what I have, in full measure,
All I have told you of and more,
For there are other gifts in store.
I'll give you roe and fallow deer,
Rabbits and hares too breed here,
All to please you, such is my care.
Of turtledoves I possess a pair
Had from the nest the other day,
With these you can gently play.
Two fledglings I have, of an age,
Of the same size and plumage,
That I found about the mountain,
And I declare, till a certain
Lady comes they shall be guarded
As a gift for her, ne'er discarded,
Fair one, refuse not then my offer,
Nor the lovely gifts I'd proffer,
Instead come turn your head away
From the sea, since I am, I say,
Worthy of love, and this I know,
For in the still pool, here below,
I have seen both my form and face
Reflected in that watery place,
And I am handsome and well-made,
Pleased to see myself so displayed,
The greatness of this form of mine,
How tall a youth I am and full fine.
I know not what god in heaven,
As you folk say, is as handsome,
As noble, or as huge, I say.
I have great locks of hair that stray
Down to my shoulders, o'er my brow,
That suit me well, for you'll allow
A horse without a mane is ugly,
And birds and their young should be
All clothed in feathers, without fail,
Or they're like fish without a scale;
As wool is fitting for the ewe,
So every man needs a beard too,
Or he's ugly, and unseemly;
The body-hair I have suits mine,
Long and thick, and like the swine
It bristles just as their hide does;
Such is the covering I'd choose.
I have but one eye neath my brow
But this becomes me, I'll avow,
Since it's vast, both wide and round,
As many a shield may be found;
There's but one sun, up in the sky,
And, likewise, I have but one eye,
While the world is a single sphere,
So though my hair bristles, tis clear
You should not for that despise me,
There's little value in the tree
That's barren of foliage, and so
Do not be proud towards me, no,
Sweet sister, take me as your spouse,
For I am come of a noble house,
Such that you ought to desire me,
As son to the god of the sea.
A great lord is he, my father,
You indeed could find none greater;
No more is required my lady
Than that you do, willingly,
All that I ask, respectfully,
Of you; for of yourself only
Am I the subject, and would be.
I hold Jove, or any other
Gods, their lightning and their power,
And all their virtues, as of naught;
Not worth a fig are they, in short.
On you alone I call, and more,
Alone do honour, fear, adore.
I dread not the lighting, ever,
As much as I do dread your anger.
And if you loved me well, why then,
Since you'd refuse all other men,
Just as you would refuse me now,
I would be more content, I vow,
And I'd endure it, patiently.
But I am wounded, grievously,
For you disdain the giant in me,
To love some wretched nobody,
Actis, in whom you seek solace,
One whom you kiss and embrace,
While my embrace you yet disdain;
No pleasure, comfort I obtain.
As much as he may please you, I,
If I can find where he does lie,
Will display all my great might,
I'll rob him of his heart, outright,
No matter whom it displeases
And tear him into little pieces,
And strew them all about the ways,
And o'er the fields, so you, always,
May see the one that you love so.
I'll spread him o'er the sea below,
So that you may be together,
Thus, I'd wish you joined forever.
Jealous am I, and thus accursed,
A scorching flame have I or worse,
That roasts, and burns, and doth grieve me
Like the fires of hell, believe me;
I languish for your friendship, yet
With no mercy from you am met."
Such is the outcry, the complaint
That ever is the monster's plaint,
Hold it not as some mere fable,
For tis the singing of the devil.'
Lines 7223-7260: The Secretary completes his advice
'NOW you have heard all that singing
From its very first beginning
Through to its finish, start to end,
Telling how the giant did extend
His heart's love to fair Galatea,
And his mad deed concerning her,
His treason and his cruelty
And his immense disloyalty,
And of the sad end men did meet,
Whom that mighty grip did greet;
And yet I promise, faithfully,
He would not treat you so harshly
If into his hands you should fall,
As those thieves that, you recall,
And enemies, and there are many,
With which the devil plagues this country;
Who could not thus afflict folk more
Except by slaying them, tis sure.
And ever the cold winds do blow
That destroy more than we know,
And overthrow the stoutest tree,
And sink brave vessels in the sea.
You would soon be dead I fear,
So, my advice is: rest you here;
And here indeed you should stay,
Yet twere best that, straight away,
You should write your love a letter
And within it you should tell her
The reasons why you'll not set out,
For she is such, without a doubt,
Who would never seek to blame
Or love you the less for that same.
And I'll write to your lady too,
And say the very same as you,
And tell her why you yet remain.
Now, let us write to her amain;
And let your heart be full of joy,
Such is your very best employ.'
Lines 7261-7304: The lover's friend enters and gives his counsel
WHEN his speech had reached its finish,
A speech which I thought most foolish,
I said: 'My friend, by Saint Simon,
You've preached me a lengthy sermon
As to why I should ne'er see her,
Yet prove but a vain counsellor,
For you are no true advocate,
If the only counsel you can state
Is counsel that does me no good,
For you know well I ever should
Obey the sweet commandment she
Ordains, whom I love faithfully.'
In this way, we sat debating,
With each his own viewpoint stating
In support of his contention,
Yet it reached no firm conclusion,
For a nobleman made entry
To my chamber, treading softly,
And ending thus our conversation
Brought about its termination,
Crying: God save this company,
From anger and from villainy,
Grant them peace, honour and joy
Such as I'd wish Love to employ.'
Straightway, we leapt to our feet
And humbly then the man did greet,
Doing him reverence, as we should,
All from the heart, as best we could.
By the right hand, as we did meet
He took me, and to a window-seat,
He led me, sat upon on a cushion,
And told me how, in what fashion,
He had just heard, from start to end,
All the argument, as my friend,
Twixt me and my secretary there,
And understood the whole affair,
The whole debate and argument,
Likewise, the fable, and its intent,
The urge and the desire in me,
To be with my lovely lady;
And from this he'd defend me,
If I would but listen closely,
And show him love, respectfully;
Which I did, most diligently.
Lines 7305-7341: The image of Friendship
FOR now he said: 'Friend, if I knew
Your greatest virtue I'd help you
To enhance it, raise your esteem,
Lessening what doth harmful seem.
For truly you have here, in me,
A friend of utmost loyalty,
And, for that reason, I'll relate,
Solely to aid your inner state,
How the ancients did once portray
Friendship's image, in their day.
The form of a youth they'd paint
Or carve, one lacking mar or taint,
As handsome in body and face
As a subtle hand could, with grace,
Achieve; bare of head, save, I mean,
For a fair garland, all in green,
Which was most noble; moreover,
Painted letters, in gold and silver,
Adorned its brow, saying, ever,
'Whether tis winter or summer.'
His chest lay open; by true art
One might readily view the heart,
And he had naught, as I have said,
To claim his rank, upon his head.
And, with a finger, he pointed to
His chest where there was writing too,
And there it said: 'Or far or near,'
I swear that it did so appear.
This figure, in a coat of green
Greener than any leaf is seen,
Seemed as though it drew breath,
And in pure gold 'In life and death,'
Was written at the hem; all bare
The feet, no boot or shoe was there.
Now I'll tell you, without delay,
If you will list to what I say,
What the image doth signify.'
Lines 7342-7414: The meaning of the image's attributes
'THE garland, pleasing to the eye,
Means that one should e'er defend,
From all his enemies, one's friend,
And that in all that's to be done
The two should ever act as one,
Since one adorns oneself e'en so,
For a garland doth beauty show;
Naught is more lovely, equally,
Than is, in truth, great loyalty;
While the garland, through its art,
Shows joy, a treasure in the heart.
That the head's uncovered there
Shows how, in mishap and despair,
In ill times and adversity
No less than in prosperity,
A friend will never help deny,
But rather will, with head held high,
Proceed without pride, lovingly,
To aid a friend, howe'er they be.
True friends provide assistance so,
For they are neither dull nor slow
To fight their fight, and advocate
Their cause, in friendship, soon and late.
The writing there, upon the brow,
Teaches, and thus makes clear, how
Perfect friendship, faithful ever,
Knows not cold, heat, winter, summer,
But ever the same point doth mark,
Nor doth to alteration hark,
Just, and firm, and loyal wholly;
Who loves well, forgets tardily.
Now, since you're listening closely,
That the heart one can clearly see,
Since the chest lies open, doth show
That by the heart a friend we know,
And that to naught they will aspire
Unless love proves firm and entire.
And shows, by its very manner,
That Friendship doth bear a banner
Meaning that true love, if complete,
Bears nor concealment nor deceit.
The coat of green, it wears likewise,
Shows that Friendship never dies,
Or withers, but is ever new
And like the lentil fresh in hue,
That hides its verdure in winter,
Yet reveals it come the summer;
Thus, true love though hid, indeed,
Is yet disclosed in time of need.
The lettering says that, sans regret,
In life and death there's Friendship yet,
The finger pointed at the heart
Says he is ever true, and the art
Of the gold letters set close by
Says that or near or far, thereby,
Present or absent, he's a friend
Who will love truly till the end.
Now tis my duty to explain
Why the feet are bare, again
Just as the head, and the face also,
Are uncovered, so all may know,
All folk, whether in their chamber
Or hall, or on the road, wherever,
That face and heart they should declare,
So the feet are portrayed as bare.
Nor should a true friend wait to don
Their boots or shoes ere they be gone
To aid their friend who is in need
Nor should they be afeared indeed
Of rock or stone, pebble or thorn.
Such love of true affection's born,
Pure, not concealed nor hid away,
In town or field, or on the highway.'
Lines 7415-7474: The friend advises the lover to desist from his affair
'NOW I've told you of the image
Of true Friendship, and how the sage
Men of ancient times portrayed it,
And the significance they gave it.
And such a friend am I to you,
For what I say, I swear, is true,
And my friend, if my good counsel
You would take, then I shall tell
You of the path that you should go;
You're so mad for the lady, though,
So attached to her that, I fear,
By my soul, being held so dear
All my words will go for naught,
Yet no matter, for still I ought,
Whether it pleases you or not,
To speak out, for such is my lot,
And tis not right to rest silent;
Unvarnished truth is my intent.
Friend, by God, in this affair
There's more than one ass at the fair,
For several suitors has your lady,
Young and handsome, brave and merry,
And they oft go and visit there,
And I pledge you that, everywhere,
To one and all, many a letter
Of yours she goes showing ever,
Which prove a source of mockery;
Many do laugh your words to see.
For she boasts of your love, I know,
And even the wind that doth blow
Is not so readily perceived
As is the fact that you're deceived.
Think you that she doth love you true
Because 'friend' is what she calls you?
In just the same manner, I feel,
She'd name a stranger from Castile,
And her dear friend the man would be
While he was in her company,
For she's open and courteous,
Knows what friendship's worth to us,
And though I'll not say she loves him,
Yet as her 'friend' she'd address him,
For many a lady will term as 'friend'
One that she loves not in the end.
Upon your lady I cast no blame,
Virtuous, prudent, is that same,
Wise, honest, courteous and fair,
Nor is of a secretive air;
My counsel is for you, my friend,
For tis to her your heart doth tend,
With affection that ceases never,
Making of yourself a martyr,
For foolishly you spend your days
Caught fast, and yet deceived, always.
And, be sure, folk mock you too,
So, my friend I do advise you
To quit this amorous affair,
And end all your commitment there;
And trust, friend, in my counsel,
For, by my faith, I counsel well.'
Lines 7475-7514: The lover grows despondent
AFTER he'd spoken at leisure
And at length, to his good pleasure,
I was not swift in my reply,
For mind and sense were both, thereby,
Confused, more than one could conceive
And many a man might believe,
For all my limbs were set a-trembling,
My eyes with tears softly filling,
And so, I knew not what to say,
Such grief and anger came my way,
For one of my friends had written
Not long ago that I was smitten;
I'd sent him to her, he too had said
That I should seek her not, instead
I should leave her, reclaim my heart
Without delay, renounce my part.
I put these two things together,
Comparing one with the other,
And thought that both were likely true
If such was the counsel of these two,
The one the great lord present there,
Who was a friend beyond compare,
And the other whom I trusted, too,
To perform whate'er I sought to do,
As much as I myself, and sure
I think he loved me even more
Than the lord who now chastised me
Because my heart loved too deeply.
This was no trifle, no fancy,
No fable told to deceive me,
But must, of bare necessity,
Be most certain truth they told me,
Knowing that it was not all lies,
For they'd kept silent otherwise,
Not given indeed to play-acting,
As I well knew, nor gossiping.
So wounded was I in spirit,
My heart lost the joy within it;
I knew such melancholy then
I thought I'd never smile again.
Lines 7515-7568: He responds to his friend's advice
I said: 'My lord, of a certainty,
You have brought ill news to me,
News that finally makes plain
Such facts as but renew my pain.
This I shall suffer secretly,
Showing but little openly,
Until, indeed, I can learn more
Of what you say, and so am sure.
My lord, though I do believe you,
And am certain, were it not true,
You would ne'er have said a word
Of all this that but now I heard,
Yet it is right that I should do
As I intend, and privately too,
For ill haste will win no prize,
Or benefit, or honour, likewise.'
He said: 'And you will do no more?'
And I replied: 'I shall, be sure
To withdraw if I can so do,
Yet not suddenly, for my view
Is that sudden changes of plan
Prove harmful to many a man.
Her kindness, her generosity,
Have from death twice rescued me,
And base would be my attitude,
Betraying great ingratitude,
If I forgot all she's done for me,
Many a time, of her courtesy.
And I have promised, moreover,
To be always her fond lover,
And never seek another love.
Rather, loveless I would prove,
And love none other, losing her,
And so, call myself thereafter,
The most miserable of men,
And ill-fortuned for, I maintain,
Never have I lacked Love before,
He ever dwelt with me, tis sure;
And all my art I'd then forsake,
Doubtless I would no longer make
Rondel, ballad, or virelay,
Poem, fair song, amorous lay,
For after such pleasant employ
My heart could ne'er know perfect joy,
Rather it would prove melancholy,
Sad and pensive, more than ready
For fell death, without remission.
Now have I spoken my intention.'
Having heard all I did utter,
He said: 'I'll not meddle further!'
Then drank a little, and departed,
Leaving me nigh broken-hearted.
Lines 7569-7632: The lover meets the same counsel on every side
MY secretary had heard his speech,
And asked me: 'Sire, does he teach
Good counsel, as your guiding star?
By the faith you owe Saint Gringoire,
Tell me true.' but I answered naught,
And he began to grumble somewhat,
Saying: 'I had my doubts, although
I feared, my lord, to tell you so,
Much afraid I'd rouse your anger,
For such I thought was the danger,
And the agreement we two share,
Thus, be damaged beyond repair.
Tis why I ne'er do make a vow
To any woman to serve her, now;
Swift are they made, yet to our cost
Such vows are all too lightly lost.'
Upon hearing the sombre note
He sounded, my sad heart took note,
Such that, for many a long day,
I kept in mind all he did say.
Twas after forty days, or more,
I would say, though I am unsure,
A special friend of mine told me,
One e'er loyal and trustworthy,
'Some advocate she has with her,
Arguing his own case better
Than you could ever do, truly;
It seems he does it so expertly,
Fair sweet friend, you will be set,
Among the sins she would forget.'
In another three weeks or so,
Over hills and dales, I did go,
To see a lord I knew, greater,
A thousand times, than the other.
He began to smile, on seeing me,
And then addressed me, laughingly:
'About the bush you beat,' his words,
'From which other men take the birds.'
 And this he pronounced openly,
To my face, and in company.
On finding myself greeted so,
I felt now so wretched and low,
So mute, rendered silent, was I,
I mustered not a word in reply.
Gathering myself, I wished him well,
And yet on having heard his counsel,
My heart within was quivering,
I knew not what I was saying,
God help me, for now everyone
Was telling me I was undone,
And all they said exhorted me
To forget my lady, wholly,
She whom I love, serve, praise and prize.
As I walked down the street, likewise,
Everyone hurled some jest at me,
All crying, by way of mockery:
'There's one owns to a fine lady!'
And they poked fun at me like this,
Because it was my lady's wish
That our true love be noised about
The streets and, once the news was out,
Everyone then did know and see
The truth of my lady's love for me;
So, common knowledge it was then
To one and all, women and men.
I'll tell you what I did, therefore;
It profited me, I am sure.
Lines 7633-7662: He hides her portrait and writes his seventeenth ballad
TWAS in the month of November
When fires heat hall and chamber,
And I, within the house, keeping,
Until the coming of the spring,
Composing no message to her,
Writing, sealing, not one letter,
To despatch and send her way,
Passing my time another way;
And many an hour so did spend,
Until the winter-time might end
And my eyes could weep no more.
I had no wish now to adore
Her lovely portrait but, instead,
Removed it from above my bed,
And in a little closet placed her,
That rested within one greater.
There it is yet, and so shall stay
And so, remain there, locked away,
Nor will it leave its prison soon,
But rather rest there night and noon,
Because of the wrong my lady,
In seeking a new lover, did me,
At least such was said about her,
Which robbed me of joy and pleasure;
But then, to lighten my dolour,
Which had stolen all my colour,
Composed this ballad, although still
With heart afflicted, weak and ill,
And filled so with love's malady
Tis ripe within the melody.
Lines 7663-7683: His ballad 'Se pour ce muir qu'Amours ay bien servi' (Ballad XLII)
'If for this I die, that I've served Love well,
Ill would it be to have served that lord so,
Since I have not deserved the parting knell
For loving, thus, and with loyal love also;
I do know my days are numbered though,
When I perceive, and openly tis seen,
That in place of blue, lady, you wear green.
Alas, lady, I have cherished you so,
In longing for the sweetness of mercy,
That from me all my sense and strength do go,
So, do these my tears and sighs oppress me,
While hope is dead, beyond recovery,
Since Memory shows me; and tis clearly seen,
That in place of blue, lady, you wear green.
And so, I curse these eyes that first saw you,
The hour, the day, your charm, your address,
The rare beauty that struck my heart anew,
All that delight, enraptured foolishness.
And I curse Fortune, and her fickleness,
And Loyalty, that suffers it to be seen,
That in place of blue, lady, you wear green.'
(Translator's note: While the significance of medieval colours varied, green was often, as it is here, associated with ill-luck, fickleness, death and decay, while blue was associated with good-luck, steadfastness, mercy and hope; analogues as it were of Earth and Heaven)
Lines 7684-7693: He receives her twentieth letter
NOT long after there came to me
A messenger who, suddenly
Arriving at my very door,
Said: 'Your lady greets you once more,
And, by me, sends you her letter,
And none ever wrote a better,
No syllable might it lose indeed;
Read it now, please, and take heed.'
So, acting upon what he said,
I opened her letter, and read.
'My most dear and sweet friend, I send you this message due to the very great and perfect desire I have to hear some good news from you, and may Our Lord grant me the grace to hear such as my heart desires. For I have heard nothing from you since Candlemas, while I have written to you since that time, most recently through your secretary. I also told him several things directly that he was to tell you of, and he promised me that he would do this in such a manner that I would have a response from you shortly, but you deign to do nothing in this regard, and so it seems that you have discarded me utterly and cease to care for me, and that you no longer feel any love for me, and in this you are wrong and do what is bad and sinful. But I pray God may never grant me honour or joy in anything I request of Him if I have ever, in word, deed, or thought, done aught to you which gave reason that you should abandon me in so, or place my heart in the kind of distress it feels for you, as you are well able to understand. And yet you care not; so, you intend no remedy. And, by God, my sweetheart, my heart was never so towards you, for I never felt good or joyful as long as I knew your heart was suffering, and as soon as I was aware of it, I did my best to comfort you. And I think you well know the great distress my heart feels concerning you, and yet you care naught about it, so I am more surprised at your manner than I would be by any other man in the world, for I believe there has never been any man who has protected and loved the peace, benefit, and honour of all women as much as you have done, even of those you never saw, who never loved you, nor did you any benefit. And I, who love you more dearly than all the men who are now alive, and more than any woman has ever loved you, feel through you so great a pain and anguish in my heart that I think no human heart could believe I endure even a tenth this much. And it is no wonder, for I run the risk, if you act not swiftly, of losing honour and all my joy, for you know that our affair is known to a number of good people, such that if they learned it had been broken off, they would believe I had played you false, or that you had found in me some vice or wickedness that had caused you to do so. And surely if this were the case, I would consider myself the most dishonoured woman in the world, and never would any good or perfect joy be mine. And so, my very dear and sweet friend, I beg you, please, as dearly and humbly as the sad and miserable heart of your true and loyal sweetheart yet can, you being the one in whom resides all my good, all my honour, and all my joy, that your tender heart, which has always been so sweet and humble toward all women, should not be so cruel toward me as to wish that I experience such pain. Rather may your great sweetness deign to rescue me from the great misery I am in, and grant me comfort and joy. And know for certain that this can never come from anywhere if it does not come from you. And if it is true that you have thrown me over completely without my having deserved it, and that your heart is so cruel toward me such that I cannot find either comfort or love there, I am the woman who should complain more of you than ever did a woman complain about her lover, more even than Medea did of Jason. And so I promise you faithfully, and I swear on all the holy things a Christian can swear upon, that if it is true that Love, whom I have served so long and so loyally, to whom I have entrusted my heart, thoughts, and affection, should take from me the thing I love most dearly in all the world, and of which he promised me benefit and perfect joy, I then renounce and deny him and his service completely. Nor will I ever be his slave, or endure such subjection, neither I nor any other woman I can turn away from him; nor will I ever grant benefit or pleasure to any man I know who claims to love me or to love any other woman over whom I have influence. Rather I will do as much to annoy and disturb them as I can, and all this to spite Love, who has caused me so much suffering. But, if you please, my very sweet friend, you may swiftly soften this anger if you would but treat me as the virtuous, faithful, and true beloved I am and will be all my life and believe none who say anything against me. And then, if you would be to me the virtuous and loyal friend you used to be, know for sure, that Love will never have been served or honoured as much or as faithfully as he will be by me because of my love for you. So, I beg and ask as humbly and affectionately as I can, and as a favour to me, that you would please send something in writing, by this messenger, of such a nature that I might be comforted, for you may know for sure that all my good, all my honour, and all my joy depends upon you. Adieu, my sweet darling, and I pray to Christ with a virtuous and loyal heart, and his sweet Virgin Mother as well, that He may give you honour and joy in whatever your heart desires, and that He may grant you the wish to do something that might restore my joy. Written this thirteenth day of November. Your true love.'
Lines 7694-7715: He replies with his twenty-first letter
NOW you have, if it pleased you,
Seen her letter, and kept in view,
How I was harassed by all, alway,
At every hour of every day,
Due to the love I held for her;
Nor was made happier, but rather
More displeased, as you have read,
By what, every day, was said;
You know the portrait, of the one
I loved, I had locked in prison,
Which yet did not deserve its fate,
Rather was most unfortunate,
Alas, though I had served it so,
Thinking that I, by doing so,
Might yet save myself by the deed.
As it was, I pondered, indeed,
Upon the matter and I thought
To write a letter yet say naught
Of what others had claimed as true,
That she wore green instead of blue.
Here is the form of my letter,
To explain its contents better.
'My own sweetheart and my very dear sister and my very true love, I have carefully considered what you have written, and I thank you very dearly for informing me about your good health for, by my soul, the greatest joy I can have is to hear good news from you, next to seeing you, which is what I long for above all things in the world. And, my own sweetheart, regarding your message saying that you are in that place we know of, and that I may come to see you when I please, and also the plan you made concerning it, which pleased me much, since by it I see clearly that, as regards me, your heart is true and you are full of good will, for all these things I thank you as humbly as I am able, and not at all as much as I ought. So, I have sent my secretary, and I will come myself to you as soon as I can after Saint Andrew's day, or even sooner if I am able, because plans sometimes alter. And I shall bring only three of my servants besides my secretary, if I can have him with me. My dear sweetheart, I know well that you own the power to make Argus slumber, and to prison Resistance and Ill-Speech, and by my soul I am very happy that this is the case, and I beg you, most lovingly, that till I have seen you they may remain so. And as soon as I depart, may they be set free to perform their office of guarding you against all other men. And my own sweetheart, do not fear that when I come to you, and this will be very soon if God pleases and I can so arrange it, I shall perform most wisely and secretly all you have demanded, and as for the rest I will wait upon your noble heart. Recommend me, most humbly, to Columbelle, for I am most eager to greet her for your sake. And know that, where you are, I am acquainted with none except you, so it is most necessary while I am there for me to do as you may direct. Recommend me to H… when you see him, and, be sure that, if he can visit me, I would be most honoured, and it would be a great comfort to my brother, who can find nothing good or joyful when I am away. I was having something made for you, in Paris, but I am told the goldsmith has since died, so I believe I have lost both my commission and the gold. My own sweetheart, you write to me in so open a manner, and have always written in such a fashion, that I know not if it is good that I should put your letters in my book exactly as they stand, so please tell me of your wishes in the matter. Adieu, my sweetheart, and may God grant you honour and joy in whatever you desire, and grant us grace that we might see each other in honour, joy, and good health, and that shortly. Written the thirteenth day of November. Your most faithful lover.'
Lines 7716-7737: The lover sleeps and dreams again
THIS letter to my lady went,
Written without plaint or dissent
Regarding the tales that I'd heard,
For I would not have said a word
To gain a county; not for aught,
Would I have spoken; I said naught,
For fear of rousing her anger
Had I relayed them in my letter,
And I would but have brought her woe;
No messenger can prove too slow,
Nor knock too tardily at the door,
Who carries such ill news, tis sure.
And now I lay down, on my bed,
Naked, joyless, to rest my head,
Musing upon this whole affair,
Its outcome sad and hard to bear,
Though sleep proved difficult to seek,
For, indeed, throughout that whole week
A hundred times more I had wept
Than ever I took my ease and slept.
I dreamt a dream; you shall read it,
Though perchance you'll not believe it.
Lines 7738-7791: His dream of the portrait
IN my dream it seemed to me
That I, before my face, could see
That portrait of my fair lady,
And all dishevelled now seemed she,
And weeping with great tenderness
Sighing deeply, and to excess,
And with her hair she wiped her eyes
Her face, her breast, amidst her sighs,
Saying: 'Wretched, alas, am I,
Within sealed casket here I lie,
Prisoned, my lord, and yet you know
There is no reason why tis so.
If someone's led you to believe
Your lady's seeking to deceive,
What then? What more now can I do?
Did I provoke it? No, yet you
Believe too readily that tis true,
And so twill turn out ill for you,
As shortly you will come to see,
And all the world, in company,
For you shall but lose your lady,
Who loves you, heart and soul, truly;
And suppose that she has played
You false, and your love betrayed,
For that must I now pay the price?
Alas, you'd dress me, in a trice,
In little love songs; I did hold
Precious gems and finest gold,
And cloth of gold from o'er the sea,
And now you would abandon me.
Is it right that I should suffer?
Why, no indeed, by Saint Peter,
For I've done naught. If aught's awry,
No wrong in word or deed wrought I,
And, surely, she is not to blame,
Owns to no sin to mar her name;
I deem that there's no truer lover,
God love me, the whole world over.
Play no games now, let her know,
And if she can disprove all, so,
Let her be cleared of infamy;
Whate'er the case, but hear the party,
For every true judge that we face
Hears both the parties in a case;
And yet you think to condemn her,
And from your good graces ban her,
Because some three or four folk claim
Falsehoods that must mar her name,
As venomous as snakes, pure lies,
Told by slanderers, serpent-wise.
Tis a sin such tales to credit,
And a greater to admit it;
And there's a tale, regarding this,
I might tell, if tis your wish.'
Lines 7792-7845: The tale of how the crow's feathers became black
'NOW, once upon a time, the crow
Had feathers whiter than the snow,
Or dove, or goose, or swan, whiter
Than the hawthorn-flower, and brighter.
In brief, he was in no way ugly,
Whiter than milk in his beauty,
And dearly did Phoebus love him,
And he delighted more in him
Than in his bow, or in his lyre,
On which to play was his desire.
I'll tell you how it came about
That black was in and white was out.
In Thessaly there lived a maid
Who put all others in the shade,
Fair, fine, more praised for her sweet grace
Than any other in that place.
Being a native of Larissa,
There was nothing coarse about her,
For she was courtly, witty, wise,
Her lineage naught to despise.
Coronis was this maiden's name,
And Phoebus truly loved the same,
With all his heart, his love so true
He ever kept that maid in view.
But a young man she preferred
More than Phoebus his white bird,
In brief, she cared for nothing more,
As the tale will show, I feel sure;
For the crow saw them together,
Conjoined, in the way of Nature,
Each partaking of their pleasure
As Mother Nature teaches ever.
Now, on spying their lechery,
The crow began cursing loudly,
And then a great oath he did swear
That, once he'd taken to the air,
Phoebus should the unchastity
Of his beloved know instantly,
He flapped his wings hard, then he flew,
Without another word and, true
To his oath, to tell Phoebus all
Of what betwixt them did befall.
How he had found them both, indeed,
Caught, in flagrante, in the deed.
Now the raven he did encounter,
Who flew up and asked wherever
Was he going, so eagerly,
As he passed her, full hastily;
The crow gave her a swift reply,
The tale he told, how he did spy
Coronis, her unchastity,
And that to Phoebus he did flee,
For he wished not to hide her shame
From his lord, but speak the same.'
Lines 7846-7881: The raven reproaches and corrects the crow
'NOW, once she'd heard all the affair,
She answered: "Crow, this much I'll dare:
Trust me on this, my words obey,
Turn around, fly the other way.
Attend to what I teach, for I  
Speak never a word of a lie.
Tis not good always truth to utter;
Think you that Phoebus, your master,
Will not be sad, make no mistake,
Or that his sorry head won't ache,
If sheer faithlessness you prove
In that Coronis who is his love?
Think you his gratitude to see;
That you'll be raised to high degree?
No, for he, in truth, will hate you,
Never a good thing will wish you.
(The speaking portrait said a word
Above worth noting, as we heard:
Ne'er comes tardily anywhere
The one who doth ill tidings bear.)
Mischief befalls truth-speakers so,
And again, you must surely know
How ill-luck may thence befall you,
And I know what I'm saying too,
For I was mistress, once, alas,
In the house of grey-eyed Pallas,
And there I met with much honour,
And yet fell into dishonour,
And all for the true words I said;
To what injustice have they led!
Heed my warning; change direction,
Here now I'll offer you correction;
For he amends his course nobly
Who's taught by another's folly.
Come, what happened to me, know;
Twas more than twenty years ago."
Lines 7882-7987: The raven's story (cf. Ovid's Metamorphoses Book II)
"I was lady, once, and mistress,
In the mansion of the goddess,
Pallas, and I did please her so
She granted me more favours, know,
For my service than any other,
If you would learn why, however,
I was banished far from her court
Then listen to my tale; in short,
Vulcan, who's old and much despised,
(Fierce gout in him be realised!)
Who forges lightning-bolts that strike
On working days and feasts alike,
And does so solely out of anger,
Loved fair Pallas with such ardour
He asked her if she'd sleep with him,
Yet she refused to yield to him,
A woman pure and wise and good,
Thinking to guard her maidenhood.
For a long while he pursued her
But she fled before her suitor,
This enemy, wretchedly begot,
Upon a time, he grew so hot
He spilled his seed upon the ground,
And then the earth split all around,
And from the earth, there, was conceived
A child whom fair Pallas received,
Erisichthon he was named that day,
And, sadly, he was hid away,
Yet I exposed him, foolishly,
With my raucous minstrelsy.
I'll tell you, now, of the little one,
Who was shaped in wondrous fashion,
For Nature, who the child had made,
A dual form in him displayed,
And Pallas shut him in a coffer
And then she swore by Saint Onofre,
That she'd determine what might be,
And have him guarded carefully,
She not wishing it to be known
How in the earth that seed was sown.
Then to three Cypriot sisters,
Whom she considered wholly hers,
She handed him, in Athens to lie,
Ensuring none should cast an eye
Inside the coffer, that none might see,
Because she wished that secretly
They might raise the little creature,
Its birth so contrary to Nature,
For, in truth, it lacked a mother,
Born of the seed of its father.
Pandrosus was the eldest sister
Next came Herse, and then after
The youngest, Aglauros by name,
And most ill-advised, for that same
Forced open the infant's coffer,
And so, the secret did discover.
I was perched on a tall oak-tree,
Preening myself, whence I could see
All that was happening below,
How Aglauros, eager to know
What might lie inside the coffer,
Came now to unlock its cover.
And all this I could clearly see,
If not better, then as well as she.
I saw the child had snakes for feet,
Slithering thus about its retreat,
For I saw the dual form, once hid,
As Aglauros threw back the lid;
She opened it seated on a chair,
I know not if she closed it there,
For I took flight, straight away,
And then to Pallas made my way,
To give the goddess true report,  
Croak by croak to her, hiding naught,
Saying who had its depths revealed,
And shown the secret it concealed,
Expecting indeed that she'd accord
Me the gift of a fine reward.
I knew not what brought it about,
But instantly she drove me out,
Banished forever, beyond recall,
And I dared never return at all.
And then, what is hardest to bear
In all this most sorry affair,
Is that she gave my place there
To the owl who's scarcely fair,
Rather is filthy, vile, unclean.
There her beaked, hooded face is seen,
In place of mine; she governs all;
In house and inn, she casts her pall,
That soiled wretch, that filthy bird,
May God consume her, in a word!
She only flies abroad by night,
All hate her, and all flee her sight,
Never a bird doth wish her well,
All complain of her; sad to tell
She e'en sleeps with her own father;
And yet Pallas so prefers her
I feel such pain with every breath
That surely it must cause my death.
Now you can readily perceive
What prize truth-telling doth receive,
And so, dear Crow, I counsel you,
To follow my advice; tis true,
And you'll recall, what all do say:
Ill doth the goat, scratching away."'
Lines 7988-8039: The crow reports the affair to Phoebus
'THE crow replied that he would not,
That resting ne'er would prove his lot
Till he had flown and told Phoebus
The truth of the wretched business.
He flapped his wings and off he flew,
Though badly schooled in my view,
Since often things prove contrary
When one speaks that should silent be,
For they'll be paid the wages earned
By gossips, who are rightly spurned,
Or those dealt out, with good reason,
By those who are of noble station.
The crow went sailing through the air,
Eager to tell of the affair,
Taking no known path or highway,
But searched about, and did so stray
He came at last to Thessaly,
And to Phoebus' palace, richly
Adorned with gold, gems, and silver,
Where music from his harp did ever
Sound softly, sweetly through the hall
And then so wound about it all,
Ne'er a chamber or tower was there
That its melodies failed to share,
For all around could hear its voice;
And now the white crow did rejoice,
Hearing the rich notes sounding so,
Expecting a rich reward also.
And yet he failed of his intent,
Like the swan was he, all spent,
That on the brink of death doth sing;
He's a fool that tells everything,
All of the truth that may displease,
To his master when he's at ease.
And truly too much talk annoys
Especially that the gossip employs,
Unwelcome ever, day or night.
Spying Phoebus' house, outright,
The crow sped swiftly through the air
And with all speed descended there.
Phoebus saw him, and did demand
Why he came, as he sought to land,
Since he'd been absent many a day,
Gone seeking pleasure far away.
The crow at once relayed the tale
Of shame and outrage, without fail,
Of Coronis' vile lechery,
Said to his lord, most forcefully:
"Fair Sire, by every sacrament,
I spied them upon vileness bent,
And I was intent on telling you,
And here I am, and tis all true."'
Lines 8040-8105: Coronis is punished by Phoebus
'WHEN Phoebus had heard the story
From the crow, about that lovely
Maid he loved with all his heart,
That she for another did depart,
From his head the crown did fall,
And the harp, that filled the hall
With its soft notes, fell at his feet;
His grief had not been more complete
Had he been pierced by twin sword-blows
Through the body, for, heaven knows,
Twas sorrow the crow had brought him,
Learning that she'd been false to him.
It is not necessary to tell
All the truth, if all would be well,
Nor even a quarter, truly,
Need be said; may God preserve me!
Phoebus tormented himself sadly,
Complaining, and raging madly,
Such was his misery and woe,
Filled with pain and anger also.
By chance the maiden he did spy,
Listen now to how he let fly:
He seized a bow, strung an arrow,
And pierced Coronis to the marrow,
Because he had been thus betrayed;
Deep in her breast he struck the maid.
Coronis fell straight to the ground,
Her heart failed, her sight she found
Grew dim, and from the wound there ran
A stream of blood, on every hand.
Dying she murmured, soft and low:
"Alas, to bring on me such woe;
I see that shortly I must die,
And yet tis undeserved, say I,
For I have served you faithfully,
My love, you've acted hastily,
For two you have killed with one blow;
I am with child, and you must know
Tis yours, and it has done no wrong;
Sweet friend, to you it doth belong."
And with this her soul she rendered,
Phoebus saw naught could be mended,
And, hearing her reproach, no less
Was he shamed, and in sore distress.
And angered, bitter, made outcry
Against all birds that course the sky,
And most especially the crow,
Who had the fairest form also.
He cursed the arrow and the bow,
And the hand that brought him woe,
The hour, the season, and the dawn,
That this most evil day had borne.
He had the maid embalmed too,
With richest ointments, and tis true
That they so skilfully did strive
That she did seem as yet alive.
In the temple of the goddess
Venus, he placed her corpse, no less,
Yet, ere he placed her in the tomb,
He took the child from out her womb,
A child that later won great fame,
Aesculapius was his name,
And he of surgery knew more
Than any who had lived before,
For to life he restored the dead,
So, in the books, indeed, tis said.'
Lines 8106-8131: The crow receives his ill reward
'THE crow a fine reward now sought
Though twas ill-tidings he had brought,
Awaiting, and longing for, that same,
Yet the messenger shared the blame,
For Phoebus said: "In memory
Of this, your feathers black shall be;
Instead of white, now, on its back,
Let every crow be dressed in black,
Blacker than ink for evermore.
No other lot have you in store,
Due to your wicked gossiping
That robs me thus of the loving
Charms of the fairest ever sent
To this world, who yet innocent
May be, and all this but a lie
That makes me woeful, sad of eye;
Do naught but jabber now I say,
May the eagle snatch you away!
Be off! An exile from these shores,
Show your beak, and shame is yours."
With this reward the crow was paid,
He flew from there, quite dismayed,
And then, as all folk know, in brief,
Once banished, he became a thief;
And everywhere he doth repair
Does naught but caw and jabber there.'
Lines 8132-8179: The portrait image continues to admonish the lover
'MY lord, you've listened to my tale,
And learned I deem, without fail,
The lesson of raven and crow,
And I'd be amazed, it being so,
If such gossip you'd still believe.
Lend a deaf ear to all you receive
By way of news from those who seek
But to deceive you when they speak;
You'll sin gainst her nobility,
To credit what wounds so deeply.
Life and honour, by such action,
And your sweet love's affection,
You would forfeit, believing so,
Slay your lady and then, in woe,
Sigh with repentance, I dare say,
And curse, a hundred times a day,
The hour that brought you such report,
And those who all such gossip taught,
The place, the harm that did befall,
Now clear and evident to all,
As Phoebus did; and all too late!
And so, for God's sake, heed the fate
Of Phoebus who repented ever,
For he'd pledged to love no other
Than Coronis, who had deceived,
Him; he who had the crow believed.
Would it might please God that they
Who harm love, in this foolish way,
Through gossip, truthless and malign,
Be turned to wild and savage swine,
Or be transformed to trees, or bare
Black polished marble standing there,
So they might change from light to dark,
Dressed in coarse pelt, stone, or bark,
Just like the crow, banished no less,
For his sin, from the god's palace,
On pain of death, whom, you'll recall,
The other birds loathe, one and all.
My lord, now I've so lectured you
You can see my reasoning's true,
And from prison I should be freed,
And my honour restored, indeed,
I should be seated now on high,
As I once was; if not, then I
Shall appeal to fair Venus' grace,
And I shall plead your lady's case,
Before her thus, and contest yours,
For she's none to defend her cause.'
Lines 8180-8201: The dreamer wakes
BUT now the watchman gave his cry,
The cowherd sounded, loud and high,
His echoing horn that, as he blew,
Thus, served to waken me anew.
And, once from sleep I was freed,
I was full of wonder, indeed,
And all my blood within was stirred
By what I'd seen, for I'd ne'er heard
Of like image, in any age,
Whether on wall or written page.
And yet her lips spoke not to me,
Rather Morpheus, in his mastery,
Took on her portrait's form outright,
Came to my bed in darkest night,
Where I slumbered, dreaming deep,
And whispered to me, in my sleep,
The request and the true complaint
Of those lips reproduced in paint.
Whoever knows not Morpheus
To whom I've seemed oblivious,
They may read 'The Amorous Fount',
Wherein of him I give true account.
Lines 8202-8261: He reinstates his lady's portrait
AND so, I thought and thought again,
And, while thinking, it seemed plain
That I'd wronged her; and oftentime,
He errs, and doth commit a crime
Who imprisons some poor creature,
Though never a misdeed did feature.
So, I rose from my bed and dressed,
And, once done, I unlocked the chest,
Where the portrait now did dwell
Of she whom I had named 'Toute Bele',
And said: 'Are you within, my beauty?
I ask forgiveness and pray mercy,
For having prisoned you so nearly,'
Addressing her with great courtesy,
With my right hand setting her free,
Placing her where she used to be,
Quite as honourably as before.
And afterwards I mused once more,
And pondered on the errant crow
And on the wise raven also,
Whom Phoebus and Pallas hated
Due to the truths they'd related,
Recalling all that they did discuss,
And I agreed with Morpheus
A fool he is who bears a message
That brings but anger and damage,
Especially where Love's concerned,
For none has such perfection learned,
That if he's struck so by Love's lance
He'll not feel, through that circumstance,
Anger, displeasure, at ill report
Of his lady in misdeeds caught;
Nor should you, if you're awake,
Wonder at all, if my mistake
Made me sigh and moan and weep,
And afforded me but little sleep,
Once the news was brought to me
That her beauty was lost to me.
My heart was so filled with worry,
That, by that same God that made me,
So greatly troubled then was I
My heart near broke, I'll not deny.
Then Love, and Fortune too, I cursed
That I so ill a fate rehearsed,
Though they'd promised endlessly,
A hundred times or more to me,
That she would forget me never
My Toute Bele, nor alter ever.
Yet her promise she'd not kept
If what I'd heard before I slept
Was true, her loyalty but lies,
Nor shall my tale say otherwise.
Yet the man who feels discomfort
Must look about to find comfort,
And so, did I; from a shelf I took
For like purpose, a little book,
Twas writ by one Fulgentius,
And therein Titus Livius
Describes how Fortune doth appear,
And what he says there, I'll give here.
Lines 8262-8311: Livy's description of Fortune according to Fulgentius
THE matrons of Rome long ago
Founded a temple, and did owe
Its creation to no man there;
It was solely Woman's affair.
They to Fortune's honour raised it,
And agreed to further adorn it
With her form in female semblance,
An image of her true inconstance,
For tis true they are unstable,
Women that is, and variable.
Fortune no one at all should prize,
But rather her should one despise
Who comes free from simplicity,
Or in bare and ragged poverty.
For such folk they do best, I say,
As can hold to the middle way.
The image I'll describe for you
Was fair of face, and body too,
Four little roundels met the sight
Two on her left side, two her right,
And a large one that did aspire
To hold the four small ones entire.
And the first circle there did hold
This text, in Latin, writ in gold:
'Free of limit, I grant and share;
I make such games my true affair.'
And in the second there was writ,
As though to test the gravest wit:
'Cherished am I, while I do last,
Yet thought bitter when I am past.'
The third text was most notable,
Nor should it be thought a fable:
'I render thought blind and, with ease,
I cause the love of God to cease,'
Yet one should love God faithfully
Who made the sky, and earth, and sea.
Now in the fourth was written, there,
A thing of which all should beware:
'I sing and sport, yet in such wise
That my song lies, cheats, falsifies.'
The fifth, encircling all, brings down
The king, the sceptre, and the crown,
Bearing all things to destruction,
Here appears the harsh conclusion,
For all those who fail to scorn her,
But rather follow her and prize her.
And here I give the true text, thus,
As writ by Titus Livius:
'Look on, and think what I may be,
And when you know, loathe me, and flee.'
Lines 8312-8327: The lover considers the image of Fortune
THUS, did one the likeness portray,
Of Fortune, there, who doth display
Spite, hatred; shames, works to deceive
All those who do her grace receive.
Long and hard I viewed her pose,
Took issue in my heart with those,
That once had taught me to believe
In her love, who did but deceive,
For I and joy must perish too,
If what was said of her was true.
Yet, by my faith, I was in doubt
So set myself to think about
My lady and to compare her
To Fortune and all her manner
Of behaving and, in this wise,
Viewed the two as I here advise.
Lines 8328-8343: His response to the first emblem
WHEN I, at first, did fall in love
With my lady who mine did prove,
So sweet the woman that I saw
That later I could not withdraw.
Yet I know not by what attraction
I lost my heart, so swift its action,
To one who thence did yet depart,
After she had so pierced my heart
With her glance and, fatal error,
Drove me on, at sight, to love her.
And so to Fortune I liken her,
And I can rightly compare her,
In heart and body, all her ways,
To Fortune and the games she plays,
If all is true that I've heard said;
Naught else my tale says, when read.
Lines 8344-8359: His response to the second emblem
ALAS, I have held her so dear
Without deceit have loved her here,
That in truth I knew not whether
I saw and heard her, yet forever
She was my heart, she was my love,
She did my loving refuge prove,
My desire she was, my treasure,
My joy, my hope, all my pleasure.
Ah me! Ah me! Ah me! Ah me!
And yet her love has died for me,
Vanished is her grace and favour,
To gall doth her sweetness alter,
Which to me was nurse and mother,
Now like to death, sour and bitter,
If all is true that I've heard said;
Naught else my tale says, when read.
Lines 8360-8375: His response to the third emblem
SO lovingly I've cherished her
And so humbly have I served her
That on her all my attention
Was bestowed, mind and intention,
My heart, my pleasure, all my thought
Never to be withdrawn for aught.
For her great beauty so fired me,
And her sweetness so inspired me
That I neglected my Creator,
For her person, every feature,
Nor in the world did any creature
Save her grant me such pleasure,
Yet in love she has betrayed me
And without due cause doth hate me,
If all is true that I've heard said;
Naught else my tale says, when read.
Lines 8376-8391: His response to the fourth emblem
FAR sweeter than the Siren's call,
Filled with sweet melodies, in all,
Is her voice who, with her singing,
Lulls my heart, my flesh enchanting,
Just as cruel Fortune enchanted
All her sad slaves when she chanted
Her falsehoods, their minds deceived;
She's false, and ne'er to be believed.
My lady played me false; the same
Is she, and plays that wicked game,
She's like the fickle wind that blows,
And where it goes to no man knows;
So, she bestows her graces quickly
And then withdraws them as swiftly,
If all is true that I've heard said;
Naught else my tale says, when read.
Lines 8392-8409: His response to the fifth emblem
WHEN I first did meet my lady
Viewed her person, sweet and lovely,
I looked not to the beginning
Foolishly, nor to the ending,
For tis said that he works wisely
Who his labour's end can see.
Yet foolishly I've gone astray
Since tis certain many a day
Of pain and care will be my lot,
For Fortune will ne'er be forgot,
And if one sees her, flee again,
Quick as a cat doth flee the rain.
Alas I have followed my lady,
When I should have fled her swiftly.
Deceived myself, I thus consider,
For I should have known her better,
If all is true that I've heard said;
Naught else my tale says, when read.
Lines 8410-8423: He concludes his comparison of his lady to Fortune
NOW, my lady has been compared
To Fortune, all their likeness shared.
The two of them go well together
Since she, like Fortune, is forever
Marked by variability
In which lies no stability,
And truly she doth change anew,
As a sparrowhawk does, in mew;
Though its plumage it doth alter
While her heart it is doth falter.
She is skilled at changing course,
Varying in like flight, perforce,
If all is true that I've heard said;
Naught else my tale says, when read.
Lines 8424-8473: The treatment of the falcon that strays
ABOUT this I'll relate a story,
Recounted by the Count to me,
Who is my lord and noble friend,
And one who closely doth attend
To the fine sport of falconry,
For none knows more of it than he,
Nor enjoys the thing more fully,
Tis his great pleasure, certainly,
Therein is nigh all his delight.
Now when his falcon, in its flight,
Veers off course, he'll curse, call out,
Scream and yell, and cry and shout,
Until the falcon hears the sound.
All the falconers, I have found,
The sport entrances, do likewise,
And, when the falcon hears the cries,
If tis well-bred, twill find the way
To renew its course, sans delay,
Turn, and then, the true path seeking,
Set itself on the proper bearing,
To chase down its previous prey,
Seize its quarry, nor veer away.
The Count then shows it kindness,
Praises it and, with much sweetness,
Reveals a face of such good cheer
That e'en to the falcon it is clear
That the man is more than happy
With its service, since it has fully
Discharged the task that it was set.
And so, the Count must not forget
To yield it the heart of the prey;
That's why it flies: to hunt, I say.
He feeds it the bird's heart there,
On the lure; thus, ends the affair.
But if despite his shouts and cries,
Or whatever other means he tries,
The falcon chooses not to forego
The wrong quarry, it follows so,
And if it then takes it in the air,
The noble Count, in pure despair,
Treats the falcon rather brusquely,
Speaking to the ill thing harshly,
While if it bears back the quarry,
Which it seized erroneously,
The count throws it in the river
Or the mill sluice, or wherever;
So, of its feast the falcon fails,
Lost is the heart, and the entrails.
Naught else it gains for its mistake,
Such is the vengeance he doth take.
Lines 8474-8493: His attitude to his lady's fickleness
THUS, if the lady whom I prize
Sins somewhat against me, likewise,
I should also raise my clamour,
But piteously and in fear of her,
Like a man who dreads her anger,
Praying her not to stray further.
And, if she should amend her flight,
Then I should forgive her, outright,
And do so most affectionately,
And sweetly, and with courtesy.
And, if she fails to show reason,
And casts away the love she's won,
Then I must let her have her will
As she proves unreasonable still,
And, without further plaint or cry,
Yield her thanks, my head held high,
And say to her, and most politely:
'As you please, I concede wholly.'
For her love is worth less than naught,
To me, since others' love she's sought.
Lines 8494-8509: He sends his lady his twenty-second letter
YET in the end I concluded,
No longer foolishly deluded,
I could, no longer, live this way
Right melancholy, night and day,
With a heart now saddened wholly,
A thing which doth wound most deeply.
So, once more, I wrote a letter,
In which, courteously, I told her
Not the whole of what I'd heard
But that a true friend had brought word
That she was showing my letters,
Freely, to a host of others,
Which was but bitter news to me
Since I was now the butt of many.
That letter, you may read it now,
If its perusal you'll allow.
'My most dear and only lady, I am most anxious to learn how you fare, and so I beg you as humbly as I can, to let me know of your state, as soon as you can, for, God knows, one of the greatest joys I can attain is hearing good news of you. And if you wish to know how I am, I was in good health, and quite well when this letter was written. My most dear and only lady, if I repeat to you what has been told to me, I beg you not to be displeased. Be pleased to learn that a powerful man, who is very much my lord and friend, has told me, of a certainty, that you show what I send you to everyman, and thus it seems a fine jest to many. Do what you wish in this regard, but, though I am little worthy, I have been many a time in places where such things were not done, and where the man, or woman, who could best conceal their affairs from others was the one most worthy of reward. So, in order to protect you, I no longer intend to write aught that you could not show to anyone, and, my sweet love, I shall show the semblance of loving some other woman, entirely. And, to be sure, I have composed no more of your book since Easter, for the above reason, nor do I think to do so, for I lack material, and yet one should not believe everything one hears. I am sending you whatever I have composed lately of your book, and you may show it to whomever you please, for. by my faith, I took great pains in the making. And though you may consider it worthy of mockery, by my soul, there are hardly three persons in the world for whom I would have undertaken to do such a composition, however easy it might prove to another. But if sweet pleasure and pure love be absent, it proves most difficult for me to compose. My most dear and sovereign lady, may the Holy Spirit bless and protect you, and grant you honour and joy in whatever your heart desires. Written this 16th day of June. Your most faithful friend.'
Lines 8510-8525: His lady is distressed at his letter and composes a ballad
WHEN my lady read my letter,
Learning, as she looked it over,
Of the stories that some other
Had, it seems, reported of her,
My letter dropped to the floor;
Never had human form before
Suffered from such grievous pain,
The colour from her face did wane,
The crimson and the white grew pale,
A deathly hue did there prevail.
Fainting, she fell upon the bed,
Bowing down her face and head,
And weeping most piteously,
While moaning and sighing deeply;
Yet, in this state of woeful thought,
To make a virelay she sought.
Lines 8526-8572: Her tenth ballad, a virelay 'Cent mille fois esbahie'
'DISMAYED a hundred thousand times,
More angry, sorrowful, betimes,
Truly, than any, am I,
Since by this same man, hereby,
Am I cast aside, wholly,
Though he his friend, and lady,
Called me, and then so sweetly.
To my mind, there's none other
Who could e'er suit me better.
I'd feel joy, free of anger,
If I could listen longer
To his voice, and keep in view,
His fair form, for tis but true,
He has cast my love aside,
Suddenly, that love denied,
Without a trace of any
Fault in me, or known folly,
That could send him from my side.
Dismayed a hundred thousand times,
More angry, sorrowful, betimes,
Truly, than any, am I,
Since by this same man, hereby,
Am I cast aside, wholly,
Though he his friend, and lady,
Called me, and then so sweetly.
Now, I see comes upon me
Mischief, suffering, misery,
From every side, endlessly,
To break my heart, so fiercely,
Death alone can set me free,
Nor can I ward it from me.
My happiness is destroyed,
The strength lost that I employed,
So much so that, right sadly,
Constantly, and ceaselessly,
Pallid, tortured by such strife,
I curse the hour, curse my life,
Without aught to comfort me.
Dismayed a hundred thousand times,
More angry, sorrowful, betimes,
Truly, than any, am I,
Since by this same man, hereby,
Am I cast aside, wholly,
Though he his friend, and lady,
Called me, and then so sweetly.'
Lines 8573-8578: She sends the virelay with her twenty-first letter
ALAS, the debonnaire and sweet
One left the third verse incomplete,
So wearied, full of misery,
Sad, mournful, drowned in tears, was she,
Yet two, complete, did thus enclose,
In the letter that spoke her woes.
'My own sweetheart, my most dear and sweet friend, I received your letter and, for that reason, felt great joy because next to seeing you this was the thing I most desired in the world, for, in truth, it has seemed two years to me since I heard any news from you, and I have been so wretched I ne'er believed I could feel so ill on anyone's account. And if I wrote you somewhat brusquely, and with scant wisdom, by my soul, I could help it not, for I was so troubled, and my heart was so afflicted and anxious I could scarce do, or say, aught that might please a soul, nor was there aught that did not displease me, since I had no news of you. And then you had promised me to come to see me as soon as you could ride. And you have been in good health, and the roads are safer since Easter than they have been this last three years, and yet you came not to see me at all. By the God who made me, I would not have behaved so had I been in your position. And you promised me, a year ago this month when I was at Biau Chastel, that you would never doubt that I was your true and faithful friend, and would say naught ever to anger me, yet you have done the opposite. And thus, it appears by the letters you have returned at last, the ones I sent back to you to discover if there was aught that might trouble me, that, by the God who made me and all the oaths one can swear, there is today no man living in this world to whom I have promised my love save you, and for this reason I am angered that you believed the opposite. And for those two reasons I explained previously, I wrote that you are changeable, and hold not to the truth. And, by God, whatever I may write, I am very careful not to repeat aught there that may prove to your disadvantage. My sweetheart, and my most sweet love, I beg you, as firmly as I can, to maintain goodwill and peace between you and I, so that all the anger, and all the discomfort, and all the words and phrases written or spoken between us, that have made or could make us angry may be forgotten, wholly, and neither you nor I remember a scrap of it; and we love each other loyally and sweetly, and take pleasure in one another when it pleases God that we may see each other. And this matter I think to look to diligently and according to such a plan as will well please you. My sweet heart, you say that a very great lord and several others have made mock and cast aspersions about me, regarding some matter of which you know naught. Yet, by God, I never did aught that would cause any man to learn of the love I have for you. And if I have said or done anything that might not seem right, please let me know, and arrange things in a manner that seems good to you. And I promise you faithfully that I will hold to the same. But, for God's sake, my own sweet dear love, no matter what someone tells you, please think not nor believe that I shall cease to be your true and faithful beloved as long as I live. For, by the God that made me, as regards that day on which I said to you that, if I could draw my heart from my body and place it in your hand, I would grant it to you so that you might feel more secure, well, I did grant it to you and set it within  you thus, perfectly. For I could as readily seize and draw the teeth from your mouth without causing you harm and without your knowing anything, as I could reclaim or remove from you the heart which I have given you. Yet by God, I wish that not at all, for it pleases me more for it to be with you than with any man living in this world. And so, you may, and should be, completely secure. My sweetheart, I beg you, please write to me concerning your state of health and as often as you can, and say if I might see you. For, truly, if God had given me one single wish in this world, I would wish for nothing except to see you, for such is my whole desire and all my intent. Nor do I think to have perfect joy until that hour. My sweetheart, be pleased to know that I have seen not a sign of the servant you said you sent to me in May, nor have I had any news from him. Adieu, my dearest love, and may God grant you peace, health, honour, and joy in whatever your heart desires. My dear friend, I am sending you this virelay composed to express my feelings. And, I pray you, send some of your own, for I know that you must have composed a few since I had news from you, for I have viewed a ballad that has the line "That in place of blue, lady, you wear green" and I know not for whom you composed it, but if twas for me then you are in error, for, by the faith I owe you, whom I love with all my heart, ever since you wrapped and enveloped my heart in pure azure and then locked it inside the treasure-chest whose key you possess, it has not changed colour nor shall it, all my life long, for even if I greatly wished it I could do naught without you, for nor I nor any other carries the key, only you. And of that you may be as sure as if you held my heart in your hand. My dear friend, I beg you to return by this messenger the first part of your book, which I returned to you some time ago, for I did not keep a copy of it and am very eager to see it. And if this letter is badly written, please to pardon me, for I cannot always find a notary to my liking. Written this tenth day of October. Your most faithful beloved.'
Lines 8579-8652: She writes again, sending her twenty-second letter
NOW I have brought before your eye
What Toute Bele wrote in reply,
All of her tearful lamentation,
All of her sad humiliation,
The pledges, all the anxious thought
Amassing there in her heart's court.
And, surely, whoe'er thinks on it,
A shame and misery would find it,
If to a good woman one swore,
And one's firm oath did then abjure.
No more the contrary I'd credit
Than a drawing of Mahomet.
In no more than a fortnight too,
On a Monday, the omen true,
A good friend of mine, a cleric,
One skilled in the art of logic,
Came to my house; he greeted me;
And then spoke to me, and wisely,
Saying I'd erred, most foolishly,
In crediting aught so readily
That appertained to my lady;
Body and soul, he swore that she
Had told him her every intention,
Her private thoughts, at confession,
And wished, and desired, he avowed,
That he should speak so, twas allowed.
Then he said she'd ne'er betrayed
Me, nor in such a manner strayed,
Ne'er in wish, or deed, or thought
Nor would she rob me of aught,
Neither her love nor her favour,
Through aught I did or said, ever;
Nor, for God's sake, should she suffer,
He said, such dire torment longer.
For she seemed so discomforted,
So weary, sad, as good as dead,
That he swore, by the Holy Spirit,
Twere but sin should she die of it.
When he'd spoken all his pleasure,
And at length, and in full measure,
He gave me a letter, and said,
As he presented it, all unread:
'Sir if tis damp in every fold,
This letter that you now do hold,
Be not annoyed I beg of you,
For, Jesus Christ may scorn to view
My very soul on Judgement Day,
If I saw not a flood, I say,
Of tears descending from the fount
Of Toute Bele's heart, as her account
Was uttered, and was written so;
And then, her tears condemned also
The speech of all false slanderers,
So strongly that in these ten years
Naught have I seen so condemned,
And, on this truth, you may depend:
Toute Bele wet, with many a tear,
The letter I now hand you, here.'
And once he'd finished speaking,
I, well-schooled in such learning,
Perused the letter, word by word,
Which he'd handed me, as you've heard,
And saw he was to be believed,
Nor did I doubt, now undeceived,
That what he'd told me, earlier,
As from my lady, came from her,
And that she, with the sweet dew
Of heartfelt tears, had wet it too.
Her very weeping had so wrought,
If the messenger lied in naught,
And him I trusted in this matter
Wise, loyal, truthful, as ever,
Nor did I think he swore falsely;
You may read it sans injury.
'My dearest friend, my heart's best beloved, I commend myself to you, as much as the heart of your true love can seek so to do, and as that woman who is always devoted to that which I have promised you, nor could I restrain myself, on any account, from writing to you and letting you know how I fare. And because I could not write down everything, for it would have taken too long, I have told the greater part of what I wished to say to the bearer of this letter, who is a very great lord and friend. And I know that he is yours also. And all that I have told him I spoke privily and he was charged, on his soul, with never repeating it to any person save you. And, for God's sake, I beg you be not displeased if I have charged him with this, for, upon my soul, I believe that my heart would have broken had I not revealed my distress to someone in this way. And I believe that he is so much your friend that you will not be angered by this. And so, I beg you please, as humbly as I can, to believe what he tells you on my behalf, and may God give me neither honour nor joy in anything I ask Him if there is any deceit in aught that I have said to your friend. My most dear friend, please reply and tell me how you are, which would give me great joy and much solace, and be pleased not to lose the key to the treasure chest that is mine, for if it were lost, I believe I would never have perfect joy because, by God, it shall never be opened by any key except the one you possess. And this will be when you please, since in this world I have no great desire for aught else. My dear friend, I beg you to send the book I wrote of that previous time, if you would, or some of your other compositions, to entertain me, for it seems to me you are too reticent regarding them. My dear friend, I pray Our Lord give you honour and joy in whatever your heart desires, and that He will grant you, and maintain you in, the state you owned to when you left my side. By my faith, I am in that state still. Written this eighth day of March. Your faithful beloved.'
Lines 8653-8690: The messenger reproaches him
WHEN I had perused the letter
And, in heart and mind, knew better
All that her new missive contained,
Just as the messenger maintained,
He now began to speak once more,
And did myself somewhat deplore,
Saying I had, most grievously,
Done wrong to my noble lady,
I asked to know in what manner.
'The last ballad that you sent her,
Said he, 'your last composition
Is why you are in this position,
Where you said, and openly too,
That she's dressed in green not blue.
Know that this ballad, such its art,
Made her ill, and pained her heart,
Such that in my presence she swore
To wear the colour green no more,
And bear it not in cloak or dress,
Belt, collar, hat, but such repress,
And Persian blue, or pure azure,
Would, till death, be all she wore.
And then you sought to compare her
To fickle Fortune, said whatever
You pleased; she and I know tis true;
So, I'll not scorn to say to you
That you have acted villainously,
To speak so, and most foolishly,
And others think it villainous
As well, and most injurious,
Even though you wrote, as I've read,
"If all is true that I've heard said."
Thus, her cause I shall now defend,
If to my speech an ear you'll lend,
For you it is I shall now compare
To Fortune, whom, in this affair,
I may well liken you; and display
My portrait of Fortune, if I may.'
Lines 8691-8726: The ancients' description of Fortune
'I say in pagan times the wise
Pictured Fortune quite otherwise,
Not in the way you described her,
For in the texts I find her picture.
There was a city then, we see,
That, nobly, wielded authority.
There as both lady and goddess,
Fortune did woman's form possess,
Set midst a wheel, forever moving,
Nor was Fortune barred from turning
That same wheel; nor circumvented
Could her acts be, nor prevented.
Proud is she and most cruel also,
Ever perilous and false to know.
Two faces did the goddess show;
One with joy and mirth did glow,
The other by its hue made plain
The meaning of dolour and pain.
The first face shed its light on one,
For from it a great brightness shone,
While dark and black was the other,
No joy, there, could eye discover.
The goddess could see naught at all,
Though Cato doubted not, I recall,
But defended, his son who thought
The opposite, for such he taught,
That she could see and was not blind.
Yet she deceives, she renders blind
Her followers who dream of gold,
That offices of state they'll hold,
And almost all do dance her dance,
Except for those whom circumstance
Grants a sufficiency, and wish
No more honours or wealth than this.
Freedom and reason are their guide,
Such folk from her dominion hide.'
Lines 8727-8774: The Fountain and its five states
'Within the city I speak of here,
A fount, of five forms, did appear.
And when those who worshipped her
Wished to seek the goddess' favour,
Or obtain her grace, five maidens
Young and fair, most noble virgins,
Came to the fountain in the square
And richly attired were they there,
All dressed in the finest clothing,
Precious fabrics all were wearing,
And each one of that lovely band
Carried a flower in her hand,
And each fair maiden sang in turn,
A sweet song with which to earn
The grace, and soften the sternness,
Of the goddess, calm her fierceness.
Each virgin then would, by design,
Learn, truly, by a mark or sign,
Whether the goddess had accepted
Their prayer, and its plea respected.
Here's the sign the fount did offer,
If she'd accepted the first singer,
For then the fount began to flow;
The virgin by this mark did know
The goddess had deemed her request
With truth and justice to be blessed.
If, at the second virgin's song,
The fountain welled, the flow full strong,
Twas as if to say the goddess,
Promised honour, joy and riches.
If at the song of the third maid
The fountain filled, its depth displayed,
The goddess then was pacified,
Appeased, and sweetly mollified.
If, with the fourth maid to appear,
The fountain then ran bright and clear,
That virgin then needs have no doubt
The goddess was yet listening out,
And so, would not prove treacherous,
Grant peace not war, injurious.
But if, at the fifth maid's sweet song,
The water drained, was swiftly gone,
And left not a pint, a glass, behind,
But dried till ne'er a drop they'd find,
The meaning then was that Fortune
Takes on the likeness of the moon,
Which, at the full, is bright and clear,
Yet, in fifteen nights, will disappear.'
Lines 8775-8812: The messenger compares the lover to Fortune
'IN short, I shall describe to you
Why I may closely liken you
To Fortune, and the fountain's state,
How it overflowed, and so relate
The case as to make comparison
With its flow, and evacuation.
Sir, by my soul, here, I must say,
That a woman's traits you display,
Your heart's variable likewise;
Socrates, who was good and wise,
Appears less steadfast and stable,
Than you are fickle and unstable.
Like to the wheel you move at best,
That no more than the lark doth rest,
For that wheel lacks stability,
Shows restless changeability,
Just as, often, you seemed twinned
With the weathercock in the wind;
And you display a dual visage,
Exactly as does that image
Of Fortune; one face that cries,
One that laughs and never sighs;
Then, like her, you smile or weep
As you wish, nor one look keep;
And not a single thing you see
In crediting slander blindly,
That deceives, robs you of sight;
A fool is he who's faith is slight.
Five personages, one might say,
Great, small, and of the middle way,
Have sung to you, about Toute Bele,
A song indeed that flows not well,
With words ungracious to recall,
That I agree with not at all.
And those five, to speak quite clearly,
Resemble the five maids, nearly,
Except that these sing lies always,
While those virgins uttered praise.'
Lines 8813-8862: The messenger's interpretation of the five states of the fountain
'ABOUT the fountain I'll speak too,
And, thus, apply its states to you:
And now you shall hear, moreover,
Why you're like the first, in manner,
Of the states of the fount that flowed
At the virgin's song, for you showed
How strongly you were moved also
Robbed of your wits, as I well know,
Such that you lost your memory
Believing lies too readily.
Its second state suits you, I say,
Since, at the second virgin's lay,
The fount welled up, for your heart
Overflowed, and you sat apart,
Full of sad sighs, foolish fancies,
Notions that were but wild follies,
Thoughts that worked so against you,
That a white ewe seemed a black ewe,
You thought, in your anxiety,
Believing lies too readily.
And the third state of the fountain,
Filled at a virgin's chant, tis plain
Yields a fine example for you;
Were you not greatly swollen, too?
And yet yourself you deflated
By speaking in a most ill-fated
Way of Toute Bele, and rudely.
Who taught you that? For, surely,
You lost worth and honour, truly,
Believing lies too readily.
To the fourth state, when it ran clear,
At the maid's song, I liken, here,
You, who were clear, about the truth
Of those false reports lacking proof,
From vile slanderers you should blame,
Hate, and flee from, in pure disdain.
Why must you hear them out alway,
Lending credence to what they say?
You renounced love so easily,
Believing lies too readily.
And then the fifth, that saw it drained,
Vanished, and lost, all it contained,
At the maid's song; a state that says
That Love, the true emblem, always,
Of honour, has now fled your heart,
And from its confines doth depart.
So, peace and joy must follow after,
Present mirth, and present laughter,
Thus, you've forfeited Love's glory,
Believing lies too readily.'
Lines 8863-8890: He ends his comparison
'NOW have I made comparison
Between Fortune (who works treason
Against all whom she doth govern
Be it in church or in tavern,
In the palace, or the city,
Emperors, kings, laymen, clergy;
There is none she doth not deceive
Of those who do her grace receive)
And you, and that flowing fountain's
States, where, sweeter than the Sirens
In their song, they sought to appease
Fortune, those five virgins, and please
One they worshipped as a goddess
For granting those in pain, true rest,
Luck to those in adversity,
And wealth to those in poverty.
And so I beg you to agree
That most loyal love should be
Pledged twixt you and Toute Bele,
For, I swear, truly, all is well;
And with a love that's pure and true,
Above all others, she loves you,
And if a wrong you have done her,
In word or deed, I'll state further,
With a good heart, she'll forgive you,
Grant you her heart, and her love too,
And you too must forgiving prove,
And grant to her your heart and love.'
Lines 8891-8936: The lover is persuaded and writes a twenty-third letter
ONCE he'd reproached me, thoroughly,
Composing his speech so perfectly,
Saying all that he wished, I sighed:
'By my health, indeed,' I replied,
'You are my friend and my master,
Physician to my ills ever,
And God it is who led you here,
For your preaching flows so clear
That, truly, I no more believe
That my lady would e'er deceive,
Or would deign to commit a sin,
Or dream of disloyalty within
Her thought, and so, most willingly,
I forgive her, grant her my heart
And love, and then, for my own part,
Place them at her most sweet service,
Nor shall, lifelong, depart from this,
Nor desert her for another,
Rather I'm hers, and shall be ever.
And, if I believed things foolishly,
I beg her, in all humility,
With good heart to now forgive me,
And grant me her heart, and love me,
And, with tenderness, in a letter
I shall write to her of the matter,
And you'll play messenger again,
For I count you wisest of men,
Ever the best of friends to me,
And he whom I love most truly,
And you shall say that, for my part,
I love with a most loyal heart,
Beyond deceit or trickery,
In life and death, hers shall I be.
And that she may hear you better
I shall praise you in my letter
And tell her to trust you, wholly,
So please bear it to her swiftly,
When you leave, I beg of you,
And because I'm tardy, tis true,
In sending her the present letter,
If you so please, you may tell her,
That long ago she sent to me
A letter to which, as she'll see
My reply is included here,
Where thorn nor briar do appear,
But all is courtesy and sweetness,
Peace, love, honour and joyfulness.'
'My own sweetheart and my most sweet sister and my very dear lady, may it please you to learn that I have a great desire to learn of your well-being, above all that God and Nature created. And concerning my own, I am in a good state, thank the Lord, except for one thing, and that is my not seeing you. But I see and know that this is not due to any failing of yours, but to my own misery, which gives, and has given, me so mortal a wound in my pure, and loyal, and loving heart that it will never be healed if your sweetness does not achieve the cure. But by my soul, I cannot amend this, as you shall learn later, if God pleases and it is possible, for no more can be done. And, my sweetheart, you ought not to excuse yourself to me for failing to write more often, for, by God, it seems to me that you have done much, and far more than I could ever deserve. And I know, of a certainty, that you do all with good intent, nor could the whole world make me come to believe the opposite. And surely, my own sweetheart, I thank you deeply for your not being able to forget me for a day or even an hour. And the instances given in your sweet, courteous, and amiable letters assure me that what you send and write to me is the pure truth. But, my true sweetheart and dear lady, it seems to me that you are writing shorter letters than you used to do, and they are harder to read and the lettering increasingly ill-formed. And it seems to me from your letter, which is pleasant to my eye sweet to my heart, and delightful on my lips, that you lack the leisure to write to me, or that you do so apprehensively, out of fear of someone, or something, which I know not of unless you tell me. And if you would be pleased to tell me, and I beg you as strongly as I am able to tell me, I would set myself to write to you for the sake of your honour and peace, and also for my own benefit and pleasure. For, by my soul, I could ne'er be happy again should shame and evil gossip prove your lot on account of me, even though God knows there is no reason for it and never shall be. My own sweetheart, my secretary has been with me and has said a number of things about you, and these I shall not write here because you know them well. And with regard to what he has said to me, I thank you as humbly as lips can say or heart conceive. And, if God please, around this Easter, I shall take such paint to accomplish what he told me of, that I shall not fail of it in any manner, for, by my soul, all my wishes are directed toward this, and all my thoughts too. But, my own sweetheart, though I love my secretary greatly and have firm trust in him, and in you also, you have sent, by him, jewels of yours, which have been drawn from your most rich treasure chest. By my soul, I want you to know for certain that if you could do aught to displease me, these presents you have sent to me, by him, would displease me. And I beg you humbly, if you care for my benefit, my peace, and my joy, that it will never happen that I receive, by him or any other, aught that by God, I would not receive by him or any other. For indeed too great familiarity breeds contempt. And although I am as certain as I am of dying that you would grant me such things more willingly now, I would prefer to wait twenty years for them than that you should send along a single one by him or any other. And also, my true sweetheart, I have pondered deeply, and listened to, and considered all that the bearer of this letter has said to me on your behalf in accord with your commendation to trust, conveyed to me in the letter. And I am most pleased with what you have revealed to him, for he has told and explained several things to me so ably and wisely that my heart has been totally appeased. So, I beg you, as affectionately and as humbly as I can, that all converse, all things said, done, or written between you and I be forgotten and forgiven, with a true heart, as between lover and beloved, and that they never be recalled. So, let us lead a good life, sweet, pleasant, and loving. And my own sweetheart, if I have written anything that has been told to me, I have done so, by my soul, to your honour and benefit, and also to advise you of it, and so you should not trouble yourself so much about it. As regards the key that I bear to the rich and gracious treasure which resides in the chest where resides all joy, all grace, and all sweetness, have no fear that it will be guarded well, if it please God, and I am able, and I will bring it to you as soon as I may, in order to look upon the grace, the glories, and the riches of that treasure born of love. My own sweetheart, please know that I have informed the bearer of this letter of all my intentions in more detail than I could recount them to you; so, I beg you to believe what he will say to you on my behalf, as if it were I myself. And concerning your book, it will be completed, if God please and I am able, within a fortnight. And it would have been so completed some time ago, but it is a long while since I composed aught for it. And it will be in length about twelve quires, each leaf containing forty lines. And when it is complete, I will have it copied and then sent along to you. Adieu, my most dear lady, my own sweetheart, and my most sweet love, and may God grant you honour and joy in whatever your heart desires. Written this tenth day of April. Your most faithful lover.'
Lines 8937-9016: He asks the messenger to commend him to his lady
'SWEET sire,' I addressed him further:
'Go please, convey these words to her,
Toute Bele, for she commands me, friend.
Say then, that myself I commend
To her as many times or more
As there are folk now, and before,
And to come, all that speak and dance,
And through the carol's turns advance,
All those that to ring and spindle go,
And those who deal the hammer blow,
Ring bells, wield swords, or axes sport;
As many times as folk take thought,
Or make their pirouettes and turns
That present, past, or future earns;
As many as there are leaves in May,
Fruits, flowers, seeds, grass-blades, I say,
As many as there are bushes and trees,
And spices in vast quantities,
Peas and beans, all harvest treasure,
All the weights of every measure,
That will be, are now, and have been;
As many as all the seeds, I mean,
And grains of salt, and bits of gravel,
Sand, powder, hail, without cavil,
Barley and wheat, and oats, and rye;
As many as the stars in the sky,
As working days, feast-days also,
And nights, and wild beasts here below,
And birds of every kind that breed,
Upon this earth, and every reed,
And acorn and oak-leaf that falls,
The pointed tips of needles, awls,
And then large rocks, and pebbles too,
And little things nigh lost to view;
As many as the drops of water
In the seas, the waves moreover,
And all the fish that roam the deep,
And all that the world's rivers keep,
And all the drops of blood that flow,
Of oil, wine, milk as white as snow,
And of every other liquid known,
And all the teardrops eyes have shown
By which hearts mark their misery,
And all the souls that there may be,
In Paradise and Purgatory,
And Hell that grants little glory;
As many as the coins e'er made,
Or lengths of silk e'er displayed,
Whether but raw or richly dyed,
All the cloths, woven with pride,
In hemp, wool, linen, every coil
Of every fibre spun with toil;
As many as the hairs fated
To hide all that God created,
And all the feathers, all the flies,
Fair glow-worms, gnats, and vile horseflies,
That populate the world entire,
By so much, I say, humbly, sire,
Am I, my heart, my woes full sore,
Half a million-million times more
Than I can say; this you'll tell her,
Whene'er you commend me to her;
And five hundred thousand greater
Than all the broken pledges ever,
Those lies told, betrayals, despairs,
Especially of true love affairs,
Some full of sighs right amorous,
And others found but dolorous;
More too than shots from the bow,
From arbalest and swift crossbow,
And all the claws of every feather,
And all the morsels eaten ever,
From this world's first beginning,
Then, and now, and till its ending.'
He replied: 'Now, by Saint Martin,
I'd needs rise early in the morning,
If twere my intent to say all this;
And, by my faith, tis not my wish,
But what I can, and my duty too,
I shall perform; you know tis true.'
Lines 9017-9042: His lady responds with a twenty-third letter
THEN, he departed, on a day,
Twas the first in the month of May,
And journeyed, as far as desired,
To present my letter, as required,
Such that his embassy was done
So well, that in true union
Our two hearts he joined together,
So they might be parted never,
Nor from each could each remove
Since they were conjoined by Love,
And the goddess Venus too,
And the high gods hove in view,
And the other goddesses came,
All those who'd e'er loved in Love's name,
To this gathering, and union,
So that ne'er, in any fashion,
Might it be e'er dissolved again,
So that pleasure, joy, peace might reign,
And we, as one, sweet friend with friend,
Live so, with Paradise at the end.
Here is the letter witnessing
To that outcome, and every thing
That my true heart, my dear lady,
In joy and happiness wrote to me,
And which replies to my letter,
Takes it, expounds it, for the better.
'My own sweetheart, my most sweet true and faithful love, I have received your letter, in which you tell me of your good health, and that is the most sovereign joy I may come to possess, which is to hear good news in that regard. And as to myself, if it pleases you to know, I thank you as sweetly and as lovingly as I can, and it may please you to know that I have heard and listened to all that the bearer of this letter said, on your behalf and to which your letter bears witness. And this has revived my heart, my joy, my spirit, putting me in such a state that there is no joy in this world that would not seem sadness compared to the perfect joy I possess, to wit that God, Love, and Venus, my goddess, who has heard my prayers, my plaints, and my lamentation, has returned your heart to the place where it should be, and set it on the path of truth, for, by that same God who created me, never have I done or thought a single thing to make you distance yourself from me, nor will I do anything of the sort on any day of my life. And since all is forgiven on one side and on the other, for God's sake, my own sweetheart, let us defend, the two of us, our peace, honour, and perfect love from now on, and so we shall live in joy and pleasure and be perfectly satisfied thus. And furthermore, we will be beyond Fortune's risks. And my own sweetheart, I swear to you, by all the oaths a woman can swear, that I will never believe anyone who works against you in anything said or reported to me. And I think you so good and faithful that I am certain you will do the same as regards myself. My own sweetheart, brother, companion, and most loyal friend, you have written that you will come to see me. And yet, I beg you, most affectionately, as you love my benefit, my peace, my joy, and my life, not to take a single step on your journey, if the country is not yet secure, for you could not anger me more, in doing aught in this world, than in travelling to me at risk of your life, for I would never have good or joy again if you experienced any hardship. My own sweetheart, you wrote to me some time ago in another letter to which I never replied that I wrote to you more succinctly and obscurely than I had used to; and indeed what you say is true, but this was because I could find never a clerk whom I might trust soundly enough to write you. And although I was accustomed ever to writing you openly, so that several people knew of the love twixt you and I, there is none who knows the whole truth of it save one other, and myself, and your secretary also. And, for God's sake, my sweetheart, have no fear that I do so for some other reason, but it is not good to trust just anyone. And someone might lay eyes on this who could surmise what is not so. And I would wish greatly, that you not write to me at all, unless it is to send a verse or song of some kind, except by means of your servant, who was here before and knows what is happening. And this seems best to me. My own sweetheart and my most sweet friend, I beg you, as sweetly as I am able, to feel no anger concerning the jewel I sent you, by your secretary, which was taken from my treasure chest, for I swear to you, by all the oaths anyone can swear, that since I saw you I have taken nothing from it save what I have sent you. And be assured that had I believed this would displease you I would rather have chewed my finger to the bone than send it to you. And thus, I pray you, for God's sake, my sweetheart please forgive me in this. And I promise you, by my faith never to do so again, but I did so because I was unhappy that I could not give it to you and also because I would willingly send you aught that may grant you comfort and joy. And, for God's sake, my sweetheart, if I own to anything that would please you and might yield you benefit and joy, send word, and I promise to send it to you with good heart. I am not sending your book because I am fearful that it might readily be lost, and besides it is all the diversion I possess, and I would amend several things, which I shall be happy to tell you of with my own lips. However, I will send it to you, as soon as I have a trustworthy messenger. I do not yet have the two ballads you say you have sent, and this disappoints me greatly, since I am quite fearful of their being shouted through the streets before I can learn them, nor have I had news of you since the last time I wrote to you by your servant.  My true sweetheart, I am sending a rondel in which your name appears. I beg you, most affectionately to treat it with kindness, for I would not have known how to compose it had the idea not come from you. I pray God grant you honour and joy in whatever your heart loves and desires. Your own true love.'
Lines 9043-9050: The lady's sixteenth rondel yielding Guillaume's name
'Five, seven, nine, one, eleven, twenty,
Has inflamed me with the purest love,
Since he first was known to me truly,
Five, seven, nine, one, eleven, twenty.
I was then his, he all mine, completely,
Because of his renown, whom all approve,
Five, seven, nine, one, eleven, twenty,
Has inflamed me with the purest love'
(Translator's note: converting, as before, numbers to letters of the Old French alphabet, and recalling that it contains no letter 'j', the opening line gives E, G, M, A, I, L, U. Doubling the letters 'L' and 'U' and re-arranging yields GUILLAUME, for Guillaume de Machaut)
Lines 9051-9070: The lover expresses their new-found concord
THUS, were we brought to an accord,
Just as I have sought to record,
Through a most amiable concord;
Great joy the memory doth afford.
There's great good in so recording,
A true accord, both hearts forgiving,
Greater in sealing an accord
Between two hearts in sad discord.
And so, I shall recall once more
Briefly, what I've expressed before,
How Toute Bele did bind my heart,
According herself to me, to part
Never, and did my heart control,
With her person, body, and soul,
While a song she did me afford,
In a true voice, in sweet concord,
All there so sweetly accordant
It could never prove discordant.
Rather she's ever in accordance;
And finer than all when she doth dance.
Lines 9071-9088: Their names encoded in the verse
AND, tis only right I tell you
The name of my lovely lady, too,
For whom I have composed this same,
'The True Poem' it has for name.
And if you'd hear, and comprehend,
Look to the ninth line from the end
Of this text, then eight letters win
With which the eighth line doth begin,
For our two names they do contain,
Which thus are shown, true and plain,
See how I've enclosed them there.
Tis pleasing all should be aware,
How deeply I do love my lady,
Sans lies or regret, so dearly,
That, by my soul, I'd wish never,
To change her for any other;
My lady shall know such is true;
No other woman shall I pursue.
(Translator's note: The ninth line from the end of the Old French text reads: 'Pour li changier nulle autre fame', and the first eight letters of the eighth line from the end read: 'Ma dame le'. It is possible by re-arranging the combined letters to extract the names 'Peronelle' and 'Guillaume de Machaut', leaving nine letters spare. The names match those in the previous cryptic rondels where numeric code was employed.)
Lines 9089-9095: His coda
I am hers, till death us do part,
And, after death, with a pure heart
To serve her is my spirit's lot;
May God grant it perishes not,
But so prays that He calls to glory
Toute Bele's soul, in all its beauty.
Amen.
Here Ends the Book of the True Poem
---