Guillaume de Machaut
The Book of the True Poem (Le Livre dou Voir Dit)
Part I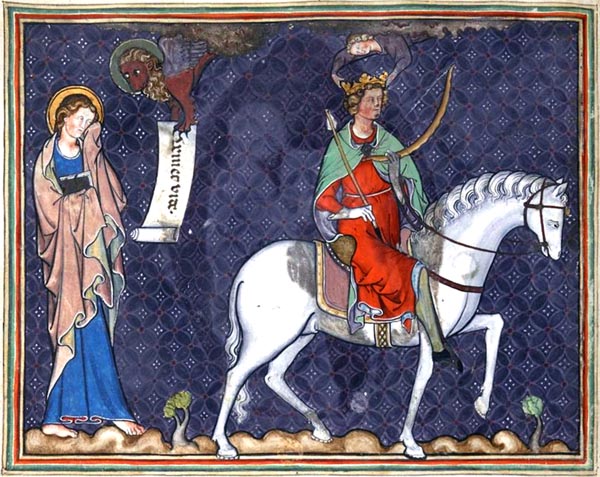 The horseman on the white horse, France, N. W. (Normandy); c. 1320-1330 - British Library
Translated by A. S. Kline © Copyright 2020 All Rights Reserved
This work may be freely reproduced, stored and transmitted, electronically or otherwise, for any non-commercial purpose. Conditions and Exceptions apply.
---
Contents
---
Introduction
Guillaume de Machaut (c1300-1377) is regarded as the last and greatest of the French 14th century poet-composers. A member of the ars nova movement in music, he further developed the motet, and various secular forms including the rondel and the ballade. Educated in Reims, he became a secretary to John I, the Count of Luxembourg and King of Bohemia, who died at Crécy in 1346. He was later employed by members of the family, including Jean, Duc de Berry. Guillaume also became a canon, ultimately of Reims (in 1337) where he spent the latter part of his life, writing and composing, and supervising the compilation of his manuscripts and scores. A prolific, disciplined and talented poet and composer, he also penned several prose works and narrative poems, including a treatise on poetry, the Prologue, and Le Livre dou Voir Dit: The Book of the True Poem the story of his real or fictional love for, and correspondence with, a young female poet, Péronne d'Armentières. His work influenced many other musicians, and major poets including Christine de Pisan and Chaucer.
Le Livre dou Voir Dit is dated by internal evidence to the period 1362-1365, and appears to comprise a mix of real and fictional material. A combination of verse tale, individual poems, and prose letters, it is more precise in detail, but similar in manner to Guillaume de Lorris' Roman de la Rose (written c.1230), Dante's Vita Nuova (written c.1294), and Petrarch's Canzoniere (written c.1327-c.1368), whereby, in the tradition of courtly love, the author's relationship with the beloved is idealised, and dramatized. The claim that it is a 'true' poem or tale is therefore valid spiritually, and to an unknown extent factually, even though the material has been subject to a literary refashioning. Conversely, there is a hint of irony in the title, even a hint of oxymoron, in that all 'tales' are part-feigning, and its truth is ultimately an artistic truth, which of course also begs the question as to whether, in reality, all remembered episodes in a love affair (and even the content of letters between lovers) are not, more or less, re-fashioned in the mind. What follows is a rhyming verse translation wherever the original Old French text is in rhyming verse, accordingly the verse forms have been altered here and there to achieve workable translations in English, though they embody the meaning and, wherever possible, the original form of the verse. (References in brackets, in Roman numerals, are to the Chichmaref edition of the poems, of 1909)
The Book of the True Poem
(Here begins Le Livre dou Voir Dit)
Lines 1-46: Guillaume's Dedication
IN lasting praise, and in honour,
Of Love refined, whom I honour,
And love and obey, serve and fear,
Who commands my intention, here,
Also, for my gracious lady,
To whom I grant soul and body,
Whom more than myself I love,
And to her a true lover prove,
And for Hope who, most valiantly,
Has ne'er failed or deserted me,
I wish to make, and fashion well,
A new work, wrought for 'Toute Belle',
And, thus, I should toil, for, certainly,
Her manner's so noble, she so worthy
And so wise, there exists nowhere,
One so graced with virtue fair,
One so free of all treachery,
One so adorned with all beauty,
For Nature, who her shape did form,
Blessed her with so sweet a form
Ne'er so subtle a work did she
E'er mould; so pleasant and lively,
That she might study her closely,
Reflect, muse, ponder intently,
And yet ne'er create her equal,
In short, the world doth so marvel
At her virtue and her beauty,
And her unbroken loyalty,
That I intend to cease my praise
For twould be easier, always,
To halt the moving firmament,
(The zodiac's twelve signs are meant)
Than proper praise of her present,
Thus, unworthy, I'll fall silent.
I wish to commence my story
For the sake of my sweet lady,
May God save her soul and body
From slander and from villainy,
So, I will tell of my adventure,
That was neither sour nor bitter,
But rather fair, and agreeable,
Sweet and pleasant and delightful,
For I'd gone ever unrecognised,
And was of joyfulness deprived,
Yet sweetly was I comforted,
By her, and thus solaced instead.
Lines 47-70: He wishes to create a new work
A year has not yet passed since I
Disported myself in a place nearby,
Which is within a grove of trees
And so, both green and fair, did please
With its beauty, sweet and gracious,
And naught there to prevent it, thus,
From delighting; and in that glade
I laid me down, within its shade,
So, the heat of the sun, thereby
Ceased to grieve me, body or eye.
Of deep thought then I did partake
As to by what means I might make
Some new-fashioned work of art,
That might serve to gladden my heart,
Though inspiration I had none,
Nor theme or matter, to form one,
To prompt me in commencing it,
Or aid me in completing it,
Since Love who grips me so strongly,
Had then no mastery over me,
For he made me master in naught,
Rather drew me away from aught
Of his; worthless all I did finish,
Since it was wrought against Love's wish.
Lines 71-100: He meets his friend who tells him of a certain lady
WHILE I lingered there, thoughtfully,
All alone, and melancholy,
Walking towards me, did appear
A close friend, and he drew near,
Which drew me from my train of thought,
Since none could have imagined aught
That I'd have sought more willingly,
For twas a twelve-month certainly
Since I had laid eyes on my friend,
And now, indeed, my colour did mend
Which was no marvel since, you see,
My face was pale as pale could be,
Before this, for my state was plain,
I'd suffered greatly from the pain
Of a long illness, from which, truly,
I'd recovered but recently,
Though, little by little, I had quite
Regained my health and appetite;
In short, pleased, and free of care,
I had him sit beside me, there,
That I might hear his news, and all
Was good and fair he did recall,
Sweet, delightful, and gracious,
Pleasant talk of things amorous,
For such news he brought to me
As comforted me mightily,
And, by my faith, I did rejoice
At the very sound of his voice;
Now, point by point, I shall relate,
With truth in every word I state,
All that he chose to tell me there,
And here's the tale that he laid bare:
Lines 101-142: His friend describes her excellence
'FRIEND, companion, and sweet lord,
With one stroke, healing I'll afford
To yourself, for the news I tell
Should render you completely well.
In this realm there lives a lady,
May God save her soul and body,
Noble, young, elegant, happy,
Straight and slender, fine and pretty,
Wise of heart, and in her manner
Very humble and modest ever,
Fair and good, the finest singer,
For a hundred years none better,
Her dancing is beyond measure,
And she is so sweet a creature,
That she holds the highest place
In sense, and sweetness, and in grace;
She is the fair gem that doth light
And brighten the darkest night,
She's the gold-set diamond ever
That grants grace to every lover,
The sapphire, the enamelling
That healing for love's ills doth bring,
She is the pole-star, moreover,
That guides true hearts to love's harbour,
And the emerald that brings joy
To woeful hearts, free of alloy,
She's the Orient's pure ruby
Who, with a smile, cures, swiftly,
Every ill, she's the crimson rose
That peerless, without equal, shows.
I could speak about her further,
Yet in a thousand years never
Tell all the sense, good, honour, worth,
To which her gentle Self gives birth,
And for her generosity
And noble heart I prize her greatly,
Since from here to Constantinople
No lady owns a heart as noble;
All see it, when she doth appear,
And you will come to know it clear.'
Lines 143-202: The lady has sent him a rondel
'FOR someone has told the lady
A winter and summer nearly,
You have a malady displayed,
Yet fine ballads you have made,
And rondels, motets, virelays,
Complaints, and amorous lays,
And she said twas not easy,
When charged with some malady,
For hearts to find consolation,
And in a state of perturbation
She found her thoughts, whene'er she weighed
Your situation, and she bade
Me say that she commended you,
A hundred thousand times, anew,
To God, and that she knew of none
Howe'er rich, fair, and fine a one,
In this world she wished to view,
As much as you, or listen to,
And while she had never seen you,
Twas her greatest wish so to do.
And, were it possible, sweet sir,
For you to go and visit her,
She would offer you such cheer,
Filled with affection and sincere,
That satisfaction twould afford
To the wide empire's noblest lord,
And, by God, if she were a man,
Who could travel, and did so plan,
To journey, both late and early,
Then you her sweet face would see,
Within three days, four at the most
For she would, indeed, set out, post
Haste, and travel to this country,
To see and meet with you, solely,
And since she cannot yet do so,
And that pains her heart, you know,
Behold what she now sends to you
That she made, for, in God's purview,
I should not seek to hide the thing,
Who was present at its making.'
Then a rondel he handed me,
Neither ugly nor crude to see,
Nor was it badly constructed,
But rather so well-effected,
So well done, in every way,
None need amend the work, I'd say.
I took it with great reverence
Kissing it, my respect immense,
More than a hundred times or so,
And, after, doffed my cap also,
And, before it, knelt there, humbly,
Nor let the thing stray far from me,
But guarded it, most tenderly,
Next my heart, and right carefully,
And my kisses it oft did share,
Through the great pleasure I found there.
And, because so noble a thing
Should not be hid for anything,
I'll tell you what there was writ,
While in no way amending it:
Lines 203-215: Her first rondel 'Celle qui onques ne vous vit'
'SHE that never did you see,
Who yet loves you, and is true,
With all her heart now gifting you,
Says naught pleasing does she see,
Since she has not you in view,
She that never did you see,
Who yet loves you and is true.
By all the good things, freely
Said of you by others, too,
You have won, of your virtue,
She that never did you see,
Who yet loves you, and is true,
With all her heart now gifting you.'
Lines 216-299: He replies to his friend, pledging himself to the lady
When his speech had reached its finish,
One neither thoughtless nor foolish,
But rather uttered so discreetly,
Nothing there was base or ugly,
I replied, most courteously,
'My noble friend you have surely
Delivered your message truly,
As one should, and most wisely,
And, for that reason, my reply
Will naught conceal, but rather I
Wish to thank Love, straight away,
In all that I, at first, would say,
For keeping me in memory
So well, and sending you to me,
Thus, providing me sweet comfort,
Since no one could bring me aught
Destined to please me so, or could,
By doing so, bring me such good,
For I have been in such great need
Of winning joy and ease, indeed.
But now Love's labour brings release,
For I have gained both joy and peace,
And in Love's service one does well,
Since peace and joy come of his spell.
And so, I must, from this time on,
Fix all hope, and my devotion,
On Love, show all my loyalty,
Since he has thus remembered me.
For I cannot forsake Love ever,
Nor my lady, cease to serve her.
So, will I serve her all my days,
And do so faithfully, always,
And in her service so will die,
Without base thought or vice, say I,
And truly, I cannot believe
That fair lady could e'er conceive
Thought of me, or address me so,
Had Love not come to her also.
For love so subtly doth contrive
That he takes root, and is alive,
In hearts that ne'er knew each other,
Makes each, afar, play the lover,
And renders them lovers in love
That all the ills of love do prove.
If otherwise one claimed that she
Composed her work amorously,
From true and noble sentiment,
But without love being present,
I'd find it too much to suppose,
That love it did not there enclose,
And then, it seems impossible,
For, to me, twere not possible,
To compose in a lover's guise
Without Love's guidance and franchise.
Moreover, you've so praised, to me,
Her wit, honour, and courtesy,
All the good qualities Nature
Can grant to a human creature,
That I hold, God grant me joy,
That this rondel she doth employ
She offered me with true intent,
And her heart thus doth present,
Nor would she think or fashion
Aught contrary, for any reason.
Nor, if she loved not, would ever
Deign to name me as her lover.
Therefore, I think I am in love,
With one who good and true doth prove,
Lovely, pleasing and fair to know,
Since, for the last ten years, or so,
Seeming more than ten years, merely,
I have wished and still wish, truly,
That love would grant me a lady,
A woman good, and wise, and lovely,
Whom I could love without a doubt,
And who loved me within, without,
Such that through my true love of her
My heart would prove much happier,
Such that I could ne'er do so ill
As that fair sentiment to kill,
And her I would love, and praise,
And serve, and honour, her always,
And likewise, womankind, ever
All because of my love for her.'
Lines 300-373: He thanks the lady and his friend, and composes a rondel for her
AFTER this I thanked, most humbly,
My lady, who, of her mercy,
Had granted me hope, good and true:
'For her renown, her great worth too,
The great beauty she doth possess,
Her most fine, sovereign sweetness,
And the goodness that in her dwells,
Give me hope that, since she excels,
She owns a true and loving heart,
And I am certain, for my part,
She would ne'er have called me lover
Had Love himself not moved her,
And since Love does with this agree,
Nor does my lady disagree,
Now let us form one trinity,
A single amorous unity,
Such that Love, I, and my lady,
Might but one soul and body be.
Also, dear friend and companion,
You, whom my lady sent, are one
Who with great hardship did seek
Myself, since, for nigh on a week,
You have ridden, day after day,
And willingly I would repay
My debt, God grant me paradise,
To you, if I could so devise,
For all the labour it cost you,
Not yet having paid all my due
To yourself as I should have sought,
And, to the full measure I ought,
I offer you my thanks, humbly,
And declare you may command me,
For you may take, I swear, on oath,
Myself, and my possessions both,
Without asking, all that's of worth,
And as long as I've a sou on earth,
That, dear companion, you shall share.
But come tell me now, friend, where
You'll head for when you leave this place.'
And he said: 'If God grants me grace,
To where she is, I shall remove,
She who calls you her own true love,
And swiftly as I can, say I,
For, indeed, as sure as I'll die,
I am certain that she loves you,
For she claims, to all, such is true,
And she would never call you so
If you were not her love, also.
And if there's aught you'd write,
Or send, or tell me of, outright,
Give me the order, that I'll do,
Be your messenger, good and true,
For, by my faith, I'm eager, ever,
To do aught that gives you pleasure.'
I replied to him, straight away:
'Dear friend, God help me, this day
I would willingly write to her,
And will tell you of my answer,
That you may better speak for me,
Once you are before her truly,
And as my secretary you'll act,
Speak, or be silent, with due tact,
If you so will, at my behest.
Now refuse not my request,
And I will write to her, this time,
As she wrote to me, thus, in rhyme.'
So, I penned a rondel, right away,
To my lady, brooked no delay,
And he took it, when it was done,
With no sign of hesitation,
By which I saw he would ever
Keep my secret, guard my honour.
Lines 374-386: His first rondel to his lady 'Tresbele riens ne mabelist'
'LOVELY woman, nothing cheers me,
Nor doth me any peace provide,
Save you, to whom I am allied.
Since your beauty, growing daily,
I view not, your fair form denied,
Lovely woman, nothing cheers me,
Nor doth me any peace provide.
And your sweetness that doth gently
Soothe my ills, and heal inside,
Doth, truly, far from me abide.
Lovely woman, nothing cheers me,
Nor doth me any peace provide,
Save you, to whom I am allied.'
Lines 387-416: He and his friend, who will act as his messenger, now part
This done, from me he did depart,
Leaving me with a trembling heart,
Half love-sick, half filled with joy,
With thoughts that do all woe destroy.
Since I had granted, sans demur,
Heart, and body, and love to her,
My lady, unrestrainedly,
I began to look about me,
And consider as to how
I might shun base error now,
And any form of vile misdeed,
For he who does not so, indeed
Does not deserve his lady's heart.
Thus, I forgot my ills, in part
Because Sweet Thought, most gently,
Soothed my sorrows, and so eased me;
I knew not her face, however,
Since I had not viewed her ever.
Yet Imagination shaped her
In my heart, assured, me further,
That I would gain her good grace,
And thus, by her be healed, apace.
So, I dreamed of pleasant things,
Delightful amorous meetings,
And grew, by all this, most loving,
My thoughts most sweet, and appealing,
That Imagination brought me,
With that image of my lady
She, the source of honour still,
Free of all bitterness, or ill.
Lines 417-474: He receives a letter, and a second rondel, from the lady
And while I was yet in that place,
I heard a man speaking, in haste,
Who asked for me, insistently,
His sole intent to meet with me.
And so, I had the man draw near,
And, in his hand there did appear
A letter that was folded tight,
And with green wax was sealed aright.
I was moved then to address him,
As he approached and speak with him,
For I knew not the reason, truly,
Why he should come to meet me,
And for news I sought to enquire,
And he to fulfil my desire.
Now, it had been five years or more,
For I had known the man before,
Since I had met with him, and he
Was fine and handsome, and truly
Wise and courteous in his manner,
I took his hand and, as ever,
We both did sit, for that did please,
So that we might be more at ease.
He spoke both well and wisely,
While I acted courteously,
For not a single word I uttered,
Until his wish he had furthered.
And thus, he spoke: 'Sir, I am come
To you, being your friend, in sum,
Because I look to, as I ought,
Your good and your true comfort.
There is a lady in this land
Who hates you not, you understand,
A hundred thousand times greets you,
And states that Love assails her too,
And beneath the breast he wounds her
With his amorous flame ever,
Through you whom she loves most dearly,
And if her sweet glance deceived me
Never shall a lady in love
Or virtuous or faithful prove.
The flower of all the world is she,
In short, all good in her we see.'
Thus, he sought to glorify her,
And to praise her and exalt her,
Both her and her deeds, every one,
More than the first friend had done.
The sign of the cross I did employ
While my heart was bathed in joy,
Since he had affirmed so strongly
That her heart she'd gifted to me.
I saw I had ne'er been deceived
By the message I'd at first received.
Then he, while handing me her letter,
Placed himself at my service ever.
I looked within, began to read,
And then I laughed with joy indeed,
For its commencement read like this,
Twas as sweet as any might wish:
Lines 475-489: The lady's second rondel 'Pour vivre en ioieuse vie', and her first letter
'TO live life joyously
I've set my heart to loving
The best there is in being,
And naught have done in folly,
My heart none should go blaming.
To live life joyously
I've set my heart to loving.
And if Youth begs this of me,
Love is the more commanding,
He'll not find me refusing
To live life joyously;
I've set my heart to loving
The best there is in being.'
'My most dear lord, and true friend, I commend myself to you, as best I can, and with all my heart, and send you this rondel. And if it needs amending, I beg you to do so, and, if it please you, to compose a virelay on this theme; and, should you so wish, to send it to me, set to music, with this rondel and the other pieces, the one I sent you, and the one you sent me by the same person. For this, I thank you with all my heart and, pray you, most dear friend, if you would wish anything more of this kind, I shall compose it willingly and with a good heart, as for the man in this world I desire most to see. I ask you, most dear and good friend, to send along some of your excellent poems set to music, for you could do me no service that would please more. May Our Lord bless you with honour and joy in whatever your heart desires. Your good friend.'
Lines 490-535: He justifies himself to the reader, and replies to her in a second rondel
And if any should reproach me
Or think themselves ill-paid by me,
Since our messages I reveal,
Nor sweet nor bitter shall conceal,
These that one should call Epistles,
Granting them true names and titles,
I respond thus, to each demand,
Tis all done at the sweet command
Of my lady, who says yea or nay,
Good reason, then, I should obey
And should her wish fulfil with grace,
Through my love of her sweet face,
For if I should unwilling prove
I would wrong both her and Love.
I know not who might ill surmise,
Yet naught shall I do otherwise,  
Rather twill be as she ordains,
She who my fondest hope maintains,
And if anything should be said
Or writ twice in the text instead,
Then, nobles all, show no surprise,
Since she, for whom Love opes his eyes,
Asks that in this true verse I utter,
All I've composed and written for her,
And all she has writ for me also,
Without hiding aught created so,
And asks that all of it I gather,
And assemble it here, together.
The True Poem, I would prefer
To call this I compose for her,
Since within it I tell no lie.
As for the rest, then cast an eye,
(By seeking them, diligently,
You'll find them, of a surety)
Over my verse to music set,
And the ballads unsung as yet,
Where to many a thought I own
Whose like not everyone has known,
Since those who wish such things to make
Must think those thoughts, or truth forsake.
Now from this subject I shall turn,
And to my previous theme return,
And say what I wrote in reply,
Privately, hid from watching eye,
In the form and rhyme displayed
By the rondel that she had made.
Lines 536-550: His second rondel 'Bele bonne et envoisie' and his first letter to her.
'FAIR, good, and charming lady,
Peerlessly sweet, and pleasing,
Ne'er too great is my praising.
My heart sings its song, wholly,
For you, your Self honouring,
Fair, good, and charming lady,
Peerlessly sweet, and pleasing.
If your love you'd deign to call me,
With a heart forever loving,
No more would I go seeking,
Fair, good, and charming lady,
Peerlessly sweet, and pleasing;
Ne'er too great is my praising.'
And here is the second letter
Replying fitly to the other.
'My very dear and sovereign lady, I thank you, as humbly as I can, for your sweet courtesies and loving words; for truly I feel great pleasure, great comfort, and delight whenever I hear them read, look at, or hold them. And, surely, I ought to thank you greatly because they have wrought, and still do, great miracles on my person, such as I have never seen wrought by any saint in paradise, either man or woman. For I had been as if deaf, dull, mute, and impotent, in that joy had completely abandoned and forgotten me; but your sweet writings have given me the strength to hear and speak, to come and go, and have brought joy to me, who no longer knew where I was; yet from that moment joy found its true dwelling in my heart; and so, I am healed completely, thanks to you and Our Lord, but for desire, which will not let me live till I see you, though the sweet hope I have of seeing you vanquishes my desire completely. And since the sweet hope I have of seeing you cures me of all sorrows and grants me utter joy, what would I be if I could but sate my eyes and heart in gazing on you. Surely no man there is, or will be or ever has been, could dream, imagine, or come to understand in a hundred thousand years a hundredth part of the joy that would be mine. Yet it shall be soon, if God so pleases, and I can arrange it, and, accordingly, I have composed a ballad on this theme, which I send to you enclosed with this message, and I will compose music for it as soon as possible, and for the two poems you sent me. I am also sending you a ballad about the piteous state I have been in, asking you to learn the song which is not difficult, for the music pleases me very much. And though, therein, I beg ladies to dress in black for love of me, I will compose another, on this theme, in which I will pray them to wear white, as you have healed me. And, in truth, for love of you solely, women shall be served and praised by me more than ever because you have revived my body, my mind, and my small store of talent, which had been totally supressed. My very dear lady, I commend myself to you as humbly as I can, and tell you that you should ask nothing of me but, rather, take me and whatever it is I have as your own, being one who is yours completely withholding naught. My most dear and sovereign lady, I pray that God give you honour, joy, peace, and health, such as you would have and, my most dear lady, I beg that if ever you write to me you do not call me lord, for whoever makes a lord of his slave adds to his enemies. And, by God, the title friend or lover is a much fairer name, for when lordship appears, Love takes flight on the spot. Your most loyal friend.'
Lines 551-609: He entrusts the rondel and letter to his friend
I entrusted him with my reply,
Made him my messenger thereby,
Saying: 'By my soul, sweet friend,
Your way towards my lady wend,
Given I cannot come and go,
Or speak to her, as you well know.
I've naught but imagination,
Sweet Thought, and its creation,
And all because my health is low,
And not because I wish it so.
Naught I could wish for were better,
My desire is fixed upon her,
All my heart and all my thought,
Beside her, I can think of naught.
She's my sovereign goddess, and more,
She is my peace, my joy, my war,
She's my joy and my true solace,
She it is makes me cry 'alas',
She it is to whom I yield all.
Would God were pleased it might befall
That we three shared a day or two!
My heart shakes and trembles anew,
Every time that I remember,
The perfect good that flows from her,
And all, I hear, that others say,
Yet cannot go to her today.
A hundred thousand times commend
Me to her, for these words I send
That I am hers, hers completely,
While she is life and death to me,
I'll love her sans deceit alway,
Far above all things, truth to say,
Far more than myself, God save me,
And if I often had, within me,
Of her sweet gaze, all my fill,
I would be cured of all my ill,
And I shall see her when I may,
Not when I wish, I'm bound to say.'
In this state I was forced to linger,
Weeping profoundly as ever,
While my friend prepared to leave me,
And this I believe would, surely,
Have broken my heart completely,
Because of my sweet noble lady,
Had not sweet Hope been present there,
Who affirmed, beyond doubt or care,
That the lady loved me, indeed
Perfectly, in thought, word and deed;
So, I took solace in this for all
The pain I felt, which did appal.
My friend was not swift to go,
Thus, I was able to send also,
The two ballads to my lady,
And sang to him each melody,
So, he could sing them both to her,
Thus, she might learn to sing either,
For she would add, most certainly,
If she sang them, to their beauty.
Lines 610-672: His friend cannot go, he finds another messenger
HE listened, long and carefully,
But afterwards he said to me
That he could not so soon depart,
To speak to my lady, for his part.
Alas, I grieved, for I had thought
A swift journey he had sought,
And so, I was dismayed, rather,
As you shall hear of, hereafter.
For two whole months entire I spent
Where no single creature present
Brought news to me, in any way,
Nor did I hear for many a day,
Of my most sweet and pure lady.
Alas, I grieved, and most deeply,
Not knowing why, so far from me,
She dwelt, in another country,
So, I took to melancholy,
Thinking, musing, wretchedly,
How to survive my situation,
Knowing not a single person
In the place where she was living,
Ever my tender heart weeping.
And worse my situation grew,
My messenger was distant too,
Having gone to a far-off land,
So, sorrow held me in its hand,
And the harshest season was here,
The winter being most severe,
Ever filled with sleet and rain;
Quite melancholy I became,
Sad, pensive, filled with misery,
All worse than before for me,
For truly I was filled with doubt
That every hope I'd had was out,
And from illness I was weary,
And weakened almost entirely.
None knew of my situation
Because I had no companion
To whom I might utter complaint,
My complexion pale and faint;
Ever I felt my heart pounding,
And had lost the art of resting,
Eating little, and sleeping less,
Both joyless and comfortless.
I thus had reached a pretty pass,
Often weeping, sighing 'alas',
Secretly, alone in my bed,
Delight lost, and all pleasure dead,
Nor day nor evening good to see,
For nothing now mattered to me,
Save for my lady sweet and dear,
Thus, everything to me lacked cheer.
Good people now avoided me,
For I'd succumbed to misery.
I thought my end had surely come,
Yet loved 'Toute Belle', her person
Much beloved, with so pure a heart,
Such true affection, that apart
From herself, I regretted naught,
Nor any except her now sought.
So, I composed my testament,
And began it with this lament,
Which I sent to her, safe and sound,
Through a valet whom I had found:
Lines 673-696: His first ballad 'Plourez, dames, plourez votre servant' (Ballad XXXVII, set to music)
'WEEP ladies, weep for your underling,
I who have set my heart, and my intent,
Body, and desire, and thought, on serving
Your honour, which may God guard and augment.
Dress yourselves in black for me,
My heart's sore, my face pales visibly,
And I find myself indeed at death's door,
If God and yourselves bring me no cure.
My heart I leave with you, at your command,
And offer my soul to God, devoutly,
And may the rest of me go where tis planned,
Flesh for the worms, tis their right most truly.
Let my possessions be
Given to the poor. Alas! In leaving, see
How on my deathbed here I ache, full sore,
If God and yourselves bring me no cure.
Yet I am sure there is such good in you,
You'll save me from this peril where I lie,
Devoid of hope, if, from the heart and true
You but pray to God to heal me thereby,
So, I beg, most humbly,
That you will raise a prayer to God for me,
For I must pay Nature's debt, such is sure,
If God and yourselves bring me no cure.'
Lines 697-720: His second ballad, 'Amours, ma dame, et fortune et mi oueil' (Ballad CCXXVII)
'TRUE Love, my lady, Fortune, and my eyes,
And the great beauty that she doth possess,
Render my heart, mind, will, also, likewise,
My longing, subject to her sweet duress,
But tis Fortune only
That makes me languish here, most painfully,
Bringing me anguish, forcing me to suffer,
Since I love her most, yet see her never.
Of my lady, and of her fair welcome,
Of my tender eyes, of True Love, of pain,
I complain not, for this to me doth come:
Through longing I all worldly joy obtain.
And yet all my intent,
All my fine days and happy sentiment,
Fortune will end, if I die forever,
Since I love her most, yet see her never.
For Fortune, of whom I complain and sigh,
Ensures that my lady dwells far from me,
Stealing the hope that I once had, thereby,
And bringing despair to my heart, truly,
So, without any ease,
I live for my lady, whom I would please,
Moan, and weep, and sighs in secret utter,
Since I love her most, yet see her never.'
Lines 721-726: The lady's second letter in reply.
And when she had read my message
She, as one courteous and sage,
Did not muse on it forever,
But like a friend, good and clever,  
Within the hour had sent to me
A letter, you may hear and see.
'Most dear and sweet friend, I received your letter on the Thursday before Christmas, for which I thank you with all my heart, and indeed, by my faith, I have not felt such joy for many a day as I did upon receiving it, especially because I was pleased to learn the news of your good cheer, and because you wrote that the little composition I sent you brought you both health and joy; for surely no greater joy could come to me than to compose something that both healed and delighted you. And if you find great pleasure in seeing and holding what I sent to you, I believe I take even greater pleasure in looking over the things you sent; for by my faith, no day has passed since I received them that I haven't kissed them two or three times at least. And I have rehearsed the two ballads sufficiently, especially the one set to music, that I shall learn them in time, while in regard to what you've written about your health, which has improved, thanks be to Our Lord, I am quite happy, and so I will be very diligent in learning this latter work well, against the time when please God I shall see you and accompany you in singing as best I am able. And, also, it pleases me greatly that you write that the music pleases you. For, assuredly, I take less pleasure in singing or listening to other songs or poems than I do those that come from you; both for the good I have heard spoken of them and because I believe there is more in them than can be uttered. I love and hold dear all that comes from you, and indeed I would not have believed, no matter who said it to me, that I could feel such great love for a man, without ever seeing him, as I have for you. For since the very first moment I heard the good and honour that are yours mentioned, not an hour has passed in which I have not loved you, and this love grows and will grow from day to day. And I am sending along a virelay on this theme, which I have composed, and if anything needs amending, please do so, because you know how to compose better than I, for I have little talent for undertaking such a task. And furthermore I've never had anyone to teach me, and therefore I beg you, most dear friend, to send me some of your works and poems please, so that I might learn from you how to compose the excellent verse and songs you do, for it is my greatest pleasure to hear and sing excellent poems and songs if only I am able to. And when it shall please God that I see you, something I desire more than I can express in words or than you can imagine, please show me how better to write and compose, since I should learn more from you in a day than I would from another in a year. I have received the pages you sent to my brother, and I feel so confident about you and he that I opened and read them. And, by my faith, I would like you and he to have confidence in me in this matter, and in greater affairs. And, also, that same brother I mentioned is no longer here because he left me on the eighth day of December to go to Avignon. And that same day he and your secretary gave me news of you, and handed me a complete virelay set to music, telling me you had composed it. This I practiced until I had learned it. Most dear friend, I commend myself to you with all my heart, as much as I am able, and I beg you that if I can do anything which will please you, and bring you both health and joy, you should command me to do so, just as you would your sister, or your companion and friend. And I promise faithfully to do so, and with a good heart; and you would bring me very great joy and much comfort if you saw fit to send me news of your health. I pray that Our Lord grant you as much joy, health, and honour, as I would wish for the man in this world I most love. Your true and loyal friend.'
Lines 727-739: The lady's third rondel 'Celle qui nuit et iour desire'
'SHE, who does, each night and day,
Long to see you,
Am I; your heart's ills to allay.
Not to be drawn some other way,
Nor wishing to,
She, who does, each night and day,
Long to see you.
For, view your suffering, I may,
Bring my skill too,
In medicine, to heal you alway.
She, who does, each night and day,
Long to see you,
Am I; your heart's ills to allay.'
Lines 740-805: He receives her letter and rondel, and is much-comforted
BUT as I was, thus, musing quietly,
While waiting upon God's mercy,
A valet came to my chamber,
And, I swear, seeing him enter,
My heart was filled, every sense
Alive with joy, at his presence,
For I imagined that he brought
Something good for my comfort
And, indeed, the man did bring
That which solaced me, a thing
As fine as heart could e'er conceive,
Or mouth recount, I do believe,
One my folk found so wondrous
They made the sign of the cross,
And all marvelled, since before
I could not have purchased a cure,
Though I had the empire's wealth,
For I began to beam with health,
And raised myself higher in bed,
While he, full wise and well-bred,
Approached it, and then handed me
The letter laid out previously,
That you've already had in view,
And, I would trust, have read it too.
He said: 'Greetings from the lady,
Who is your friend, and seeks to be,
And who loves and longs for you so
She would be your doctor also,
And thus, will ease and cure all ill;
Sweet lord, now think of being well,
For she takes pains to see you better;
Come now, take and read this letter.'
I answered him, though quite weakly,
Smilingly, if ponderously:
'You are more than welcome here,
For most happily you appear,
And I thank you for doing so,
Since now I feel no pain or woe,
For you bring a letter, as well
As news, to me of 'Toute Belle.'
I took, and opened, the letter,
I still kept concealed, however,
The secrets that lay hid within,
Silently, its purport did win,
And once I'd seen what it said
I know not what joy filled my head,
For I was sweetly provided
With love's riches undivided,
And so, I doubt it will surprise
That I sighed more than twenty sighs,
And then I asked for food, promptly,
And ate and drank well, and freely,
Then slept a little while, quietly,
Yet keeping the letter with me,
That is to say, close to my heart,
Nor a word forgot, on my part.
After my sleep I felt happy,
Not like one lost in misery,
Discomforted, disconsolate;
You may be sure, I felt elate,
Within two days rose from my bed,
Bathed myself, and then was led
To render myself, as best I could,
Well-presented, as a man should,
So that many folk marvelled there
To see me look and act so fair.
Lines 806-879: He praises the lady and muses upon his previous state
THUS, was my state, as I have said,
Refreshed, the thoughts in my head,
Now pleasant, and full of gaiety,
Of all that makes one's heart happy,
And I set, mind, and body, and will
Howe'er lacking in strength and skill,
To doing my sweet lady honour,
Serving, loving, adoring her,
And, by God, so I had ought to,
With heart and wit rendered anew,
As my lady and my goddess,
Being my sovereign mistress,
Because I had ne'er seen, for sure,
So true a miracle before,
As that which she had worked on me.
Such great renown it won that she,
So folk do say, will, when she dies,
Become a saint in paradise,
For I can state, in verity,
That she's twice resurrected me,
For I was sunk in wretchedness,
Deaf to the sound of joyfulness,
All lost was my understanding,
As was my amorous feeling,
In my mouth no praise, I own,
For woman known or unknown,
Nor did I blame them either,
Saying naught of them ever,
Indeed, I lived unsociably,
Hating pleasure, and I did flee
The company, all free of strife,
Of those yet living the good life.
For about myself I cared naught,
The same worth it held, I thought,
To act with a shameful rudeness,
As to do a deed of gentleness.
Love loved me not, nor did I
Love him, resembling thereby
One who's like a great tree-stump,
Lying there in some torrid sump,
So, covered over by the water
That it serves no use whatever,
Nor can it be drawn forth ever,
Drowned as it is beneath the water.
The bread I ate I would address
Winning nor joy nor happiness,
And found myself much displeased
By everything that others pleased.
And all this I suffered because
Of a cruel and manifest loss,
For after the losing, suddenly,
Delight had fled my company,
Nor was my face full of happiness,
Till my lovely lady did me bless,
Who every ill doth tend and cure,
And of her grace saw me cared for.
It was with such melancholy
That I was cursed, a malady
Bringing woe, and great mischief,
Afflicting me, without relief,
Yet a thing that none can amend
If God wills not, nor ease doth send;
Back to my theme then, my pen goes,
Which speaks of joy and of repose.
The lovely woman whom I adore
Cleansed me of all my ills and more,
Since joy, and life, she gifted me,
And all from generosity,
For she did not her labour sell
Being generous, and raised well,
Aiding, as one free and willing,
For this was all of her own doing,
And I had not a thought of her
Until she helped me in this manner.
Lines 880-933: Concerning the love of women
LET us consider what women do,
What they do, and what they undo;
Good men at once by them are made,
While the wicked ones are unmade,
Since the wicked will ne'er do right,
While the good bring wrongs to light.
But let us think on the true lover,
He'll be so full of woe, he's ever
Afflicted, abased by weakness,
So feverish with love's sickness,
That if he's greeted grudgingly,
Or welcomed a mite less warmly,
He'll take to a couch for keeps,
Or the bed whereon he sleeps,
Can aid himself not, there will lie,
Doing naught other than to sigh
For death or mercy, alas, he'll prove
So entangled in the snares of love,
His body will tremble with doubt,
While the sweat, in rivers, pours out,
So over-heated and wildly stirred,
His appetite so badly impaired,
That he can neither eat nor drink,
All know the truth of it, I think.
His lady beside him will stand,
And touch his head with her white hand,
Or his throat, or hand, a tittle,
And make fun of him a little,
And say to him: 'My dear sweet friend,
Who now has brought you to this end?
You should not be so sore dismayed,
Since it was but a game I played,
If my welcome held little cheer,
Nor did I ever intend, my dear,
To be cruel, for I love you true,
Nor would wish for any save you.'
Then she'll gift him a little ring,
Or some such pretty plaything,
While saying to him: 'Come, rise,
And come eat, and drink likewise,
For, indeed, I'd not have it be
That you should live in misery.'
Within the hour he'll rise, at will,
Seemingly cured of every ill.
He'll drink and eat without alarm,
If he needs to, and then will arm
Himself, with mail and shield as well.
Now is that not a miracle?
Now find a saint can do the same
And, in an hour, a fever tame.
Saints can do much, I believe,
But I did never yet perceive,
Aught so miraculous, ever,
As such healing of a lover.
Lines 934-947: He sends his lady a second letter and four ballads
DURING those two months when I,
Through sickness, in bed did lie,
Four works I managed to compose,
That with my letter I did enclose,
Which I have also copied here,
And if repeats and faults appear,
Then my excuse is my malady
If those who read will pardon me.
Here are those three ballad songs,
Ne'er sung before, with them belongs
A ballad I made, carefully,
With joyful intent, as you will see.
Lines 948-968: His third ballad 'Veoir n'oïr ne puis riens qui destourne' (Ballad CCXXXVII)
'I see and hear naught that makes me veer,
Nor my heart, wherever I choose to turn
Such that my mind from you might steer,
Or I prove not yours, nor cease to yearn.
So, from afar, I watch your elegant manner,
And noble form wherein no flaw I view,
Such that my thought is ever drawn to you.
And it would have me love you, this sweet thought,
Most faithfully, and this I'd seek to do,
But Desire on Memory has so wrought
That oft I turn from company, anew,
So, I turn away, and its attack I suffer,
Which assaults me and wounds me too,
Such that my thought is ever drawn to you.
But this Desire waits not, nor doth delay,
Dealing many an amorous turn,
So that my heart must sojourn and stay
In your prison, no tower or fort I earn,
And it is filled with delight and sadness,
So that it oft wins joy and suffering too
Such that my thought is ever drawn to you.'
Lines 969-1035: His fourth ballad 'L'ueil qui est li droit archier' (Virelay XXXV)
'THE eye that is Love's true archer,
In drawing, and darting, ever
Gracefully,
Lacked power to wound, truly,
My heart with desire,
So, I love with true heart entire,
Most loyally.
This is why. Assuredly,
Ne'er her noble form did I see,
Attractive and light,
That which joyfully
Binds me, in her seignory,
And holds me tight,
Nor she mine, yet hold her so dear
That I would ever wish her near,
Not leave her be.
Though he can, with cruel intent,
Seek to threaten me
Yet I think naught of that, you see,
Here, at present.
The eye that is Love's true archer,
In drawing, and darting, ever
Gracefully,
Lacked power to wound, truly,
My heart with desire,
So, I love with true heart entire,
Most loyally.
He's ne'er made me a present
Of either joy or torment;
Nor could his menace,
In any way, prevent me
From living full joyously.
Yet ne'er, face to face,
Can I draw near her, in longing,
Nor she me, except when dreaming,
Wherein, often,
My loving thoughts imagine,
And I think, tis true,
That he might pierce me through,
And full sudden.
The eye that is Love's true archer,
In drawing, and darting, ever
Gracefully,
Lacked power to wound, truly,
My heart with desire,
So, I love with true heart entire,
Most loyally.
Tis he who, very sweetly,
Captures a heart and, subtly,
Will bind it tight,
Constrains it so completely
He forces it, all humbly,
To yield outright.
He's the amorous messenger,
Using his sovereign power,
So wisely,
That he knows how to, swiftly,
Entwine hearts truly;
And such ties one cannot free,
I think, readily.
The eye that is Love's true archer,
In drawing, and darting, ever
Gracefully,
Lacked power to wound, truly,
My heart with desire,
So, I love with true heart entire,
Most loyally.'
Lines 1036-1102: His fifth ballad 'Plus bele que le biau jour' (Virelay XXXVI)
'BRIGHTER than daylight's brightness,
Sweeter than e'er was sweetness,
A form forever
Graced with a noble manner,
Thus, sans redress,
All your peerless loveliness
Captures me ever.
Yet I've heard so much of you,
Your fame flourishing anew,
Night, day, ever,
Such the excellence on view,
The flower, and the fruit too,
Of all honour,
And you are of such great worth
Above all who are on Earth,
That if thus my heart
I relinquished, for my part
Too great would be
The honour, if so sweetly
It dwelt apart.
Brighter than daylight's brightness,
Sweeter than e'er was sweetness,
A form forever
Graced with a noble manner,
Thus, sans redress,
All your peerless loveliness
Captures me ever.
So, I wish not for mercy,
Indeed, you have so blessed me
That my tears prove,
And sighs, exhausted wholly,
Lady, I thank you, truly,
As I do Love,
Who's put an end to sorrow,
And his pleasure in my woe,
And enriched me,
With consolation, so sweetly
The flavour
Of that solace I can savour;
Thus, he's healed me.
Brighter than daylight's brightness,
Sweeter than e'er was sweetness,
A form forever
Graced with a noble manner,
Thus, sans redress,
All your peerless loveliness
Captures me ever.
So, there's no pain or worry,
Now nothing doth afflict me,
For my labour
Nourished, and nurtures, me,
In that stream, where hearts may be
Strengthened ever;
Tis bathed in the sweet odour,
Tis your goodness that forever
Ravished wholly,
My heart, that thus deserts me
For one better,
For a place superior,
With you, not me.
Brighter than daylight's brightness,
Sweeter than e'er was sweetness,
A form forever
Graced with a noble manner,
Thus, sans redress,
All your peerless loveliness
Captures me ever.'
Lines 1103-1169: His sixth ballad 'Je ne me puis saouler' (Virelay XXXIV)
'I could never feel weary
Of thinking, dreaming sweetly,
Of what I'll say
Or do, what manner display
When, right clearly,
My peerless lady's beauty
I see one day.
Sure, am I, I'll be taken, so
Strongly that I'll not know
What to utter,
Without cold, I'll tremble though,
Without heat, I'll sweat also,
Sighing ever,
And fail and falter,
Concealing my sighs from her;
I'll find no way
To sound a word. Love must play
My part with her,
Who knows how, without error,
Love to display.
I could never feel weary
Of thinking, dreaming sweetly,
Of what I'll say
Or do, what manner display
When, right clearly,
My peerless lady's beauty
I see one day.
Ah! Lord, how to countenance
The ray of that loving glance,
The sight endure
Of those sweet eyes? Oh, what chance?
For ills enough, with the lance,
Pierce me, once more.
Such eyes I cannot, I'm sure,
Withstand; weakening blows, so sore,
I gaze askance.
If Hope, that my state doth know,
Comes not also
To comfort me, I must go,
While I've the chance.
I could never feel weary
Of thinking, dreaming sweetly,
Of what I'll say
Or do, what manner display
When, right clearly,
My peerless lady's beauty
I see one day.
I am troubled nonetheless,
For it pleases me, to excess,
To gaze upon
Her sweet eyes that, smiling, bless,
Like the rose in May's, no less
Sweet, guerdon.
And if I dared hope that she
Might deign, indeed, to love me,
All wretchedness
I'd forget, my ills address
Through thought, purely;
So, I should not fear, so deeply,
Those I profess.
I could never feel weary
Of thinking, dreaming sweetly,
Of what I'll say
Or do, what manner display
When, right clearly,
My peerless lady's beauty
I see one day.'
Lines 1170-1196: His second letter; he rides out to view the Springtime
'MY most dear and sovereign lady, I am not such a man nor so wise as to know how to thank you fittingly for your sweet, courteous, and loving messages. Nonetheless, I swear to you, in all faithfulness, that these messages have done me so much good that not at any hour do I wake without recalling them; and that I have eyes, heart, and thoughts only for you, in order to do whatever might be to your praise and honour. And as for what you wrote, namely that if you were a man, you could see me more often, I beg you, for God's sake, and by all the love you have for me, that you will pardon me if I do not travel or have not travelled to meet you; for, upon my soul, God knows that this is not through any lack of love or good will, but because I have been in such a state, so afflicted with illness for a year, and even more so since I recently returned, that I have lain ill without leaving my room much, if at all. And I think that you are so good and wise that you would not wish that I, who am your creature whom you have revived, and sweetly nourished, with your sweet and loving words, be put at risk of being lost forever, so as to journey to you, for otherwise I dare not. And, by Jesus Christ, I indeed desire this more than anything in the world. Though your sweet promises urge me on strongly. And, by God, if you were living in Rome, the great See, I would visit you as soon as I was able. And now the new season approaches when I shall be well, if God pleases. And my sovereign lady, as to your desire that I chase from my heart the mortal fear and sorrowful thoughts located there, all your words are commandments to me. And I will do so, in such a way that the sure hope I have, through the most sweet promise you have made me – namely that, if God wishes, I may see you – shall chase them away never to return, even though I am not worthy to receive, in a hundred thousand years, the least of the good things you would do for me. And regarding your sweet portrait, which you intend to send me, indeed I am very eager to see it, and I humbly ask that you are pleased to send it me, as soon as you well can do so. And if I can find a way, I shall see you around Easter-tide. I am going to have copied for you one of the works I have written previously, entitled Morpheus, and I will either bring it, or send it to you, if God wishes. I am thankful you do not find the length of my compositions annoying, for, truly, once begun I know not how to stop, so great the pleasure I find in thinking, speaking, and writing. I thank you most humbly for the fine and lovely ring that you have sent. And truly you need not beg me to look after it carefully, because I prize it wholly. My most dear and sovereign lady, if I write to you in a more thoughtless, silly, or ill-advised way than I should, please pardon me because there are two things that affect a man's mind badly: excess joy and excess sorrow. And by my soul, when I view your sweet and loving words, your generous promises, which I might not hope for or desire being scarce worthy of such benefits, I feel such great and perfect joy as no human creature dare conceive. And when I think and see that there is no way for me to journey towards you, to satisfy my heart and eyes by seeing you, my joy changes to woe, of which I possess so much that there is no heart in the world, however hardened, that would not feel pity for me, or would fail of compassion in viewing me. But such is the nature of love: for one joy a hundred sorrows. I am not writing to you, thus, as respectfully and humbly as I should. My most dear and most sovereign lady, I pray that God give you such honour and joy as you yourself might wish, and such as my heart desires, as for the person in this world whom I love best, and most wish to see. My most sovereign lady, I ask you not to share the works I send to you, because I seek to write music for them, especially for those that best please you. And if I have not replied to you as swiftly as I ought, please forgive me, since, by my soul, it was not due to any lack of love for you, nor that I failed to remember you, for I think more upon you than any other in the world. And I think that I would have died some time ago, if I had not these thoughts of you, for I take joy and comfort from them, and the firm hope that I will yet see you, as is my heart's wish. I received your letter, today, which my secretary sent on to me, in which you tell me of your good health, which delights me. And truly the greatest joy I could possess is to hear good news of you. And concerning what you command me, as to my writing to you often: please be aware, I have found no messenger to my liking whom I dare trust. And that is the reason I fail to write to you more often. For, indeed, I think that you would willingly hear news of my health, and be pleased to know that I am quite well, and think that I would be fully able to ride out, if the weather turns a little warmer. And, certainly, if I possessed your sweet likeness, after God and yourself I would love, serve, and obey it, composing many new pieces in its honour and your own. I have composed the piece in regard to 'the great desire I have of seeing you', just as you requested, and have done so in the German manner. And truly it seems to me strange and quite new, so I will send it you as soon as I can. By my faith, you sent me a very fine rondel that pleased me more than a little. My most dear and sovereign lady, I pray God grant you as much good and honour as you yourself might wish, and as I desire with all my heart. Your most faithful lover.'
Spring arrived, all fine and lovely,
And I too was bright and happy,
My mind full of pleasant thought,
My ills eased, nor was I fraught,
Well-provisioned, well-mounted,
My hopes high, blessings counted,
Since I sought to meet my lover,
And I was melting to see her,
So thus, I sat, upon my steed,
One tall, well-rested, plump indeed,
And set off through the countryside
To hear the sweet bird-song, betide,
And take the air, since, most truly,
The thing was like to profit me,
And, also, so I might discover
If I was as fit to ride as ever.
Twas in the month of April when
The birds, amidst the leaves, again
Perform their amorous effects,
Their sweet melodies and hockets.
I rode amidst a grove of alder,
Nor such delight did I know ever
As the birdsong that did me regale;
There sweetly sang the nightingale,
That made itself heard above all,
Thus, joy did to my heart befall,
Ne'er in my life heard I sweeter.
Lines 1197-1211: He returns home due to the heat of the day
YET I returned home, thereafter,
Because of the rising heat that dried
The dew, and drove me back inside.
And there I began to ponder deeply
On my lady to whom I'd, wholly,
Given myself, without reserve,
And now sought loyally to serve,
And wondered how it came about
That by my lady, within, without,
Heart and body, thus, I had been,
Ravished, yet her I had ne'er seen.
This seemed to me a great marvel,
Since I had ne'er known its equal;
Yet all may come to be, no heart
So hard it yields not to love's art.
Lines 1212-1267: He considers the nature of love from afar
IN this land dwelt many a lady,
Good, fair, of true nobility,
Young, well-bred, and charming,
Straight, and lithe, and winning,
Sweet, and pleasant, and gracious,
And disposed to prove amorous,
And I could gaze at them alway,
And sit beside them any day,
Dally there, tease them, laugh and sing,
Speaking of this, that, anything.
I could watch them carol and dance,
Withdraw gracefully, and advance.
I saw they were honest in all
They did, and virtuous withal,
And yet it never came to be
That love of them so ravished me,
That from the one afar I'd part,
Far from my eyes, yet near my heart.
Yet how could she be part of me,
And strike, from afar, so deeply,
All without my having seen her,
Or yet heard her sweet voice ever?
One might reply by speaking so:
Love knows how to come and go,
(This I doubt not, and can prove)
In one who's never seen his love,
And his true love will never see,
But hears so much about his lady,
Her fair renown has so approved,
That she will be by him beloved;
For Love who is subtle and wise,
Burns like hot coals and, likewise,
Will burn, within him, forever,
So that, while he lives, he'll ever
Be her bondsman, servant too,  
Her lover, faithful, fine, and true.
So, I think he fares better than I,
If his love is strong, since I sigh,
Hoping that I might see my lady,
And she, welcome me cheerfully,
Greeting me with loving kindness,
Nor displaying proud haughtiness.
For in that way I may discover
If she loves me true; that other,
His lady need have no concern
If her lover she seeks to spurn,
Because he'll notice not a thing,
He'll persevere in everything,
Deep in the love that did him claim,
For love of her, and her fair name.
So, if some man from o'er the sea
Chooses to love, passionately,
A lady of this country, likewise,
It would cause me no surprise,
If Love had taught him to love her,
Without him seeing her, ever.
Lines 1268-1303: He praises his lady and receives her third letter
AND so, no one now should wonder
If, musing, I am sleepless over,
One who has never looked on me,
Nor I on her, and yet, sweetly,
Through her, my heart doth dance,
She is my joy and sustenance,
She's my delight, my pleasure she,
Truly, she is the fleur-de-lis
Kings, dukes, and counts adorning there,
For all indeed must her compare
To the lily-flower in whiteness,
To the rose for pure sweetness,
And the fixed Pole-Star for honour,
And to the Sirens as a singer.
Ah, Lord, when I hear of her fame,
And the sound of her sweet name,
Uttered now, in any manner,
There's no clerk could sum up ever
Nor e'er describe, conceive, compute,
The joy that doth within me shoot.
Now as I sat, in their company,
A serving-man did approach me,
And said: 'Sire, this is sent to you,
From one you know who loves you true,
Who sends you a thousand greetings,
Tis from Foix, I bring such things,
And I am journeying to Lorraine,
And next week will return again,
And if a reply you would write,
I shall bear it, for your delight.'
I said: 'I'll answer it willingly,
And speak of my wishes presently.'
Then we took leave of each other,
And I oped, and read the letter,
And here it is, all, word for word,
As I received it, and twas conferred:
'My sweet heart and true friend, I have received your letter. On the fourth day, thereafter, I received those works of which you wrote, and also the songs, for which I thank you as graciously as I am able. And by my very soul, they are all most excellent and please me greatly, as does all you write to me; for I find no pleasure or comfort except in looking at them and hearing them read. And so great is the pleasure I take in them, I often neglect other matters. So, I beg you, my sweet heart, please send me them again, but set to music. And I also ask that you send them before showing them to anyone else, for, by my faith, with a sufficiency of your compositions, I would not seek to learn any others. And when I wrote that, if I were a man, I might have seen you often, by my faith, I spoke truly, but by no means would I wish you to come to me were it not safe and comfortable for you to do so. And so I beg you, by the love you have for me, do not set out, at least until the roads are better, and you are in better health, concerning which I pray to Our Lord that he grant you this, as my heart desires. And by my faith, I believe that your longing to see me is indeed as great as my own; and so I pray you, my sweet heart, cast out all frustration and sorrow from your heart, because in my own soul I cannot feel joy or pleasure as long as I sense you are wretched; for I cannot think that you, or any other man, might imagine how great is my wish to do whatever might banish all the pain from your heart, bringing it ease and perfect joy; and so do not doubt that my will to do so shall not alter as long as I live. And, I pray you, please compose, as soon as you are able, the music for the songs you sent me, especially for 'The eye that is Love's true archer' and 'Brighter than daylight's brightness', and please send me these two as soon as you can. And on the theme of the other ballad song, I have composed the like. And if you think that they could be sung together, then let them be so. I have only written one stanza thus far, because your own are so accomplished they put me wholly to shame. And so, I beg you to please amend anything that needs amending. And, for God's sake, my sweet friend, do not take to the road until it is firmer, and your weather improves, as I would rather not see you for an entire year, which would cause me much grief, than for you to travel at the risk of peril to yourself. But, above all else, I pray that I might have news of you, as often as you can write. My most sweet love, I pray that Our Lord grant you peace, health, happiness, and joy of all that your heart loves. Your faithful friend.'
Lines 1304-1330: She also sends a first ballad, a virelay, 'Ne vous estuet guermenter'
'BE not disturbed, nor fearful,
My sweet friend, nor doubtful,
Nor feel dismay,
For with love, I shall allay
All that's painful,
Bring you words of sweetness full,
Upon a day.
For, indeed, I wish to do
All that will comfort you,
All that I may,
And solace your sweet, true heart;
Know I shall do all, on my part,
Without delay,
Nor need you fear that you will
Be made to bear any ill,
While I yet stay
By your side, for, I dare say,
I'll cure you still,
Be your doctor, health instil,
In every way.
Be not disturbed, nor fearful,
My sweet friend, nor doubtful,
Nor feel dismay,
For with love, I shall allay
All that's painful,
Bring you words of sweetness full,
Upon a day.'
Lines 1331-1364: He is melancholy and doubtful, and composes a ballad
NOW, when Love wounds a lover so,
He is changeable, as all well know,
His thoughts are many and diverse,
And some are sweet, others perverse,
So I grew most melancholy,
Opposing my own self, in folly,
Thinking on my lady's greatness
And then, again, my pettiness,
Thus, at heart, I did imagine
That beside her I was nothing,
Thinking it great stupidity
To believe that she might love me,
And that every day she saw
Forty better fellows, or more,
In the place where she might be,
By God, or a hundred, truly.
And that, oft, the eye constrains
A heart, masters it and restrains
It, through the delight it teaches,
So that to purest love it reaches,
But when the eye sees one not,
It can do naught; rest is its lot;
Thus, her eyes lack power since she
Can, in no manner, gaze on me,
And who is distant from her eye
Cannot do aught as well, say I,
Since Love would a tight hold employ
On that which would, in him, find joy;
Yet, I composed a ballad apace
Before departing from that place.
Then the lad from Gascony came,
His errand done, in all but name,
And I gave him what I had writ,
And he then sped away with it.
Lines 1365-1388: His seventh ballad 'Quant ma dame est noble et de grant vaillance' (Ballad CCXXXIX)
'SINCE my lady's noble, and of great worth,
While I think myself of but slight estate,
I can scarce do aught else, on this earth,
But be concerned at my toilsome fate,
Ere I may gain her love.
For the clamour she will not approve,
Of my true heart, in its great loyalty;
And so, she'll soon forget me, rightfully.
And if I have been slandered by any,
That are hateful to me and oppose me,
If she believed it, twere sin and folly,
For she's the power to make and unmake me.
May she do what is best,
For my heart, in this love, doth all invest.
Against her will, I'll be hers, and wholly;
And so, she'll soon forget me, rightfully.
Love well knows that I feel much displeasure,
Daily, concerning what might displease her;
Devote heart, ease, desire, in full measure,
To all that doth please, and will please, her;
Now, twould mar her honour,
If all her sweetness transformed to bitter,
Such that I chanced to die, of her beauty;
And so, she'll soon forget me, rightfully.
Lines 1389-1403: He sends his third rondel, and letter 'Dame se vous n'avez aperceü' (Rondel XIII)
AND with this rondel he did ride,
And with its music, there beside.
'Lady if you have not perceived
My heart loves you, without deceit,
Try me; if honest truth you'd greet.
Your great beauty will have deceived
Me quite; hurt me with all that's sweet,
Lady if you have not perceived
My heart loves you, without deceit.
For so has my heart all such received,
Urging my love, that I lack conceit
To think with joy or reward I'll meet,
Lady if you have not perceived
My heart loves you, without deceit,
Try me; if honest truth you'd greet.'
'My most dear and sovereign lady, when you call me your friend, surely I must call you my friend too, since it honours me greatly when you call me friend, for the true love in my heart would have me utter it. When you call me friend, I must call you friend also.  And also, my very dear lady, I know not how to thank you enough for the great honour, the great joy, and the perfect goodness you afford me with your sweet writings, for, by my soul, I find joy, pleasure, and sweet nourishment in reading them, for I read them so often that the sweet savour of them remains in my heart at all times. And if I were the worthiest, wisest, and richest man there ever was, and were I to live a hundred thousand years, I would not be able to deserve even the least share of the good things you accord me. And, my very sweet lady, when you say that you take great pleasure in what I send you, I take a hundred thousand times greater pleasure in what you send me because your sweet writings bring every kind of goodness, causing me to live happily and joyously. And though I am worth nothing and know less, they lead me to love honour and loathe dishonour, and flee vice, sin, and every kind of baseness, so that I am much improved thereby because I would already have been dead if you and they existed not, since they provide the perfect satisfaction that I find there, with a sprinkling of mercy, and mercy is nothing but satisfaction. But aught I send cannot amend or beautify you, who are the flower of all ladies, the fruit of honour, the root of goodness and all beauty, and thus possess all that God and Nature grant to a lady of fair fortune. Yet though I am perfectly satisfied with the sweet benefits you bestow upon me, no man is so provided for that he does not lack something; so please know my thoughts are very woeful, and I feel mortal fear, because you would have me live in peace and joy though far from you. And if I were to invade your presence, it might well be that I sought that which I ought not to possess. Here is the reason: I am of little account, coarse, foolish, and ill-mannered; nor do I possess the wit, worth, virtue or beauty that could give your sweet eyes reason to see me or even glance at me, moreover I am not worthy to think about you, and so your noble heart might be indignant toward me, regretting the sweet things you have done and still do, always, though I have never seen you. And then you view every day many men who are, beyond comparison, better and more handsome than I, who am naught in respect to you, such that you think not on me, for certain. Nevertheless, I take comfort in the fact that no woman could be as beautiful as you and yet lack pity, nor lack a gentle heart yet possess so noble a form as you, who would never say or do a thing that was disloyal or untrue. And, by God, if it turned out otherwise, it would kill me, because had I a single wish in this whole world, I would wish to sate my heart and eyes by looking at, and listening to, you. And be sure that no more than the ocean could be drained dry, or the force of the winds stifled, or the clouds rendered light or dark, or the brightness of the sun diminished, no more could my heart be parted from you this side of death. And after death, most sweet one, my virtue shall have been in loving you. And since I am hesitant to visit you, due to the above-mentioned fears, I beg you, as sweetly as I can, as my sovereign lady, to send me your living likeness, in miniature; for if this can be done well, anywhere on earth, it must be where you are. Indeed, I swear to you and promise, by my faith, that this portrait shall be well-loved by me, well-protected, honoured, adored, night and day, knelt to, sought for, and praised, and to no living creature will I reveal my thoughts of love. And if this were not so, I would be the falsest, most evil, most traitorous, most unnatural man who ever lived, and full of that vicious sin they call Ingratitude, which means to render evil for good. For you have revived me, and granted me the mercy that satisfies, granting me once more the inspiration I had lost completely, for I would never again have composed a song or lay, had it not been for you; but if God pleases, and I can do so, I will compose to your glory and in praise of you, a work that will be truly memorable, and I swear and promise you, as best I can, that Lancelot loved not his Guinevere, nor Paris his Helen, nor Tristan his Iseult as faithfully as I will love and serve you, never deserting you. For I will love, obey, respect, and serve you as long as I live, with a loyal heart, and protect you and your good name, and when I die I will leave you my heart, and have it sent to you; this will be my last testament. The two works you have sent me are very well-made, according to my taste, but if I could spend one day with you, I would explain, and teach, that which I have never explained to anyone, such that you would compose in even better fashion. My most dear and sovereign lady, I am sending you a rondel with music I recently composed for love of you. I pray you, most humbly, to write to me of your health, and say when you will leave the place where you are, since I am eager to know this, and also let me know which of my books you would like, so I may have them copied for you, immediately. And if what I write is too lengthy, please excuse me, for the mouth speaks the heart's fullness, nor can I be satisfied in thinking of you, and speaking of you, to myself alone. My most dear and sovereign lady, I pray God grants such joy and honour to yourself and those you love, as you would wish, and as my heart desires. Your very loyal friend.'
Lines 1404-1425: The lady receives his letter, and composes a complaint
When my lady saw my letter,
She acted nobly, for the better,
Her understanding sound and true,
Placing it o'er her heart anew,
And acting without more delay,
Rather hastening, straight away,
To her chamber, yet discreetly,
And closing the door most neatly.
There she read it, once inside,
With a heart that tenderly sighed,
Crying that I was much in error,
My heart raw and foolish ever,
That I should doubt her in this way,
And so mistrust all she did say,
Whose heart was mine, completely,
And often she cried out 'ah, me!'
For Love would have her make complaint,
And so, she composed this plaint,
She spoke no evil of me though,
For do you know who told me so?
It was the maid who helped her dress,
To whom her thoughts she would confess.
Lines 1426-1463: Her 'plaint' 'Mes dous amis a vous me weil compleindre'
'MY sweet lover, now, to you, I would complain,
About the ill that my heart doth grieve and pain,
From you it comes, and this you ought to know,
For, without you, I find no comfort so.
Now, if you please, attend to my complaint,
And think on the love, without constraint,
I have for you, for soon my life must end
If with true heart you love me not, my friend.
Lover, I know no joy, in this my life,
Rather, I find melancholy and strife,
For I do naught but think, both night and day,
Of seeing you, yet muse in vain, alway,
For there is no trick, no plan, no subtlety,
By which I might, that I know, or can see.
And thus, my thought's my mortal enemy,
My mind is now and ever, opposing me,
And I've no solace, love, but in weeping,
Hiding my face with the tears yet flowing,
And when I've wept enough, for my part,
Memory comes to tear from me my heart,
For it brings me no joy, nor doth comfort,
Rather it brings but grief and discomfort,
Such that many a stifled sigh escapes me
Because I sigh so often, and profoundly.
And Desire, after, will not leave me be,
Nor have I the strength to last out, truly,
For I am weak, and should have died ere now,
Were Hope not here to ease my pain somehow,
Yet know not what this hope from Hope might be,
Which comes not to pass, so may deceive me,
And since I've cause to think things contrary
To all that he doth say, doubt it shall be.
Now let it be as the Lord shall decree;
And yet I have given myself so freely,  
All my love, to you, I cannot withdraw,
And if my soul must quit my flesh, be sure,
Never shall this love cease, through my will,
For, after death, my soul will love you still.'
Lines 1464-1467: The lady's fourth letter, accompanying her 'plaint'
'AND she sent, in this manner, to me,
What is set down here, faithfully,
But she within did likewise present
What was writ before: her lament.
'Most dear and sweet friend, I thank you for your sweet and loving letter, for by my faith the thing in all the world wherein I take most pleasure is seeing and hearing all that comes from you. And the greatest desire I have is to see you. And if I could but journey through the country as a man does, I promise you, faithfully, that I would see you quite often, but I marvel greatly at the thoughts you have had and the doubt you are experiencing, namely that you fear to come to me, thinking I would love you less. For you well know that I have never set eyes upon you and that I love you not for any beauty or delight that I have garnered though seeing you; rather I love you because of your virtue and good name. And, indeed, I have learned so much regarding your renown, that were I a hundred times more blessed with virtues than I am, I am certain you would deserve a woman better than I. So, I beg you, most sweet friend, not to dream or fear that I might repent of loving you my life through, or of doing all in my power to please you, since you know that there have been many lovers who loved those they had never seen, simply because of the good they had heard spoken of them, and thereafter achieved a perfect and faithful love, as did Arthur of Britain, and Florence, the daughter of King Emendis, as well as many others of whom I am certain you have heard mention. And I too hope that, when it pleases God for me to see you, this feeling of love on my part will not diminish at all, for I have the heart and will to say to you, and do for you, all the kind and loving things that a woman in love, in all faithfulness, says and does for her lover, as well as I know how, and am able. As for the portrait of myself that you have asked me, in your letter, to send as soon as it is done, know that I am having the image executed, and will send it to you as soon as it is completed. I have looked over the rondel you sent, and committed it to memory. Please know that I will not at any time depart this place before Easter. I know not the titles of your books, nor which are most worthy, but I beg you, as strongly as I can, to please send me the best, and also some of your songs as often as you can; for if I have sufficient of yours, I shall not be eager to sing those of others. Most sweet friend, you write that you seek my pardon for your lengthy messages, and you may readily have such a pardon from me. And, by my faith, if your letters were as long as the Romance of the Rose, or the Tale of Lancelot, it would not annoy me at all to read them, for if you write that you cannot sate yourself with speaking and thinking of me, in like manner I cannot too often view and read all that you send. And, as regards your saying that nothing you send can offer me any benefit, I say, saving your grace, that your messages have improved me and continue to improve me, every day, for I strive to compose well, in accord with my own ability so that good report of it might reach you. And your virtue makes me esteem all good who are good, and keep apart from the rest. I thank you for the ring and promise to keep it safe out of love for you. And I will send you one of my own and beg you to keep it safe out of love for me. My most sweet and true friend, I pray that Our Lord grant you honour and joy in whatever your heart desires, as much as I would wish it be granted to the man in the world whom my heart loves and desires the most. Your loyal friend.'
Lines 1468-1529: He is troubled by report of her, and sends his fourth letter
HER complaint she sent to me
With her letter, so bringing me,
Great joy, yet of sorrow a load,
For her poem was the straight road
And the true way to discomfort,
Though it also brought comfort,
Since I could find no happiness
While my lady was in distress,
And yet her letter also pleased,
Such that my woes were truly eased.
No middle path could I approve
In this bond of amorous love,
For joy and sorrow can never
Reside in the heart together,
And I had felt the thorn pierce me,
Of her womanly plaint, and deeply,
Which only made my sorrow grow,
And caused my heart to sigh with woe,
While the sweetness of her letter
Soothed me, rendering me better.
And the sweet hope I'd soon view
Her sweet and noble portrait too,
Which she'd promised, on her part,
Brought such great joy to my heart
So greatly benefited me,
By the God above who made me,
I wished for naught else, joy or good,
Or possessions, that any could,
Conceive of; thus, I longed for her,
And, most fervently, desired her.
Now I had not yet sent a further
Answer to her touching letter,
Nor to her complaint, so dolorous
It seemed both sweet and piteous;
And just as I thought to reply,
Someone informed me, by and by,
Of a wondrous alteration,
Causing me much consternation,
Being in such a state that slight
Mishaps made me fearful quite,
For twas said that my dear lady,
Whom my heart loved purely, wholly,
Questioned if I were not a lover
Who in fact preferred another,
And that it had grieved her greatly,
Though she'd said not a word to me.
And when I heard this woeful news,
I cried: 'My sorrow now renews,
I see that I am dead, most surely.
Where is Death, alas, who sadly
Comes to meet me, without delay,
To snatch my grieving heart away?
Indeed, I'd not have suffered so
Were it I that thought her false, no,
For my hope lay in her goodness,
And then, in her pure faithfulness,  
But now all my hope seems lost,
My heart, despairing, pays the cost.'
And I replied, in such manner
As is revealed by this letter.
'My most dear and sovereign lady, it is said you fear lest I have betrayed you. And though I gave no sign to the person who told me, the impression of these words is printed so firmly on my heart that it will depart only if you were to cause it do so. And please know that I would not wish, be able, or deign to do such a thing, no more than would the truest man in this world. And if I did, God preserve me, I would be the most false and traitorous man who has ever lived, and full of the wicked sin of ingratitude, which is to return evil for good. Though I am hardly worthy of gazing on you or praising you, if your mind were against me, then I would be lost and dead because I would be devoid of all hope and consolation, in that you had thoughtlessly forsaken and forgotten me; yet that would be wrong. For, by my soul, if all the ladies in this world were met together, I would love you alone, above all others, because a heart once bestowed should not be recalled, though many a fool exists in town who loves wherever he fancies. But I prefer languishing for you than delighting in another, such that every time I recall what I was told, I am taken with such trembling, and fear of losing you, that I own naught but what Hope provides and so my pained and woeful heart cries blood-wet tears. And, my sovereign lady, you may readily see and understand that my heart is as firmly fixed in you, as a precious stone in gold, as a fortress in the rock, for you know that nothing is as true or sure as experience, and you may see and understand, by means of your own sufficient experience, that all my works have been composed out of the feelings I have for you, and especially for you, ever since you sent me your first rondel 'She that never did you see, who yet loves you, and is true', for all my poems have been on like themes. And, by Jesus Christ, I have composed nothing since that was not for you, because I cannot, nor would wish to, make any feelings my theme but yours and mine, for whoever does not create from their own feelings composes but empty words and music. And so I beg you, as humbly as I am able and know how, you being the woman in this world whom I most love, and in whom I place the most trust, please do not think or believe anything that is against me, for by my soul, the moment I learn of this, I shall stop composing verse, poems of praise, songs, or lays until you forgive me or request them of me; for as you have made me, you can unmake me as it pleases you. I intend to see you shortly, if it pleases God and I am able, though, by God, that will not be as soon as I would wish. My most dear and sovereign lady, I pray God grants you peace and health, and the desire to love and honour me, such as my heart desires. Your most loyal friend.'
Lines 1530-1535: She sends him a fifth letter and her portrait
AND then I wept most tenderly,
And sighed, deeply and endlessly.
But a messenger came there straight,
And handed me her sweet portrait,
And this letter, ere we did part,
Which did awake my sleeping heart.
'My own sweetheart, and most sweet love, I am sending you my portrait, painted from life, as well as might be done, so that you may be consoled for our inability to see each other. And I beg you, my sweet heart, not to be displeased that I send it not sooner, but truthfully this could not be helped. And my sweet heart, I beg you by all the love that you have for me, as strongly as I may, please let not your heart suffer pain by crediting the words you have reported to me in writing because I have never thought such things by my soul, neither that you would wish or deign to do such to me or that I would do such to you, whom I love more than myself or any other. So have no doubts at all, my own sweetheart, and please to send me your book as soon as you can, for I take no pleasure or delight except in you and your works. I pray that Our Lord give you honour and joy of everything that your heart loves. Your loyal friend.'
Lines 1536-1627: He worships her portrait
THUS, her portrait she had sent me,
By her man, who, in privacy,
Had come to me and said, quietly:
'I bring I know not what with me,
Sir, that your lady sends to you,
Who, God save me, told me true,
Twas for no hand but your own,
Therefore, take it: tis yours alone.'  
And I received it joyfully,
Accepting it respectfully,
And gave him a gold coin, gladly,
And once he'd had his gift of me,
I went swiftly to my chamber,
Alone, and free of every other,
And there I locked myself away,
Like one whose limbs would scarce obey
From joy, and with a trembling heart,
Filled with desire to sit apart,
And gaze upon this precious gift,
That to his lips a man might lift.
Alone, I unwrapped the portrait,
Which was bound up, close and straight,
Within my sweet love's scarves, and hid;
Those wrappings I at once, undid,
And when her beauty I could tell,
I granted her the name 'Toute Belle',
Performing my sacrifice to her,
Not of a bull or calf, but rather
An act of homage for I did start,
With devout mouth, hands, and heart,
To kneel, both my palms together,
For twas the least I might offer,
Now her image, pleasing and sweet,
Was printed on my heart complete,
So firmly, that I would never
Relinquish it, in this life ever,
Rather, by me, she'd be adored;
Love, service, honour I'd afford
To her as my sovereign goddess,
Who Love's sore wounds would heal and bless,
The wounds in me he did devise,
More than some saint in paradise,
For I was lost and gone astray,
Mazed, discomforted, cast away,
And yet twice she had revived me,
Through generosity, and pity.
I paid this image due reverence,
None better, due to the presence
Of worth and goodness in that same
Lady from whom the portrait came.
Above my bed, and in plain sight
I placed it, with joy and delight.
So, I could touch and view the thing,
On rising, and prior to sleeping.
The image I did adorn and dress,
Comparing her to Venus, no less,
As I worshipped her o'er my bed,
And e'en beyond that, for I said,
'Sweetest image, sweetest semblance,
More powerful than Venus' presence,
Sweet lady yours is every virtue,
And hence I shall adorn you too,
With damask cloth all woven fine
With golden thread, since you are mine,
And none with you do now compare.'
Her loyal servant, true friend, there,
I set it o'er my bed, and ever
Those who viewed it would wonder,
Whose portrait it was they did see.
It exalted me to such high degree,
And so enriched all my thought,
As none might credit, and I ought
Indeed, to have felt that very same,
For, by the faith in God I claim,
Whene'er a thought that's contrary,
Or ill-conceived, occurred to me,
Yet her honest, pleasing manner
I saw portrayed, as I viewed her,
All such thought was banished quite
And all my ills cured, by that sight.
And she had sent this, my lady,
Because she realised that, plainly,
She could not come herself to me,
And nor could I, as she could see,
Meet with her, on any near day,
Yet wished to comfort me alway.
So, I would keep, in remembrance,
The sweet form of her countenance.
Was this not noble, on her part,
That, of her true and loyal heart
And without asking aught further,
She saved my life and my honour?
Lines 1628-1661: He contemplates the effects of being in love
THUS, her image I now possessed,
Both loved and prized o'er all the rest,
Apart from my lady, all debonair,
Who is the fairest of the fair;
Yet doubtless ere I could her ensure,
Many a frisson must I endure,
Many a pain, and many a woe,
Many a changed complexion know,
Often flushed, or turning paler,
And many a complaint must utter,
For who loves with a love that's true
Knows joy, but meets with trouble too,
Many a varied adventure,
Some sweet, others he must suffer,
Great longings, and thoughts forever
Churning, mingling with each other,
Often knowing not what to do,
And often suffering a lack anew
Of what he possesses in plenty,
Now he's sick, yet he's healthy,
Now at peace, his features happy,
Now lost in deep melancholy,
For such, in love, is customary,
Whoever loves all this must see.
In this state I was long present,
Now in delight, now in torment;
Thus, will a lady power attain,
When she has one in her domain.
Yet in the end my happiness
Did overcome all my distress,
Through the image there portrayed,
Fine and pleasing, her artist made.
For my ills were soothed, completely,
By her sweetness, born of beauty.
Lines 1662-1695: He decides to meet with her, and writes his eighth ballad and fifth letter
SO, healed, wholly, I looked out
On the fair Springtime all about,
Pretty and sweet in morning light,
The grass wet with the dew of night,
The buds, and flowers, and foliage,
And needs must make a pilgrimage,
To within two leagues of a place
Which my lady would shortly grace.
I determined to journey, now
So as to accomplish my vow,
Yet neath the cover of my journey,
Her sweet face I might then see,
The sweet eyes, the fair manner,
And the lovely, perfect figure,
Whose portrait I did now employ,
Acquainting me with peace and joy,
Restoring my strength and vigour
Through its most amorous power,
Making me live, and speak truer,
And pen this book for love of her.
But, prior to my departure,
I felt obliged to write further,
And give thanks to her, most humbly,
For the portrait she had sent me
That, beyond the power of a saint,
Had cured my grievous complaint.
And I dressed myself most neatly,
Finely, nicely, attractively,
To go, where I would be, that day,
A hundred times more than I could say,
Yet first this ballad I did present,
Out of my happiness and content,
To my love, sent with a letter,
That gave my lady great pleasure.
Lines 1696-1716: His ballad 'Ne qu'on porroit les estoiles nombrer' (Ballad XXXVII) and letter
'NO more could the stars be counted anew,
When they all are shining at their brightest,
Nor the ocean's drops, nor the falling dew,
Nor grains of sand with which the ocean's blessed,
Nor the firmament be in some map expressed,
Than any could conceive, or render true
The great desire I have to gaze on you.
And if there's no way I can come to you,
Since Fortune will not let me be your guest,
Then I must stifle all my sighing too,
When I think of you, here among the rest:
And when I am alone, in silence dressed,
It pains me with torments, sufferings new,
The great desire I have to gaze on you.
It makes me lament and long to view
Your noble face, and, above all the rest,
Your sovereign beauty, none exceeds you,
And what flows therefrom, your great sweetness.
Thus, it has me languish in wretchedness,
Kindling my hope, and quenching it too,
The great desire I have to gaze on you.'
'My most dear and sovereign lady, rather be dead than not know this, for a good heart does not lie, and who loves well forgets tardily: you have done for me, and God reward you for it, so much that is good and honourable, so many favours and kindnesses, that no lady has ever done all you have for her servant and lover, no matter how worthy they may have been. And though there may have been and may still be a number of women who willingly would have provided those men comfort, they in no way possessed the sense and manner you possess, such that I hold myself to be the happiest man alive. And though, indeed, I know there are some who have told you that I am ugly, coarse, and ungrateful, by God, though I am a person of little account, I do most nobly possess the heart of lover. And I can see that your noble heart will not deign to listen to, or credit their words, and you show this clearly by sending me the gift of your sweet, pleasing, and most lovely image, for which I cannot thank you as much as I ought, because, by my soul, I own not sense and understanding sufficient to the task of thanking you. But, within my soul, this image is my life, my solace, my delight, for as soon as I gaze upon or recall it, I can feel no pain or ill that is not healed or soothed. And, beyond a doubt, there shall ne'er be a day in my life when, for aught any might do or say, I could think or believe that you wished not to be my sovereign lady, or that you did not compose with a true heart all the good things I receive from you. And, my sovereign lady, a gentleman should have no other occupation, nor area of study, than arms, ladies, and the exercise of a good conscience. And so, I swear and promise faithfully that, as far as I can, I will serve you as loyally and diligently as I am able, and know how to do so, and all in your honour, as Lancelot and Tristan served their ladies ever. And I will adore you as my goddess on earth, and as the most precious and glorious object of reverence I have ever laid eyes upon, in any place where I have been. And, from now on, this portrait will be my heart, my fortress, my treasure, and my comfort, free of falseness, against every ill. If God please, I will see you during Pentecost because you and your sweet image have brought me to the point of complete cure, God be thanked. And I am now riding everywhere and would have departed some time ago, but there is a great band of brigands some six or seven leagues from us, which makes riding very perilous. I am sending you my poem about Morpheus, that is called The Fountain of Love, along with 'The great desire I have to gaze on you' for which I have composed the music as you commanded, and in the German manner. And, by God, it has been long since I composed anything good that pleased me as much, and the tenor parts as sweet as unsalted porridge. So, I beg you will deign to hear and learn the piece just as it has been written, without omission or addition, and it is intended to be sung to a slow measure, and whoever could arrange it for the organ, the bagpipe, or other instrument, that is its very nature. I am sending along a ballad as well that I wrote before receiving your sweet image, and so was still somewhat wounded in spirit, on account of what I had heard. But as soon as I set eyes on your sweet image, I felt healed and free of melancholic thoughts. My most sovereign lady, I would bring along my book to entertain you, which contains all the works I ever composed, but it is in more than twenty sections because I have had it made for one of my lords, and therefore I am having it notated, and for this it is necessary that it be in sections; and when it is notated, I will bring it, or send it, if God pleases. My most sovereign lady, I pray that God may grant you your heart's desire and the kind of honour that I would wish for you, and thus would wish for myself. May God grant you solace and joy. Your most loyal friend.'
Lines 1717-1752: He sends her a number of works which she responds to in kind
THEN I set out on my journey,
By a route that led directly
Towards achievement of my end,
To see and greet my loving friend.  
I was mounted on my good steed
That was plump, well-fed indeed,
And rode along quite cheerfully,
Content with my lot, and happy.
In this way I came to the city,
Full of more guile and trickery
Than any city I have known.
So, to the church I went alone,
And once there, upon entering,
Made a silent vow that, during
My whole stay, I would compose
New works each day to add to those
I'd made for love of my lady,
Who wishes and desires, truly,
All that pleases me, God bless her,
And she would be my sweet doctor.
There I offered my devotion,
And it was then my intention,
To perform my novena there,
But I was a fortnight in prayer,
Because, it chanced, I must wait
And not leave till a later date,
When I'd receive that lord's command
Than whom none's greater in our land
But one, and God guard him where'er
He may be, and send him joy there.
Yet the delay scarce bothered me
For my love I would surely see,
And oft I thought about her now,
As I commenced to fulfil my vow,
And she so understood my mind,
She responded to each work in kind.
Lines 1753-1773: His ninth ballad 'De mon vrai cuer jamais ne partira'
'FROM my true heart there never will depart
The imprint of your sweet face and figure,
For your image is set there with such art
It can meet no acid, no erasure,
No blade, no hand of such a skilful nature
That it could erase or mar it ever,
No more than one could dry the ocean's water.
Such my earthly goddess is, was, shall be,
So long as there's life within this creature,
And after death my soul will love her, truly,
The one whose beauty gave such pleasure,
Sustaining my heart in such sweet pasture
It could ne'er abandon nor desert her,
No more than one could dry the ocean's water.
And with this image she shall cure me,
Of all that love must suffer and endure,
And, every time my eyes and heart shall see
This portrait, firm my hope shall prove, and sure.
Because you are so good, so wise, so pure,
You could not seek to play me false, ever,
No more than one could dry the ocean's water.'
Lines 1774-1819: Her second ballad, a virelay 'Cils a bien fole pensée' (Virelay XXIV)
'THEIR thoughts are full of folly,
All those who'd have me believe,
I'd leave one who's all to me,
And another love receive.
For it could not come about
I would leave
The one who is my treasure,
Nor that, I would ever tout
The pleasure
Of other love for, truly,
I am in love so firmly,
No other love may feature,
And for no living creature
Would I desert him ever.
Their thoughts are full of folly,
All those who'd have me believe,
I'd leave one who's all to me,
And another love receive.
For my thoughts, my memory,
My desire,
And then my whole love, you see,
All concern him, endlessly,
That for me
There can be no joy elsewhere
For without him all seems bare,
Without him sweet seems bitter,
I seek his love, no other,
Whom I love loyally ever.
Their thoughts are full of folly,
All those who'd have me believe,
I'd leave one who's all to me,
And another love receive.
No more than one could consume
The wide sea,
Or hold the waves motionless,
No more could one e'er presume
To suppress
Love, and stop me, loyally,
Loving him who pleases me.
So, to Love I grant praise, ever,
Since he who is my lover
Proves the best the world over.
Their thoughts are full of folly,
All those who'd have me believe,
I'd leave one who's all to me,
And another love receive.'
Lines 1820-1832: His fourth rondel 'Bele, vostre dous image'
'FAIR one, your sweet portrait,
That I love, passionately,
Has made me upon you wait,
Oft against my will, of late,
Makes me live delightfully,
Fair one, your sweet portrait,
That I love, passionately.
For when I pay homage straight,
It smiles at me, sweetly,
Such that all my ills abate;
Fair one, your sweet portrait,
That I love, passionately,
Has made me upon you wait.'
Lines 1833-1845: Her fourth rondel 'Amis pour ce l'envoiai ge'
'MY love, that's why I sent it,
To you, I love loyally,
Heart-felt, no falseness in it,
The longing thus to limit
That burns in you so fiercely,
My love, that's why I sent it,
To you, I love loyally.
If desire burns on, submit,
Suffer it debonairly,
Let her face a kiss permit.
My love, that's why I sent it,
To you, I love loyally,
Heart-felt, no falseness in it.'
Lines 1846-1853: His fifth rondel 'Se mes cuers art et li vostres estaint'
'IF my heart must burn, while yours grows colder,
Lady, then I shall never come to joy;
Since the longing that doth slay me ever,
If my heart must burn, while yours grows colder,
Will bruise my heart, and my face discolour;
Without you, naught can those flames destroy.
If my heart must burn, while yours grows colder,
Lady, then I shall never come to joy.'
Lines 1854-1861: Her fifth rondel 'Lamour de vous qui en mon cuer remaint'
'THE love for you that in my heart remains
My sweet friend, it never could grow colder,
For, never-endingly, my thought maintains
The love for you, that in my heart remains.
Nor is there any other it contains,
Nor, since it grows thus, could it prove lesser;
The love for you that in my heart remains,
My sweet friend, it never could grow colder.'
Lines 1862-1903: He journeys to meet her, and there is a further exchange of poems
AFTER these poems to each other,
The longer as well as the shorter,
My lady wrote, saying, sweetly,
How she desired, most fervently,
That I would go and meet with her
And, thus, abandon my novena,
Though demanding it not of me,
However, she did ask it, clearly,
And her words I did understand
As tantamount to a command.
So, I set out upon my way,
Travelling to where she did stay,
But before I had sight of her,
Or could utter a word to her,
Bless me if I felt not a shiver
Much greater than any other,
Of such great fear and such great doubt,
My body trembled, all about,
And the cause I knew not, other
Than that I was about to see her.
So, I summoned my secretary,
And told him what afflicted me
How painful this matter did prove,
Seized now by all the ills of love.
He told me to be of good cheer,
For there was naught that I should fear,
For she was little like to bite me,
So step by step I went on, slowly,
My heart and body, sans relief,
Shaking now like an aspen leaf.
I'll not reveal her letter here,
Too long this work might prove, I fear,
Were I to tell all, endlessly,
However charming it might be,
Of what I sent to her each day,
And she to me. What shall I say?
I'd not dare repeat our chatter,
Two words contain all the matter;
I'll be silent, through that alone,
For other things I must make known:
I wrought two things, for my woes,
That in this book I now enclose.
Lines 1904-1911: His sixth rondel 'Vos pensees me sont commandement'
'YOUR thoughts are as true commands to me,
And thus, I shall do as your heart demands;
Now your sweet messages I hear, and see,
Your thoughts are as true commands to me.
If joy, and relief, Love should grant to me,
From you, before whom my heart stands,
Your thoughts are as true commands to me,
And thus, I shall do as your heart demands.'
Lines 1912-1919: Her sixth rondel 'Amis venez vers moy securement'
'MY love, journey to greet me, safely,
There's naught my true heart could more desire.
You shall be looked upon most kindly;
My love, journey to meet me, safely.
I promise, and swear now, faithfully,
To render you joy for ill I'll aspire.
My love, journey to meet me, safely,
There's naught my true heart could more desire.'
Lines 1920-1972: His tenth ballad, a virelay 'Douce plaisant et debonnaire'
'SWEET, pleasant, and debonair,
Your sweet face, so beyond compare,
I've ne'er seen, nor your lovely form,
And yet I swear, come hail or storm,
I'll love you, and from all ill forbear.
Surely, I'll do all that's due,
Having witnessed the fair rescue
From death that you granted me.
Yet naught did you owe me, tis true,
Twas Love moved the heart in you,
Gentle, kindly, full of pity.
So, I should not prove contrary,
In doing what pleases, wholly,
You who now, in verity,
Own my heart and amity,
Never to leave your sweet repair.
Sweet, pleasant, and debonair,
Your sweet face, so beyond compare,
I've ne'er seen, nor your lovely form,
And yet I swear, come hail or storm,
I'll love you, and from all ill forbear.
You have scarce neglected me,
But rather acknowledged me,
Out of your great humility,
When, on my death bed I lay,
Lovely one, since, in that way,
It pleased you to recover me,
I should not stand silently,
But everywhere, speak, surely,
Of all I found in you: goodness,
Honesty, treasure, sweetness,
All dwelling in your heart, there.
Sweet, pleasant, and debonair,
Your sweet face, so beyond compare,
I've ne'er seen, nor your lovely form,
And yet I swear, come hail or storm,
I'll love you, and from all ill forbear.
And if Fortune brought scant good,
By doing the worst she could,
Your sweetness has overcome her,
Bringing me joy each hour,
Denying Fortune's power,
And her haughtiness forever.
And you own thus, my heart, alway,
That Love, who'll conquer any day,
So kindly has granted you,
Which your heart delights in too;
Ne'er saw I so sweet a pair.
Sweet, pleasant, and debonair,
Your sweet face, so beyond compare,
I've ne'er seen, nor your lovely form,
And yet I swear, come hail or storm,
I'll love you, and from all ill forbear.'
Lines 1973-1993: The lady's third ballad, a virelay 'Des que premiers oy retraire'
'SINCE I did first become aware
Of you, my love, sweet, debonair,
Your worth and your goodness too
My heart was grafted so to you,
I could not now this love forbear.
Though I ne'er knew you before
Nor your face have seen, I'm sure,
Love made me grant you my heart
And I'd ne'er have thought it true
That I could love and yet not view
The one I loved, thus, far apart.
But True Love urged me to care,
And the renown you garner there,
And both have my heart so fiercely
Set ablaze, that right willingly,
I love you with a love that's rare.  
Since I did first become aware
Of you, my love, sweet, debonair,
Your worth and your goodness too
My heart was grafted so to you,
I could not now this love forbear.'
Lines 1994-2075: He meets his lady face to face
YET many a time I perceived
In my heart, and so conceived,
That I might find some stranger
Who might feign to be her lover,
And then I would bring him to her,
Presenting him in such a manner,
As to declare 'Here is your friend!'
To see if she might condescend
To recognise him, and thus hear
How she replied, and did appear,
And in her heart the same thought
Had she, although she said naught,
Yet she confessed so, however,
When I came to meet my lover.
But the thing ne'er came to be,
And that was for the better, truly.
I entered, in short, her presence,
And when I saw her countenance,
Her manner, her welcoming guise,
Her sweet face, and smiling eyes,
Her complexion, red and white,
Her noble form, all shaped aright,
Most wondrously straight and slender,
Neat, pleasing, lovely, tender,
And when I heard her sweet speech,
No coldness, folly did she preach,
Saying rather: 'My sweet lover,
Let us speak with one another,
For you are most welcome here,
Long seems it ere you might appear,
View me and, here, with me abide,
Come now, and sit you by my side.'
And when she took me by her hand
Whiter than snow on branch doth land,
And greeted me as her 'lover'
Then my heart could scarce recover
From the shock, such that I knew not
How to speak, nor how seemed my lot,
For I was rendered mute, astounded
More than a dumb beast, confounded,
While I felt a sudden fever,
Chilling my body, all over,
Causing it to sweat and tremble,
Some pallid leaf it did resemble,
But the lady, kind and debonair,
Had realised the whole affair,
And took pains to cover for me,
While to an orchard she led me,
Twas fine, pleasing and elegant,
To lead us apart was her intent,
She said to me: 'Sweet friend, indeed,
Take what I grant, in word and deed,
Myself and mine, whate'er I possess;
I am no jay, that in its address
Displays mere feathers and chatter,
Nor would I brook a lying matter,
Trust in me, I promise you yet
That heart and honour I will set
In your hands, now guard those two,
Sweet love come, have me in view.'
Then she put her hand to her breast,
And said: 'It harms not my interest,
To say what I now wish to say,
And accomplish my wish this day,
Here is my heart, I swear I would
Place it in your hand, if I could,
For you to bear away, but now
Comfort yourself, I hereby vow
You shall forgo melancholy,
For your faithful friend I'll be,
And desire to seek your pleasure
In whatever you might treasure.
And know friend that this love
Which both our hearts do approve
Comes from God, most truthfully,
For we both know of a certainty
We ne'er saw each other ere now,
Nor spoke a single word, you'll allow,
Yet I well know that you love me,
And so, I call you lover, you see,
And since God wishes we so do,
Naught but a good end can ensue.'
Lines 2076-2111: She puts him at his ease, before he departs
I replied to her words, I fear,
So softly she could barely hear,
Due to my voice trembling so,
And, it seemed, my body also:
'Fair one, you're my lady, ever,
And I, by my soul, your lover.'
But in saying this the moisture,
That about my heart did linger,
Poured forth from out my eyes,
And streamed down my face, likewise,
My heart being so greatly pained,
And by her beauty so constrained,
That I must weep most tenderly,
And then she asked me, quietly:
'My sweet friend, my true sweet heart,
Come, tell my why these tears start
From your eyes, why do they flow?
Say why your heart doth tremble so.
My friend, my love be now assured,
That for the ills you have endured
For my sake I'll recompense you
And most sweetly I shall heal you.'
Though too overcome to thank her,
I took her by the hand, however,
And humbly gave that hand a kiss,
And was somewhat calmed by this.
Once I felt more comfortable,
And could speak, then I was able
To take my leave, and so depart,
And yet this so distressed my heart
That the parting that must ensue
It nigh on broke my heart in two.
Yet I composed myself once more,
Departing through the rear door,
So that none there might see me go;
How pained and woeful I was though.
Lines 2112-2157: He describes his lady's attire
REGARDING her attire, of this
I've said naught, which is most remiss;
With finer clothes none were blessed,
No lady so charmingly dressed,
And so, I'll speak of it a moment,
Nor hide the truth from you an instant.
Of pure azure was her headdress,
And twas adorned each side, no less,
With a pretty popinjay, in green,
Of equal size and there was seen
A little clasped purse, striped in blue,
About the neck of each bird too,
While their wings were all pure white,
And they were posed, to left and right,
Such that one bird gazed straight ahead,
While the other looked back instead,
To show that she, beneath her hood,
Was to guard herself, as she should,
Looking to right and left, ever,
If she would preserve her honour.
In a fine robe was she arrayed,
Of the same style, and well-made,
A white ermine trim it did bear,
Fit enough for a queen to wear;
Sweet was she, generous, courtly,
In her white gown dressed nobly,
Cut from pure silk, richly displayed,
In Brussels, I believe, twas made,
And an ermine wrap she had on,
Elegant, pleasing, and thereon,
To clasp it, a chain of pure gold,
And a golden ring this did hold,
With enamelled letters, that read:
'Guard me well'. Her colours said:
'Truth, wisdom, hope and loyalty'.
You who know all love's misery,
And those hues, do no aid require
To find the meaning of her attire.  
No more now on this matter, say I,
Since you know all that they signify.
Older than fifteen, not yet twenty,
She was twenty times more to me
So; no more now of the richness
Or the courtliness of her dress,
I cannot tell of it fittingly,
And thus, might speak improperly.
Lines 2158-2184: He praises her treatment of him on meeting
IF any should seek to criticise
My lady, and thereby would prize
Her less, because she spoke freely
To me like this, and generously,
Here's her goodness, worth and honour,
Here is that for which I praise her,
Here's tenderness, humility,
And kindness too, and sweet pity,
When a lover's heart feels woe
To ease all his wretchedness so.
Though I had spent ten months with her,
I'd not have dared ask such of her,
Yet none could have noted in her
Aught that a lady should not offer,
Though she'd not seen me before,
By granting me her love and law.
And, my sweet and lovely lady,
Tis surely no great villainy
If I should dare, eschewing dross,
To speak what is, and spare the gloss.
To do otherwise, you understand,
Were to disobey her command;
If she is pleased, I must agree,
To perform her wishes, utterly.
The End of Part I of 'Le Livre dou Voir Dit'
---