Chrétien de Troyes
The Arthurian Romances
Illustrated with selected works.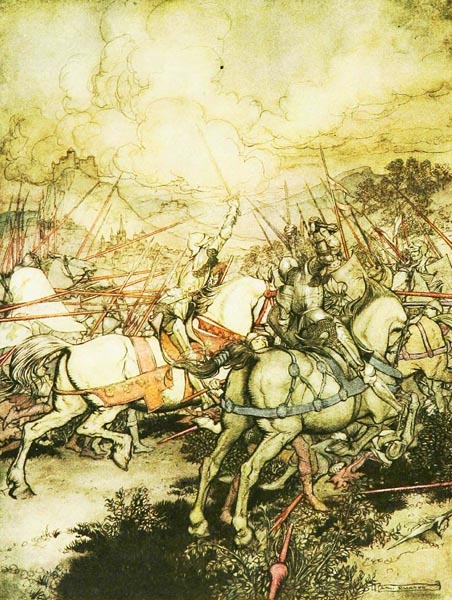 The Romance of King Arthur and his Knights of the Round Table (p15, 1917)
Sir Thomas Malory (15th cent), Alfred William Pollard (1859-1944), Arthur Rackham (1867-1939)
Internet Archive Book Images
---
The first Arthurian romance by Chrétien de Troyes, written 1160-1164.
The second Arthurian romance by Chrétien de Troyes, written after Érec and Énide c. 1176.
An Arthurian romance by Chrétien de Troyes written c. 1180 simultaneously with Lancelot, the Knight of the Cart.
An Arthurian romance by Chrétien de Troyes written c. 1180 simultaneously with Yvain (Or The Knight of the Lion).
The unfinished fifth Arthurian romance of Chrétien de Troyes
About These Works
Chrétien de Troyes' Arthurian Romances, written in the late 12th-century, provide a vital link between the Classical Roman poets, Ovid in particular, and the later medieval world of Dante and Chaucer. The five major verse tales, namely Érec and Énide (c1170), Cligès (c1176), Yvain or the Knight of the Lion (before 1181) Lancelot or the Knight of the Cart (before 1181), and Perceval (before 1190), introduce motifs and plot elements that recur frequently in later literature. Well-structured, lively, and witty the tales were written for a sophisticated courtly audience, and the five stories considered together gave expression to the reality and the deeper ideals of French chivalry. Chrétien appears to have used themes culled from French and British sources, while characters such as Lancelot, and features such as the Holy Grail appear for the first time in European literature in his work. Here translated in rhyming couplets to mirror the original, rather than in unrepresentative prose, is a fresh treatment of one of France's and Europe's major poets.
---
About the Author
Chrétien, likely a native of Troyes in north-eastern France, served at the court of his patroness, Marie of France, Countess of Champagne and daughter of Eleanor of Aquitaine, between 1160 and 1172. Hers was a literate court, and she herself knowledgeable in Latin as well as French texts, and Chrétien used the legendary court of King Arthur as an analogue for the French and Angevin courts of his own day. Marie's mother Eleanor became Queen of England, in 1154, as the spouse of Henry II, following annulment of her marriage to Louis VII of France, thus Chrétien was able to blend French and British traditions in his works. Between 1170 and 1190, Chrétien, writing in fluent octosyllabic couplets, developed and transformed the narrative verse tradition, and laid the foundations for the plot-driven prose narratives of later times..
---
Translated by A. S. Kline © Copyright 2018 All Rights Reserved
This work may be freely reproduced, stored and transmitted, electronically or otherwise, for any non-commercial purpose. Conditions and Exceptions apply.