Racine
Berenice: Act I
Translated by A. S. Kline © Copyright 2018 All Rights Reserved
This work may be freely reproduced, stored and transmitted, electronically or otherwise, for any non-commercial purpose. Conditions and Exceptions apply.
---
Contents
---
Characters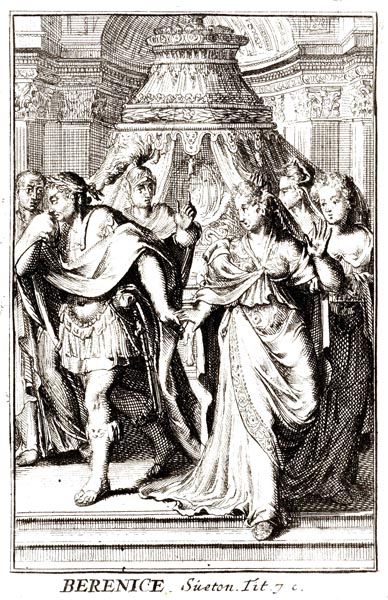 'Farewell between Berenice and Titus'
Adriaen Schoonebeek, 1694, The Rijksmuseum
Titus Emperor of Rome.
Berenice Queen of Palestine.
Antiochus King of Commagene.
Paulinus a close friend of Titus.
Arsaces a close friend of Antiochus.
Phenice a confidante of Berenice.
Rutilius a Roman.
Followers of Titus
---
Act I Scene I (Antiochus, Arsaces)
The scene is in Rome, in a small chamber between Titus' apartments and those of Berenice.
Arsaces Stay now, Antiochus, I realise
the palace here is new to your eyes.
Often, this chamber, proud and solitary,
proves of Titus' secrets the repository.
Here he sometimes hides himself from court,
seeking to tell the queen his loving thought.
To his apartment this doorway leads,
the other towards the queen's proceeds.
Go to her; beg her not to take offence
should I request a private audience.
Arsaces Offence my lord, you, a friend so loyal
to her interests, so assiduously thoughtful?
You, the Antiochus, her lover once,
whom the East counts among its royal sons?
Does her being Titus' intended queen
establish such a distance then, between?
Antiochus Go, then; make this matter your sole care
ask if I might speak with her alone there.
Exit Arsaces.
---
Act I Scene II (Antiochus)
Antiochus Oh, Antiochus, forever the same man, who
cannot without trembling say 'I love you'?
Why, I tremble already, and my heart afire
now fears the moment it so long desired.
Berenice, before, robbed me of all sense,
and imposed on me this lasting silence.
I have been mute for five years, till now,
hiding my love behind friendship's vow.
Will she be kinder here than in Palestine
now Titus grants her rank above mine?
He marries her. Is this the moment then,
to approach her, to speak my love again?
What good can come of so bold a plea?
Since I must go, let me go, not displease.
I'll leave, depart, and far from every eye,
relinquish her gaze there; forget, or die.
Pause.
Must I suffer forever a torment she ignores?
Shed tears forever that the heart devours?
What, dread her anger even in losing her?
Fair queen, why should you show displeasure?
Do I come asking you to relinquish power?
To love me? Alas, I come to you at this hour
to say that, after long hoping that my rival
would chance to meet some fatal obstacle
to his marriage, nonetheless it must now be,
and prove a sad example of long constancy.
After five years of hope and love unrequited,
I go, still faithful, yet with all hope blighted.
Rather than feeling anger she should pity me.
Let me speak with her: enough of misery.
What can a lover, all hope lost, still fear,
being resolved now never to see her near?
---
Act I Scene III (Antiochus, Arsaces)
Antiochus Arsaces, may I enter?
Arsaces I have seen the queen;
though now with difficulty can she be seen,
pierced the fresh waves of admirers round her,
drawn to her side by her imminent grandeur.
Titus, after eight hours of austere mourning
for Vespasian his father, forgoes his grieving,
and the lover now returns to love's concerns,
for if we credit, lord, what the court discerns,
tonight the happy Berenice we may address
by the title not of queen but that of empress.
Antiochus Alas!
Arsaces What? How can this news trouble you?
Antiochus So I cannot speak with her alone, is that true?
Arsaces You will see her, lord: to Berenice it's known
that you wish to see her, here, and quite alone.
The queen deigned to inform me with a glance
that she agrees to the request that you advance.
And doubtless she waits for a favourable hour,
to escape the eyes of those who press about her.
Antiochus Let that suffice. And have you forgot no part
of those other commands so dear to my heart?
Arsaces Lord, you know how prompt my obedience.
At Ostia are vessels, armed with diligence,
and ready in an instant to quit the harbour,
their departure only waiting on your order.
But who will you send to Commagene?
Antiochus Arsaces, I wait till I have seen the queen.
Arsaces Who, then?
Antiochus I.
Arsaces You?
Antiochus On my departure,
Arsaces, I leave Rome, and I leave forever.
Arsaces I am surprised indeed, and with justice.
What? After waiting on Queen Berenice
so long, my lord, far from your own land,
for three years in Rome, close and at hand;
now, when that queen, assured of conquest,
expects you to witness, as a wedding guest,
how the amorous Titus, by marrying anew,
prepares a glorious light that reflects on you…
Antiochus Arsaces, leave her to enjoy her good fortune,
and cease from sounding an annoying tune.
Arsaces I hear, my lord; a new-found dignity, no less,
renders the queen disdainful of your kindness.
Enmity succeeds to a friendship now betrayed.
Antiochus No, I have never hated her less than today.
Arsaces What then? Has the emperor anticipating new
heights of greatness now cooled towards you?
Does some presentiment of fresh indifference
drive you far from Rome, to evade his presence?
Antiochus Titus has never proved himself cold towards me,
I would be wrong to complain.
Arsaces Then, why flee?
What caprice renders you your own worst enemy?
Heaven raises to the throne one who, formerly,
has witnessed how you fight, loves you beside,
has seen you pursue death or glory at his side,
he whose valour, seconded by your aid there,
despatched beneath the yoke rebellious Judea.
He remembers the illustrious and painful day
which saw the end of a siege so long in play.
The enemy quiet, behind their triple rampart,
free of danger, smiling at our ineffectual art,
our powerless assaults menacing them in vain,
you alone, lord, you, approaching yet again,
bringing death among them, scaling the wall,
near brought upon yourself your own funeral:
Titus embraced you, supported on my arm,
and the winning side grieved for your harm.
Now is the time, my lord, you should await
reward for all the blood we saw shed of late.
Should you desire to visit your lands again,
wearied by living where you cannot reign,
must the Euphrates see you lacking honour?
Wait till Caesar sends you there once more,
triumphant, with all the imperial blessings,
that witness Roman friendship among kings.
Can nothing, my lord, alter your intention?
You'll not reply?
Antiochus What would you have me say then?
I wait on Berenice, the moment she shall assign.
Arsaces What then, my lord?
Antiochus Her fate will determine mine.
Arsaces But how?
Antiochus I wait for what her marriage teaches.
If her heart then accords with her public speeches,
if it is true she is raised to the throne of Caesar,
if Titus has spoken, weds her, I must leave her.
Arsaces But what renders this marriage sad to you, at best?
Antiochus When we are gone I'll acquaint you with the rest.
Arsaces What troubles, lord, for the spirit, must ensue?
Antiochus The queen! Farewell; do all I have asked of you.
---
Act I Scene IV (Berenice, Antiochus, Phenice)
Berenice At last I may escape the importunate attentions
of this crowd of friends good fortune fashions;
weary of those shows of affection on their part,
seeking a friend who might speak from the heart.
One should not pretend: a justified impatience,
accuses you of some degree of sad negligence.
What! That Antiochus, I say, whose kindness
claimed all Rome, and the Orient, for witness;
he whom I saw always, to me a constant boon,
following with calm tread my varying fortune;
today when the heavens above seem to portend
an honour I seek to share with you, my friend;
that same Antiochus, hides himself from view
leaves me to the mercy of the strange and new?
Antiochus Is it true, then, Madame? As rumour has it,
marriage will follow on this long courtship?
Berenice Sir, I would confide in you my past fears.
For days my eyes have been bathed in tears.
The mourning Titus imposed on the court
set love aside even in private and, in short,
he no longer had for me the burning ardour
of the days he spent with me, ever the lover.
Silent now, full of care, the tears in his eyes,
nothing was left for me but sad goodbyes.
Judge of my grief, whose ardour, so extreme,
I told you often, loved only himself in him,
I who, far from the honours he now accrues
would still choose his heart, seek his virtues.
Antiochus Has he found again that first tenderness?
Berenice Of last night's actions you too were witness,
when the Senate endorsed his religious vow,
setting his father with the gods, deified now.
His piety, content with this due devotion,
gives room to his love, and its emotion.
And at this very time, without telling me,
he addresses the Senate in full assembly.
There he swells the borders of Palestine,
there Syria and Arabia he joins to mine.
And if I believe the voices of his friends,
with the promises he frequently extends,
he will crown, as queen of all, Berenice
to add to her many titles that of empress.
He is coming to bring the news himself.
Antiochus Then I am come to wish you a last farewell.
Berenice What do you say? Farewell? What language!
Prince you are troubled; your altered visage!
Antiochus Madame, I must leave.
Berenice What? May I not know
the reason…
Antiochus (aside) You must not see her again; go.
Berenice Afraid? Yet you have said too much for silence.
What mystery lies behind this diffidence?
Antiochus Merely remember that your command is mine,
that you are listening to me for one last time.
If, to the heights of power and glory raised,
you recall the scenes of your childhood days,
Madame, you will remember there my heart
received from your eyes that first fatal dart.
I loved. I won the aid of Agrippa your father.
He spoke of me to you. And, without anger
it may be, you knew the tribute of my sighs.
Titus, sadly for me, came, pleased your eyes.
For there before you in his splendour stands
one bearing Rome's vengeance in his hands.
Judea grows pale. Sad Antiochus must retreat,
counting himself first of those to know defeat.
And then, the harsh interpreters of my pain,
your lips my own lips' silence did ordain.
Long I contended. My eyes spoke for me.
My sighs and tears pursued you endlessly.
At last your very virtue swayed the balance,
you would impose on me exile or silence,
I must promise, and even swear the same.
But since, at the moment, I dared your name;
when you tore from me that unjust promise
my heart still swore to love you nonetheless.
Berenice Ah! What are you saying?
Antiochus Five years of silence,
Madame, and towards deeper silence I advance.
I accompanied my fortunate rival to the wars;
I hoped to shed blood, not tears, in his cause,
or, at least, my name, borne by a thousand deeds,
might reach your ears, though my voice recedes.
Heaven seemed to promise an end to my pain.
You'd weep my death, alas, but all proved vain.
Those were idle dangers! How great my error!
My rashness was surpassed by Titus' valour.
His courage must answer to my every feat.
Though attentive to the empire, so complete,
the darling of the universe, now loved by you,
he seemed to bring all danger on himself too;
while, without hope, despised, weary of life,
his unhappy rival proved second in that strife.
I see your heart now applauds me in secret.
I see, given this, I am heard with less regret.
And that attentive to this tale, sorry at best,
in Titus' honour, you will forgive the rest.
At last, after that siege both long and fierce,
did he not tame those rebels pale and worse,
worn by flame, and hunger, and inner fury?
And leaving those ramparts ruined, buried,
you arrived with him, Madame, in Rome.
How sad the Eastern desert now my home!
I remained a while wandering, by Caesarea,
a happy place, where I once knew you near.
I asked after you in all your unhappy going;
I sought, in tears, the traces of your passing.
And then, succumbing to my melancholy,
despair turned my sad steps towards Italy.
Fate saw the last of her injuries now ensue,
Titus, embracing me, led me here to you.
A veil of friendship deceived both, I saw,
my love became the confidante to yours.
Yet always hope came to ease my pain:
your sighs traversed Rome, Vespasian;
after so many combats Titus might falter.
Vespasian is dead, and Titus the master.
What is there not to flee? I may now aspire
only to view the course of his new empire.
My fate's accomplished. Your glory's near.
Others, not I, as witnesses shall appear,
to add their happiness to yours, instead;
as for me, who have only tears to shed,
the faithful victim of unrequited love,
unhappy, yet happily without reproof,
able to meet those eyes that made me so,
more in love than ever I have been, I go.
Berenice Sir, I cannot believe that on this day, here,
that must unite my fate to that of Caesar,
any mortal could, and with such impunity,
declare himself to be in love with me.
But silence is my witness we are friends,
I will forget, for its sake, your offence.
I'll not deem myself insulted by your views,
I do more: with regret I accept your adieus.
Heaven knows, given the honours I accept,
I waited on you to witness my happiness.
I honour your virtues, as do the rest of us;
Titus cherishes you, as you admire Titus.
A hundred times sweet it is to discover
this likeness to Titus' virtues in another.
Antiochus And that is what I flee. I escape, too late,
these cruel meetings where I yet hesitate.
I flee Titus. I flee the sound of my defeat,
his name, your lips each moment repeat.
What shall I say? Those eyes too, I flee,
that viewing me always never look at me.
Adieu. I go, heart filled with your dear image,
to await, in loving you, the death envisaged.
Above all, fear not, lest some blind madness
fill the world with news of my unhappiness:
I seek in the news of my death one sole gift,
that it bring you the memory that I yet lived.
Adieu.
---
Act I Scene V (

Berenice, Phenice)

Phenice How I pity him. Such fidelity,

Madame, should merit a greater prosperity.

Do you not pity him?

Berenice Such prompt retreat

leaves, I must avow, its hidden well of grief.

Phenice I would detain him.

Berenice What, be my own enemy?

I should rather erase every lingering memory.

You'd have me encourage a senseless ardour?

Phenice Titus has not yet displayed his intent further.

Rome views you, Madame, with jealous eyes.

The harshness of its laws: all that so terrifies.

To marry a Roman, then Roman you must be;

Rome hates all kings, and Berenice is royalty.

Berenice There is no longer time to hesitate, Phenice.

Titus loves me; all is his, he has but to speak:

he will see that the Senate pays me homage,

and the people with flowers crown his image.

Can you not still see that night of splendour?

Are not his eyes alight with his own grandeur?

The torches, fires, the night aflame about me,

the eagles, lamps, the people, the great army,

the host of kings, consuls, senators, no less,

who all from my love acquire their brightness:

that gold, that purple, all that adorns his glory,

those laurels yet bearing witness to victory;

all those eyes gathered here from every place,

their avid gaze focussed now on his sole face;

that majestic stride, and that gentle presence…

Heavens! With what respect and subservience

every heart in secret assured him of its loyalty!

Say: could you see him and not be one with me,

in thinking that, whatever rank saw his birth,

on seeing him, all knew their master on earth?

But, Phenice, what of that charming memory,

when the whole of Rome, this hour, we see,

sends up prayers for Titus, and with sacrifice

celebrates this new beginning, in its delight.

Why do we linger? Let us offer vows, again,

to the heavens above us, for his happy reign.

And at once, not waiting and not waited for,

I'll return to seek him, and in our discourse,

say all that, in hearts content with each other,

a love inspires, events conspired to smother.

End of Act I
---