Racine
Andromache
Translated by A. S. Kline © Copyright 2007 All Rights Reserved
This work may be freely reproduced, stored and transmitted, electronically or otherwise, for any non-commercial purpose. Conditions and Exceptions apply.
---
Contents
---
Characters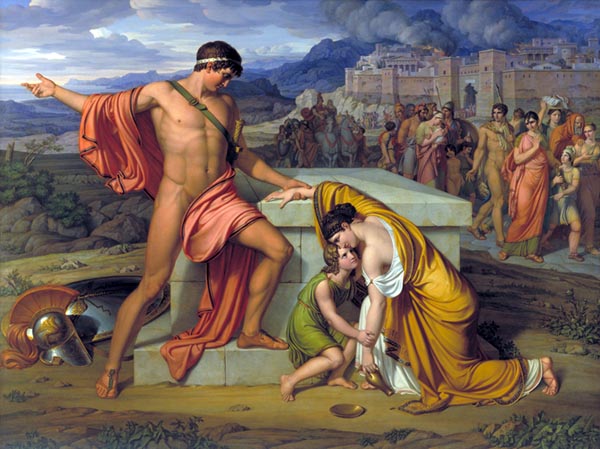 'Pyrrhus and Andromache at Hector's Tomb'
J. L. Lund (Danish, 1777 - 1867), Statens Museum for Kunst
Pyrrhus son of Achilles, King of Epirus.
Orestes son of Agamemnon.
Pylades friend to Orestes.
Andromache widow of Hector, prize of Pyrrhus after the sack of Troy.
Hermione daughter of Helen and Menelaus, betrothed to Pyrrhus.
Cleone confidante to Hermione.
Cephisa confidante to Andromache.
Phoenix commander-in-chief and advisor to Pyrrhus.
---
Act I Scene I

(Orestes, Pylades)

The scene is Buthrotes, a town on the coast of Epirus, in a room within Pyrrhus' palace.

Orestes Now, since I find my loyal friend once more

My fortune will be set on some fresh course;

Already its very path appears milder,

Since it ensured we meet here together.

Who'd have thought shores fatal to my days

Would reveal Pylades to Orestes' gaze?

That after six months, with you lost to me,

At Pyrrhus court you'd be returned to me?

Pylades I give thanks to Heaven, whose stormy seas

Seemed to have closed for me the route to Greece,

Since that fatal day when roaring waters

Severed our fleet, in sight of Epirus.

In that parting what despair I suffered!

What tears I shed at the ills that gathered,

Fearing some new danger for you there,

One my saddened friendship could not share!

I dreaded above all that melancholy

That shrouded your spirit so entirely.

I feared lest Heaven, with a cruel hand

Might offer you the death you'd sought so long.

But here you are, my Lord; I dare say, thus,

That happier fate brought you to Epirus,

The pomp that here follows in your footsteps

Not that of some poor wretch who looks for death.

Orestes Alas, who knows what future leads me on?

Love made me seek her, the unkindest one.

But who knows what it orders for my fate,

And whether life or death to contemplate?

Pylades What! Your soul accepts love's slavery

Relying on that to set your being free?

By what spell, forgetful of your suffering,

Could you endeavour to revive this thing?

Will Hermione, in Sparta so inexorable,

Offer in Epirus a fate more favourable?

Your disregarded vows a source of shame,

You abhorred her; would not speak her name.

You deceived me, my lord.

Orestes I deceived myself.

Friend, do not crush this wretch, your second self.

Have I concealed my heart and my desires?

You saw my passion born, and its first fires.

When Menelaus bestowed his daughter

In Pyrrhus' favour, as family avenger,

You saw my despair; and you've seen me

Drag from sea to sea my chains, ennui.

In that sad state, I found you, no less,

Set to follow the miserable Orestes,

Always to calm the course of my rage,

Preserve to me the balance of my days.

When I recalled, amidst all our alarms,

How Hermione offered Pyrrhus her charms,

You know what anger in my heart was born:

I wished, in forgetting, to repay her scorn.

I thought to do so, thought my victory safe;

I took my transports for the pangs of hate;

Belittling her charms, loathing her disdain,

I defied her thus to trouble me again,

So, crushing tenderness, achieving peace,

Pure self-deception, I arrived in Greece,

To find our princes all assembled there

And some dark danger troubling the air.

I joined them, thinking fierce war and glory

Would prove more material to my story;

That, my mind regaining its old vigour,

Love would vanish from my heart the quicker.

But admire the machinations of fate

That returns me to the net I would escape.

I hear on every side they threaten Pyrrhus;

Greece echoes with confused murmurs;

They say, forgetting birth and loyalty,

He takes to heart an enemy of Greece,

Astyanax, Hector's wretched offspring,

The last of Troy's line of buried kings.

I hear, to stop her infant being seized,

Andromache tricked the wily Ulysses,

Another child, at Troy, snatched from her arm,

Taken for her son, thus came to harm.

Oblivious to Hermione the fair,

My rival hawks his heart and crown elsewhere.

Menelaus, not crediting it, complains

Of marriage long-delayed for all his pains.

Amongst these irritations to his soul,

In mine a secret joy arises whole.

I triumphed; priding myself above all

Vengeance alone answered to the call.

Yet my ungrateful heart soon rebelled,

There I found traces of the love I quelled.

I felt my hatred then had run its course,

Or rather that my love returned in force.

And so from every Greek I sought their vote.

They sent me to Pyrrhus, I agreed to go.

I come to discover if he'll now release

This child whose presence so alarms Greece.

Happier for me if I, in love's duress,

Win not Astyanax but my princess!

Do not expect that passions so renewed

By greatest perils could be now subdued.

Resistance proves vain, and all see plainly,

Blindly I follow now the fate that claims me.

I love; I seek Hermione on this coast,

To sway her, carry her off, or be lost.

You know Pyrrhus: how does he act to her?

His court, his heart: tell me what passes here.

Is Hermione still enthralled, Pylades?

Will he return what he has reft from me?

Pylades I would deceive you, if I dared suggest

He'd place her in your hands: mere foolishness:

Not that he seems enamoured of his conquest;

His passion's stirred for Hector's widow: yes,

He loves her.

But that harsh widow, of late,

Merely repays his love for her with hate;

And every day he's seen to try her:

To sway his captive, or to terrify her.

He threatens her son's life, whom he hides,

And makes those tears flow, that he dries.

Hermione has known, a hundred times,

This angry lover thus renounce his crimes,

Of his troubled vows bringing her homage,

At her feet sighing, less from love than rage.

So don't anticipate some sign of health

From a mind so little master of itself.

In his wild disorder he may be moved

To wed where he hates, punish where he loves.

Orestes Tell me then how does Hermione see

This wayward lover, hostile to her beauty?

Pylades Hermione, at least apparently,

Seems to scorn her love's inconstancy,

Yet thinks, pleased to mitigate his harshness,

He'll seek yet to regain her tenderness.

But her tears I've seen revealed to me:

She mourns his scorn for her, secretly.

Prepared to go away, yet still she stays,

Sometimes calling Orestes to her aid.

Orestes Oh, if I thought so, I'd go, Pylades

And throw...

Pylades Complete, my lord, your embassy.

You'll see the king. Speak and tell the man

How all Greece speaks against Hector's son.

Far from yielding this child of his mistress,

Their hatred will inflame his tenderness.

The more you seek to part them, then the more

They'll unite: ask all, gain naught, implore.

He comes.

Orestes Well, go then! And that cruel one prepare

To see this lover, only here for her.
---
Act I Scene II

(Pyrrhus, Orestes, Phoenix)

Orestes All the Greeks speak to you through my voice,

Suffer me here to take pride in their choice,

And show before you, Sire, my proper joy

Seeing Achilles' son, victor at Troy.

Yes, we admired his exploits as your blows.

Hector fell to him, Troy to you bowed low;

And you proved, fortune showing you her face,

That Achilles' only son could take his place.

But Greece, in sadness now, sees you sparing,

As he would not have, Troy's hated offspring,

And sees you, touched by a fatal pity,

Shielding the remnants of that warlike city.

Have you forgot, Sire, who that Hector was?

Our race bereaved can still recall its loss.

His name makes widows, and our daughters weep;

There's not a family in the whole of Greece

That does not seek revenge on that boy

For some man that Hector killed at Troy.

Who knows what he'll undertake some day?

Perhaps we'll see him disembark, I say,

To burn, as his father did, our fleet,

Torch in hand, chase it through the deep.

Do I dare tell you, Sire, what I think?

Fear reprisal now for what you're doing,

Lest the snake you harbour at your breast

Punishes you one day for your caress.

Placate the Greeks, Sire, and avoid all strife,

Protect yourself from vengeance, save your life;

Destroy a foe, dangerous in the extreme,

Who'll test on you the means of fighting them.

Pyrrhus Greece seems troubled by my undertakings.

I thought she cared for more important things,

And with you here as her ambassador,

Believed her plans might show more grandeur.

Who'd have thought, in such a humble scene,

Agamemnon's son is the go-between;

That a whole race, so often triumphant,

Works towards the death of one infant?

But to whom should I make sacrifice?

Has Greece the rights still over his life?

And alone of Greeks is it denied me

To dispose of a captive fate gave me?

Yes, my lord, beneath Troy's burning walls

The blood-stained victors shared their spoils,

And Fate, whose judgement men followed then,

Brought to my hands Andromache and her son.

Hecuba fell to Ulysses' share;

Cassandra followed your father there:

Have I claimed the right to their captives?

Sought to deny the fruits of their exploits?

You fear Hector and Troy again will rise,

His son slay me for granting him his life.

Such caution's called mere anxiety,

I see no such possibility.

I see it of another age, that place:

Its mighty ramparts, its heroic race,

Mistress of Asia; and I reflect

On Troy's fate, and what we might expect.

I see towers: cloaked in ash they stand,

A river stained with blood, an empty land,

A child among the flames; what is the chance,

That Troy in such a state aspires to vengeance?

Ah! If the death of Hector's son was planned,

Why wait a year to put the thing in hand?

Could you not burn him there at Priam's breast?

He should have died at Troy with all the rest.

All was approved of then: age, infancy

Made weakness their defence, but uselessly.

Victory, night, still crueller than we foes,

Urged us to murder, and confused our blows.

My wrath among the vanquished was severe.

But why should cruelty survive it here?

Why, despite pity welling, as it should,

Must I at will bathe in an infant's blood?

No sir. Let Greece seek another prize;

Let it seek elsewhere what Troy denies.

The course of all my enmity is run;

Epirus will save him, as Troy has done.

Orestes Sire, you well know with what deceit

A false Astyanax was sent to meet

The death that awaited Hector's son;

Hector they pursue not every Trojan.

Yes, Greeks hunt the son for the father;

With too much blood they bought their anger.

With that alone it will not be erased;

It will draw them to Epirus some day;

You can stop them.

Pyrrhus I'd welcome them with joy:

Let them, in Epirus, seek a second Troy;

Let them entangle hatreds, not distinguish

The conqueror from those they'd punish.

It will not be the first act of injustice

With which Greece paid Achilles for his service.

Hector profited, my lord; some day

His son may profit in the selfsame way.

Orestes So, in you Greece finds a rebel ever?

Pyrrhus Did I win to be dependent on her?

Orestes Hermione, Sire, will arrest your blows:

Between you and her father, interpose.

Pyrrhus Hermione, my lord, is much the dearer

For my not playing slave to her father;

And perhaps some day I'll harmonise

The needs of love and grandeur in her eyes.

Yet you may go, visit Helen's daughter:

I know how close you are to each other.

Then, my lord, I'll no longer keep you,

Go: tell the Greeks how I've refused you.
---
Act I Scene III

(Pyrrhus, Phoenix)

Phoenix So you've sent him off to see his mistress?

Pyrrhus They say he is enamoured of the princess.

Phoenix And what if that flame should re-kindle, Sire?

If he pays court, if he makes love to her?

Pyrrhus Ah! Let them love, Phoenix. And, let her go.

Let them, entranced, return to Sparta so.

Our ports are open, they're at liberty.

From her constraint and boredom set me free!

Phoenix Sire...

Pyrrhus I'll share my heart with you another time:

Andromache is here.
---
Act I Scene IV

(Pyrrhus, Andromache, Cephisa)

Pyrrhus Do you seek me, Madame?

Is so sweet a hope permitted me?

Andromache I go where my captive son waits for me.

Since, once a day, you let me see my boy,

All that remains of Hector and of Troy,

I go now, Sire, to weep awhile with him:

I have not yet been today to visit him.

Pyrrhus Ah! Madame, if all proves as it appears,

The Greeks will give you fresh cause for tears.

Andromache What is this fear their hearts are gripped by, Sire?

Has some Trojan escaped their funeral pyre?

Pyrrhus Their hatred for Hector is not yet dead:

They fear his son!

Andromache Fit object of their dread!

A wretched child, who barely understands

He's Hector's son, Pyrrhus his guardian.

Pyrrhus Such as he is, the Greeks demand his life.

Agamemnon's son hastens on the knife.

Andromache And you'll accept so cruel a request?

Shall what I am condemn the guiltless?

They cannot fear he'll avenge his father;

They fear he'll dry the tears of a mother.

He might seem father, husband, yet to me;

But I lose all, and always by your deed.

Pyrrhus Madame, my refusal forestalls your tears.

The Greeks may yet threaten me for years;

But, should they still, taking to the sea

With a thousand ships, ask him of me,

Though it cost what Helen caused to flow,

My palace burning in ten years or so,

I shall not waver: I'll be his defence;

I'll guard his life at my life's expense.

Now, with the risks I run for your pleasure,

Will you view me in less hostile measure?

Greek hatred presses on me from all sides,

Must I contest your cruelties besides?

I offer my sword. May I hope for more,

That you'll accept a heart that must adore?

Upholding your cause, will you permit me

To see you no longer as an enemy?

Andromache Sire, what now? What will Greece make of this?

Shall so great a heart show fatal weakness?

Do you wish words, so fine and generous,

To seem the whim of one grown amorous?

Sad captive, irksome to myself I prove,

Do you now wish Andromache to love?

What charms for you can doomed eyes show,

That you've condemned to endless tears below?

No, no, respect your enemy's pain rather,

Ease my troubles: give my son his mother,

Fight the wars, a hundred tribes may start,

Without my paying for it with my heart,

Despite me, thus grant refuge to misfortune:

That would be worthy of Achilles' son.

Pyrrhus What! Has your anger not yet run its course?

Will you hate forever, with eternal force?

I have done evil, doubtless; Phrygia

Saw my hands bathe in Trojan blood before.

But the power with which your eyes sway me,

For the tears they shed, makes me pay dearly!

With how much remorse are they repaid?

I suffer the ills I dealt at Troy, I say:

Vanquished and in chains, regret consumes me,

Burned by more fires than I lit around me,

Such cares, such tears, such unquiet ardour...

Alas! Was I ever as cruel as you are?

Yet enough of this mutual persecution;

Our common foes suggest our fusion.

Madame, tell me I may hope further,

I'll give you your boy, act as his father;

I'll teach him myself to avenge the Trojans;

Punish the Greeks for your ills and my own.

Fired by a look, I'll undertake it all:

Ilium will rise again from its fall;

More swiftly than the Greeks brought them down,

Within its risen walls your son I'll crown.

Andromache Sire, we are scarcely moved by such grandeur:

It would be to promise what killed his father.

No, you may not hope to receive us more,

Sacred Walls that failed to guard my Hector.

Misfortune only seeks the smallest favours,

Sire: I ask only exile with my tears.

Far from Greeks, and far from you, allow

Me to hide my son, mourn my husband now.

Your love means hatred for us in the end:

Return, return to the daughter of Helen.

Pyrrhus How, Madame? Ah, how you trouble me!

How grant her the heart that you stole from me?

I know my vows promised her an empire;

I know it was to reign she travelled here;

Fate brought you both, your destinies the same:

She to impose, and you to bear, the chains.

Yet have I cared in any way to please her?

Would you not declare, in seeing rather

Your charms in power and hers disdained,

That she was captive here, and that you reigned?

Oh! Let one of the sighs my heart sends you,

Flying towards her, bring her rapture too!

Andromache And why should she fend your sighs away?

Does she forget the services you gave?

Do Troy, or Hector turn her heart against you?

To a husband's grave does she pay tribute?

And such a man! Ah, Memory, so cruel!

His death has made your father immortal.

He'll owe dead Hector fame, down the years,

You'll both be known only by my tears.

Pyrrhus Well, lady, well, it seems I must obey:

I must forget you, or must rather hate.

Too long I've shown you love's violence

To lapse into a dull indifference.

Consider well: from now on, my heart,

If it must not love, must take hate's part.

I'll spare nothing in my righteous anger;

The son pays for the scorn of the mother;

Greece demands him; I'll not undertake

To waste my glory saving an ingrate.

Andromache Alas! He'll die then. With no more defence

That a mother's tears and his innocence.

And perhaps after all, in my misery,

His death will hasten on the end for me.

I prolonged my life for him, but there,

Following him, I'll go see his father.

Thus all three, by you Sire, reconciled,

We'll thank you...

Pyrrhus Go, Madame, go see your child.

Perhaps, on seeing him, your love, more wise,

Will cease to take mere anger for your guide.

To learn our future I will find you there.

Madame, embrace him and so learn to care.

End of Act I
---