Beowulf
Translated from the Old English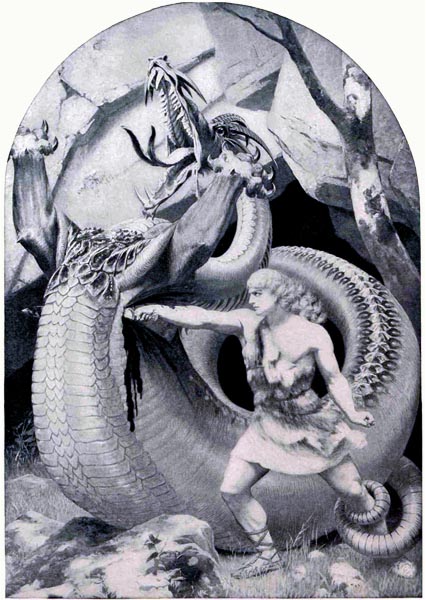 'Siegfried slaying the dragon'
Great men and famous women (p62, 1894), Horne, Charles F. (Charles Francis), 1870-1942
Internet Archive Book Images
---
Browse below:
Part I Prologue and Sections: I-IV Lines 1-319
Part II Sections: V-IX Lines 320-661
Part III Sections: X-XV Lines 662-1049
Part IV Sections: XVI-XX Lines 1050-1382
Part V Sections: XXI-XXVI Lines 1383-1816
Part VI Sections: XXVII-XXXI Lines 1817-2220
Part VII Sections: XXXII-XXXV Lines 2221-2601
Part VIII Sections: XXXVI-XXXVIII Lines 2602-2820
Part IX Sections: XXXIX-XLIII Lines 2821-3182
---
Translated by A. S. Kline © Copyright 2012, All Rights Reserved.
This work MAY be FREELY reproduced, stored and transmitted, electronically or otherwise, for any non-commercial purpose. Conditions and Exceptions apply.
---
Last Modified 8th April 2012