François de Chateaubriand
Mémoires d'Outre-Tombe
Translated by A. S. Kline
A Complete English Translation of the Memoirs, with a hyper-linked in-depth index and
selected illustrations of the people, places and events of Chateaubriand's life.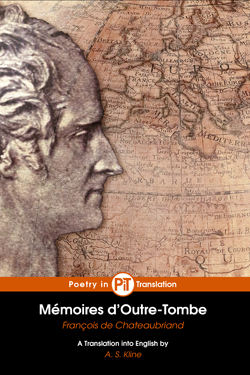 I shall go to him, but he shall not return to me.
---
Contents:
Book I Childhood 1768-1777
Book II Boyhood 1777-1784
Book III Adolescence, Combourg 1784-1786
Book IV Regiment, Court, Paris 1786-1789
Book V Revolution 1789-1791
Book VI To America 1791
Book VII Travels in New York State 1791
Book VIII Kentucky, Virginia, Return to France 1791-1792
Book IX With the Army of the Princes 1792
Book X Exile in England 1793-1797
Book XI First Literary Works 1798-1799
Book XII England, and Return to France 1799-1800
Book XIII Literary Fame 1800-1803
Book XIV Travels in the Midi, Napoleon, Rome 1802-1803
Book XV The Death of Madame de Beaumont, Rome 1803-1804
Book XVI The Execution of the Duc d'Enghien 1804
Book XVII Travels in the Auvergne, The Death of Lucile 1804-1805
Book XVIII The Levant, Armand, Les Martyrs 1806-1814
Book XIX Napoleon: Early Life, Italy, Egypt, 18th Brumaire: to 1800
Book XX Napoleon: Italy, Germany, Spain, The Papal States: to 1812
Book XXI Napoleon: Russia - Invasion and Retreat: to 1813
Book XXII Napoleon - Defeat and Exile: to 1815
Book XXIII Napoleon - The Hundred Days: 1815
Book XXIV Napoleon - St Helena: 1815-1821
Book XXV The Second Restoration: 1815-1820
Book XXVI The Berlin Embassy: 1821
Book XXVII The London Embassy: 1822
Book XXVIII Political Power: 1823-1828
Book XXIX Madame Récamier, Rome 1828-1829
Book XXX The Conclave, The Rome Embassy 1829
Book XXXI Paris, The Road to Rome, Resignation 1829
Book XXXII The July Revolution 1830
Book XXXIII A Farewell to Office 1830
Book XXXIV Geneva, Paris, Cholera 1831-1832
Book XXXV Arrest, Switzerland, Trial 1832-1833
Book XXXVI Journey to Prague 1833
Book XXXVII Charles X in exile 1833
Book XXXVIII Carlsbad, the Dauphine, Return to Paris 1833
Book XXXIX Venice 1833
Book XL Ferrara, Padua, The Duchesse de Berry 1833
Book XLI Return to Prague 1833
Book XLII Conclusion 1834-1841
---
Index:
A B C D E F G H I J K L M N O P Q R S T U V W X Y Z
---
About This Work
Chateaubriand's Mémoires d'outre-tombe, his Memoirs from Beyond the Grave, is at once sublime literature, brilliant history seen by a fiercely intelligent eye-witness, and a self-portrait of a remarkable and complex man. Chateaubriand is one of that worldly, intellectually-restless literary set, including Goethe and Byron, who may be said to have founded and developed the wider European Romantic movement, granting it social relevance and gaining it an extensive European and North American audience.
Chateaubriand's long life saw him take on the roles of soldier, traveller, literary giant, politician and diplomat. But it is the humane, charming, fallible, private individual who endears himself to the reader in these pages. His many loves and friendships, his admiration for the brilliant women he knew, his warm interpretation of religion, and his conciliatory politics, all add to the vision of a great human being, in the French humanist tradition of Montaigne.
Living through the French Revolution, the Napoleonic Empire, the Bourbon Restoration, and the subsequent July Monarchy, dying during the Revolution of 1848, he was witness to an endlessly dramatic and fiercely contested period of history. His interpretation of that history is as a man of faith and a staunch proponent of constitutional Monarchy, yet with visible Republican sympathies and, for his time, a remarkable lack of bigotry. His autobiography here is a valuable corrective to a dogmatic view of that history often propounded by pro-Republican or pro-Napoleonic writings.
His travels in North America, Europe and the Middle-East also qualify him as the first intellectual 'tourist', and his narrative allows him to demonstrate his wide interest in nature, scenery, the arts, and humanity. The length and resonant complexity of the Memoirs allows us to enter fully into his world, and his literary legacy can be detected in writers such as Baudelaire and Proust, where his feeling for life's transience, the profound echoes of time past, and the moral dimensions of human existence are further developed and extended.
Once encountered Chateaubriand is unforgettable, and the Memoirs deserve much wider literary and historical recognition. They have suffered from an unmerited neglect, due to their extent, and the previous lack of a complete English translation, a lack which is here remedied, the work being further enriched by over six hundred illustrations, and a fully detailed index.
Illustrations have been sourced from the public domain collections of various galleries and books considered public domain in the US due to pre-1923 publication dates. Digital scans of the latter have been released into the public domain by a variety of institutions through the Flickr Commons portal. Identifications and attributions are provided beneath each image. Referenced page numbers refer to positions in the scanned copies of the works, rather than actual page numbers, to facilitate retrieval of source files by interested readers.
About the Author
François-René, Vicomte de Chateaubriand, was born at Saint-Malo in Brittany in 1768. Antipathetic to the French Revolution, he travelled to North America in 1791. Two later works derived from that period, René, and Atala, evidencing the new sensibility, greatly influenced the development of the Romantic Movement in France. On his return to France in 1792 he married, fought for the Bourbon army, was wounded at Thionville, and subsequently lived in exile in England. He returned to France in 1800, and it was a substantial literary defence of Christianity which attracted Napoleon's notice and led to his employment by the Emperor at Rome and in Switzerland. Ultimately however Napoleon's actions led to Chateaubriand's resignation in 1804, after the execution of the Duc d'Enghien.
He travelled widely from 1806, in Europe and the Middle East, and highly critical of Napoleon followed the King into exile in 1815 in Ghent during the Hundred Days. Raised to the peerage at the Restoration, he entered into a complex relationship with the monarchy which led to him supporting the future Charles X. He subsequently served as ambassador to Prussia and the United Kingdom, and was Minister of Foreign affairs from 1822 to 1824.
After the July Revolution of 1830, his refusal to swear the oath of allegiance to Louis-Philippe ended his political career. He continued to work on his Memoirs, and viewed as a member of the political opposition, a great literary figure, and a champion of freedom, was celebrated at the Revolution of 1848, during which period of turmoil he died.
---
Translated by A. S. Kline © Copyright 2005-2007 All Rights Reserved
This work may be freely reproduced, stored and transmitted, electronically or otherwise, for any non-commercial purpose. Conditions and Exceptions apply.
Last Modified 27th August 2015