The Restless Spirit
A Scene by Scene Study of Goethe's Faust
A. S. Kline
With selected illustrations by William Blake (British, 1757 - 1827) courtesy of the Yale Center for British Art.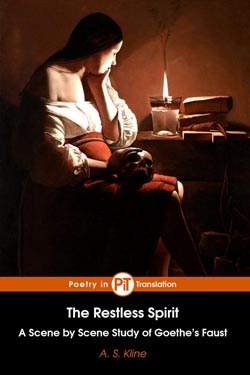 Inferna tetigit possit ut supera assequi:

I touched the depths, to reach the heights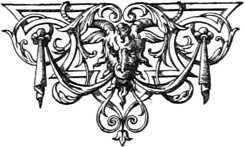 ---
About This Work
The Restless Spirit is a scene by scene commentary on, and a detailed analysis of, Goethe's Faust Parts I and II, which considers the Romantic background of Part I, the move towards Classicism in Part II, and the moral and spiritual issues which Goethe raises throughout the work. In grappling with the complexity of the emerging Romantic Movement with its restless intellectual urge, and later in attempting a resolution of the Romantic situation, Goethe was handling many of the deepest problems of his age, and it is not surprising that he was forced to leave many issues unresolved. The reader who wishes to progress beyond a simple contemplation of the tragedy of Gretchen in Part I is presented here with a detailed discussion of Faust's Romantic beginnings and later progress towards potential fulfilment, through his intricate pact with Mephistopheles and its dramatic outcome. While encouraging a positive view of the richness, poetic validity and complex treatment Goethe provides, this analysis does not shirk the more problematic moral, spiritual and social aspects of Goethe's treatment of the subject, and leaves the reader to make his or her own judgement as to the success with which Goethe justifies Faust's ultimate 'redemption'.
Line number references in the main text correspond to the author's complete translation of Goethe's Faust, Parts I and II. Section headings in the critique are hyper-linked to the relevant portions of the translation.
Johann Wolfgang von Goethe
Johann Wolfgang von Goethe was born in Frankfurt am Main in 1749. In 1774 he published his first major work, the self-revelatory novel The Sorrows of Young Werther, in which he created the prototype of the Romantic hero, and instigated a European fashion. He consequently became a leading figure in the Sturm und Drang movement, which celebrated a Promethean restlessness of spirit as opposed to the rationalism of the Enlightenment. Later, in the service of Duke Karl August at Weimar, Goethe took on a wide variety of social and cultural roles and, with his journey to Italy in 1786-88, turned extensively to Classical art and thought as a means of achieving greater personal balance and perspective. He also developed a range of scientific interests, for example plant biology and the theory of colour. His later literary achievements include the drama of Faust, and a wealth of shorter poems and lyrics embodying his mature philosophy. Goethe died in Weimar in 1832.
---
© Copyright A. S. Kline 2004 All Rights Reserved
This work may be freely reproduced, stored and transmitted, electronically or otherwise, for any non-commercial purpose. Conditions and Exceptions apply.
Last Modified 07 Dec 2004