François-René de Chateaubriand: Atala & René
New, Complete English Translations of Chateaubriand's Atala and René
With selected illustrations by various artists.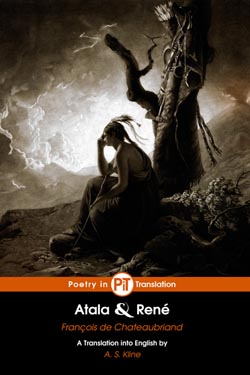 ---
A story of love and religion in the wilds of America, Atala was an appeal to nascent romantic sensibility and Chateaubriand's first fictional best seller
An autumnal classic of French Romanticsim personifying the mal du siècle (world weariness) of the age. The sequel to Atala.
---
About These Works
These two novellas of the early French Romantic Movement Atala and René were first published in 1802 as part of Chateaubriand's Génie du christianisme, (The Spirit of Christianity), though René was in fact an excerpt from a long prose epic the author had composed between 1793 and 1799 called Les Natchez, which would not be published until 1826.
René had an immediate impact comparable to that of Goethe's The Sorrows of Young Werther. Like the German novel, it dealt with a sensitive and passionate young man at odds with contemporary society, and enjoyed such popularity that it was republished separately, with Atala (the tale of the Natchez Indian Chactas' doomed love for the Christian half-caste girl Atala), in 1805.
Neither novella exalts the 'noble savage', instead implying that positive values are more or less synonymous with Christianity and Europeanisation. Nevertheless the 'savages' are treated with such sympathy and respect that Chateaubriand's attitude to the primitive versus the civilised is often misunderstood.
As the title of René hints, there are autobiographical elements in the book, drawing on Chateaubriand's memories of his childhood in Brittany and travels in North America in 1791. Chateaubriand attracted criticism for his use of the 'incest' theme, but René inspired the young, for whom it expressed the mal du siècle experienced by their generation. René's travels through Europe were imitated by Byron in Childe Harold's Pilgrimage both protagonists being restless outsiders with a certain contempt for the banality of the world. Yet in René we also hear the tones of Chateaubriand the profound moralist and natural philosopher, writing in a limpid style which is heard again in all its fullness and beauty in the Mémoires d'outre tombe.
---
About the Author
François-René, Vicomte de Chateaubriand, was born at Saint-Malo in Brittany in 1768. Antipathetic to the French Revolution, he travelled to North America in 1791. Two later works derived from that period, René, and Atala, evidencing the new sensibility, greatly influenced the development of the Romantic Movement in France. On his return to France in 1792 he married, fought for the Bourbon army, was wounded at Thionville, and subsequently lived in exile in England. He returned to France in 1800, and it was a substantial literary defence of Christianity which attracted Napoleon's notice and led to his employment by the Emperor at Rome and in Switzerland. Ultimately however Napoleon's actions led to Chateaubriand's resignation in 1804, after the execution of the Duc d'Enghien.
He travelled widely from 1806, in Europe and the Middle East, and highly critical of Napoleon followed the King into exile in 1815 in Ghent during the Hundred Days. Raised to the peerage at the Restoration, he entered into a complex relationship with the monarchy which led to him supporting the future Charles X. He subsequently served as ambassador to Prussia and the United Kingdom, and was Minister of Foreign affairs from 1822 to 1824.
---
Translated by A. S. Kline © Copyright 2010 & 2011 All Rights Reserved
This work may be freely reproduced, stored and transmitted, electronically or otherwise, for any non-commercial purpose. Conditions and Exceptions apply.
Last Modified 21st September 2015